One of Australia's most awarded solo game developers, Ian MacLarty, has announced a new major commercial project. Described as his first large scale game, Mars First Logistics is a physics-based open-world simulation, where players are challenged to design bespoke vehicles to carry and haul cargo across the treacherous terrain of the planet Mars.
Mars First is a creative sandbox game, and by definition, it's an ambitious project. It appears to be split into two distinct parts: one focused on creating a unique vehicle out of discrete pieces, a process that seems highly freeform and ripe for both creativity and disaster, portrayed in a delightful visual style that echos Lego instruction manuals. The second seems to be using the aforementioned vehicle to complete a variety of hauling tasks, with different kinds of cargo and terrain to try and navigate with your personal marvel of engineering.
To date, MacLarty has released a number of experimental game works. But his few ventures into the commercial realm have garnered a significant amount of prestige, especially for their design. Boson X was named by Apple in its "Best of 2013" list. Catacombs of Solaris was awarded the top award at the Freeplay Independent Games Festival in 2018 – the 'Freeplay Award'. Dissembler won the Excellence in Design category that same year, as well as earning a place in Indie Showcase at PAX Australia that year, too. Jumpgrid also won an Excellence in Design award at Freeplay 2019, as well as Best Gameplay at the Australian Game Developer Awards. There is definitely good precedent to keep a close eye on Mars First Logistics.
In correspondence with Screenhub, MacLarty described Mars First Logistics as a mix between Besiege, a game that revolves around constructing medieval siege engines out of discrete pieces to try and destroy various structures, and Mudrunner, a title where you haul heavy cargo across difficult, attritional off-road terrain. Both games rely on advanced physics engines and were incredibly well-received for both their challenging nature and capacity for hilariously disastrous results.
The first game that came to mind when I first saw Mars First Logistics was Hideo Kojima's most recent, divisive title, Death Stranding, which also dealt with cargo delivery across treacherous terrain, only on foot. I put this to MacLarty. 'It was certainly an influence,' he wrote, being polite. 'I do remember feeling envious of a lot of the ideas in Death Stranding when I played it, such as how you had to plan your journeys carefully and the way physics was used to make the terrain itself feel dangerous, though the idea of making deliveries comes more from games like Mudrunner and Eurotruck Simulator.'
'I can't really point to a single inspiration, but I've been really interested in making a big open-world game where the landscape itself is an adversary for some time. One of my previous free games, Red Desert Render, was an experiment in this direction. In fact, I've adapted the landscape engine I made for that game to Mars First Logistics.'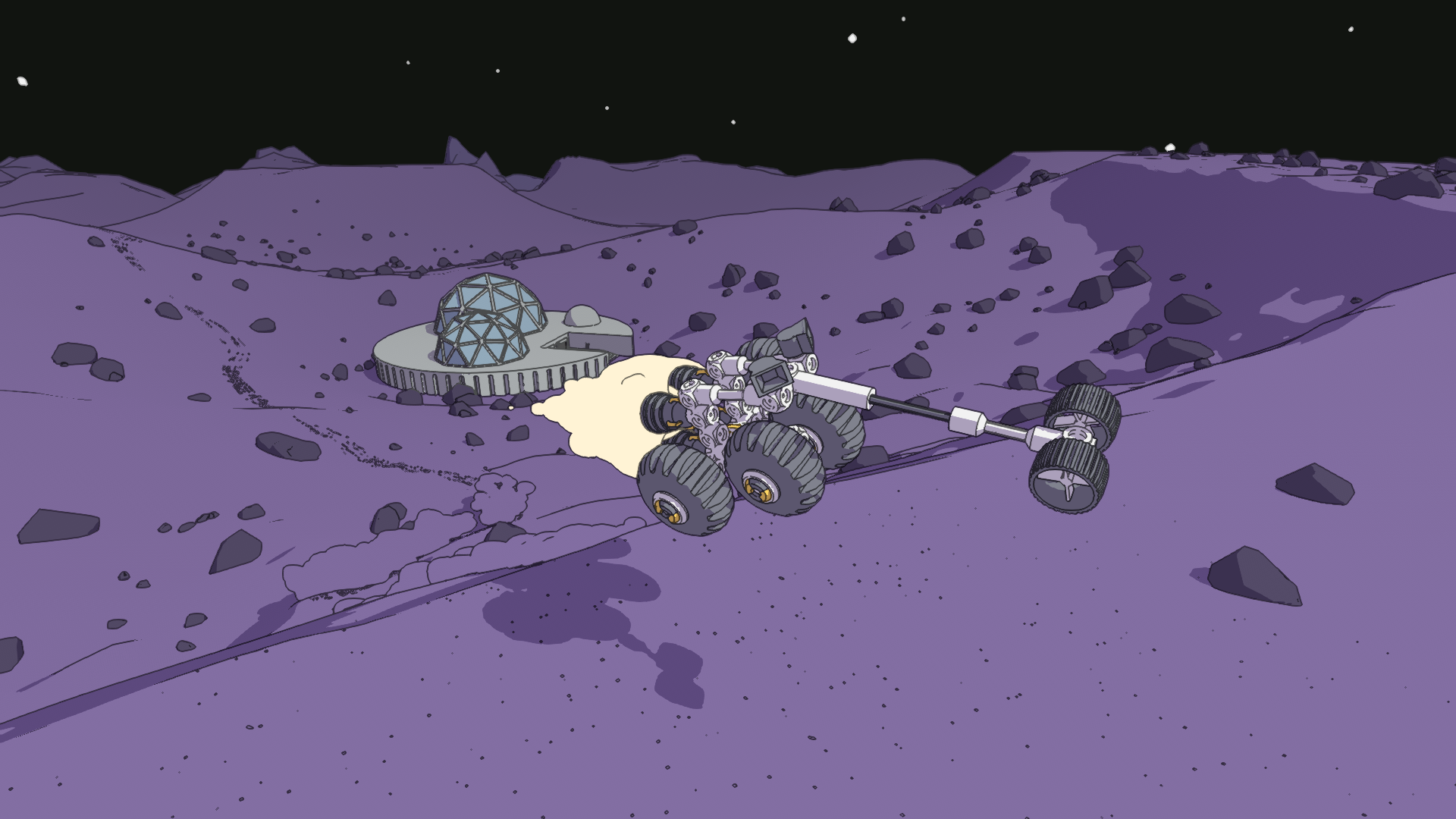 That landscape engine helps to generate the game's environments algorithmically, a process MacLarty describes as fun, 'because it feels much more about curating than the kind of focused, problem-solving design needed for hand-made levels.' With a background in computer science, his approach to his work has often been more technically-minded, even when it comes to aesthetics.
I wonder if MacLarty had to expand his skill set somewhat, given the game's 3D visuals are quite a departure from Dissembler and Jumpgrid. As it turns out, I'm mistaken again. 'I had been playing with Blender (a 3D modelling program) for a while, and, coming from a computer science background, I've always been very interested in shaders and rendering,' he said. 'I wouldn't say I had to skill up specifically for this project, but more that it fitted my current abilities.'
'The 3D models in the game, aside from the terrain, are pretty much all mechanical, made from simple geometric shapes which are easy to model. The animations are all just the physics simulation, so no need for hand animating anything (programming and tuning the physics was a challenge, but one I enjoyed). The flat colours also mean I don't have to create textures or do UV mapping.'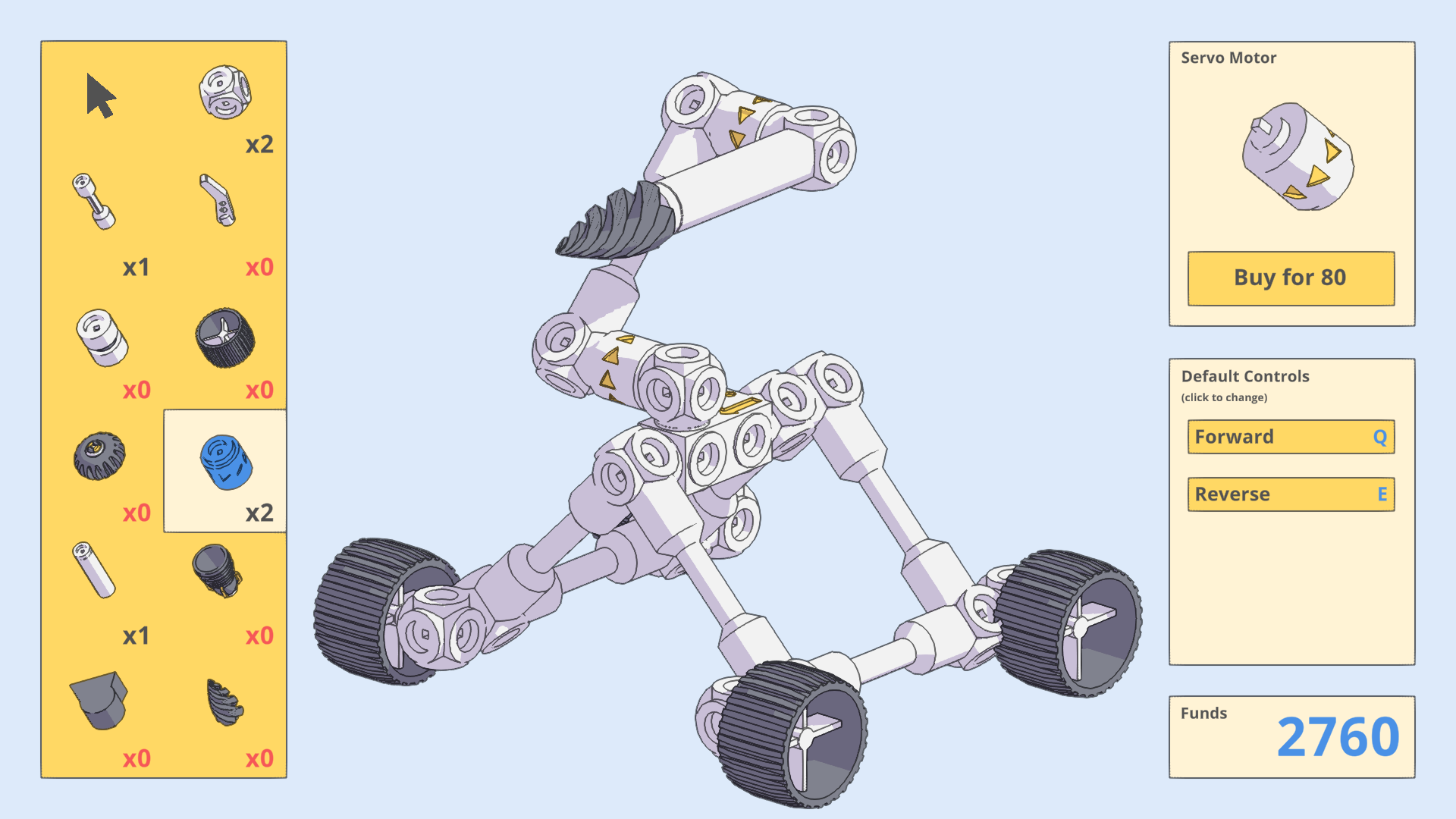 Even if the process sounds a little cold, the result is absolutely delightful to watch in action. MacLarty seems to have really found a standout aesthetic with the aforementioned Lego-inspired visual style and executed it well. 'There's something simultaneously playful and utilitarian about the flat primary colours and black outlines that suited the industrious, yet toylike vibe I wanted for the game.'
Mars First Logistic currently has no release window. I ask MacLarty if he's considering an Early Access phase, since many sandbox games of this nature find success in this model. 'I think it could be a good fit, though I still need to weigh up the pros and cons, so I'm not ready to make a call just yet. Regardless of how I release it, I want it to be a good experience from day one that players feel they are getting value from.'
'I have quite a bit I still want to do on the game, and I want it to be able to evolve organically. It often happens to me that I discover an interesting idea in the process of making a game and I want to be able to explore those ideas.'
Mars First Logistics is currently available to wishlist on Steam.