For a certain generation of kids, cereal boxes didn't just house breakfast — they occasionally came with other, more valuable treats, like Age of Empires or even The Sims for PC. Whether you got a copy of these games via cereal or off store shelves, there's a certain amount of nostalgia associated with those humble boxes. Now, Xbox is capitalising on that with the release of WOLOL-O's, a novelty Age of Empires cereal named after the iconic battle cry of the priests of the game.
'Receiving a CD in a cereal box all those years ago would have been the first gaming moment for many and kick-started a lifelong passion,' Tania Chee, Xbox Business Lead for ANZ said in a press release. 'With the much-anticipated release of Age of Empires IV, we're thrilled to be able to have a bit of fun with this throwback.'
WOLOL-O's, which appear to be repackaged Cheerios, are a very real breakfast cereal created to celebrate the launch of Age of Empires IV and recapture a particular kind of childhood nostalgia. On the front, you can see one of the game's iconic priests, and on the back, there's even a maze to complete.
Read: What happened to 'Girl Gamer'? Searching for Nintendo's forgotten pre-teen girl magazine
'One bite and your enemies are converted', the cereal box claims. While we've yet to have a taste to prove that, it's a clever bit of marketing that plays into the conversion abilities of the 'Wololo' priests.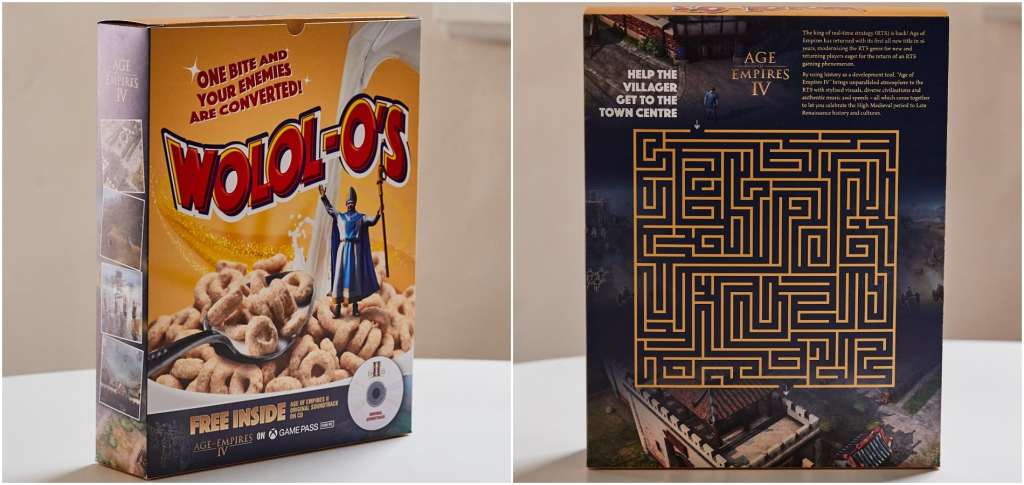 The cereal won't be hitting store shelves any time soon sadly, but keen Age of Empires fans may be able to win a copy of the coveted cereal via the Xbox ANZ Facebook page. Only ten boxes will be up for grabs, making it one rare collectible.
Alongside the cereal itself, winners will also receive an audio CD of the Age of Empires II soundtrack and a 12-month subscription to Xbox Game Pass for PC, which will allow them to play Age of Empires IV.
For a fun bit of nostalgia and a chance to win a wild piece of gaming history, head on over to the Xbox ANZ Facebook page for details on how to enter.
Age of Empires IV hits PC and Xbox Game Pass for PC on 29 October 2021.