After a rocky few years complicated by manufacturing delays and advancing costs, new board games are slowly getting back on track in 2023. While the ongoing impacts of the COVID-19 pandemic are still being felt around the world, with a new wave of infections in China diminishing workforces and project orders, many blockbuster, highly-anticipated titles are now nearing completion.
While it's never wise to hold your breath for upcoming board games – they're usually subject to major months-long or years-long delays, the future is looking bright for several upcoming projects. Some have been in the works for years, and others are recent Kickstarter hits.
If you're looking for a fresh new adventure, or you're looking to scope out everything that may hit your tabletop shortly, read on. These are the most anticipated board games of 2023, all of which are nearing release.
---
Vampire: The Masquerade – Chapters
Players: 1-4
Vampire: The Masquerade – Chapters is an absolutely massive board game that translates the gothic world of Vampire: The Masquerade into a sprawling, tile-based narrative adventure with plenty of choices along the way. There are a whopping 40 different, branching scenarios in this game, with each sending you on a grim and harrowing quest through vampire-filled streets. You can play the adventure solo and get by just fine, or you can also invite a few of your friends along with you to explore the game's narrow pathways and bloody fights.
In the box, you'll find a dense story book that guides the action, as well as unique dialogue booklets, event and mystery cards, standees for over 100 individual characters – who all play a role in the story – as well as scenario tiles and items that'll help illustrate your journey as a fledgling vampire caught in a horrifying new world. In terms of size, Chapters looks to be as big as Gloomhaven – so expect to spend hours learning how to play, and hours more mastering every mechanic.
The game's Kickstarter campaign is currently shut, although shipping is set to commence in January 2023 – so it won't be long before you're able to nab your own copy.
---
The Witcher: Old World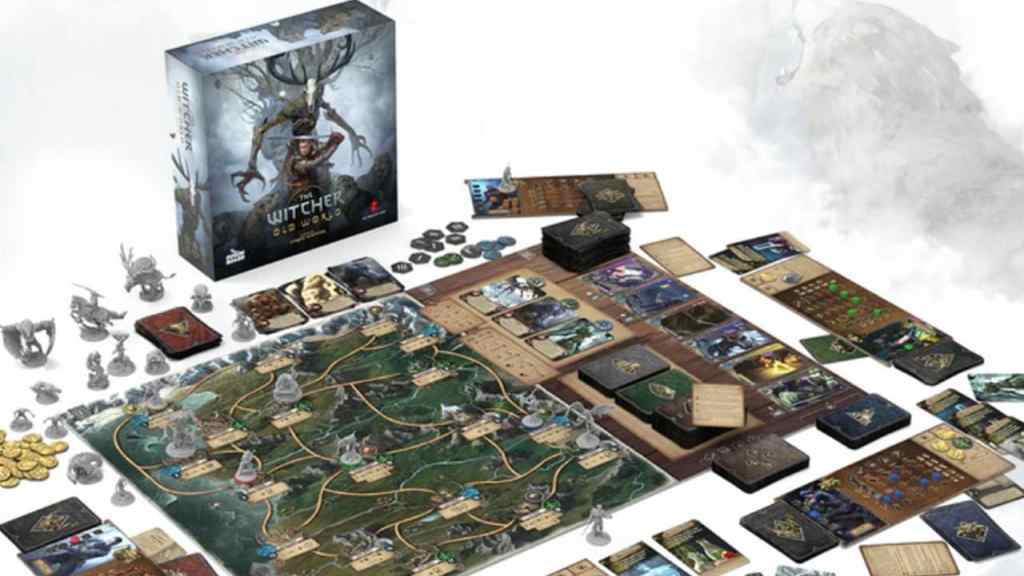 Players: 1-5
The Witcher: Old World is yet another epic fantasy adventure board game – but this one is cool and different because it's set in the world of CD Projekt Red's Witcher video game franchise. Up to five players can join this tabletop adventure quest, which allows players to embody a Witcher hero, and take on epic monster-slaying. In each phase of the game, you'll be able to make unique choices, and chart your path across a board, battling deadly creatures as you find them.
Each move on the game's gorgeous, detailed map will reveal new shocks, with many of them requiring a nasty sword or spells to conquer. Characters in the game can level with each fight, obtaining new gear and abilities that should make the tougher monster go down much, much quicker. If you're a fan of fantasy RPGs or just a Witcher nut, Old World is certainly a spin-off you should keep an eye out for.
The Witcher: Old World has completed its Kickstarter campaign, with games currently set to arrive after May 2023, pending production difficulties.
---
Mythwind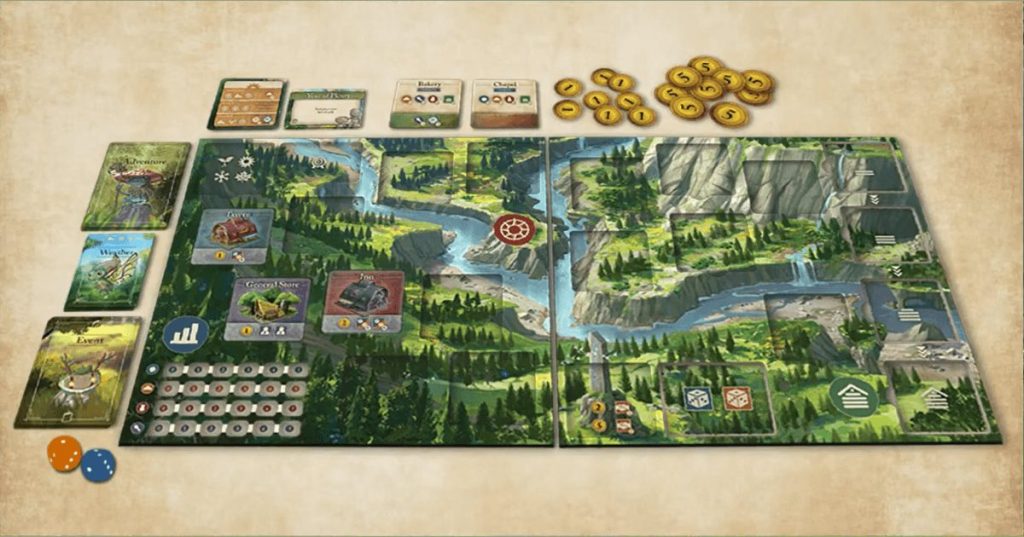 Players: 1-4
Mythwind is solo and co-op board game adventure that takes place in a magical fantasy world filled with sweeping vistas, nature-infused beings, and a painterly sense of whimsy. Players will enter Mythwind as a wily hero looking to save the denizens of the mystical valley, and set about completing quests to help it achieve greatness. Farmers can plant crops and rejuvenate the land, Crafters can create dazzling artworks to make the realm more appealing, Merchants can encourage a thriving economy, and the Woodsman can scout for much-needed resources.
Working together, players will chart a course through the valley, encountering new events along the way, establishing buildings, romping through adventures, guiding the seasons, and achieving set goals. They'll also have gorgeous locales to admire, and plenty of roaming creatures to befriend.
Mythwind has completed its Kickstarter campaign, and is currently aiming for launch in May 2023.
---
Steam Up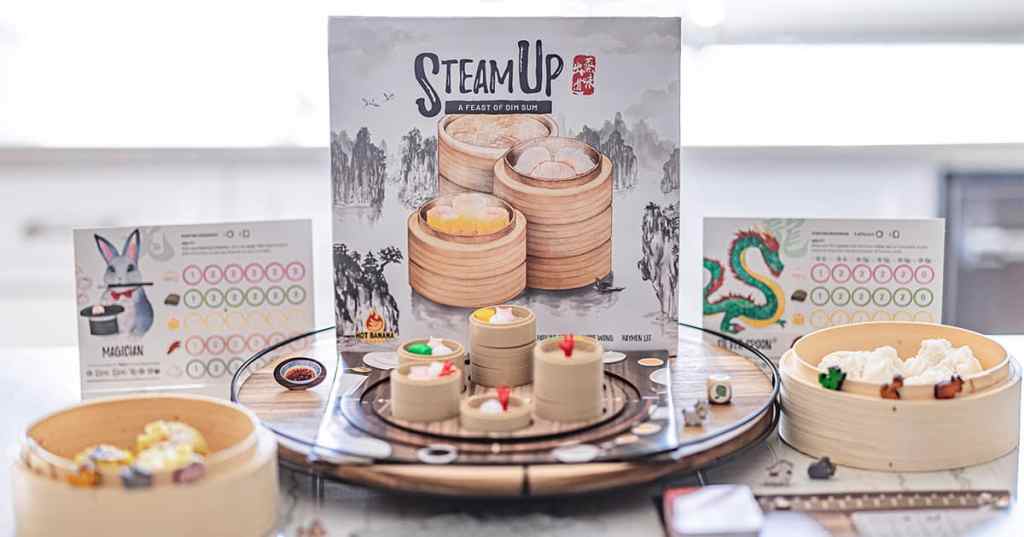 Players: 2-5
Steam Up is an extremely cute 'Dim Sum collection' game where players must compete in high-speed picking battles to nab the Dim Sum ingredients they desire from a central pot. Everyone can rotate the Lazy Susan table as needed, creating a path towards the foods they want, which add points as they get stacked. You can also grab Food Tokens along the way, which allow you to purchase entire Dim Sum baskets to feed your chosen Zodiac animal.
Fortune cards also shake up gameplay in this board games feast, with each providing a unique effect or skill to advance your Dim Sum claims. When the steamers are sold out, players tally up their collected Hearty Points, and determine a clear winner. If you're looking for a fresh new party game in 2023, Steam Up looks like a real tabletop joy.
Steam Up has recently completed its Kickstarter campaign, and is expected to begin shipping in April 2023.
---
Woodcraft
Players: 1-4
Woodcraft is a nature-filled management game where you control a band of folks living in a forest, chopping wood and gathering resources to craft buildings, tools, and other goods. The ultimate goal of the action is to create a thriving workshop by manipulating gathered wood, hiring workers, improving tools, and creating unique items.
Players can take one of seven actions every turn, with each helping to improve one aspect of their woodworking skills. Although these choices seem simple, they're anything but – as the impact of actions is increased for each turn players hold off on deploying them. This twist means Woodcraft is a dense game of strategy, where players are required to think deeply about every choice they make.
Woodcraft is expected to hit retail stores in the first half of 2023.
---
Marvel United: Spider-Geddon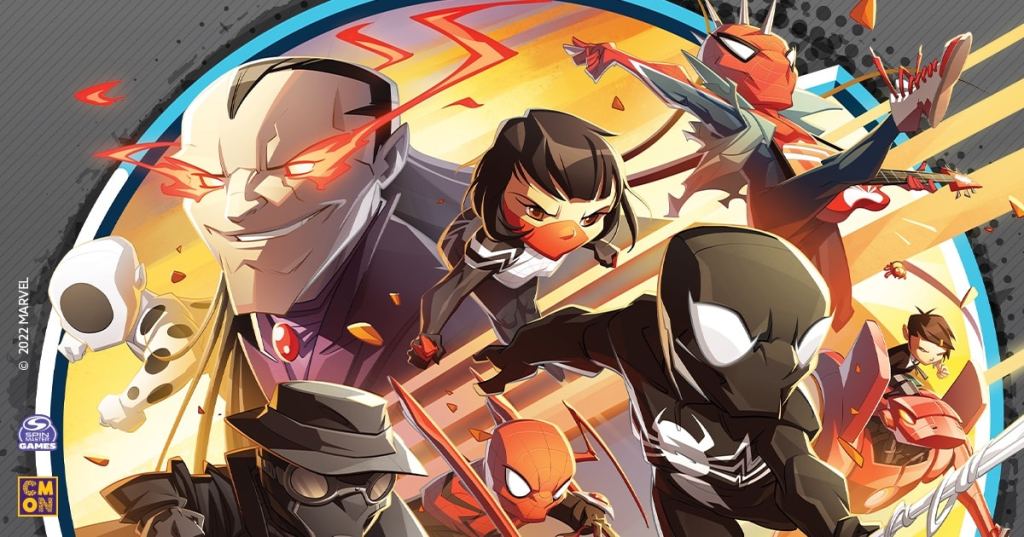 Players: 1-4
Marvel United: Spider-Geddon is a standalone Marvel United spin-off featuring an array of classic Spider-Men, including beloved figures like Spider-Man Noir, Spider-Punk, Peni Parker, Scarlet Spider (Ben Reilly), and Silk. While Spider-Man is available in the original Marvel United game, this surprise 'Spider-Verse' battler will introduce more heroes from the Spider-Man multiverse, and more web-filled battles.
As in the original Marvel United, this game will feature players battling against an array of villains (The Spot, Morlun, and more) by playing particular cards and completing set missions. While it is a standalone product, it will be compatible with the rest of the United series, including the upcoming Marvel United: Multiverse, set for launch in 2024.
Marvel United: Spider-Geddon is expected to launch in retail stores in mid-2023.
---
Cyberpunk 2077: Gangs of Night City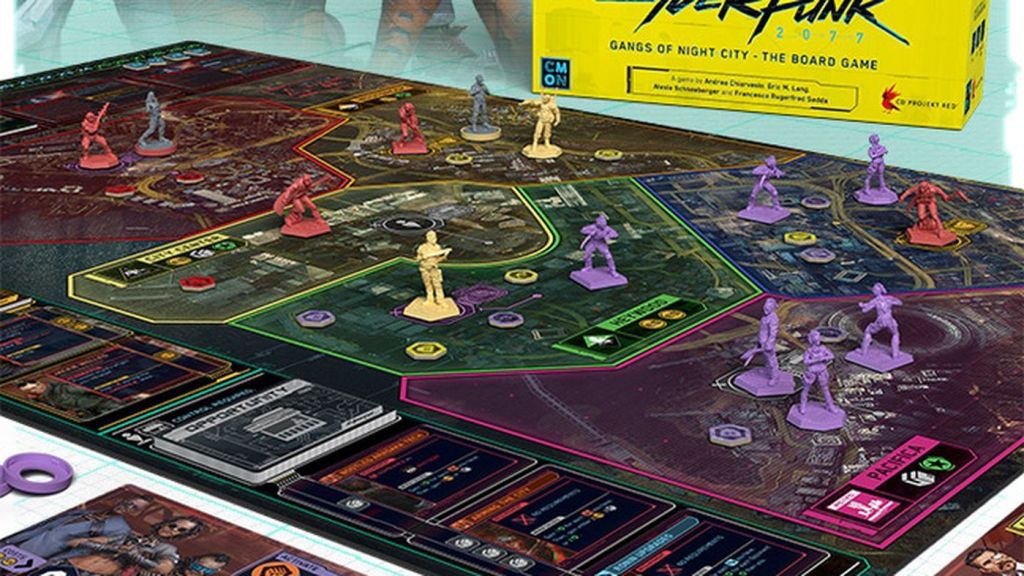 Players: 1-4
Cyberpunk 2077: Gangs of Night City is a collaboration between prolific board game publisher CMON (Zombicide, Marvel United) and game developer CD Projekt Red. It ties directly into the events of the video game, and allows you to take control of the many gangs wandering the streets of Night City. You can play competitively against your friends, or against the game's AI, making tough decisions about what your gang will seek to accomplish, and where the night will take them.
The action takes place on a neon game board that reflects the map of the video game, and features deployable units that can be placed to initiate district fights, discover city secrets, or scout for opportunities, with each location yielding a new surprise to tackle. Those who enjoyed the video game will find many familiar faces in the adventure, including Johnny Silverhand, Rogue, Lizzy Wizzy, Misty, and V.
The game has completed its Kickstarter campaign, and is targeting a July 2023 launch.
---
RoboMon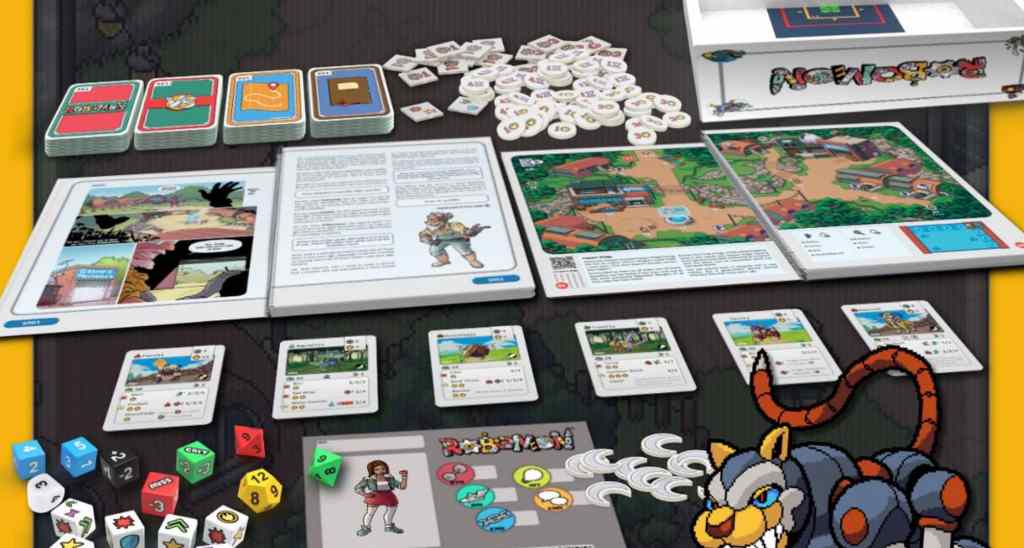 Players: 1-2
RoboMon is an upcoming adventure board game that takes direct inspiration from the Pokemon franchise in its aesthetics, gameplay, and creature-collecting mechanics. You and up to one other player can tackle the game's narrative together, using a story book to journey through various locales, all illustrated in a gorgeous pixel art style.
The game is described as 'open world' as you can explore map spots freely, leading to chance encounters, battles, puzzles, and other surprises. Developer Gabe Barrett has promised around 30 hours of gameplay in this tabletop journey – about the same length as your average Pokemon romp. Between its gorgeous art style and cutesy creatures, there's so much to love about RoboMon.
The game is currently in the mid-stages of its Gamefound campaign, late pledges are open, and it's planned to launch in August 2023.
---
The Dark Quarter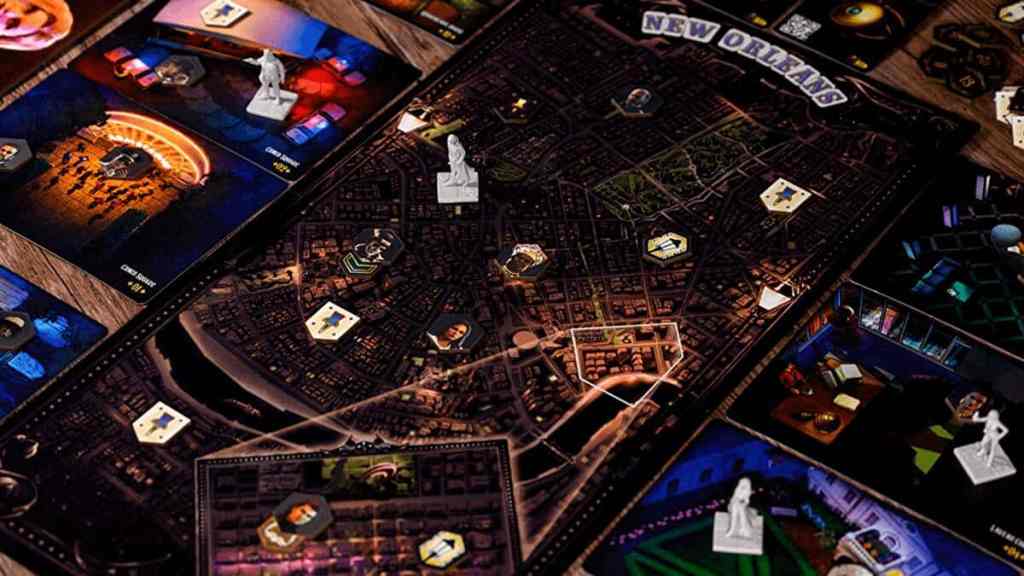 Players: 1-4
The Dark Quarter is a curious fantasy RPG board game that comes from the makers of Chronicles of Crime, Lucky Duck Games. Like its past creations, The Dark Quarter is heavily narrative focussed, although it seems to be far more sprawling than its predecessors. In the game, you play as a detective from the magical Beaumont Agency, which works to control the streets of New Orleans as supernatural beings and magical forces gather. You'll need to strengthen your hero in this adventure, and use their unique skills to corral the magic of the French Quarter back to where it belongs.
Anyone who loves a good urban fantasy story will likely be enthralled by this set-up. It has shades of DC's Hellblazer, and every other exciting supernatural-fantasy story – with a hint of playfulness, and stylish originality to boot. In the game, you'll be travelling around a beautifully-designed map, investigating clues, taking down monsters, and working to solve deep crimes. You'll also be able to control the action with a companion app that helps to set the mood of the game, and record your choices.
Late pledges for The Dark Quarter are now available on Kickstarter, with the game set to launch in October 2023.
---
RuneScape Kingdoms: Shadow of Elvarg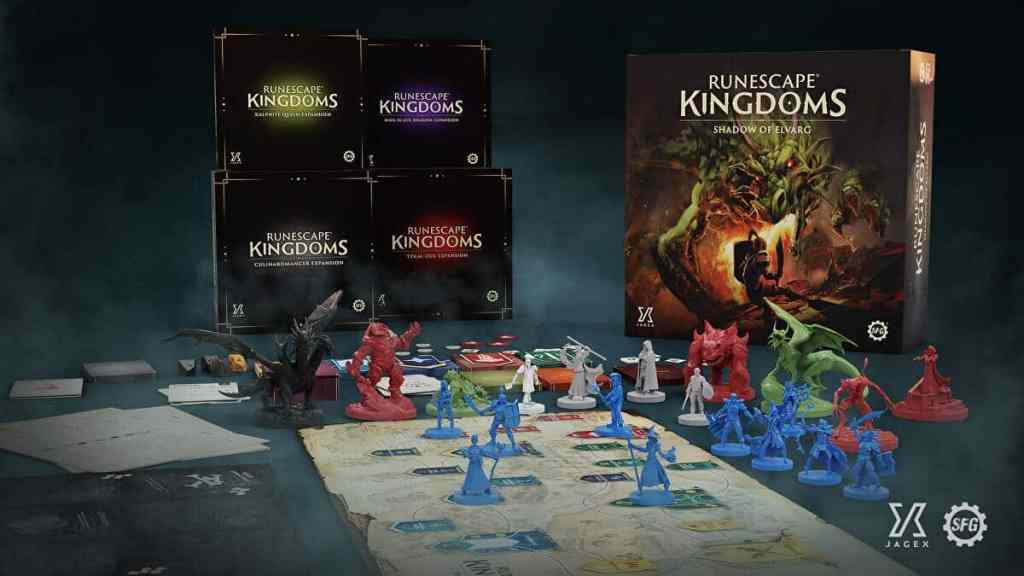 Players: 1-5
RuneScape Kingdoms: Shadow of Elvarg is an epic adventure board game that takes place in the world of Gielinor, a realm that will be very familiar to players who grew up playing the classic online MMORPG, RuneScape. This upcoming, highly-anticipatd board game will take a lot of inspiration from classic RuneScape gameplay to guide players on an epic quest to fight back the forces of evil, and save medieval fantasy lands from war.
You'll face off with a range of bosses in your quest, including villains like Count Draynor and TzTok-Jad, with each battle helping you to level up, and continue your long and harrowing journey. When you're not fighting villains, you'll be able to level up your gear, meet NPCs, and jump into numerous tongue-in-cheek sidequests.
The game's Kickstarter campaign is now over, with the game set to launch in November 2023.
---
The 7th Citadel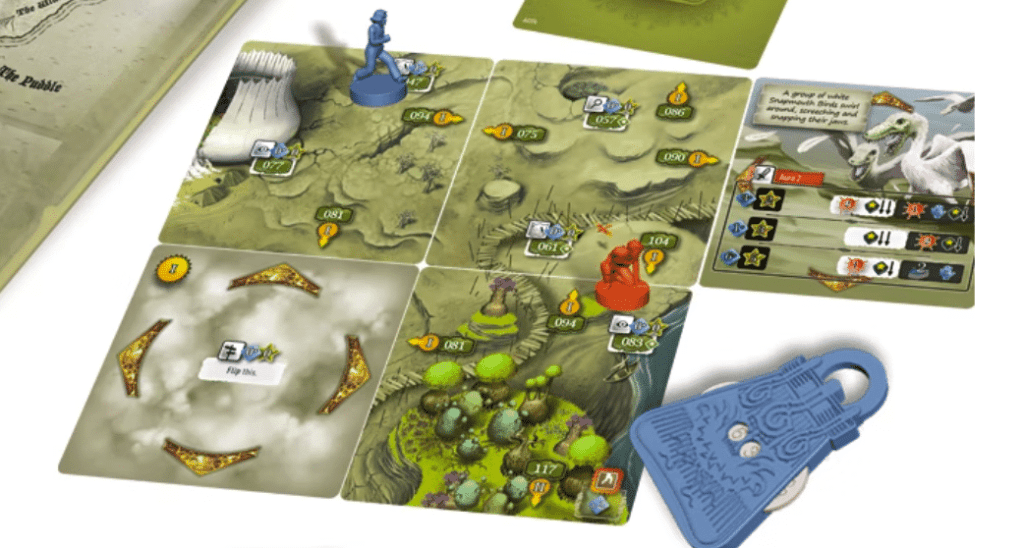 Players: 1-4
The 7th Citadel is the long-gestating sequel to blockbuster adventure game The 7th Continent. If you're somebody who loves a good RPG or narrative-style board game, this is one title you'll want on your list for 2023. Here, you play as a wanderer discovering a post-apocalyptic, medieval fantasy world filled with danger. On each turn, you'll be able to move through a magical world, with each tile revealing quests, choices and items to uncover. Sometimes, your choices will lead you to ruin. Other times, you'll find great bounties.
The surprise here is what makes this series so much fun – and so, so replayable. No two games are the same, whether you're playing alone or in a group, and you never know what you'll encounter on each turn. While The 7th Continent is fairly difficult to learn, its sequel will reportedly be much simpler, and feature new-to-game mechanics that'll make every turn more dynamic.
The 7th Citadel has completed its Kickstarter campaign, with no firm release date provided yet. The game was initially targeting a mid-2022 release, but a 2023 launch now looks highly possible.
---
The Lord of the Rings: Adventure to Mount Doom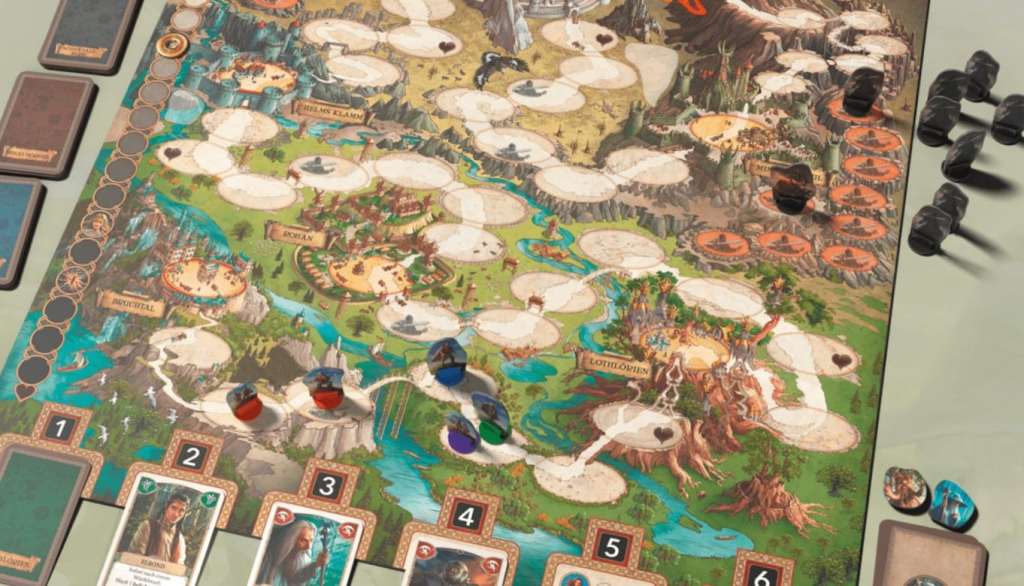 Players: 1-4
The Lord of the Rings: Adventure to Mount Doom is a fresh new Tolkien adaptation from designer Michael Rieneck, and it's due for launch in 2023. This illustrated adventure game takes place on a journey via a gorgeous map board, littered with locales from the iconic Tolkien mythos. Players will travel through each region in solo or co-op mode, with various surprises awaiting every dice roll.
As you travel the map, you'll encounter vicious Nazgul warriors, with rolls determining how many spaces you can travel forward, and whether you'll be able to reach Mount Doom and destroy the evil One Ring. On top of being a beautiful-looking game, this standalone romp appears to be easy to learn, making it highly appealing for those who play board games with family and friends.
The Lord of the Rings: Adventure to Mount Doom does not currently have a firm release date, but it was announced to be launching in 2023.
---
My Island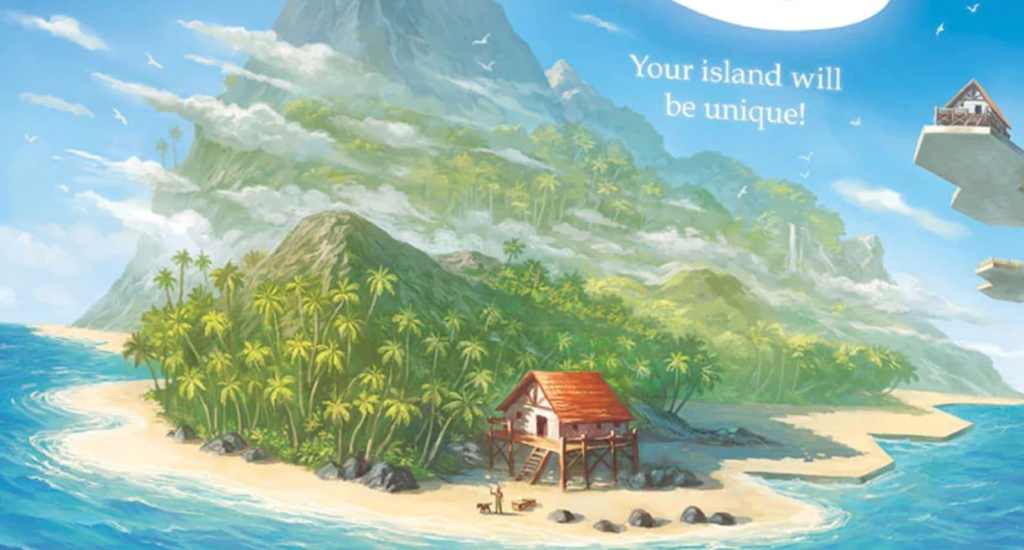 Players: 2-4
My Island, a spiritual successor to the tile placement game My City, is set to launch in 2023 – and it looks just as relaxing and idyllic as its predecessor. In this game, you'll face off with rival competitors in relaxing, instruction-based bouts that require you to build up an island by placing tiles. In each round, you're given specific bounds to work within – guidance for placing tiles, environments to avoid, necessary inclusions – with the most effective tile layers earning the most points.
Like My City, this board game will feature 24 rounds, with each changing up gameplay and forcing every player to come up with new and more clever plays to permanently change their island environment. If you loved My City, or you're just looking for a relaxing board game puzzler, keep this one on your radar.
My Island is set for retail release sometime in 2023.
---
Unconscious Mind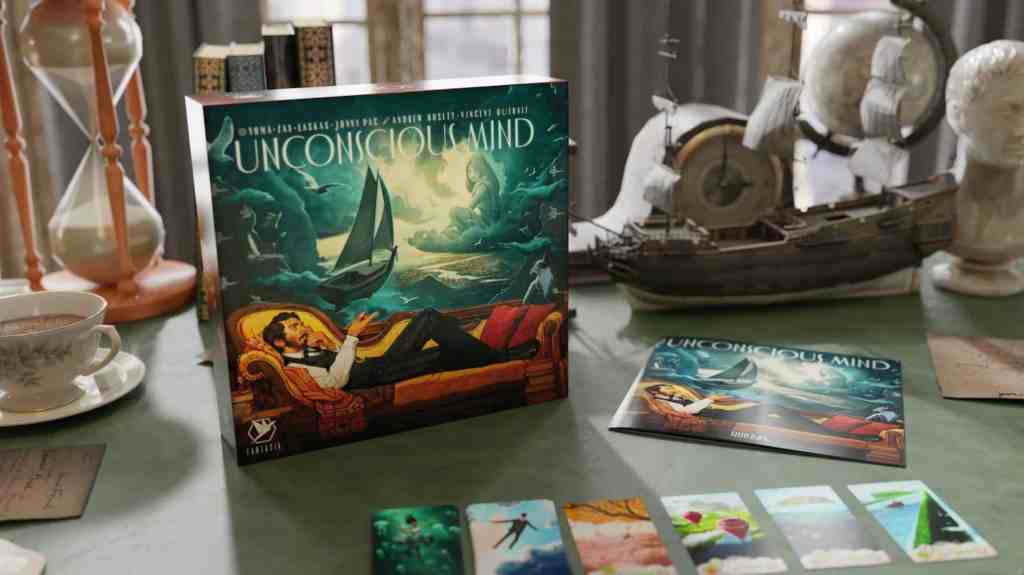 Players: 1-4
Unconscious Mind is a worker placement and management-style board game themed after the practices of Sigmund Freud. In the game, up to four players will embody traditional psychologists, and work towards mastering therapeutic skills like dream interpretation. As each player builds their clientele, they'll be able to address patient traumas, and help them recover from grief, with new discoveries made along the way helping to advance a player's reputation and their practice.
Freud himself appears in the game as a guest NPC who can help players unlock their potential and reach new insights. While the complexities of exploring dreams and trauma may be fairly daunting for less experienced players, the game's gorgeous art style and Dixit-like dream exploration should prove to be an intriguing twist to hook everyone in.
Unconscious Mind has completed its Kickstarter campaign, with developers at Fantasia Games aiming for a December 2023 release.
---
If you're looking for board games to keep you occupied while you wait for these highly-anticipated 2023 hits, check out a few of the GamesHub favourites: