In FrippleTown, the word is aglow with colour and sweetness. Your only jobs are cookie-making, delivering parcels, skating, and making patterns with flags. Every Fripple you serve is happy to greet you, the grass is always green, and the fresh scent of baking fills your every breath. It's a paradise – and a place I long to return, thanks to a deep-seated nostalgia for edutainment software of the 1990s and early 2000s.
Thinkin' Things – All Around FrippleTown was part of a class of edutainment games that rose to prominence in a time when computers were slowly entering the home, and when gaming was finding an audience with curious young kids. It was an experimental time for PC game developers, many of whom turned to educational software as a means to engage developing minds.
Through games, kids could learn a range of practical skills: pattern-finding, counting, spelling – anything you could dream.
My earliest memories of typing were with a friendly ghost by my side, in Kid's Typing. I learned what the Louvre Museum was in JumpStart 2nd Grade, and how to complete patterns in Big Thinkers! Kindergarten. I only know who Mata Hari was because of Humongous Entertainment's Spy Fox in "Dry Cereal", and I know what a light bulb filament is because of David Macaulay and Neil Ardley's The Way Things Work.
Read: How Cartoon Network games shaped countless childhoods
It was in this essential period of PC gaming that the Thinkin' Things franchise launched, introducing the world to the delights of Fripples for the first time. These cutesy creatures, which were spotted and blobby, or tall and hairy, or slim and wiggly, are iconic gaming mascots in their own right, and well worth remembering amongst the greats of the 1990s edutainment scene.
The Fripples served as mascots for the entirety of Thinkin' Things, a game series which consisted of three mini-game collections, as well as multiple spin-offs, like the aforementioned FrippleTown. Each collection came on a CD-ROM, usually picked up from bargain bins at Harvey Norman, or played in chunks in an old Gateway computer store. But no matter which collection you picked up, you were sure to learn at least something new, with the learning experience being a welcome novelty for young players.
Thinkin' Things 3 was hailed as one of the best children's games in 1995 – and it was one of the main PC games I grew up with. In it, players are introduced to a number of activities, including an early, rudimentary version of Photoshop that allowed manipulation of in-game images. There's no strict story in the game – instead, it focuses on learning life skills.
That includes via a fiercely memorable mini-game segment that introduces players to stocks and trading, via a suit-wearing octopus known as Stocktopus.
While basic in nature, this trading simulator provides players with a means to understand a slice of the business world – something many young players wouldn't experience for themselves for a decade, if ever. But with multiple difficulty modes, and an endearing, measured approach to learning, it helped kids make a bit more sense of the adult world.
Beyond stocks and image manipulation, the Thinkin' Things collection also introduced players to broader skills, including music making via the game's 'marching band' mini-game. For young players interested in the world of music creation, this simple game was an introduction that eased the transition to more complex programs like GarageBand and MAGIX Music Maker.
For younger players, the Fripple recognition game also remains a standout.
In this mini-game, players are given a collection of oddly coloured, shaped, sized and dressed Fripples to sort into particular categories. Simple phrases litter the screen: 'purple with spots', 'small Fripple', 'curly hair', 'Yellow with stripes'. Your job is to place a single Fripple in each named box – an act that appears simple, but is actually fairly complex for new learners.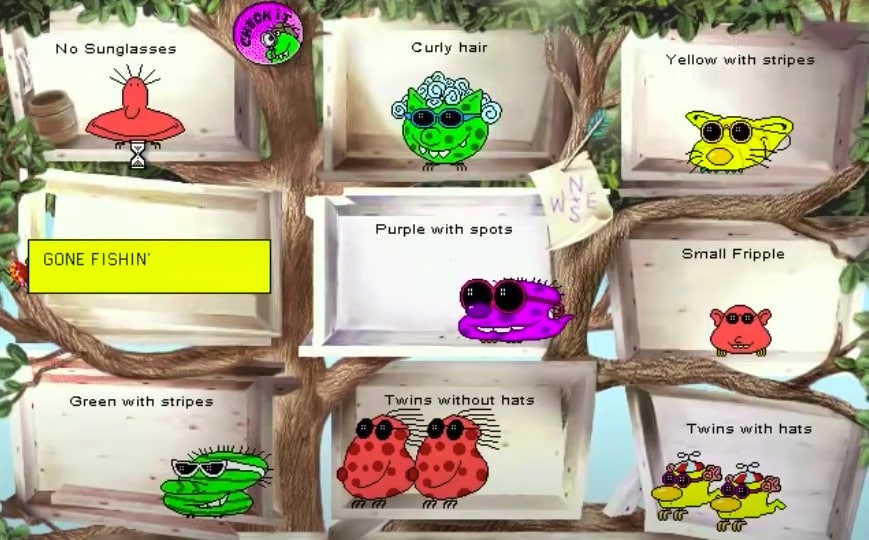 The mini-game requires multiple skills: pattern recognition, sorting, colour differentiation, visual comprehension, and understanding of language. While it's easy to interpret it as a cute, throwaway experience, the fact is that the skills learned in this game are essential – they're skills we all apply every day.
Rather than getting bogged down by complex gameplay, the simplicity of Thinkin' Things meant that it delivered real world learning, wedged behind a colourful facade.
This principle, of gamifying learning in a way that remains cute, memorable and accessible, extended to later titles, including All Around FrippleTown – a game I first discovered in the hallowed halls of the 'Computer Room' in primary school. While modern kids have grown up around computers, kids of the 1990s and early 2000s were typically exposed to them as a novelty way to learn during school hours.
Games like Carmen Sandiego, Bugdom, The Crystal Rainforest and FrippleTown were bright and shiny alternatives to pen-and-paper learning, and they presented something ideal: a world where learning was fun, colourful, and engaging. The lessons learned in these game have stuck with me for so long, I still retain fond memories of them, two decades later.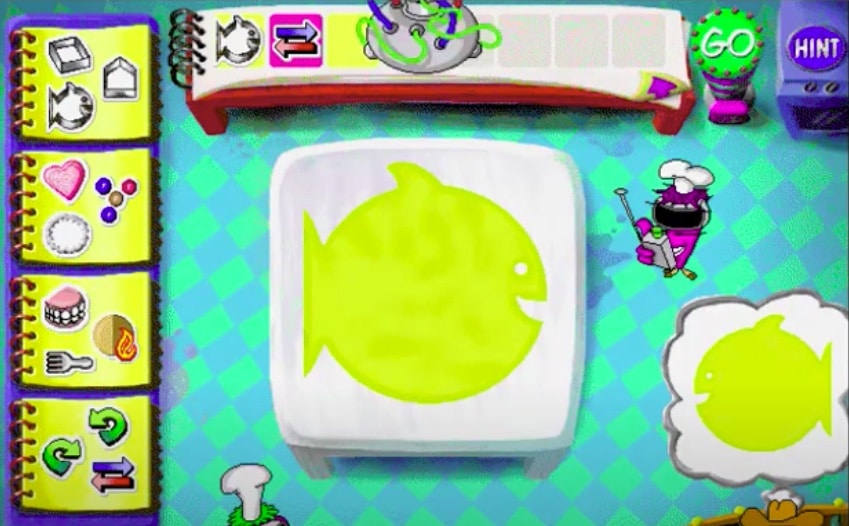 While the Thinkin' Things games have largely been forgotten, edged out of the 'childhood nostalgia' scene by re-birthed adventure games like Freddi Fish, Putt-Putt and Zoombinis, they remain worthy of praise for their mini-game ingenuity, and how they subtly taught skills to young kids.
In an era where edutainment was finding its feet, the series was a stellar example of how transformative gaming could be. Beyond being cute mascots, the Fripples of Thinkin' Things taught valuable, transferrable skills – whether it was knowledge about the stock market, or learning how to keep a beat.
Thinkin' Things was, in many ways, a pioneering franchise – one that saw the possibilities of the feature, and aimed to prepare kids for the oncoming technology storm. Developer Edmark made a massive mark in the edutainment scene of the 1990s – and we should celebrate its achievements. While its catalogue of games have long faded into the rearview, the impact of the company's games on countless young adults can't be overstated.
In FrippleTown, learning was made fun – and that made all the difference as a young kid growing up in the technology-driven 1990s.