Though it's long been a staple of Melbourne International Games Week (MIGW), 2023's Freeplay: Parallels showcase was the first to be booked and operated by the organisation's new directors, Louie Roots (he/him) and Mads Mackenzie (they/them).
Widely regarded as a MIGW highlight, the sell-out event hosted a diverse range of independent game creators presenting heartfelt talks on their projects and learnings over the past year.
Here's everything we saw at the show.
Table of Contents
---
The Dungeon Experience is sax-tacular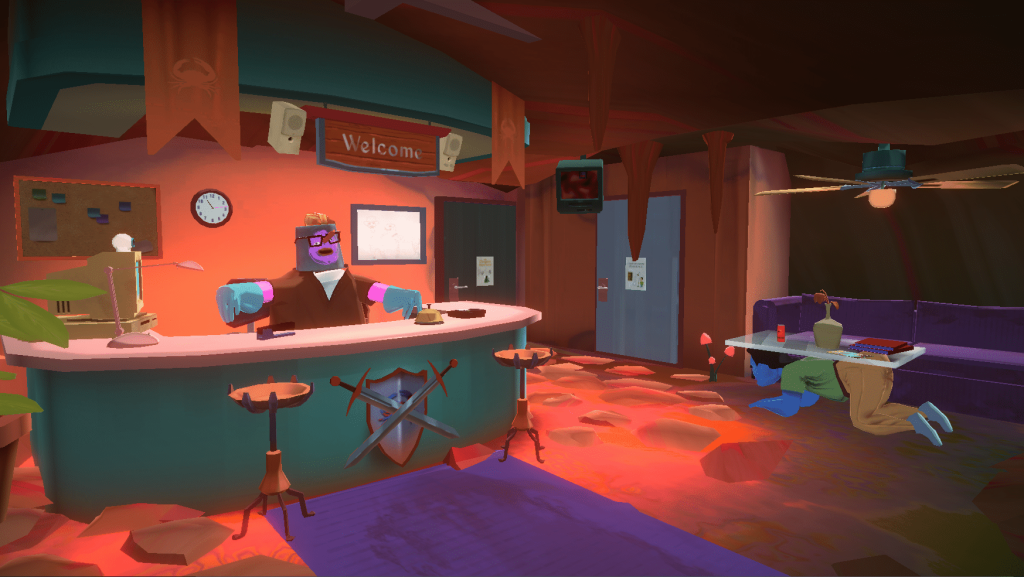 The Dungeon Experience promises "a thrilling world of high fantasy run by me, a level 1 mud-crab turned entrepreneur," according to its Steam Page. And as creator Jacob Janerka's hilarious talk revealed, this mud-crab also has some serious 80s power-saxophone chops.
A first-person adventure game full of comedic scenarios and branching choices, a promise was made to the audience that "no matter what, the player gets the climactic Private Saxophone Performance."
The game is looking like a highly unique and utterly surreal delight.
---
Iris Anstey is all about the forest vibes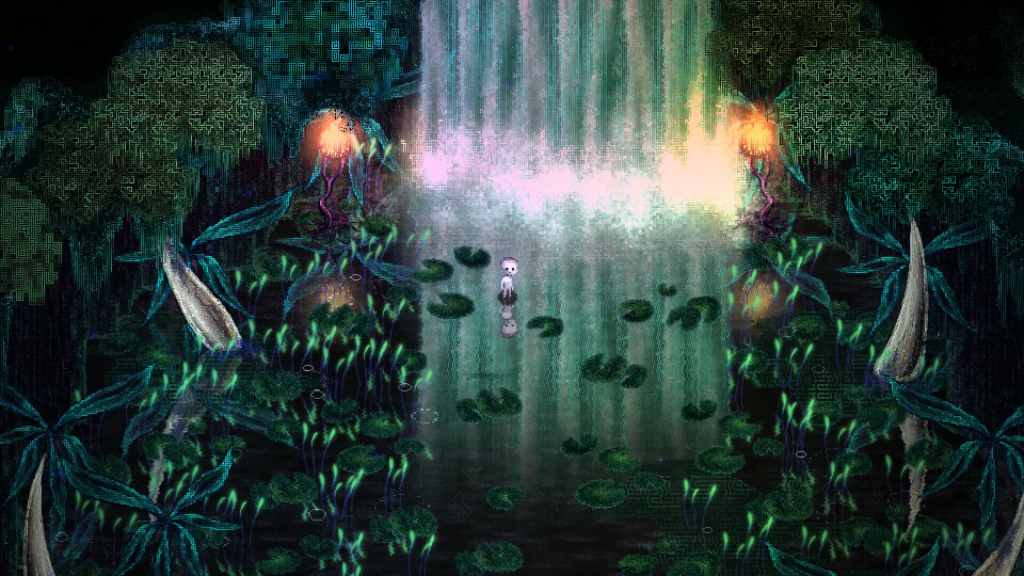 Switching gears entirely from The Dungeon Experience's wackiness, Iris Anstey hit the stage to discuss their affinity for forests.
Anstey, along with their husband Paul, are the duo responsible for the celebrated 2021 game Dap under their studio Melting Parrot.
Dap itself is an adventure set in a scary but beautiful surreal forest environment, and Anstey showed off some of her paintings of forests publicly for the first time, while she talked through how calming she finds creating these woodland worlds to be. She next showed footage of a first-person forest exploration game that she's been working on, through which she's trying to replicate those same feelings of calm that her paintings bring her.
---
Beyond the Lens is dead, and I wish it wasn't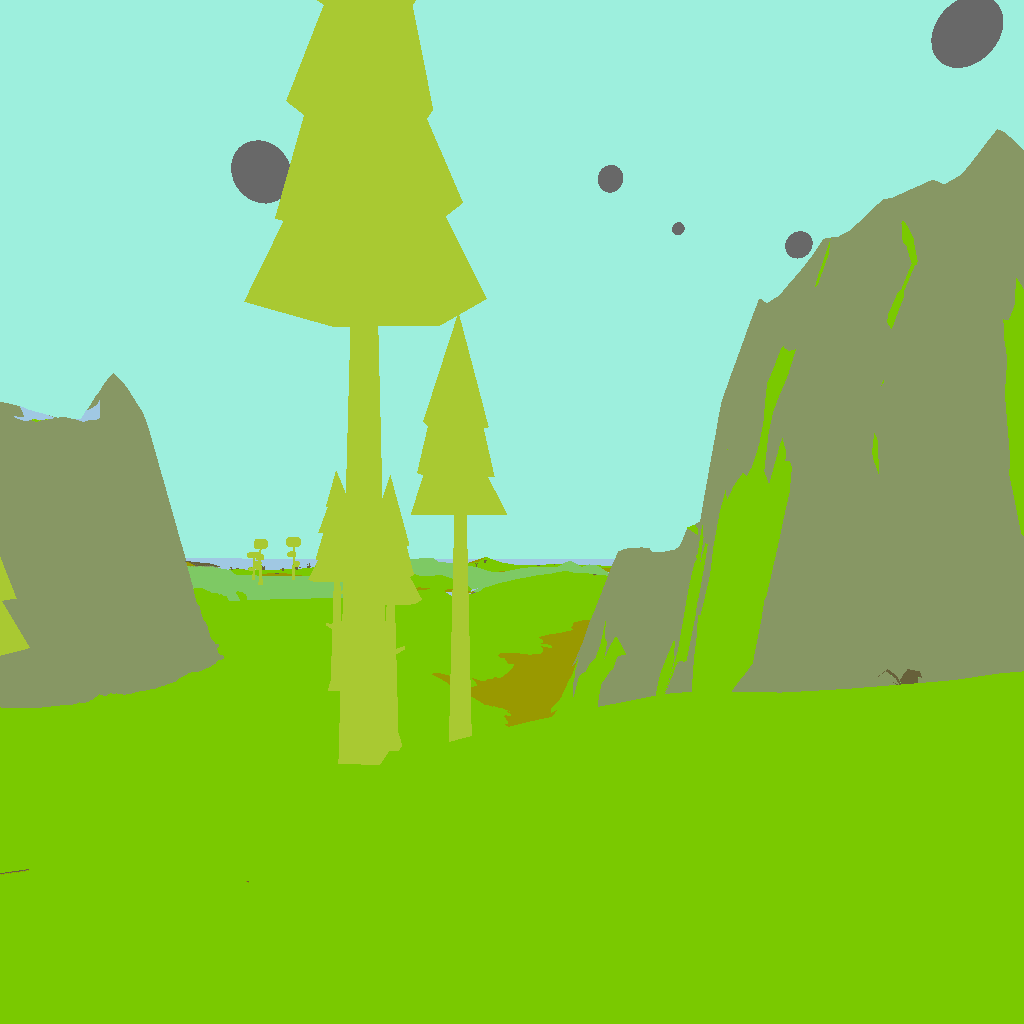 Ben Koder was up next to talk about his wildly unique installation work Beyond the Lens. Koder started as a visual artist before he learned to be a programmer. He now "makes weird games."

Beyond the Lens was a first-person photography game where the player wandered around an abstract landscape. The unique part was that these virtual photographs would then be connected to Nvidia's GauGAN AI system to convert them into impossible photorealistic images.
Koder then took things further when he figured out a way of rigging up a Polaroid camera that would produce a print that spliced together the raw in-game shot with the AI version.
Unfortunately, as the entire project was completely dependent on GauGAN staying online, the game died when Nvidia decided to close its server down.
Koder is now actively exploring ways to bring the game back, and progress on it can be followed via Itch.io and Steam.
---
Mystiques is an ode to insufferable women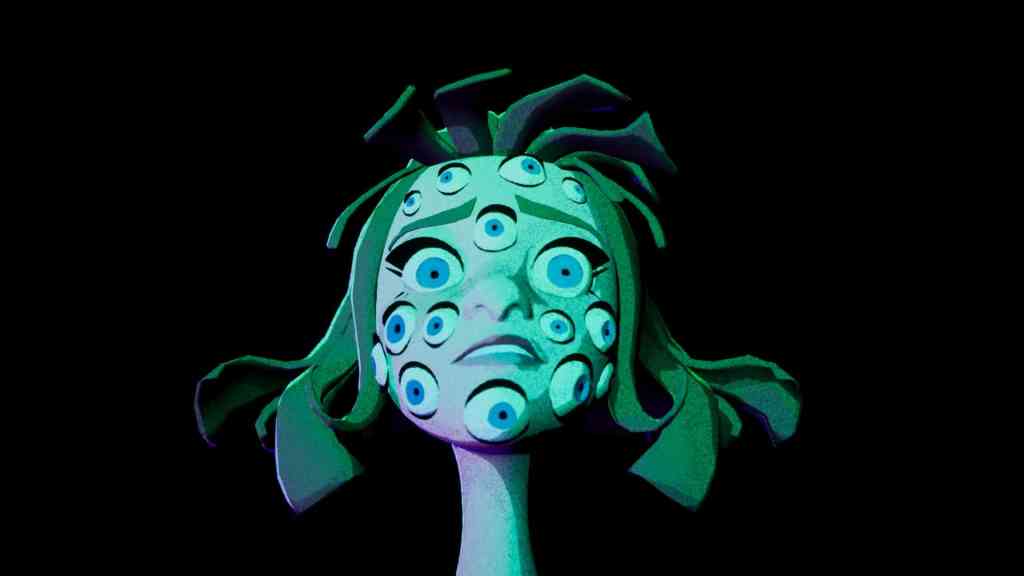 Ally McLean Hennessy from Sydney team Lemonade Games took to the stage to show off their delightful new game, Mystiques, in which a team of women with varying expertise in antiques venture into old buildings and loot the treasures of the dead, while being haunted by the spirits of those they've disturbed in doing so.
Calling it The Bling Ring by way of Ghostbusters somewhat circles the mark, but also doesn't do it justice. The game focuses on group social dynamics as much as spooky exploration, and any team members not brought along on a job can read books to expand their knowledge in specific areas of antiquity. Throughout the talk, McLean Hennessy emphasised that the work is a celebration of the women she personally knows.
Tarot is a featured mechanic, and McLean Hennessy conducted a hilarious mass reading using bespoke cards placed under each audience member's seat before arrival. I drew the "forgetting to drink water for 20 days" card, and I admit that I've spent more time than is reasonably normal since contemplating how it reflects on me.
There's no hint as to a release date yet, but Mystiques is looking like something very special already.
---
Video Shop Algorithm reminds us of the web of memory inherent to video rental stores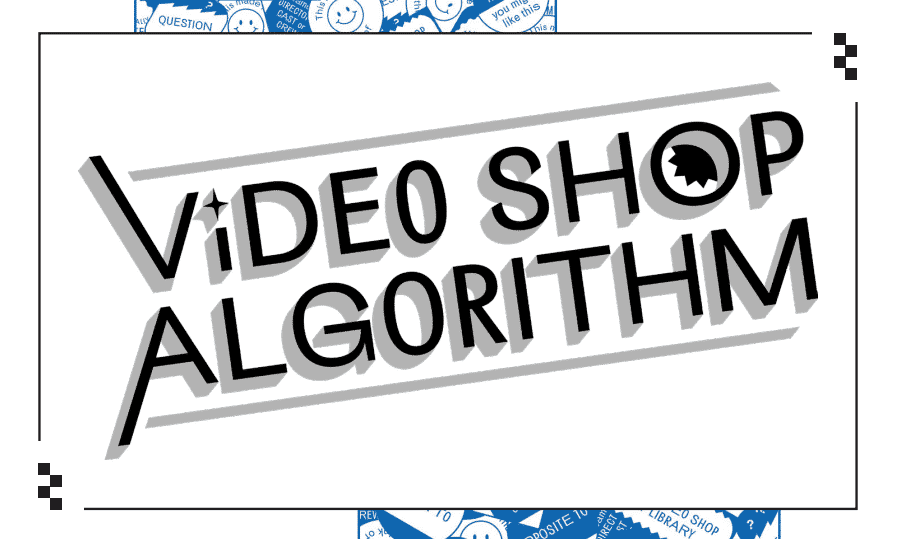 As someone old enough for video rental stores to have absolutely defined their childhood, Jesse Scott's presentation on their collaborative tabletop game Video Shop Algorithm was an utter delight.
Scott is an artist, filmmaker, and PhD candidate at RMIT who, for the past eight years, has been immersed in a research project about video shops. Through discussions with fellow video artists they arrived at the realisation that what was missing from the contemporary world of streaming, compared to the video stores it replaced, was a tangible sense of culture. Video stores were community hubs where people would share ideas and exchange recommendations, while services like Netflix cater their offerings to the viewer based on insular algorithms. Video Shop Algorithm is a collaborative party game designed to emulate the kind of community-driven sense of discovery that organically grew from the video stores of old.
The game is designed for four to eight players, each of whom brings a DVD to the session. The starting player draws a DVD from the pool and shares an anecdote or trivia about it, forming the first node. Subsequent player turns revolve around drawing a card, which determines what the relationship of the next film node must be to the one before it, and then having to think of a film which fits that relationship to write down as that next node.
By the end of the session, players are left with a unique sprawling record of the gameplay conversation which acts as a metaphor for the web of memory video stores had.
Video Shop Algorithm is currently available in both digital and 'print and play' versions on Scott's website.
---
Proximate delivers an original take on text-based horror games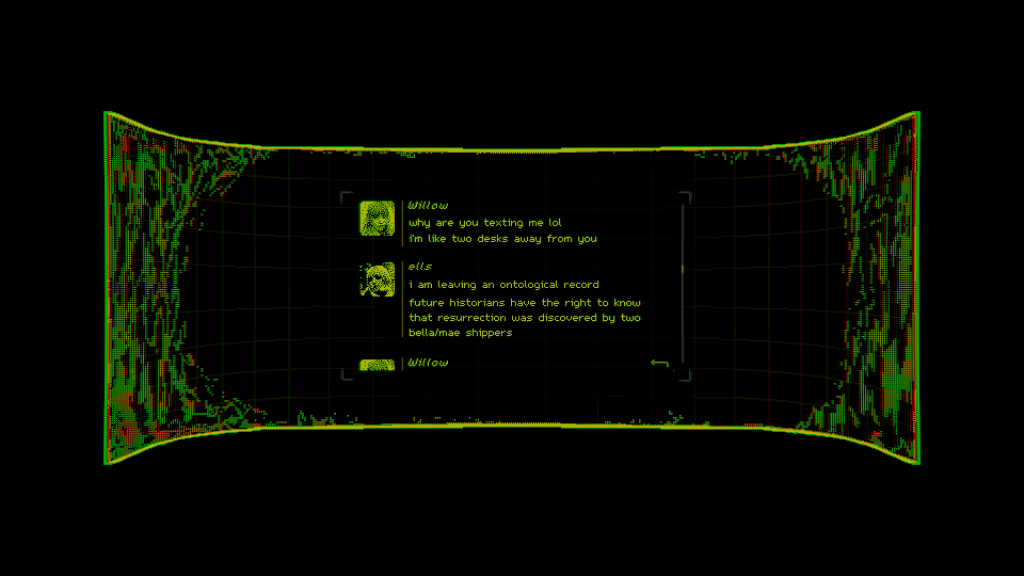 Proximate is a bitingly sharp text-based horror adventure game in the works from Melbourne developer Cain Maddox.
The game imagines a near-future world where full workers rights have been granted throughout India and Southeast Asia, thus creating a world where no company has access to a large source of cheaply exploitable workers. A Melbourne-based biotech startup has stepped up to solve this problem through their raising of billions of dollars in investor funding to reanimate corpses to create an endless supply of obedient labour.
After a year of radio silence from the company to their financiers, the player is sent in by one of the investing firms to find out what has happened. The firm employing you has also convinced you to beta test another of their investment projects while you do so, "a buggy A.I. visor that is constantly fighting against you."
The game itself technically operates as a top-down dungeon crawler, but all that the player sees is the text-based output that the visor hopelessly struggles to convert that environment into.
Proximate is genuinely scary and funny in equal measure, and I highly encourage those of you into horror to check out the demo that's available now.
---
Janet DeMornay is a Slumlord (and a Witch) will cause hilarious upset to anyone who has ever rented
Scott Ford and Pete Foley, who make up Sydney studio Fuzzy Ghost, were up next to show their currently in-development, first-person escape room horror comedy game Janet DeMornay is a Slumlord (and a Witch).
Taking heavy inspiration from the developers own experience renting a house in the inner-Sydney suburb of Chippendale, Janet DeMornay puts players in the shoes of a tenant besieged by their invasive landlord.
Tobe Hooper's classic film Poltergeist was highlighted as a key tonal reference point for the ways in which it blends domestic mundanity with tragedy, comedy, and scariness, but the duo also emphasised the joys of found family that can come from share house living should also shine through.

The game is due for release some time in 2024 and can be wishlisted on Steam.
---
Billy Dent and Chloe Kilroy tell us that "the game is right in front of you"
With their small team Ground Bird, Dent and Kilroy have, over the past few years, been somewhat inadvertently building a body of work which revels in the mundane absurdity of daily life.

Their first project was 2021's Cosmic Commute, aka Space Mykee Officer. The game was built during Melbourne's extensive pandemic lockdowns and puts players into a cosmically surreal simulation of the "smorgasbord of human experience" that is an average Melbourne train commute. It's delightful.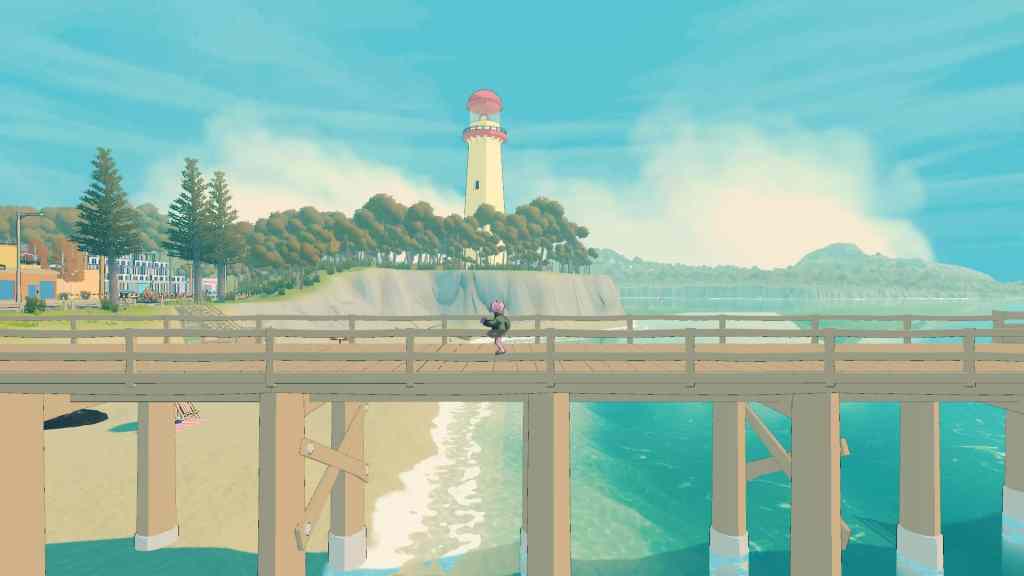 Their second work, 2022's Bell's Beach, is a deeply silly fishing adventure set in a small beach town. Dent and Kilroy discussed how one of the biggest inspirations for the game was actually, of all things, Dark Souls, as they really strived to capture the sense of curiosity, legacies, and feeling of 'a mundane fantasy' which is core to the Souls experience. The world of Bell's Beach was then designed around team members' collective memories of visiting and living around Victoria's Great Ocean Road, and through extensive virtual tourism conducted via Google Street View.
The duo finished up by talking a little about their next project, which is a conscious shift from the wholesome direction Bell's Beach ended up taking. The game will focus on a group of young university students trying to navigate and survive in the hellscape of the modern world, which, naturally, is a pretty omnipresent theme in the daily lives of Dent, Kilroy, and their team.
---
Knuckle Sandwich FINALLY has a release date!
As reported previously, Melbourne developer Andrew Brophy's long-awaited Knuckle Sandwich will finally be released on 23 November 2023.
After 10 years in development, a showing at Parallels back in 2015, and a successful crowdfunding campaign in 2018, Brophy confessed that he was embarrassed about how long the game had been gestating, and spoke of the countless ideas that had been scrapped along the way.
Those itching to get an immediate hands-on with "the greatest Australian JRPG" can check out the free demo on Steam.
---
GamesHub was provided complimentary access to Freeplay Parallels 2023.