Fortress Melbourne has long been the envy of the Sydney video games scene. As an entertainment and hospitality venue, it attracts crowds of gaming fans on a daily basis, with many spending time in its hallowed halls romping through rounds of Counter-Strike, Fall Guys, or Overwatch in the same room with friends, journeying through dungeons and fighting against dragons around a table, or just having a meal. Now, Sydney is set to have its own gaming realm to boast about, with Fortress Sydney opening its doors on 8 April 2023.
Ahead of the venue's grand opening, GamesHub was invited to attend a sneak preview session and tour which illuminated more about this RGB-powered hybrid bar/arcade/esports arena/tabletop haven. While still under construction at the time of our visit, Fortress Sydney still looked impressive and ambitious.
The venue features several major areas, each of which provides opportunities for patrons to enjoy their own personal gaming sessions, meet up with friends, or form new connections over a shared passion for games. Here's what to expect:
Esports Arena – A central hall lined with stage-bound Alienware PCs, a giant screen, and retractable bleachers for an expectant audience.
The Tavern – A cosy, fantasy-themed bar and hangout spot filled with unique lore, and private booths with screens and consoles for players to reserve.
Bar 2315 – A cyberpunk-themed bar with a reverence for the 'good old days' of the 21st Century. This bar includes an interactive AI art installation, and a cocktail menu that was reportedly formulated by ChatGPT.
Arcade – An area filled with arcade and ticket-redemption machines, including the beloved Taiko no Tatsujin drum kits, and the Bandai Namco-developed Mario Kart Arcade GP.
PC Gaming Room – An L-shaped room filled with modern Alienware PCs that can be rented by keen players.
---
The Tavern
Of the rooms spotlighted on the Fortress Sydney media tour, perhaps the most impressive was The Tavern, the sister venue to Melbourne's own fantasy-themed bar. While there is no giant orc smashing out of the walls in this location, it does contain its own unique lore, and plenty of medieval-style furnishings to gawk at.
In one corner of The Tavern, you'll find a giant, glowing hammer embedded in the floor. In another, you'll see light-up shields, and a giant, screaming ox head above a digital fireplace. You'll also spot a beautiful, woven tapestry that illuminates more of the Fortress Sydney story, which is guided by a unique, hidden lore developed by the venue's founders.
Perhaps the most exciting part of the main bar floor is the inclusion of multiple, private booths of different sizes that can be booked out by visitors. Each has a screen attached – most offering Mario Kart on Nintendo Switch, during our visit – allowing visitors to take part in intimate gaming sessions while dining on drinks and food.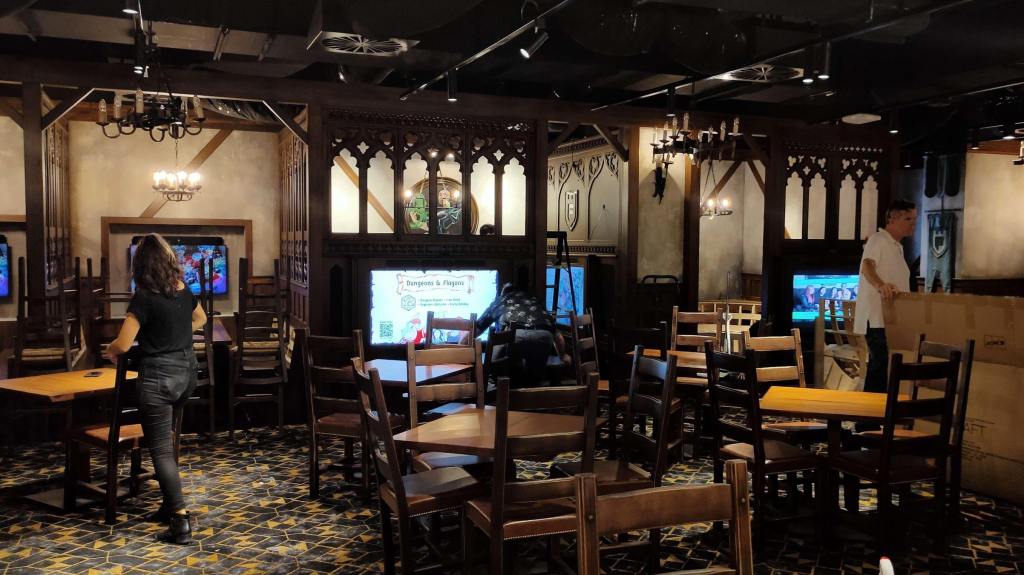 The overhanging lighting and low, dark ceiling gives the entire bar a warm, cosy feeling, and it's easy to imagine it being a very popular spot for venue attendees. With earthy tones and high fantasy theming, it should make for a transportive experience.
Bar 2315
Directly above The Tavern is a second bar, known as '2315' – named after the year of its far-future setting. Jon Satterley, CEO and co-founder of Fortress described this area as having dense lore; it's essentially a 'future' bar established for patrons to enjoy and reminisce about the early 21st century, a time before AI took over the world.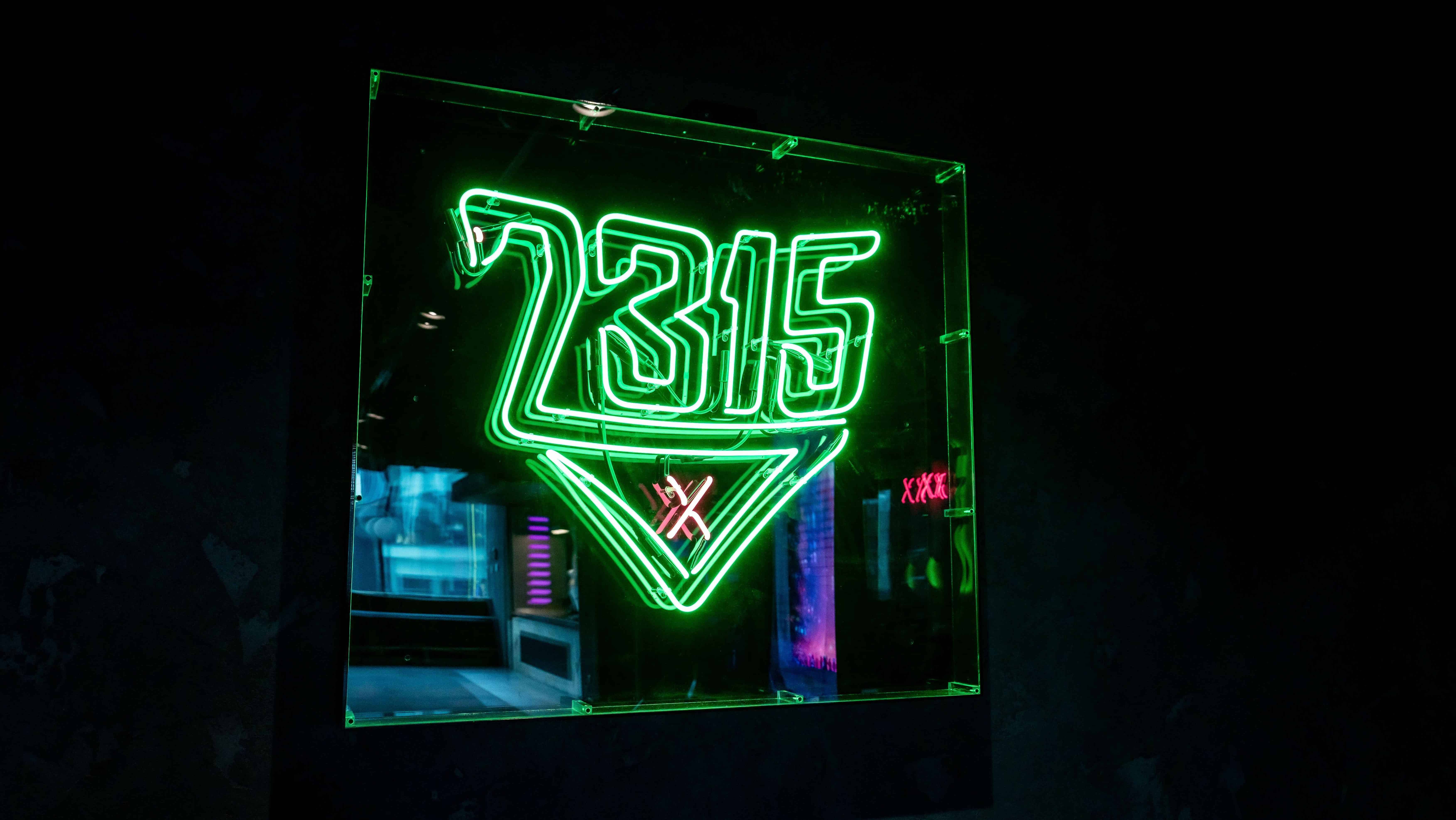 Ironically, AI plays an important role in this part of Fortress Sydney, with a machine in one corner of the bar letting patrons procedurally generate an image that is then projected into 2315 as a decorative piece. Satterley also revealed during the media tour that AI, specifically ChatGPT, was used to formulate the future-themed cocktails of the bar – so whether or not they'll taste any good will be up to The Machine™.
Of the areas shown off during the media preview, Bar 2315 was the least complete, so images would not do it justice – but between the site's RGB lighting, unique neon signage, machine facades, and Sydney city view should make for a delightful, sci-fi-themed entertainment spot.
For anyone who attended the classic Sydney-based sci-fi-themed restaurant Xerts in the early 2000s, there are certainly some shades of it in 2315.
Arcade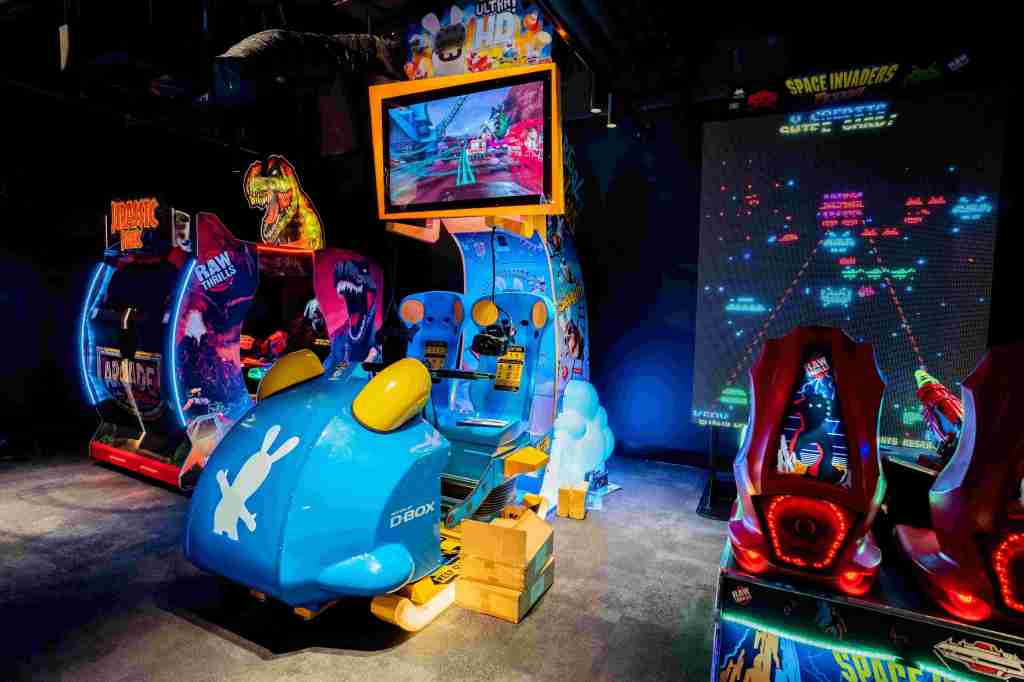 In addition to the bars mentioned, Fortress Sydney is also home to an arcade, populated by familiar amusement machines. In one corner, there are dual Taiko no Tatsujin drumming machines. In another, you'll find Mario Kart Arcade GP. Further into the impressively-sized space, you can romp through the Rabbids arcade game, take part in rounds of basketball, and even grab yourself some goodies (presumably) if you win enough tickets.
This space will likely compete directly with the nearby Timezone, but has a slight edge in that you can bring food and drinks into the space, as it's open to everyone in the venue. With black walls and a strong neon hue, it's a dazzling place to be in, and will likely be very stimulating once the crowds descend.
Esports Arena
The main hall of Fortress Sydney is the esports arena, which is powered by Alienware (Dell), Intel, and Telstra. This towering space features a high ceiling, and plenty of vantage points – including an overhead balcony for 'VIP' guests.
Those in Bar 2315 and in the Arcade also get a window into the action, making the arena the focal point of the entire venue – and a ripe space for esports action. Already, the Fortress team have planned to feature major battles on this stage, and it will likely become a hub for national and international esports events in future.
Again, those funky RGB lights are likely to add a sense of drama to competitive matches, all while making tournaments seem grander and prettier.
PC Gaming Room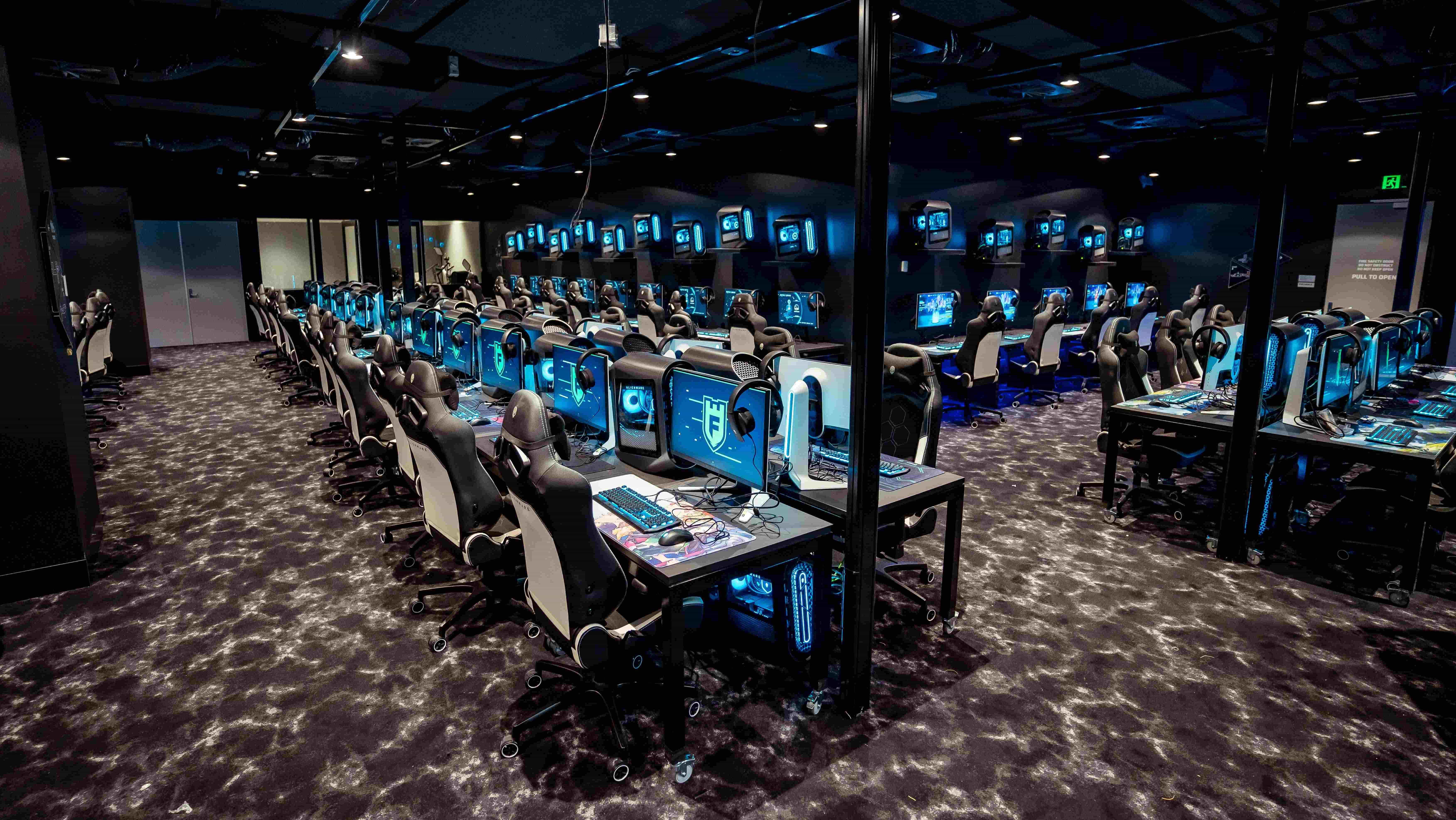 The last piece of the puzzle for Fortress Sydney is the hearty PC gaming room, which features dozens of high-end Alienware PCs, courtesy of Dell, which has thrown its support behind the venue. Each machine is currently equipped with an Nvidia GeForce RTX 3080 graphics card. Visitors will be able to rent PCs here, and play their game libraries on fast and robust machines with impressive performance.
While the Fortress Sydney team acknowledged that most gamers will already have their own PCs at home, they believe the difference between their own rigs, and the Alienware PCs – as well as the potential to meet new people, or celebrate with friends – will provide an incentive to journey to Central Park Mall in Sydney to play.
Further into this space, there are also two dedicated streamer pods available to book. These will likely be in high demand, as the combination of solid hardware and Telstra-supported internet speeds will make for reliable shows.
---
'Something for everyone' may be an overused term, but Fortress Sydney justifies the use of it. There's something for casual gamers in the venue's arcade segment. There's something for fantasy and sci-fi fans, with two themed bars that would be destination spots even without being cloaked in the Fortress ecosystem.
Meanwhile, the opening of a new esports arena in Sydney provides a gathering place for gaming fans to come together, while also providing a spotlight for national and international events in Sydney.
That's not to mention the venue being so close to Sydney City, the University of Technology (UTS), the University of Sydney, several other tertiary institutions, and major transport hubs. The convenient location will likely encourage a large, growing audience, and buoy the long-term success of the endeavour.
After years of gazing down at Fortress Melbourne with envy, the opening of Fortress Sydney comes as a welcome relief. When it finally opens, it's expected to become a must-visit locale – and following our foray, we can certainly see that future on the horizon.
Fortress Sydney opens on 8 April 2023, at Central Park Mall in Chippendale, Sydney, NSW, Australia. You can find out more about the venue on the Fortress website.