Fortress Melbourne is a massive gaming venue and bar located in Melbourne CBD that won the hearts of its local community after a long and hard-fought battle through coronavirus lockdowns and restrictions throughout 2020 and 2021. While there was a brief moment where the ambitious, large-scale venue looked too good to be true, it's thrived since its unfortunate early days – to the point where the team is now opening a new 'Fortress Sydney' location in Summer 2022.
Announced via teasers on social media, Fortress Sydney is set to be the 'largest games venue of its kind in the Southern Hemisphere' at 3000 sqm, with plans for it to become a companion venue to Fortress Melbourne. The address is listed as 28 Broadway, Chippendale – which places it in the Central Park Mall, in the heart of Sydney's CBD.
'Melbourne was our first – you might call it prototype. Fortress Sydney will be the jewel in our crown,' Jon Satterley, Fortress CEO and co-founder said in a press release. 'It will be an awe-inspiring new "home of games" – the epitome of everything we have worked towards. The ultimate statement in live games culture entertainment.'
Like its predecessor, it will host a number of gaming-related events and meet-ups throughout the year, including esports tournaments in a dedicated esports arena, movie nights, board game nights and trivia.
Fortress Melbourne hosts regular meetings like these in Melbourne, with support from major companies like Alienware.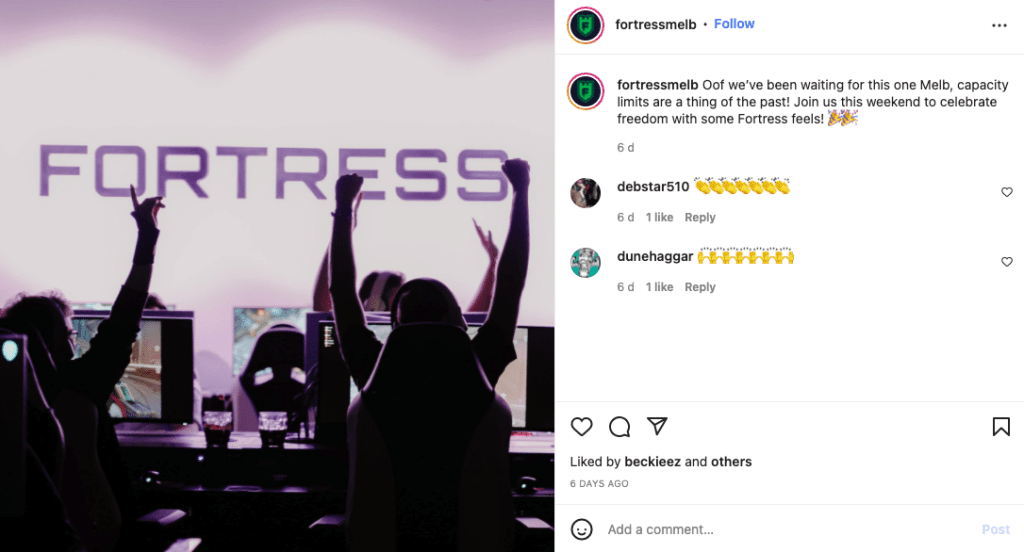 In addition to large venue spaces, Fortress Melbourne also boasts several bars and restaurants, including The Tavern, a fantasy-style eatery decorated in a sweet, Medieval style. Fortress Sydney will include similarly inspired areas.
'A fantasy-themed Tavern, based on Fortress's unique character lore, an incredible competitive and esports games arena featuring a mezzanine/VIP level, another sci-fi inspired bar, arcades, PC gaming zone with the highest spec Alienware rigs, private party booths, amazing food and drinks brought to your table,' are all set to be included in Fortress Sydney, according to Satterley.
It will be spread over two levels, and boast a capacity of 1,000 people.
Given the opening date is currently listed as next Summer, it's likely that development is already well underway in Chippendale. With coronavirus restrictions now easing as vaccination rates rise to a comfortable level, the timing is spot on.
After two years of isolation and worry, Fortress Sydney feels like a nice cherry on top – and a great opportunity for gaming fans to finally get together again, in a safe space where everyone is welcome.
You can stay tuned to updates on Fortress Sydney via social media, or on the Fortress website.
This article has been updated with fresh details about the venue opening and its many features.