Disco Elysium is well-regarded as one of the most dense and beautifully written role-playing games of the century thanks to its bold ideas, sharply-written characters, and darkly human narrative. For the development team at ZA/UM, creating the game was a chance to explore the world through a surreal and hyperbolic lens, one influenced by real life experiences and the belief that there is no 'stupid' question.
Argo Tuulik and Justin Keenan, writers with ZA/UM, sat down with IGN reporter Rebekah Valentine to talk more about the game during LudoNarraCon 2022 – and their combined insight has painted a rather intriguing picture of Disco Elysium's development.
For one thing, the team has greatly illuminated the collaborative writing process at ZA/UM, and spoken of how this multi-layered process helped to polish writing and ensure every character in the game had their voice heard.
'The unique thing about writing Disco [Elysium] is.. on this level of collaboration, it just feels wrong to take ownership later on,' Tuulik said. 'The way the writing process works … is everyone started out with a character or a scene, wrote it to a certain extent, then other people whose characters or scenes interlapped came and wrote another layer on top. Then, there was an editing layer, sometimes even after that we went back to the drawing board.'
In this process, writing for the game was refined with a sharp edge, as multiple writers were able to tackle individual scenes from the perspective of one particular character or moment that they took ownership of. Tuulik mentions the creation of foul-mouthed kid Cuno as an example. According to him, the character was rewritten 20 different times, thanks to the input of multiple perspectives, and a wish to keep the game as authentic as possible.
While writer Keenan believes there are pieces of the 'original' Cuno that remain in the game, the one seen in the final version is very different to his humble beginnings, thanks to the process of 'layering' which ZA/UM used. As a result, Cuno is one of the best and most complex characters in the entire game. While prickly, he's also extremely endearing thanks to deft writing and banter-filled dialogue.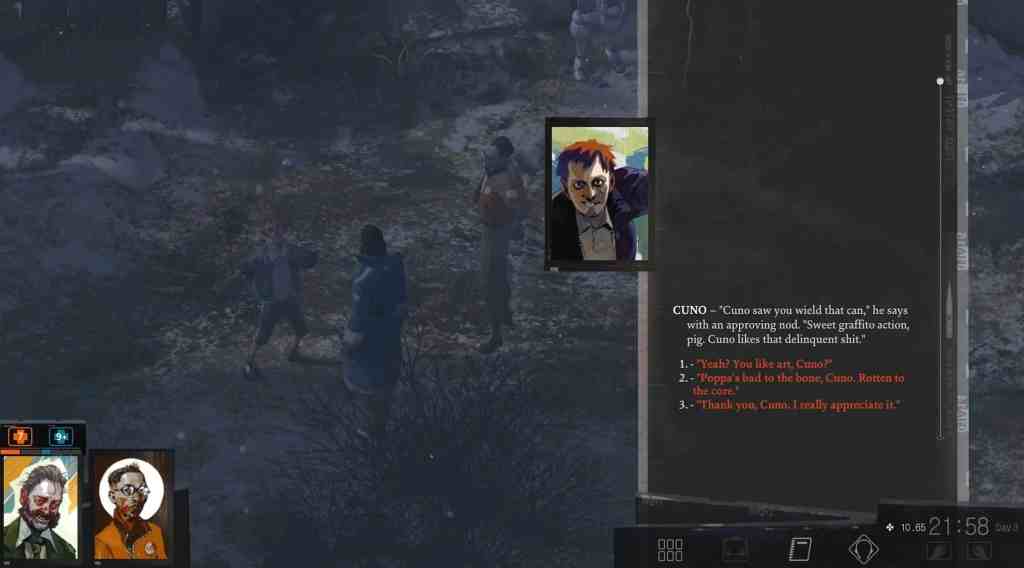 Read: Embrace the strange in Disco Elysium: Why video games should be weirder
Experimentation was key to Disco Elysium
In addition to layering, an important factor in the success of Disco Elysium's writing was a willingness to experiment – something Tuulik is particularly passionate about. He believes that, unlike other studios, the ZA/UM approach to writing lacks the strict professionalism that can otherwise dampen bright ideas.
'This was one of the incredibly beautiful things about making Disco [Elysium] – this naivety … If we had been more professional, I think a lot of fun stuff would not have happened,' he said. 'With this professionalism, there's a level of cynicism. Back then, we were very naive – any stupid idea, go for it, explore it.'
This, he believes, is the reason why game protagonist Harry Du Bois can turn a sandwich into an aeroplane, and attempt to feed his beleaguered colleague Kim Kitsuragi in one of the game's more heartfelt moments. It's a strange idea – but also one that works on multiple levels. It illuminates the childish nature of Du Bois, while also displaying the reluctant kindness of Kitsuragi. It's a minor slice of the game's extraordinary dialogue, but it's filled with meaning.
The moment was born from a love for exploratory gameplay – and also a love of smaller, in-game secrets. When creating the game, both Keenan and Tuulik were keen to implement as many hidden interactions in the game as possible, so that every player could have their own unique experience.
Some may not find the aeroplane scene with Kim. For others, it will be one of the most memorable parts of the game.
Fallout 2 was given as an important touchpoint during the LudoNarraCon 2022 Fireside Chat. In this adventure, players can discover new interactions on every playthrough, so that every experience differs. Tuulik mentioned he played the game several times as a kid, and was constantly discovering new pathways and easter eggs.
A dedication to this idea of 'specialness' means that Disco Elysium is not strictly complete-able – something that was extremely important to the narrative team.
'What we tried to do in the writing and narrative design is turn off "gamer brain" impulses to collect everything,' Keenan said. Instead, the team wanted to encourage exploration, experimentation and taking risks – a process that Tuulik said was also inspired by The Last Express. This game requires players to make definitive choices, as the game is reshaped by player decisions permanently.
'[The Last Express] had this unique mechanic … when you're playing it, you know you can't get all of it,' Tuulik said. 'It takes so much edge off.'
By allowing more freedom, the ZA/UM team hoped players would be able to engage with Disco Elysium more meaningfully. Without the urge to 'collect', players can simply be in the game's world, and work through dialogue trees to discover more about every unique character in the game.
Freedom and backbone are needed for a successful narrative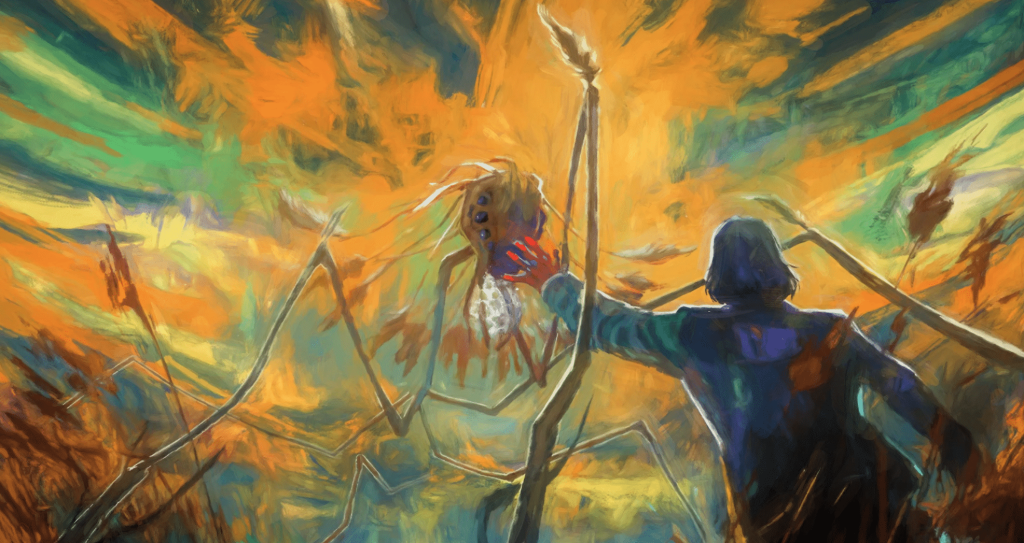 It wasn't just freedom that gave Disco Elysium its edge, however. What was needed in the scope of writing was a backbone – something that would hold the narrative together. While Tuulik, Keenan and the narrative team worked on the assumption that there were no stupid ideas – advice Tuulik says he would want to pass to young writers – there needed to be a linear structure to 'hang' each unique moment on.
'There's a balance … Disco can play out in many different ways, but the basic story is always kind of the same. There's one answer to the mystery,' Keenan explained. 'The critical path is quite linear. What that does – having that robust, relatively straightforward backbone – [is it] allows us to be quite extravagant in every other part of the game.'
Essentially, the narrative backbone functioned as a peg for a large kite – it kept the story tight and grounded, while still allowing the game's crazier ideas to fly free.
It also allowed the team to effectively ratchet up the action the further the narrative went along, as a means to pull players further into the game's wild and wonderful story. As with all narratives, there's give and take in Disco Elysium – players must be willing to travel along the journey and accept the weirdness it entails.
To that end, ZA/UM ensured there was some slice of intrigue in every part of the game, and every character. The multi-layered writing approach meant that characters could be worked and reworked until they were rounded, human characters. As Tuulik puts it, there is no such thing as pure evil – everyone has something interesting or intriguing about them, something that makes them seem more whole.
The writing crew at ZA/UM wanted to make that clear in every character, and guide players along with morsels and moments that would escalate the narrative along the way.
To end the Fireside Chat, Tuulik and Keenan finished on a welcome note – that the ZA/UM team hopes to explore the district of Revachol more in future. They didn't confirm anything remotely approaching a Disco sequel – but rightfully enthused about the world they'd built with the ZA/UM team, and discussed the potential for it to return.
With writing as powerful and impacting as Disco Elysium, a return to the district and its many colourful characters would be most welcome. While nothing is confirmed yet, the passion the ZA/UM team still has for the story of Harry Du Bois and every character stuck in his orbit is plain to see.
You can catch up with the ZA/UM Fireside Chat via the LudoNarraCon 2022 panel hub here.