When Diablo Immortal, a mobile version of the 25-year-old isometric action RPG series was first announced in 2018, the backlash was fierce. But in the following years, the sentiment towards it softened – whether by positive player experiences with the various alpha tests, spreading by word of mouth, or the growing acceptance of mobile games.
I had a chance to play the final early access build of Diablo Immortal, which ran in the period leading directly up to the game's full public launch on 2 June 2022, and you know what? Diablo works really well as a mobile game. Provided that the monetisation doesn't become impossible to ignore in the long run, this is a very good way to get those moreish, brain-tingling sensations of looting and dungeon crawling on the go.
[Editor's Note: Welcome to what we're calling a Review Snapshot. Time is short, there are too many games, and a lot of those games are very long or hard to judge in their early stages. With a Review Snapshot, we want to share an assessment of a game that we haven't played in its entirety – and thus can't review as a whole work in good faith. These assessments will be based on a significant chunk of time with the game, and aim to give you a good idea of whether you might be interested in sinking a similar amount of time into the title yourself. Let us know what you think about them by tweeting at us.]
Diablo Immortal: The First Few Hours
To be transparent, there were definitely some limitations in playing Diablo Immortal in its early access phase, which is largely the reason why we've avoided a fully-fledged review. For one, it's hard to get too invested in a free-to-play mobile game when you're made consciously aware that all your hard-earned progress is going to be wiped forever in just a matter of days.
But because of my reluctant lack of commitment, I was able to at least allow myself the joy of taking a number of different character classes through the first few hours of the Diablo Immortal campaign. As many people can probably agree, the most engaging phase of Diablo games (or any loot-based game) are those starting hours. You'll level up rapidly and grow quickly in power, and every new loot drop is an exciting one, because there's a 90% chance items will be better than what you already have.
If you've played Diablo III before, and specifically, if you have experience with the console version of Diablo III, Immortal will feel incredibly familiar. It has direct character control, feels a little faster than the PC versions of the game, and features all of the character classes and many of their abilities from Diablo III – Barbarian, Demon Hunter, Wizard, Monk, Crusader, and Necromancer.
Though the game is a precursor to the events of Diablo III, the first few story beats don't feel like they diverge from the Diablo formula much at all – but that's completely fine. What I personally want in a mobile Diablo game – which, let's face it: is a version of the game I may or may not be paying 100% attention to at any given point – is the moment-to-moment satisfaction of destroying mobs of enemies, and a nice loot grinding experience. Diablo Immortal absolutely delivers on this.
Diablo Immortal: Initial Impressions
Many of Diablo Immortal's elements feel like they've been honed to get you into that experience straight away, which shines a positive light on it, in my eyes. Quest locations are made clear with visible trails to follow. Skill cooldowns are obvious. You can set parameters for automatic gear pickup. The touchscreen UI interface is well-sized and arranged, and works best with phones – I also tried Diablo Immortal on an iPad, as well as with a connected controller, neither of which felt as comfortable or natural.
Despite requiring a constant internet connection, you're very quickly dropped back in to the exact point you left the game after your close it or change your active phone app. As a quick pick-up-and-play game, Diablo Immortal is strong.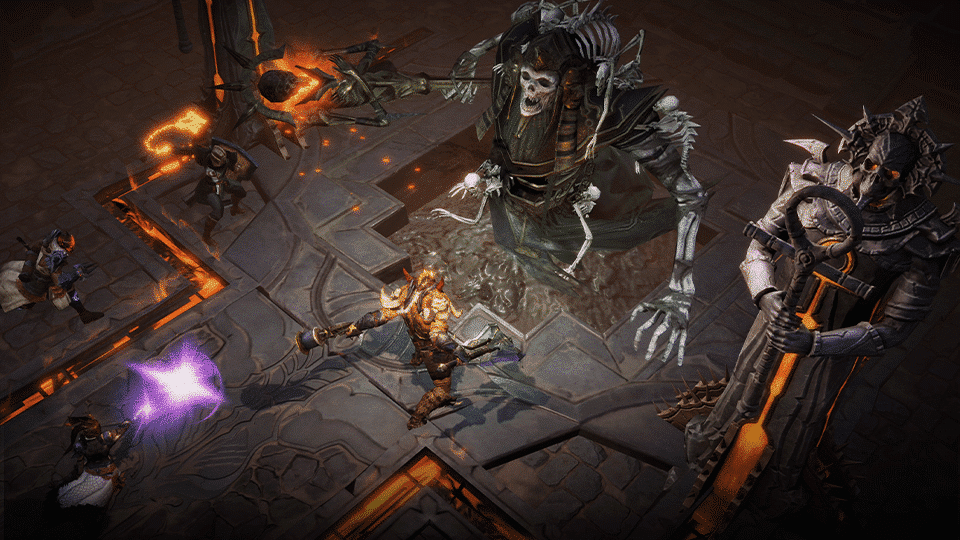 Will I enjoy Diablo Immortal?
Given all of the above, it's hard not to recommend giving Diablo Immortal a shot, considering that, you know, it's free-to-play.
It's got a great game feel, and works very well as a quick burst or second-screen experience. The big question, of course, will really be in regards to your attitudes towards the free-to-play model and in-game monetisation.
Everyone's tolerance and willpower varies, and will be tested by the game. Diablo Immortal very quickly introduces things like Daily Login bonuses and a variety of long-term challenges for rewards in order to goad you into coming back often. There are also options to purchase a Battle Pass which creates more opportunities for rewards, as well as the option to purchase items that make some in-game events easier, and others that let you re-roll the properties on pieces of gear.
Diablo Immortal only has two currencies in addition to the standard in-game gold, which is relatively (and thankfully) tame and easy to keep track of. Blizzard has said it's treating the monetisation in a way that should 'feel like a bonus' in an effort to keep the core experience free and fun – although that's not something we can assess ourselves until we hit the endgame.
But having spent almost a dozen hours simply playing around with all the different classes, getting those micro-thrills from zapping hoards of ugly beasties with flashy powers, and not spending a cent, I can definitely say my time has felt pretty worthwhile so far. After all, there are far less engaging and far more predatory free-to-play games you could be wasting your time time with. Diablo Immortal doesn't seem to be one of those.
---
Diablo Immortal
Platforms: iOS, Android, PC
Developers: Blizzard Entertainment, Netease
Publishers: Blizzard Entertainment, Netease
Release Date: 2 June 2022