Everybody has dreamed about being a great detective, in some form or another. Whether it's Batman or Sherlock Holmes, the 'great detective' is an admirable, aspirational figure in pop culture. There's something romantic about sitting down with a multi-layered puzzle, working through the clues, and finally stumbling upon the solution to a grand mystery. To that end, board games are fantastic for living out your most ambitious detective dreams.
On the tabletop, you can work through strange and awe-inspiring cases, each more mysterious than the last, as good mystery board games bring you from haunted mansions all the way to solving real-life murder mysteries. If you're looking for board games that'll test your fledgling detective skills and give you a compelling mystery to plow through, read on.
Here are our favourite mystery board games of all time.
---
Letters from Whitechapel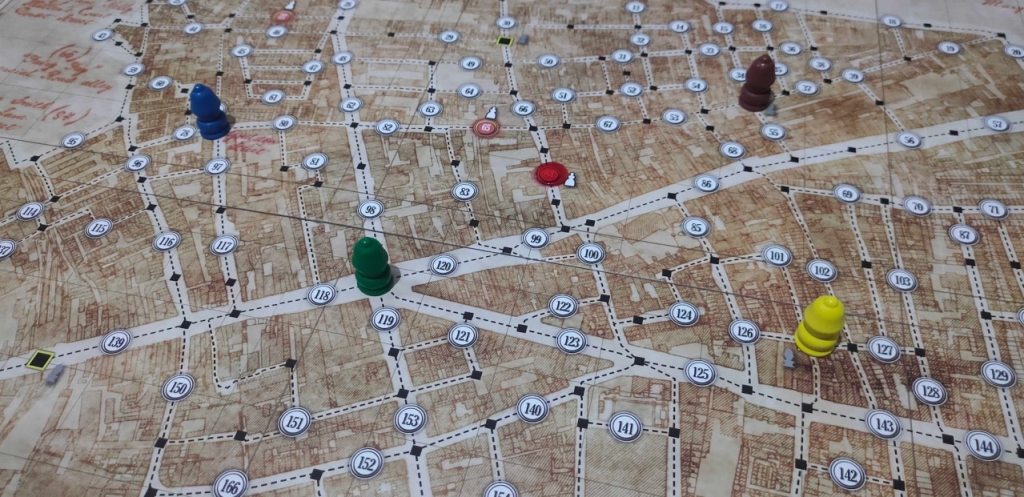 Players: 2-6
Letters from Whitechapel is a historic horror-mystery board game centred on the real-life murders committed by Jack the Ripper. While the game's subject matter is fairly grim, it translates well into a unique hidden movement-style game where players must put their detective hats on to discover the true location of the Ripper and thwart his latest murder attempts.
In the game, one player embodies Jack, while the others play police detectives trying to catch him before the game ends. In each round, Jack can pull off a variety of actions – including murder – making time a massive stressor in this frantic, impressively-designed mystery board game.
---
Eldritch Horror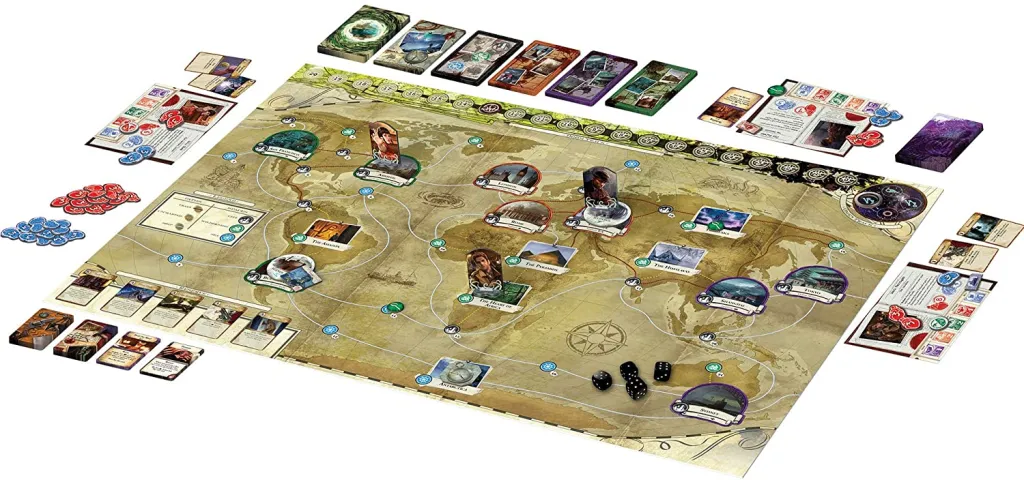 Players: 1-8
Eldritch Horror, one of the major board games that make up the modern Arkham Horror story, is a brilliant investigative game that sends players on a wild quest across the world to hold back a tide of horrific monsters. Up to eight players can join together in this themed mystery-adventure, with each embodying an investigator with unique skills that allow them to unravel new mysteries.
In this quest, players will team up co-operatively (or travel solo) to research the threat of the Ancient One and determine the means to take them down. There are multiple monsters included with the game, and each shakes up gameplay slightly, making rounds feel fresh with every session. If you're looking for a spookier horror for your tabletop, Eldritch Horror is a good-looking and incredibly fun experience.
---
Deckscape: Dracula's Castle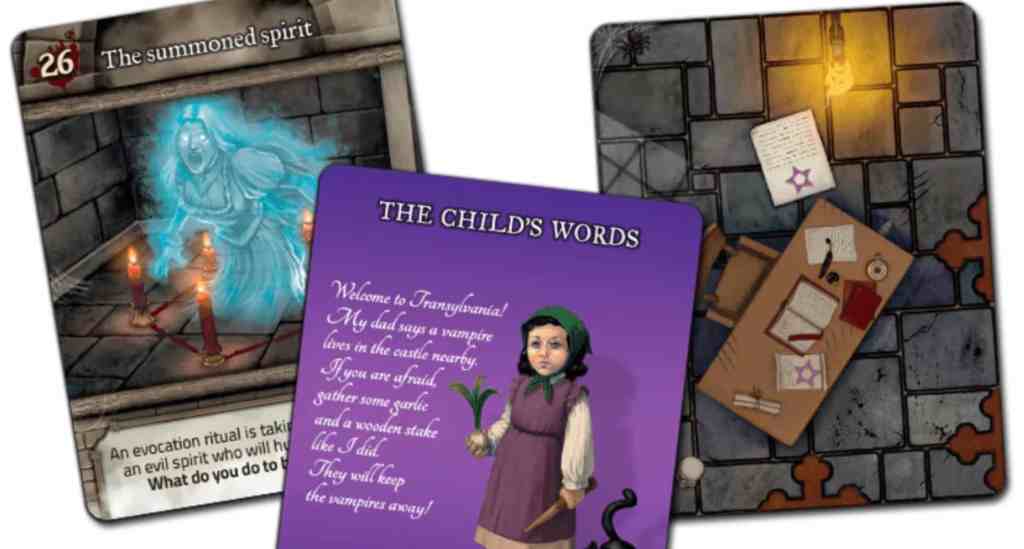 Players: 1-6
Deckscape: Dracula's Castle is a single adventure in a larger franchise – but it's the perfect introduction to this pocket-sized escape room series. In Dracula's Castle, you begin your adventure with a mysterious invitation to a haunted castle. You can probably guess the rest of your tale from there – but Dracula's Castle makes the entire experience feel unique and snappy with a variety of clever, solvable puzzles that neatly straddle the line between being too hard and too simple.
Get your brain in gear, think deeply about each card draw, and concentrate on every threat that arises, and you'll make it through Dracula's castle unscathed – and with a real sense of satisfaction. If you finish this game and want more, the rest of the Deckscape adventures are just as good – although some of them are much harder than this neat, satisfying journey.
---
Cluedo (1999)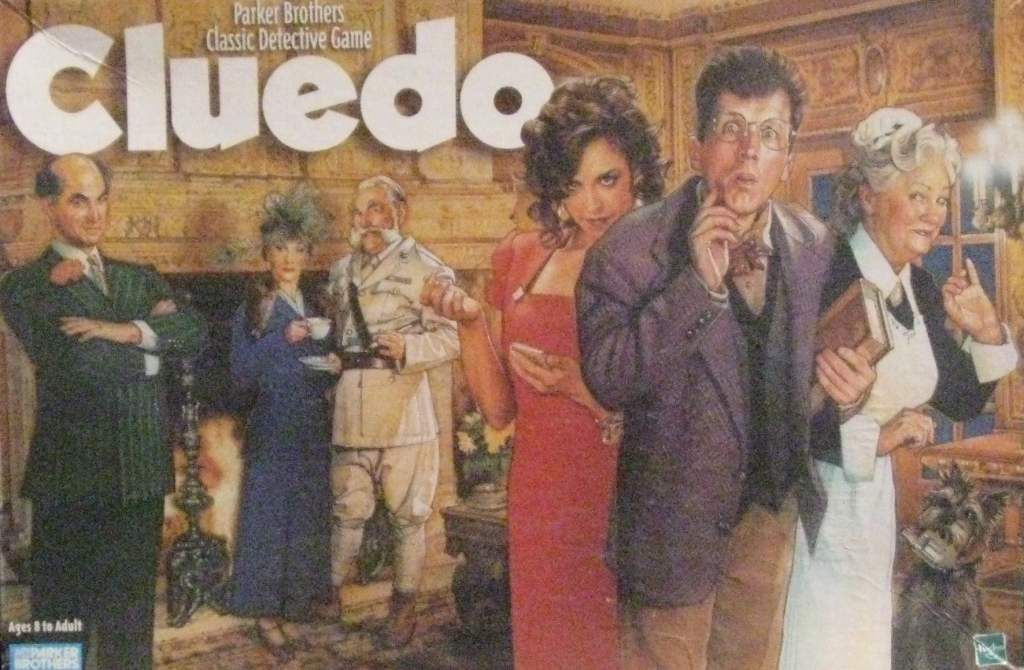 Players: 2-6
The 1999 version of Cluedo that launched in Australia and other regions around the world has yet to be beaten, in our estimation. A combination of gorgeous cover artwork and a slick game board decorated by classic art makes this Cluedo re-release a nostalgic and enduring experience. While the impact of the game may be lessened for those who didn't grow up playing it, it's hard to fault the mystery gameplay of this adventure.
For those unfamiliar, Cluedo tasks players with solving a tragic murder by investigating who the murderer is, how it was done, and where it took place. Once these three clues have been discovered, a dramatic accusation can take place. It's simple, impactful, and fantastic for a mid-to-large group of players.
While it's hard to find the stellar 1999 version of Cluedo in modern times – its been replaced by a more cartoonish version since – any adaptation of Cluedo usually contributes to a wonderfully entertaining, mystery-filled time.
---
Mysterium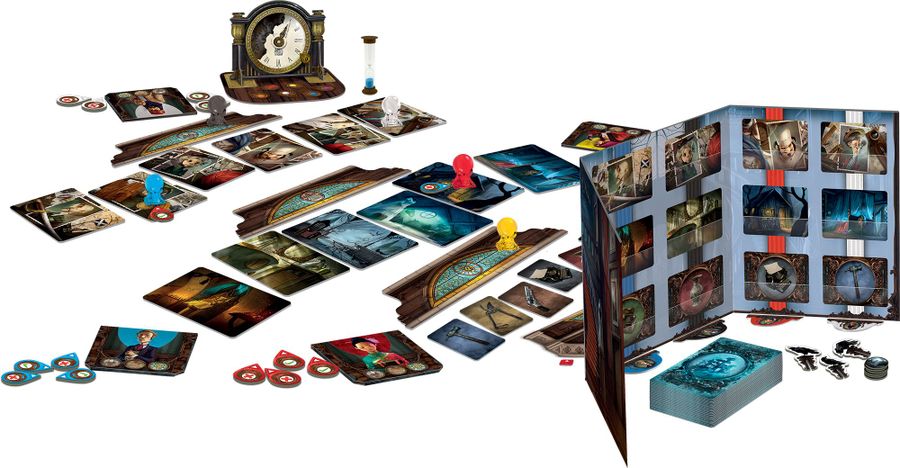 Players: 2-7
Mysterium is a gorgeous board game that tasks players with tapping into their latent psychic potential to divine visions, and free a haunted soul. The only way this soul can communicate is through surreal imagery pictured on art cards – and these must be interpreted by players, if they have any hope of survival.
As in Cluedo, players will need to solve a murder in multiple parts. They need the suspect, location, and weapon cards all laid out to end the game – or the soul will not find rest. It's not just the clever gameplay loop that will likely attract your party of players to Mysterium – it's also the wonderful art, and the spooky atmosphere created by the game board and pieces.
---
Exit the Game: Nightfall Manor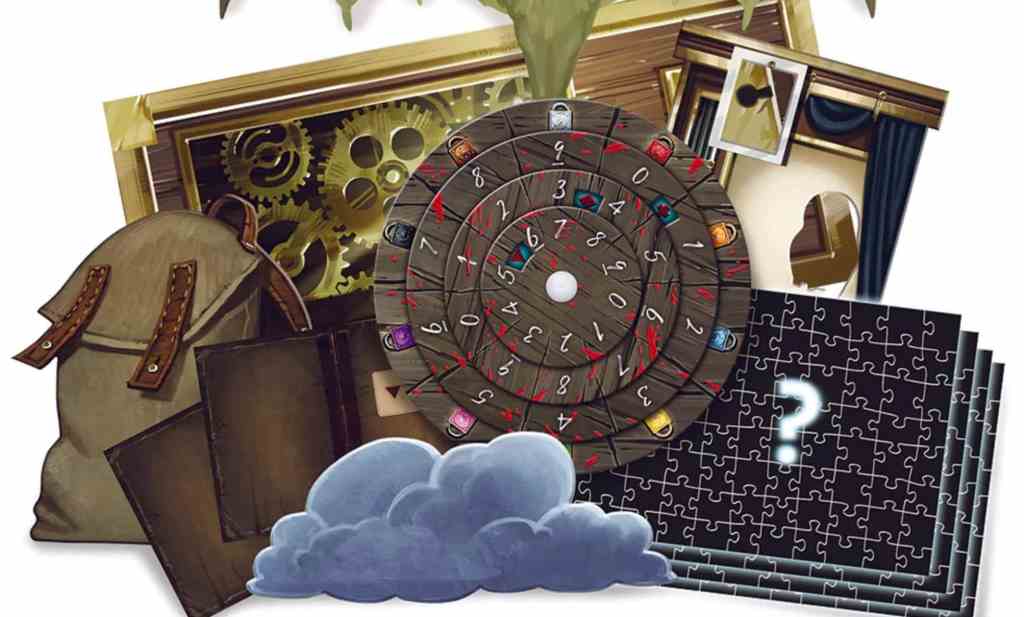 Players: 1-4
The Exit the Game franchise has spun off in a variety of directions lately, with the excellent 'puzzle' variants presenting great, multi-layered mysteries to explore. While these board games stray into simple jigsaw territory, they're a bit more complicated than they appear on the surface. Nightfall Manor – the best of the recent bunch of Exit puzzles – tasks you with entering an eerie mansion filled with danger, in the hopes of rescuing an old man who's gone missing.
To kick off your journey, you'll put together a jigsaw – and this will reveal strange tidings, with each corner of your new map hiding fresh puzzles and riddles you must solve before you can advance to the next jigsaw. Nightfall Manor is great for a solid solo experience, but can also be played with a small group of friends.
---
Dixit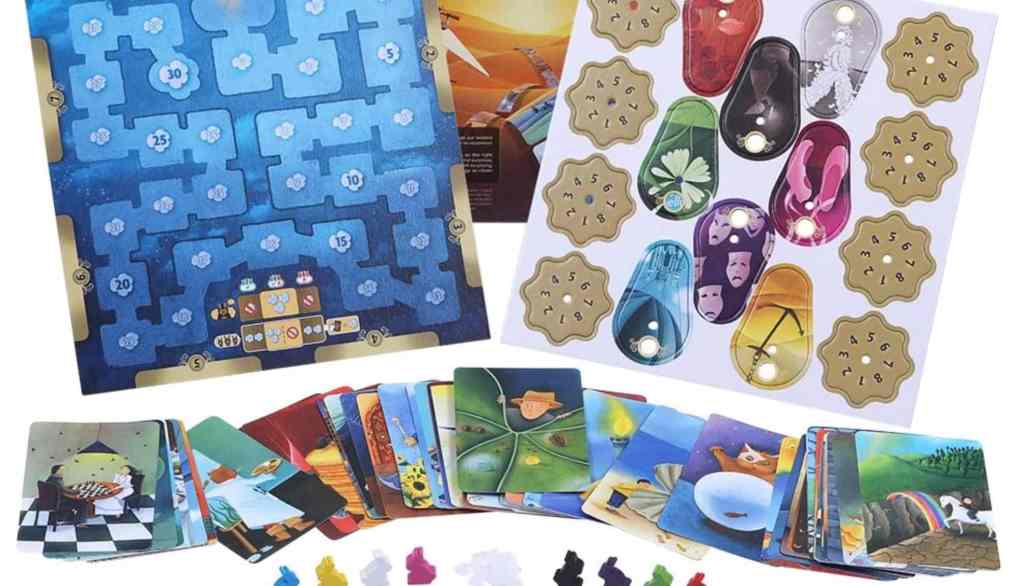 Players: 3-8
Dixit is a light mystery game where players must dive deep into their dreams and sense of creativity as they work to interpret surreal cards played on a game board. In each round of the game, a storyteller will choose a card decorated by surrealist images, and describe it as obscurely as possible. Players must then select a card from their hand that best reflects this imagery, and every card is mixed up. At the end of each round, players will decide which card represents the original image, with winners advancing on a track.
While gameplay is not too complex, the interpretation of vague mysteries makes it a compelling (and gorgeous) game to play with a larger group of friends. With every card placement, Dixit will keep you guessing.
---
Cat Crimes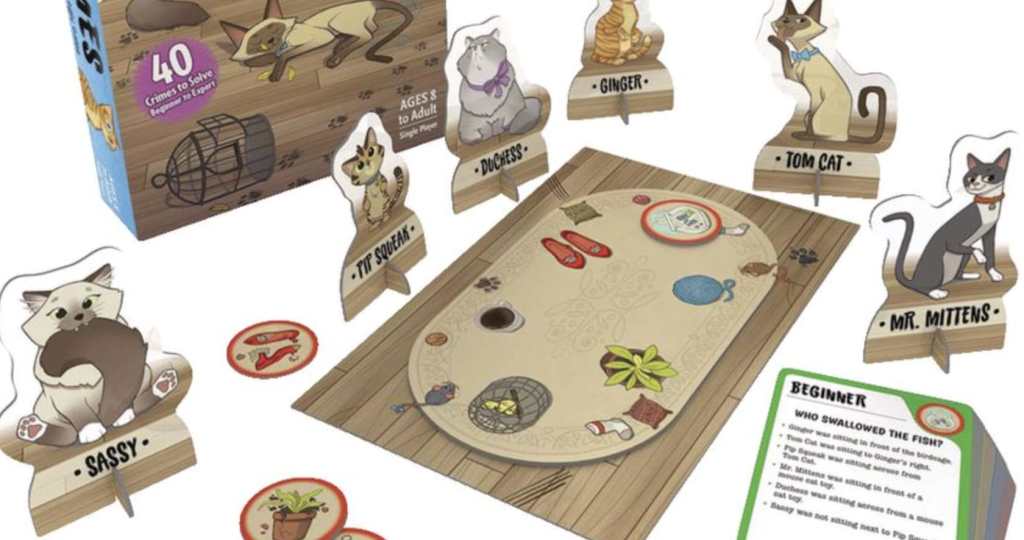 Players: 1+
Board games should be inclusive – and that's where titles like ThinkFun's Cat Crimes comes in. This light mystery game is targeted at young learners – but its sense of creativity and delight makes it the perfect board game for anyone looking for a sweet brain teaser. In the game, you're tasked with solving a harmless crime committed by one of many mischievous kittens.
Clues in each scenario give you characteristics to watch out for, with these little tidbits eventually allowing you to nab your impossibly cute suspect. While this game is certainly not as intensive as others on the list, it's great for families, or anyone unfamiliar with board games. It's adorable enough to hold anyone's attention for a short, sweet mystery puzzler.
---
Sherlock Holmes Consulting Detective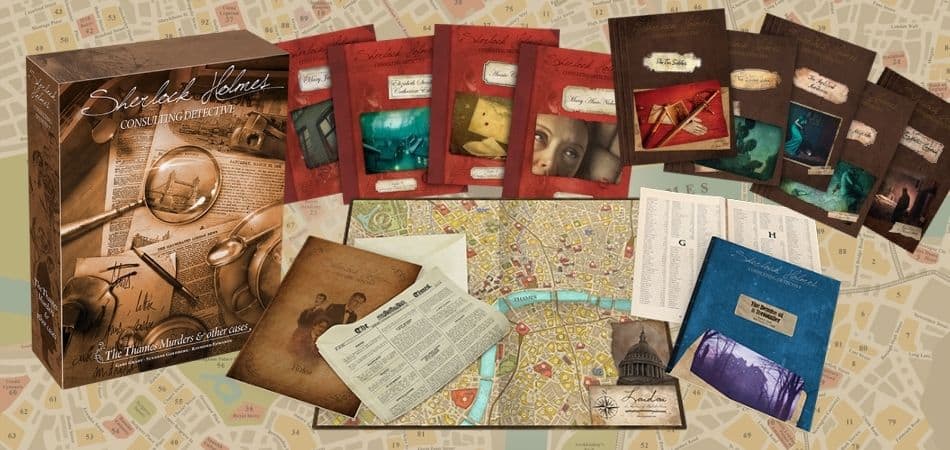 Players: 1-8
If you love picking apart clues, you'll enjoy the story-based Sherlock Holmes Consulting Detective board games. These are essentially sprawling multimedia investigations. Players are given a number of items including newspapers, maps and letters, and they must piece together solutions to major cases as they live up to the legend of the famous fictional detective, Sherlock Holmes.
There are several mysteries included in each box, and clues must be pieced together with careful observation. It takes a clever person to work through these narratives, but the sense of satisfaction you get upon completing each story makes the process triumphant, and always exciting.
---
Detective: City of Angels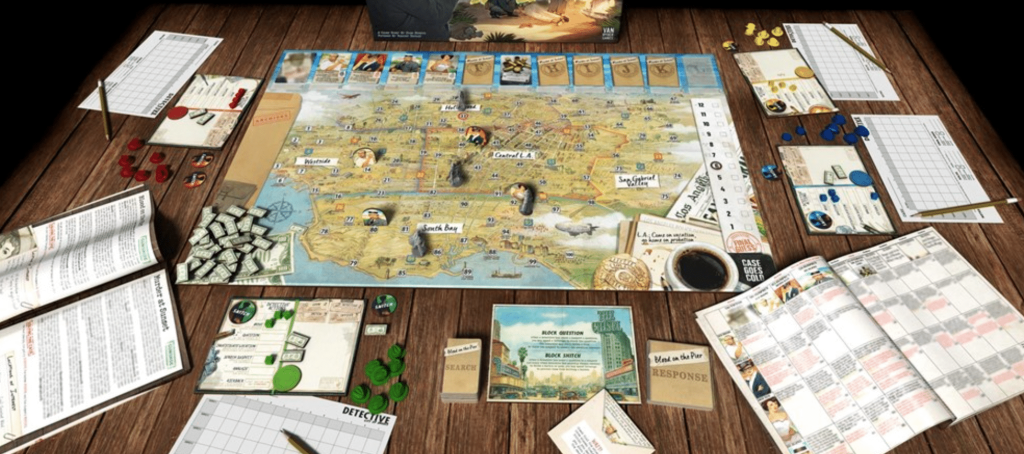 Players: 1-5
In Detective: City of Angels, you play as a brilliant detective working to solve a mounting crime wave as the atmosphere of 1940s Los Angeles heats up. It's your job to fight for what's right and thwart criminals, putting your life and career on the line as you explore new clues. There's damsels to save, cases to crack, and plenty of high drama as you work through each wild mystery in this massive tabletop adventure.
Detective: City of Angels is a complicated game, and it may take some time to master – but the deeper you involve yourself in its strange world, the more you'll find yourself enthralled by one of the best mystery board games of the modern era.
---
Chronicles of Crime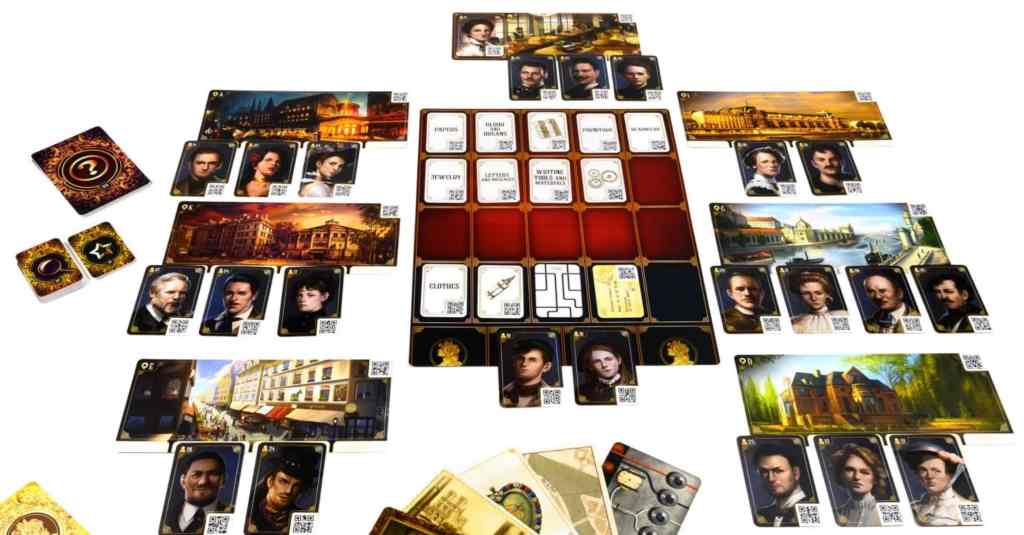 Players: 1-4
Chronicles of Crime is another mystery-focussed board game franchise, with each themed adventure maintaining similar solo or co-op case solving mechanics. No matter which Chronicles of Crime you're playing – Standard, 1400, 1900, 2400, Noir, Welcome to Redview – you'll find a densely layered board game filled with intriguing cases to crack.
You're aided by a variety of tabletop tools in this detective journey, and there's even an app that will help you along the way, providing you with clues and prompts as you attempt to solve each new mystery in the shortest possible time. QR codes unlock the digital aspect of the game, and these push you forward as you stretch your mental muscles on various cases that chart the ages.
---
If you're looking for more board game adventures to explore, check out our other guides:
GamesHub has affiliate partnerships. These do not influence editorial content. GamesHub may earn a small percentage of commission for products purchased via affiliate links.