Short, collaborative, worldwide, accessible game-making events are entirely my… jam. Indeed, I have participated in many a game jam; sleeping under desks, making music, prototyping an audio game with a physical guitar as the game board. I was even the programmer on a tiny point-and-click adventure, thanks to the wonderful Unity tool, PowerQuest.
The 2023 Global Game Jam has now come and gone for another year, with an incredible 33,671 jammers in 107 countries. Jam games are generally free to play, often published alongside their source code, and are concise enough to cram into your tea break. Many of them are also incredibly good.
Read: Celebrate Gex Week with this Gex-themed itch.io game jam
I wanted to share some interesting game jam experiences I've found recently, culminating in a (suitably) tiny showcase of what you can expect to find in the Global Game Jame 2023 collection.
---
Rolldown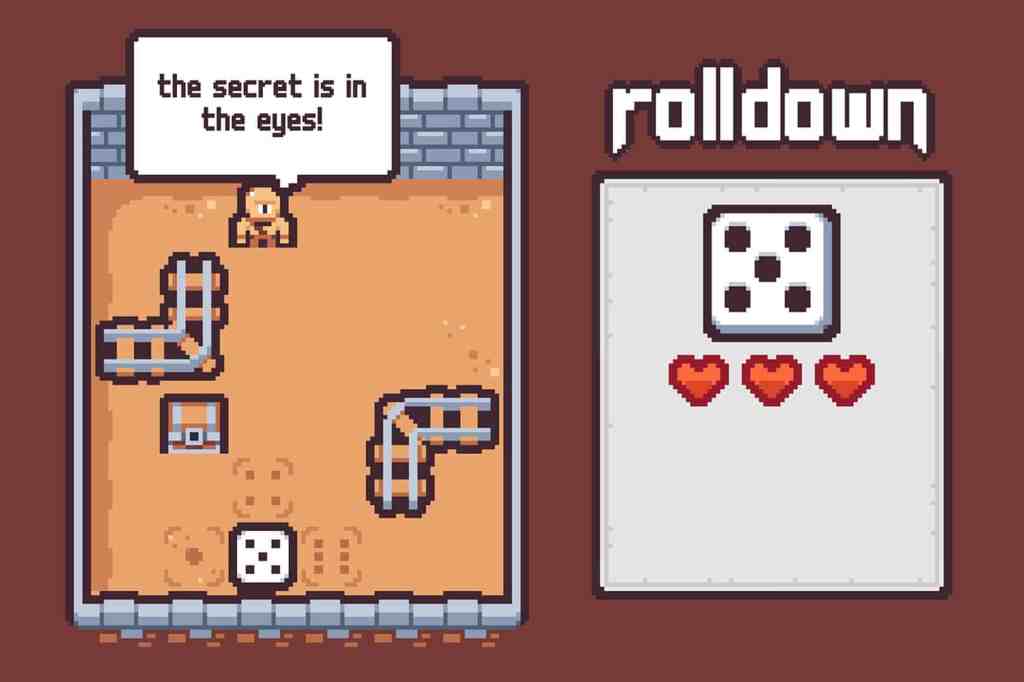 Given tight deadlines, many jam games remain unfinished. Rolldown, however, is extremely finished. Created for GMTK Game Jam 2022, it's also a literal realisation of the jam's theme: 'Roll of the Dice'.
You are a die. You eliminate creatures by rolling onto them, but only when you have more 'eyes' than they do. So, because your first opponent is a cyclops, you hit when positioned adjacently, with two or more pips. Rats have two eyes, knights have three, and creatures get more ocularly encumbered, as the game progresses.
Creatures can also move and hit you, removing one of three hit points, even when they have fewer eyes, so landing next to them needs to be avoided. The core of this experience is positioning. If you can't roll to a high pip location, force creatures through a choke point and hit first, you're in trouble.
Levels are procedurally generated and it's easy to spawn in a bad location, so in order to add another layer of strategy, you'll find useful items, randomly, every few levels. There's a wand that kills the nearest enemy and recharges over four movements, and a healing potion that recharges over six, among others.
Complete as it may be, I don't know if Rolldown has an ending. I managed to get 15 floors. But it's the kind of game you want to recommend to friends, hoping they can't beat your high score. A fellow teacher at my work got 12. But, a student got 17. Now he's in trouble, with both of us. How many can you get?
---
Trust Me, I Got This!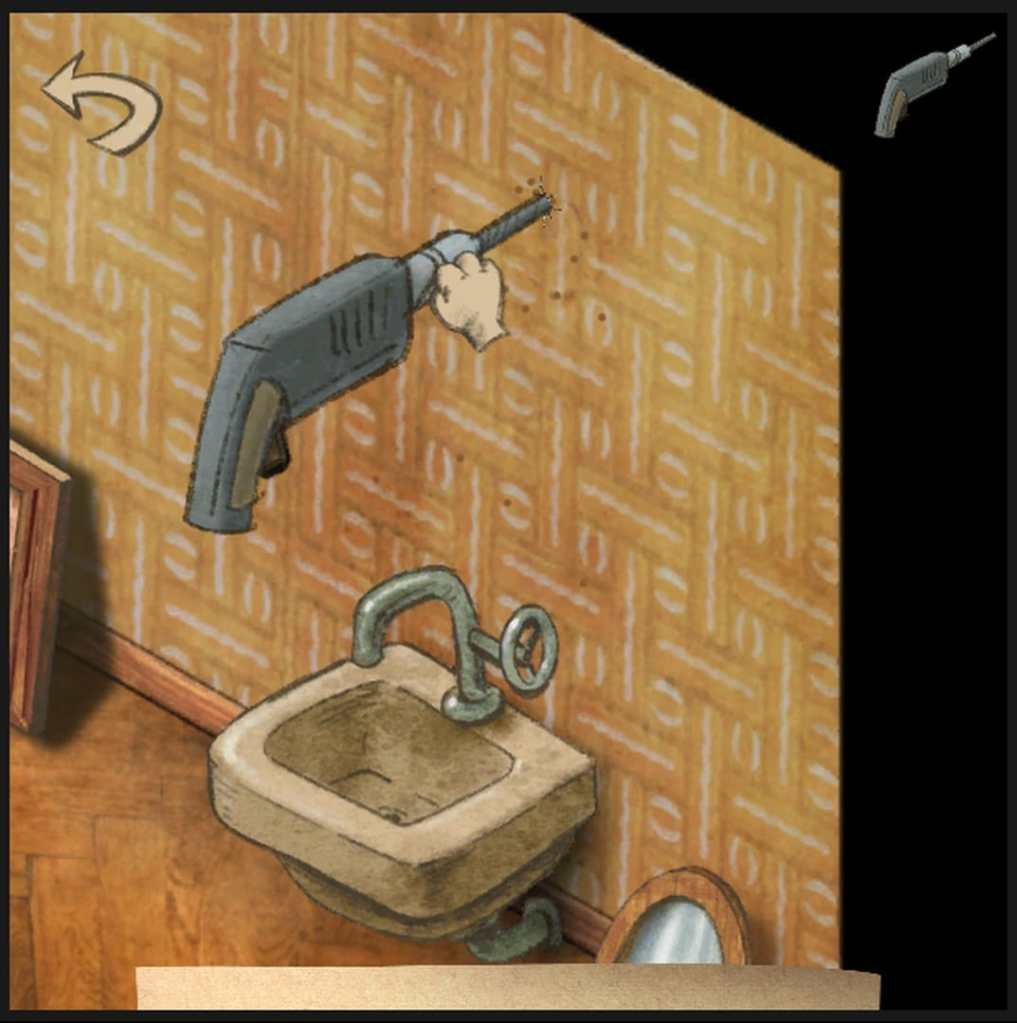 I love hearing accents in games. Wayward Strand and Henry Mosse and the Wormhole Conspiracy, are two examples of games with Australian accents that immediately spring to mind. Trust Me, I Got This is the Czech handyman's tiny take on Unpacking, made for Global Game Jam 2020.
Did I understand anything the handyman said? Only a few basic words, like 'dobre' meaning 'good', but I really enjoyed hearing the language, and getting the gist via emotional tone. Instructions are in English, but I'm sure I could have appreciated the experience if they had also been in Czech.
You're given a short list of things to fix, and a small selection of tools. There are definitely a couple of life lessons to be learned here, but you can discover them for yourself. And you'll definitely need a drink.
I particularly love that Trust Me, I Got This, is 'inspired by real world events'. As I write this, my partner is painting the ceiling and making a mess. Some experiences are universal. Jam games are an invitation to engage with language and culture, so which areas of the world will you explore?
---
Pawlo Purrcasso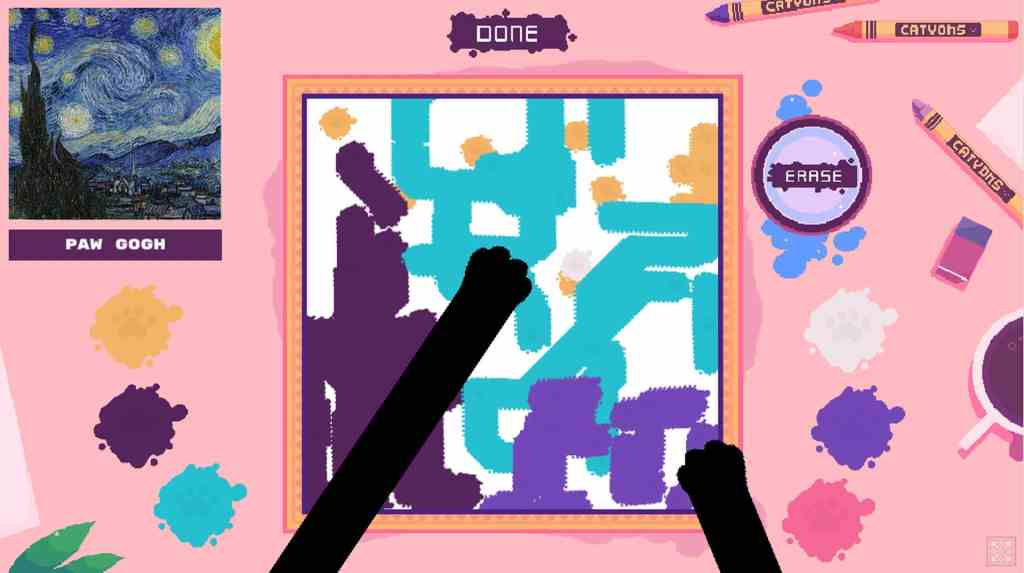 Who put the world's clumsiest cat in charge of an art exhibition? Especially one showing the work of such important painters; Wassily Catinsky, Marrianne von Werefcat. An accident was inevitable, and now you (that same cat) are tasked with mocking up replacement paintings.
I love jam games that are built on a simple gag, and then take it way too far. In Pawlo Purrcasso, made for Global Game Jam 2022, the destroyed paintings are so intricate, the colours you're using are so wrong, your paws are so ungainly. Perhaps most ridiculous, you purr optimistically along to cheerful jazz as you work, seemingly oblivious to the fact you're fooling exactly no one.
Why don't more games explore blithesome failure? There's no way to get anywhere close to any kind of win. Somehow, I still tried. I have no idea why.
---
You're Cookin', Good Lookin'
After briefly meeting a student (now graduated) at a lecture one time, I was stoked when she got in touch to show me a jam game, reminding me of another great thing about game jams; students and recent grads. Bring me a jaded, old game developer who isn't moved by enthusiasm and clever ideas and I'll show them You're Cookin', Good Lookin', created for Yuri Jam 2022.
Honestly? I could have included this for its title alone (like an amazing student game I saw at PAX one time, Hooked On a Ceiling, which also explained its feel-good grapple mechanic in four words). What happens when a veggie umami chef and a flower aroma baker are both averse to making dinner? A (single-player) martial arts battle, in which you can play as either wife.
In You're Cookin', Good Lookin', I did encounter bugs, like the battle not triggering, or beginning at 'dessert' rather than 'entree', but the animations alone are worth a couple of restarts. I quite enjoyed smacking one wife on the butt with a whisk, and was suitably shocked when she threw pepper. Combat is a little easy (if you're spamming buttons) but I'd encourage players to explore all of the attacks and appreciate the timing, animation and the health-based, dynamic music system.
Students and recent grads bring the best ideas to game jams. I'm excited to see what these developers cook up next.
---
Global Game Jam 2023 picks
With the aim of concluding with examples from Global Game Jam 2023, I fell down a rabbit hole of interesting content (and given this year's theme was 'roots', there were actually lots of games involving rabbits and rabbit holes). So many games. To narrow things down, I'd suggest searching 'Global Game Jam 2023' on itch.io, or choosing from diversifiers on GGJ's site.
Simple standouts, for me, include, 'Roof' of the Problem (possibly a typo and not to be confused with several other games based on roots of problems), which casts you as a therapist for plant-headed couples. And Dude, Where's my Baby?!, which has serious Shower With Your Dad Simulator vibes, although less nudity. I absolutely loved Don't Look Down, a straightforward platformer with a detailed and compelling musical loop. And there are some great storytelling experiences, like Etymology, where familial connections are made via household artefacts.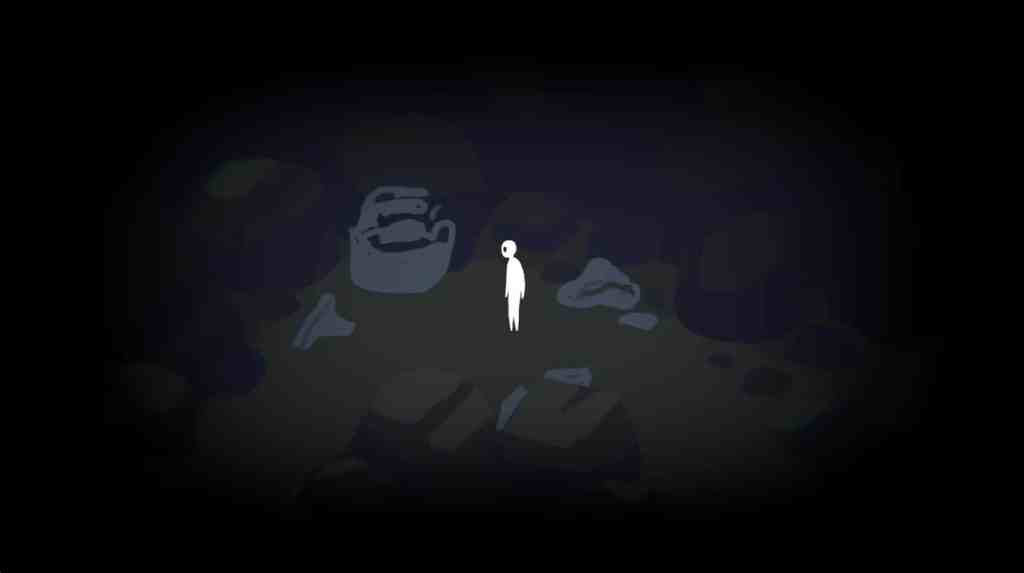 I was especially excited to find Cracks, which presents your journey through a landscape of intrusive thoughts, challenging you to focus on a more positive destination; a cup of tea. At each fork in the road, one path will cause the sound palette to become dissonant and uncomfortable, signalling the need to turn away. Most interestingly, the composition alters seamlessly, in a way I'm not sure I can fully discern. Melodies become less prominent, and harsher electronic elements are added, as well as filters applied, until it's absolutely clear you need to retrace your steps.
Incredibly, I also found the perfect game to share last. My Global Game Jam 2023 is Over is about cleaning up the pizza boxes from a jam venue and viewing the photos taken, during the experience. Created by, and for, Game Boy (although you can play in a browser), I most appreciated the real (but very low resolution) pictures taken of headphones, food, jammers and general jam minutiae.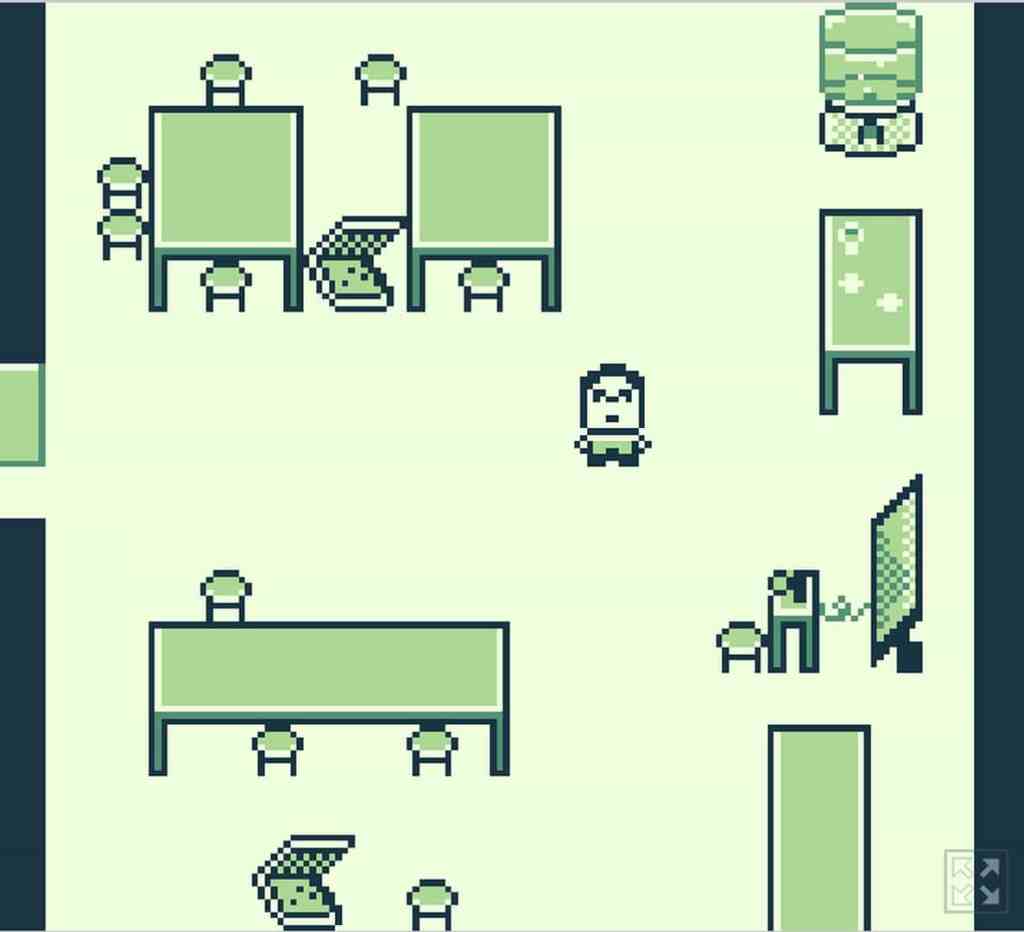 It's like being an outsider looking in, perhaps from the very far future, when this jam is only a memory. It's also very personal, with the creator documenting their wish to meet local game developers and even mentioning Lisboa Lusofona Universidade organisers by name. It's a great reminder that game jams aren't only about output, they're also about community and learning.
I hope that this has encouraged you to play more jam games, maybe even to join a jam yourself. There's no need to wait until next year. Check out who's jamming today on itch.io.