There was a time, not so long ago, when the WWE 2K franchise was in genuine jeopardy. After several years of high-profile disappointments, and the launch of the bug-riddled WWE 2K20, it seemed as if WWE 2K22 would be the last straw for 2K Games. Perhaps as a result of this pressure, the game was a revelation. A genuine phoenix. It overhauled the core mechanics of the WWE 2K series, refreshed the combat system, and launched with strong, coherent, plotlines. Now, with WWE 2K23, Visual Concepts and 2K Games have proved it wasn't a fluke.
While WWE 2K23 retains the bones of its predecessor for a successful, polished sequel, it also goes several steps further. A fresh lighting rig makes every match feel more cinematic. The new War Games match type is a wonderful, high-chaos brawl-for-all. And MyRISE is more compelling than ever, with two branching narratives to play through, and unique choices in each.
WWE 2K23 shines in action
WWE 2K23 even implements notable changes to the game's Create-A-Wrestler (CAW) mode, with updated character models and customisation options making each custom wrestler feel lifelike, and comparative to other characters in the game.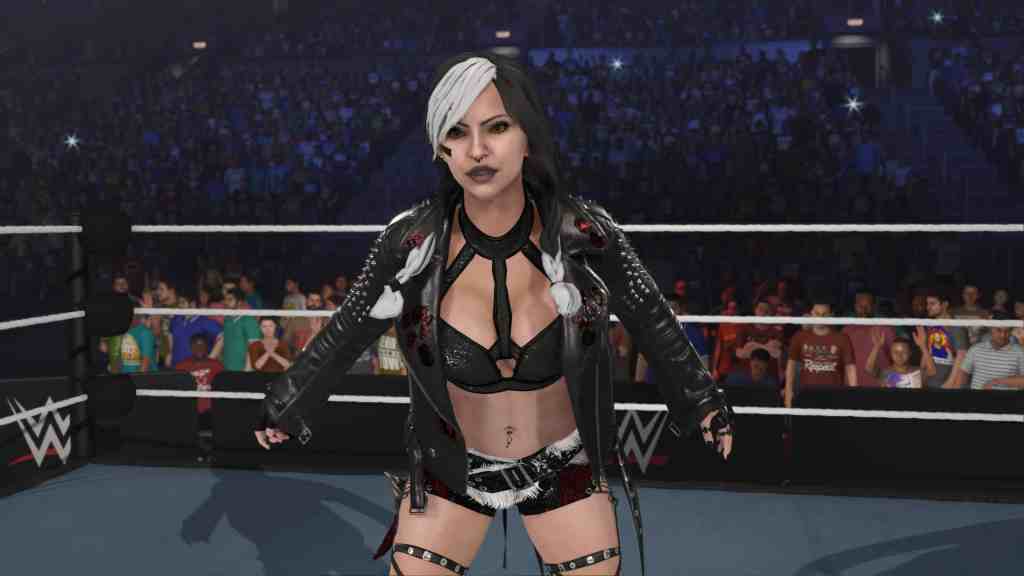 These changes represent minor leaps in graphics and processing power, but make a whopping difference in gameplay. Where previously, some wrestler and CAW models were disruptive to matches, as any glimpses of the uncanny valley derailed the action, there's now an impressive, realistic smoothness to every facet of the game – from character models to movement animation. Eyes have a spark behind them. Visible sweat helps depict wrestler exhaustion. Muscles ripple and strain under the spotlight of Raw, Smackdown, NXT, and beyond.
While longer hair still tends to be stringy and spaghetti-like, it's also been greatly improved. Wrestlers like Carmella get the short end of the stick with overly enthusiastic, bouncy waves – but then, you've also got Bianca Belair and Indi Hartwell, who rock perfect, sleek ponytails. Alexa Bliss' character model is also a dream, thanks to tightly-controlled hair coils – not to mention a stunning face.
Rhea Ripley looks gorgeous. Randy Orton is shockingly accurate. Jacy Jayne's vinyl jacket shines with lively reflections. Every muscle on John Cena's chest is in its rightful place.
These improvements have extended to community creations. Even a week on from the game's launch, there are already some incredible creations, with realistic character models available for a variety of wrestlers – past legends who didn't make the cut, custom CAWs, and of course, plenty of player-created wrestlers from competing promotion AEW like Kris Statlander (one of the most popular and good-looking uploads), CM Punk, Jon Moxley, and more.
They're the icing on the cake of a robust, content-heavy game that spotlights a polished and snappy wrestling experience.
Fighting with your favourites
Whether you're using custom wrestlers, or any of the 180+ WWE Superstars included in the base game, they shine in action, thanks to refreshed combat with a sleek feel, snappy input control, and much clearer instructions. Where past WWE games faltered with explaining the basics, 2K23 features a well-designed tutorial that doesn't outstay its welcome. You learn the basics, tackle them in action, and then you're ready to rumble.
While controls haven't undergone a notable revolution in the last few years, WWE 2K23 represents the end goal of years in development. Over several franchise entries, Visual Concepts and 2K Games have worked towards perfecting movement and responses, refining and redefining move sets over a number of years.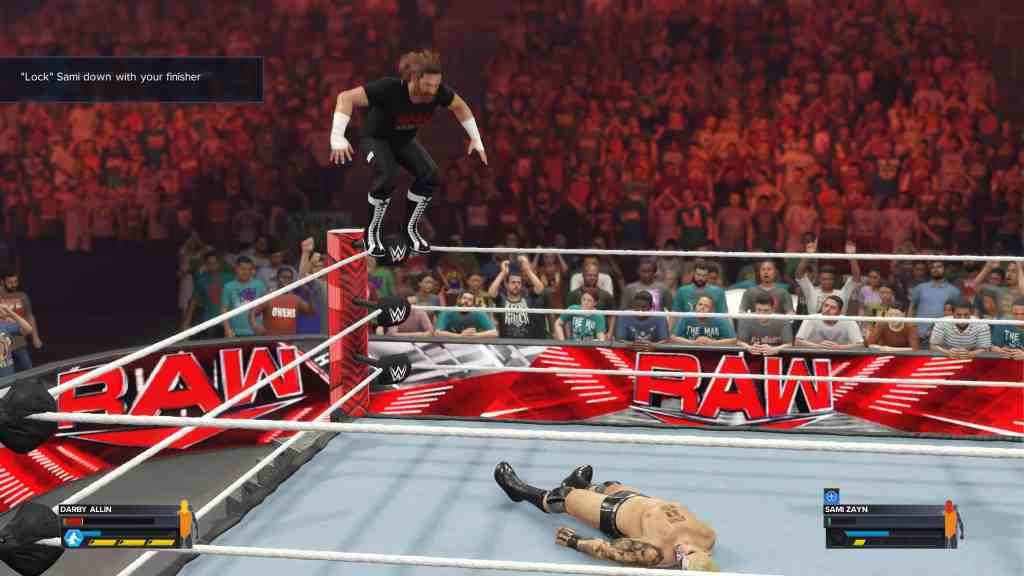 It certainly shows in WWE 2K23, which rocks an impressive level of polish. Hits feel solid, and combos add a flash of dazzle to the action. Improvements to free roaming also make it easier to enter and exit the ring, and to climb the ring posts for high-impact attacks. Reversal windows are still snappy, but they feel more logical and precise – and can be easily adjusted from the game's settings.
There are still some issues with precise grab controls, as it remains difficult to accurately sling opponents into ring posts, and some inescapable moves feel unfair – but these are minor issues that can be overcome with slight user adjustment.
An over-abundance of WWE MyModes
While you can jump into WWE 2K23 and play any type of simple match you like, the game also offers a large, overwhelming array of game modes, each with its own quirks: Showcase, MyGM, MyFACTION, MyRISE, and Universe.
Each functions as a form of 'set dressing' placed over the game's core combat, adding flavour to the stakes and providing different incentives to keep fighting – some more successfully than others.
Showcase
In this year's flagship Showcase mode, you can play through John Cena's history of notable losses. In the opening bout, you'll face WWE/ECW legend Rob Van Dam in a harrowing hardcore match, fulfilling prompts along the way to replicate the fight. Later, Cena is pitted against Kurt Angle, The Undertaker, Triple H, Edge, and other legends, each of which present their own challenges.
In this mode, players follow unique 'storylines' by completing restrictive prompts which determine available moves, and what order they should be performed in. The match choices here are brilliant, as is Cena's narration and the integration of real-life footage, but Showcase's devotion to accuracy leaves little room for creativity.
For the most part, you're ticking complex boxes as you unearth tables, pull off frog splashes, and take John Cena on a Last Ride. Cena's legacy is important to preserve – but this mode's rigid structure can be frustrating, particularly when the game's AI has a mind of its own, and prevents you from pulling off the 'right' tricks.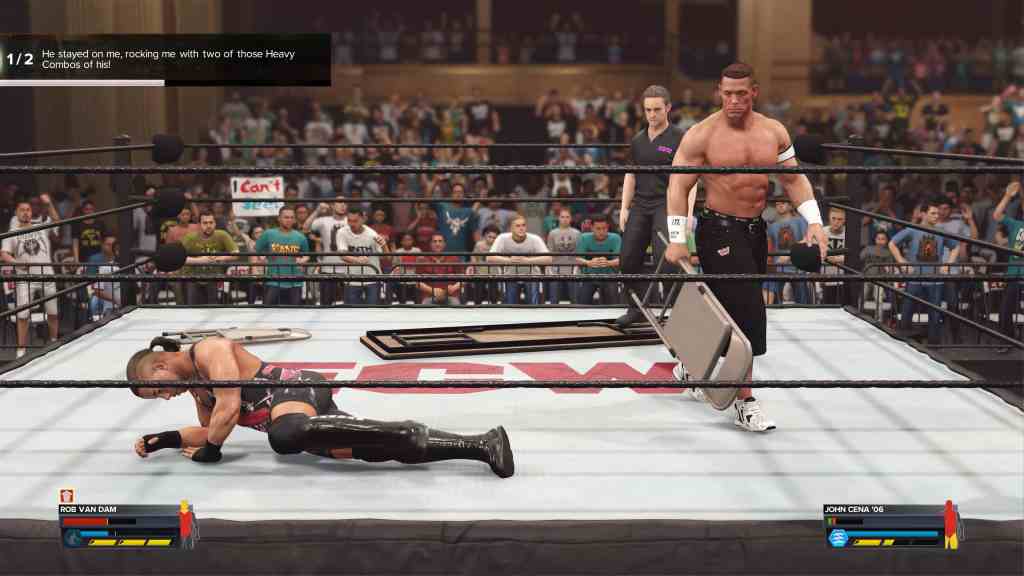 MyRISE shares this unique bugbear.
MyRISE
This story-based narrative mode presents two parallel storylines – The Lock (Men's Division) and The Legacy (Women's Division) – with each focusing on newbie wrestlers looking to make a mark on the industry. You can create your own CAW wrestler for this mode, or import an indie favourite, charting their growth as you work through set matches, make choices about your development, and interact with a fully-voiced cast of characters.
The Legacy positions you as a second-generation star, the niece of a famous fictional WWE wrestler, Justine. She's a hero to the WWE Universe – but not even her name is enough to save your wrestling journey, as you 'botch' your Survivor Series debut and end up embarrassing yourself in front of everyone. From this opening, MyRISE mode takes you on a harrowing course of redemption as you befriend your fellow wrestlers, and make your mark on WWE.
Read: How Grayson Waller went from wrestling in Sydney to WWE 2K23
The Lock, meanwhile, is a hearty tale about an established independent wrestler who debuts against wrestler Sami Zayn and immediately wins the WWE Intercontinental Champion, winning the praise of his peers and making a major mark on the industry.
The parallels here are fairly shocking, given the women's storyline spotlights embarrassment and failure against a tide of criticism, and a locker room of women that fulfil rude, bitchy stereotypes, while The Lock is far more triumphant and celebratory. But taken individually and without comparison, they both present strong storylines filled with meaningful choices, and intriguing characters.
In either journey, you're presented with key turning points that can change the outcome of matches, and how your character is perceived. This is aided by solid voice work from WWE wrestlers (to varying degrees) that make your quests feel more realistic and involved.
There are real stakes in these tales, and they push you forward with every new match-up. While some matches do contain required, script-based moves – which are limiting, as mentioned – both The Lock and The Legacy present engaging challenges that keep you striving for your goals.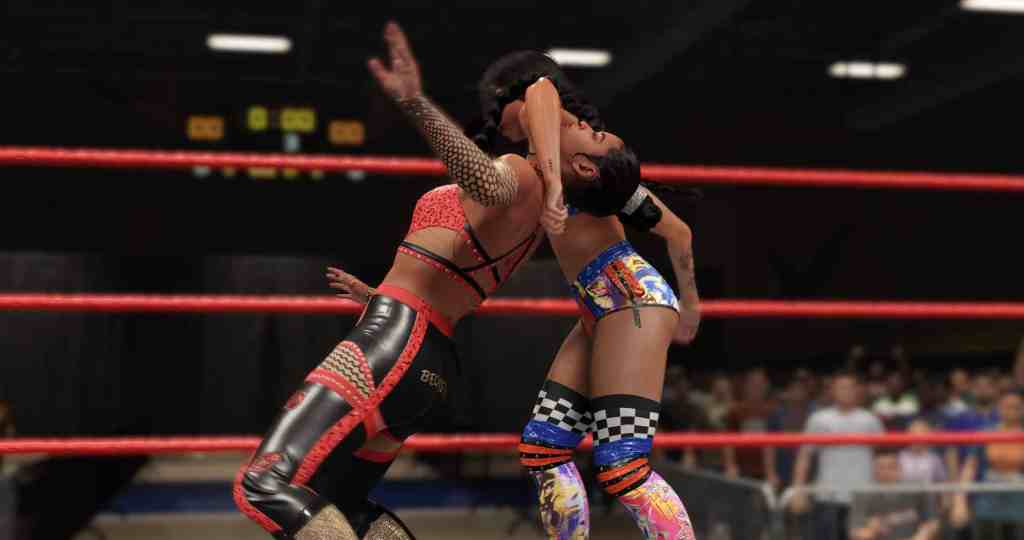 MyGM and Universe
When you're not pursuing story-based gameplay modes, you can also tackle MyGM and Universe, both of which place you in a pseudo-manager role. In Universe, you're in charge of a wrestling sandbox, where you plan out weekly wrestling shows, taking part in matches if you choose, and putting together your dream WWE show with few restrictions. It's a solid and enjoyable mode, but pales when compared to MyGM, which is a more well-rounded version of Universe, with more interesting bounds.
In MyGM, you're managing a select WWE brand (Raw, Smackdown, NXT, etc.) against rival real-life or CPU opponents, making budgetary and roster-based decisions along the way. You're only given a certain amount of money to spend in this mode, and that means making tough choices and booking cost-effective matches, while making sure you're presenting an exciting product for your fanbase.
Throughout each round of the action, you're presented with choices that change the game. For example, wrestlers can get injured if you force them to wrestle on multiple subsequent shows. Do you chance these injuries, with a view to nabbing higher ratings and fan loyalty? Which rivalries are you going to spotlight? Will these be consistent, or scattered?
While this iteration of MyGM presents few major changes from its predecessor, the formula remains very satisfying, particularly when you finally triumph over your rivals, or kickstart a blistering feud. Scattered story-based prompts also keep the action feeling coherent, and maintain the pressure of competition.
MyFACTION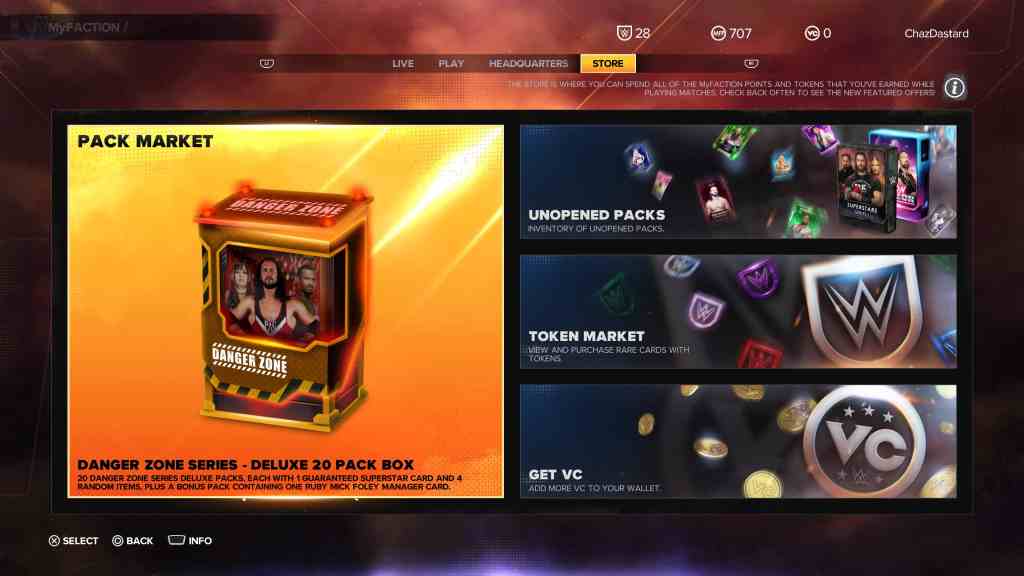 MyFACTION mode also returns this year – although it remains the weakest of the included modes for its devotion to microtransactions. Like other game modes, it's essentially a 'set dressing' match remix that adds collectible card mechanics to the basic gameplay of WWE 2K23.
In MyFACTION, you form your own WWE Faction by choosing your favourite wrestlers (of the cards you've gathered) and pitting them against other Factions in competitive matches. Win matches, and you'll earn in-game currency, allowing you to unlock more card packs and create a long-lasting legacy. Additional packs can also be purchased with real-life money – a feature that is disappointing to see in a full-priced game.
There's already plenty to do in WWE 2K23, and MyFACTION continues to feel like a tacked-on mode designed to part particularly keen or susceptible players from their money – particularly when the other modes feel far more compelling.
Just like Beth Phoenix
Beyond the returning MyFACTION mode, the moving parts of WWE 2K23 are a joy to behold, with improvements across the board. The game looks better than ever, with renewed character models and lighting that pushes this iteration out of the uncanny valley, into impressive new territory. Strong showings in the game's flagship modes – particularly MyRISE and Showcase – also elevate the action, dousing each match in a much-needed sense of drama.
In pushing forward into the realm of narrative storytelling, WWE 2K23 makes a memorable, well-earned mark. It's loaded with polish and personality, and should rightfully be considered one of the best wrestling video games of the modern era.
Four Stars: ★★★★
WWE 2K23
Platforms: PlayStation 4, PlayStation 5, Xbox One, Xbox Series X/S, PC
Developer: Visual Concepts
Publisher: 2K Games
Release Date: Out Now
The PlayStation 5 version of WWE 2K23 was provided for the purposes of this review. GamesHub has affiliate partnerships. These do not influence editorial content. GamesHub may earn a small percentage of commission for products purchased via affiliate links.