Since the bug-riddled launch of WWE 2K20 and the lukewarm reception to WWE 2K Battlegrounds, rumours have swirled around the relationship status of 2K Games and WWE. Many speculated that this year's franchise entry, WWE 2K22, would be a 'make-or-break' deal – either it was spectacular and pushed the long-running game series back onto the rails, or it would be the end of the partnership. Luckily, it appears 2K Games and Visual Concepts know a lot about kicking out at two.
WWE 2K22 is such a sleek package, it might single-handedly save the entire franchise.
Visually, the changes here are solid. Character models have been improved, and there's a number that look fantastic – Sasha Banks, Charlotte Flair, Finn Balor and Brock Lesnar are particularly good. Textures are also more shiny and realistic, each arena looks appropriately epic, and the crowd behaviour isn't as distracting or odd as in past titles.
The polish isn't perfect – women wrestlers still have 'spaghetti strand' hair that flops around wildly, and some characters like Toni Storm have pretty bland face models – but there's a clear love and attention in every pixel of the game. Heck, even the create-a-wrestlers come off pretty well, and can be customised to a fair degree.
But the best changes in WWE 2K22 have to do with its controls.
WWE 2K22 revolutionises grappling and traversal
In past WWE 2K titles, controls have been fairly difficult to parse, with confusing button combinations and a difficult traversal system. With no tutorial, it was also extremely hard to understand exactly how to win matches – past games were often loaded with assumed knowledge new players didn't have.
A new tutorial system in WWE 2K22 fixes these problems entirely. Rather than fumbling with hefty move sets and trying to figure out how to win on the fly, a 10-minute opening tutorial will give you a quick rundown of everything you need to know to begin your adventure.
It's easy, it's quick, and it's a very welcome addition.
Read: WWE 2K22 is the perfect entry point for franchise newbies
Returning players will likely notice that WWE 2K22 has switched out a lot of the franchise's main controls. While this means a new learning curve, it's easily surmounted, and much better overall.
Kicking out of a pin now relies on real-life stamina through button-mashing, rather than luck. It's easier to get in and out of the ring, and to hit combos. Reversals are also more generous, allowing those with slower reaction times to have a chance at victory.
It's easier, yes, but it's also more streamlined – and makes every match feel quicker-paced, better balanced, and much fairer. The new system also adds a real sense of drama to kick-outs that makes every match feel more involving.
The number of game modes is overwhelming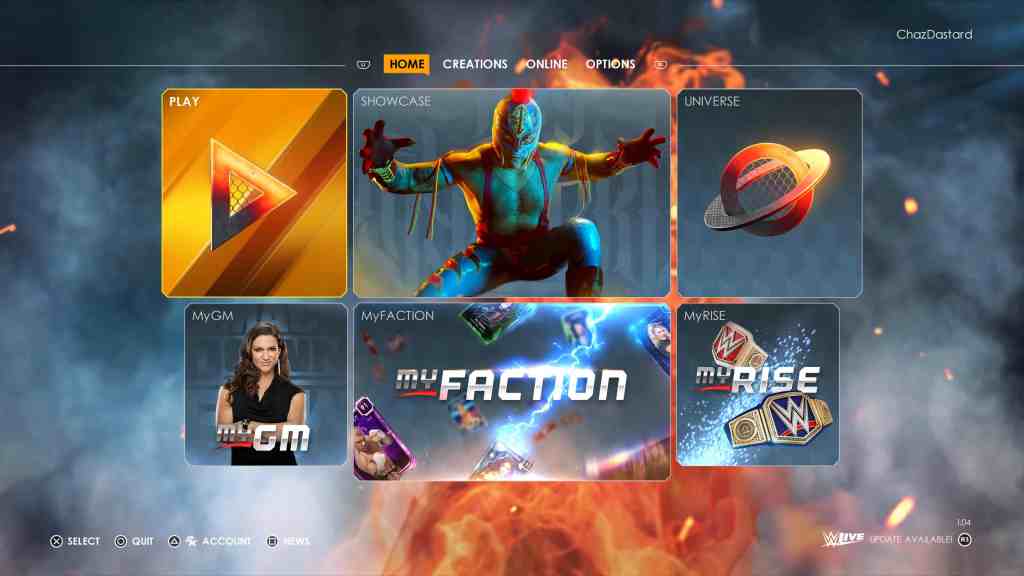 If five star matches are what you crave WWE 2K22 has you covered, but this does come with a minor caveat – that you'll need to pick from quite a number of confusing, haphazard game modes to reach for your victory. There are six separate modes in WWE 2K22, all of which play differently.
Here's the breakdown:
Play lets you choose one-off matches of any kind
Showcase lets you play through highlights from Rey Mysterio's career, match-by-match
Universe simulates the WWE calendar and lets you jump into matches on Raw, Smackdown, or other brands
MyGM puts you in the shoes of a show General Manager and lets you plan out your chosen show, match-by-match
MyFACTION lets you recruit a team of wrestlers to take on other factions and win points in ranked matches
MyRISE is a fully-voiced story mode letting you create an original wrestler and bring them up in the WWE system
It's a lot, and while each has its merits, the sheer number of these modes makes it very difficult to pick which part of the game to play. It's great to have choice, but it often feels overwhelming.
MyRISE is a good place to start for newbies, despite being bogged down by very cheesy dialogue and characters – including Meilee 'Fanny' Fan in the Women's story mode, who immediately grates on the player. Matches themselves remain fun, especially when your character finally makes it to Raw or Smackdown, and each step of the journey makes you want to press on.
It's great seeing your character succeed, and there's plenty of hours of gameplay in this mode. Still, the dialogue really does stick out, and may turn off players who just want to play around with dream match-ups.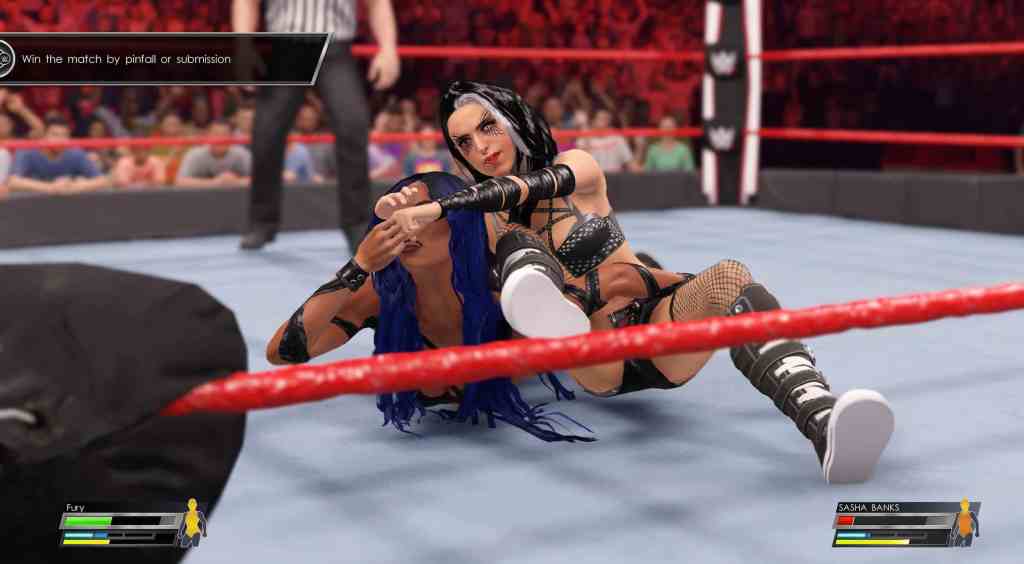 If 'playing God' is more your style, MyGM is a solid game mode you'll want to invest hours into. Here, you play as the benevolent ruler of a WWE brand (Raw, Smackdown etc.) looking to budget your show, build a fanbase, and create excitement over a set number of weeks.
You can pit wrestlers against each other, start rivalries, build up to massive arenas, and slowly make a name for yourself on the big stage. You'll probably want to bring some notes, though. As you lay out your plans for your brand, you'll need to keep wrestlers satisfied with meaty storylines, consistent rivalries, and match improvements.
If you don't meet their demands, their effort and popularity will fall.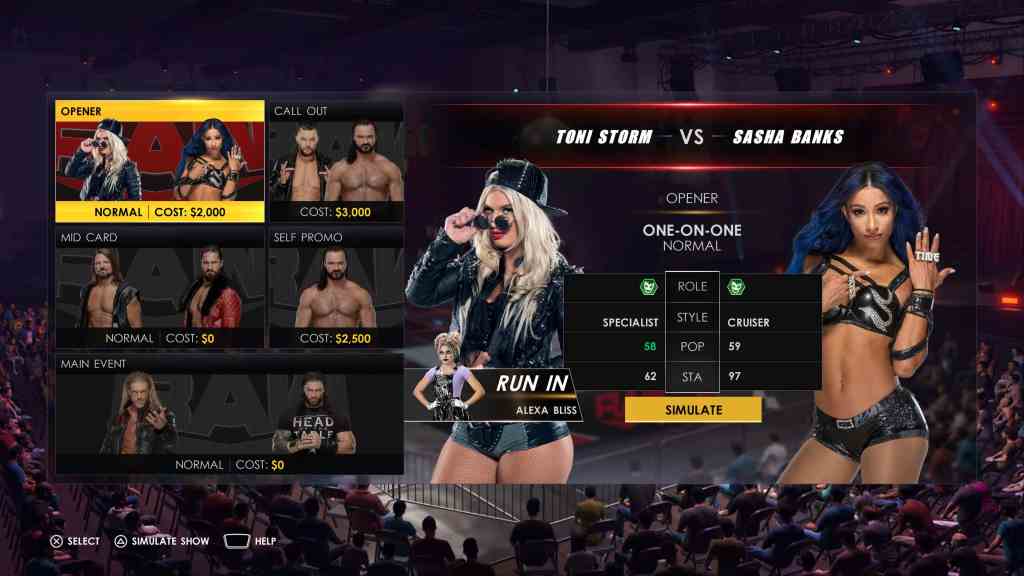 This mode plays out a bit like a Tamagotchi – in that you constantly need to maintain and look after your wrestler's needs, and how they're being placed on your show. To that end, it becomes extremely satisfying to create your dream matchups (which can be fully simulated by the game's AI or played through yourself), and see exactly how the drama plays out.
MyFACTION functions similarly, but on a much smaller scale.
Here, you're collecting wrestlers through gacha-style card packs and using them to fight through set challenges in a number of unique battles. The more points you earn, the more wrestlers you'll be able to unlock. This is a hefty mode, and includes weekly challenges that encourage you to return on a constant basis – but I found myself more drawn to MyGM and MyRISE because these modes have a bit more personality.
MyFACTION tends to feel a bit tacked-on, and while you can earn wrestler packs through constant battles, the grind required is a bit much. On top of that, the mode tempts you with microtransactions to buy more wrestler packs with real world money. It's all a bit unnecessary when there's so much meat to the other game modes.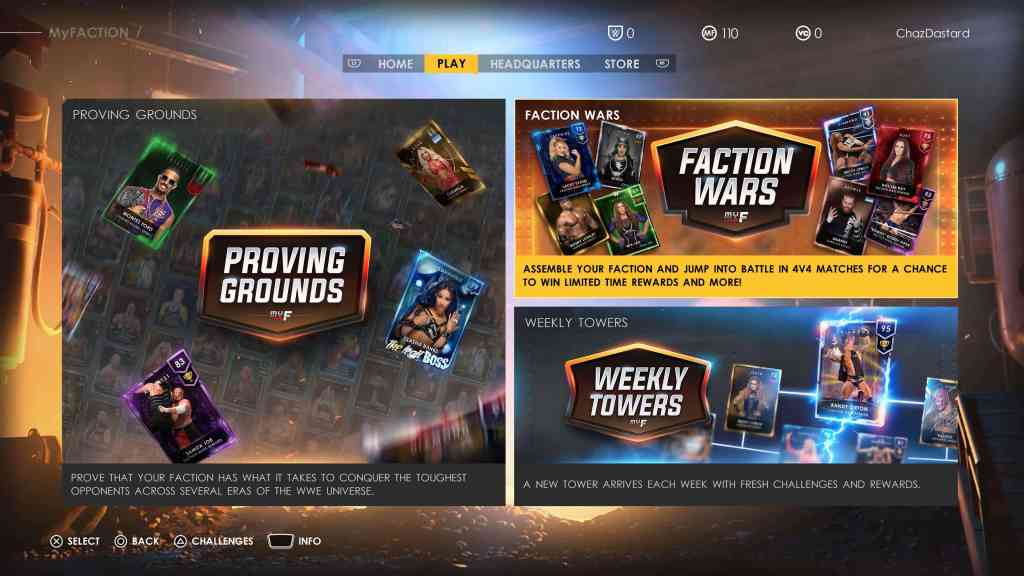 MyUNIVERSE is a bit the same way. It's cool to see simulated episodes of Raw and Smackdown in action, and the game really does make it feel like you're playing through a TV show, but it's just another tacked-on mode among a host of others that largely revolve around the same themes.
Rey Mysterio's WWE 2K22 showcase is lacking
The only mode in WWE 2K22 that really feels all that different is Showcase – and even this comes with its own gripes. Rey Mysterio is this year's WWE 2K cover star and while his starry career is on show in this mode, his list of matches is an odd one.
Showcase mode begins with epic Mysterio battles against long-time rival and friend Eddie Guerrero, with real life footage intercut between big match moment. These are great, and extremely nostalgic to play through – Guerrero was a childhood favourite of mine, and it was fairly emotional to see him in action once again.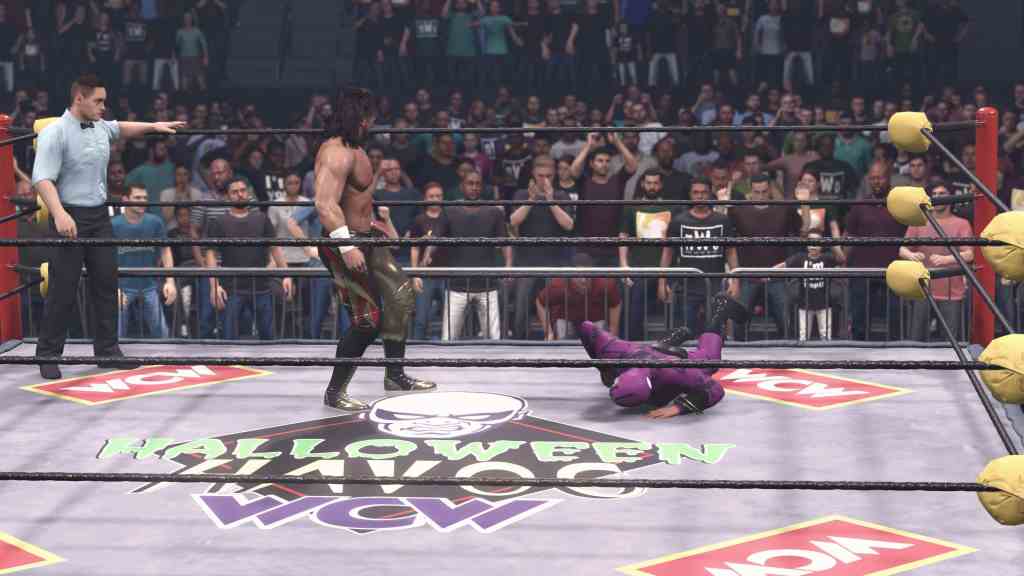 That said, while Showcase is a blast, there are massive gaps in the later parts of Mysterio's career. In the late 2000s and 2010s, Mysterio shared the ring with a number of worthy opponents – but given names like CM Punk, Cody Rhodes and Kurt Angle are no longer with WWE, these matches couldn't be included.
Over the Limit 2010, where Rey Mysterio was threatened with a Straight Edge Society membership by CM Punk, would have been an epic inclusion – but legal issues, including Punk's WWE pariah status obviously nixed that idea.
It means that while Showcase mode has some great highlights, it also has some real duds – particularly in the later half of Mysterio's career. Matches against Gran Metalik and Samoa Joe just aren't very memorable or fun to play through, although that speaks more to Rey's latest run in WWE than the choices of WWE 2K22's development team. It's a shame there aren't better matches included here.
WWE 2K22 isn't flawless, but it is a winner
While WWE 2K22 does suffer from content bloat, it's a vast improvement on WWE 2K20, and one of the best games of the entire WWE 2K series. With a number of smart fixes, streamlined action gameplay, and a handful of engaging, well-designed modes, it has successfully shed the franchise's bad reputation.
A year off has certainly done the series good, and helped 2K Games and Visual Concepts rethink what makes wrestling so fun. WWE 2K22 is a game changer, and one that certainly does 'hit different'.
Four Stars: ★★★★
WWE 2K22
Platforms: PlayStation 4, PlayStation 5, Xbox One, Xbox Series X/S, Windows PC
Developer: Visual Concepts
Publisher: 2K Games
Release Date: 8 March 2022
A copy of WWE 2K22 for PlayStation 5 was provided and played for the purposes of this review.