Grayson Waller was clearly destined for bigger things. That much was obvious, watching him perform for Pro Wrestling Australia (PWA) in the moody darkness of Max Watt's Sydney from 2017, onwards. While the stage was often small, his matches were anything but. From his sleek entrance and hard-hitting move set, to his charismatic frat boy persona, his presentation screamed 'Superstar'. Joining WWE in 2021 was the realisation of a dream for Waller – one solidified by his debut inclusion as a playable wrestler in the upcoming video game, WWE 2K23.
In a recent chat with GamesHub, Waller explained that it was gratifying to be included in this year's WWE 2K game, after years of creating himself in MyRISE and CAW modes.
'For someone like me who was a fan growing up – I used to create myself on SmackDown! vs. Raw and 2K Games whenever I got them – to go from that, and now someone else is getting paid to create me, and doing it on such a high level and seeing the entrance and the gear, and the moves … it's just a funny journey from doing it myself, and now it's being done professionally and I'm actually part of the game,' Grayson said.
At a rating of 81, he's one of the lower-powered members of the WWE roster – but Grayson attributes this to WWE 2K23 being his initial debut. There is much left to conquer in the realm of WWE NXT and beyond, and Waller is just getting started.
In recent years, he's made a worldwide name for himself off the back of countless blockbuster performances. While he recently fell short of winning the WWE NXT Championship, valiant efforts against powerhouse wrestler Bron Breakker cemented his position at the top of the NXT roster.
In recent weeks, he's also kickstarted a feud with WWE legend Shawn Michaels, which will culminate in a fight against Michaels' protege, Johnny Gargano, at NXT Stand & Deliver on 2 April 2023 (AEDT).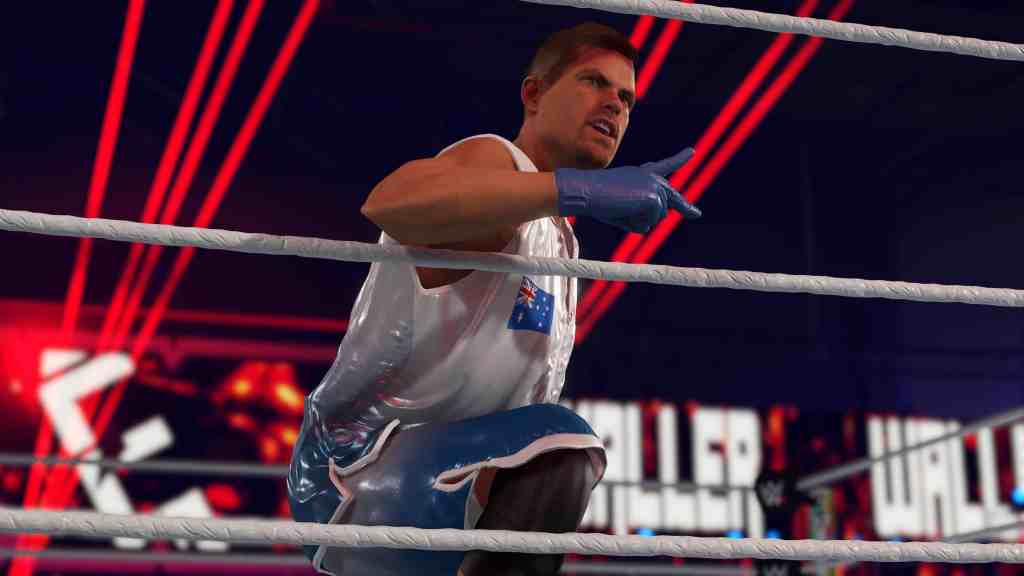 The global stage Waller currently wrestles on is a far cry from Max Watt's, where the wrestler began developing his loud, outspoken ways. In major bouts against local wrestlers like Caveman Ugg and international guests including AEW wrestler Orange Cassidy, Waller endeared himself to local fans in Australia – before catching the attention of WWE in late 2019.
Waller was set to join WWE NXT in March 2020, before the pandemic complicated his arrival. According to the wrestler, it was a truncated, difficult process as 'nobody knew what was going on'. The sensitivity of contract negotiations also meant Waller couldn't share his news, or move forward with his life, knowing the opportunity of a lifetime was around the corner.
As the dust cleared and a sense of normalcy approached, Waller continued to wrestle for PWA, working 'as hard as he could' to leave a lasting legacy. After all, PWA was the place where Waller was shaped.
'Looking back and seeing where I was at the time, and where I am now – it's very different. But if it wasn't for that experience [in PWA and working in Sydney's local wrestling leagues], I don't think I'd be in the position I'm in now,' Waller said.
'PWA has some of the best wrestling in the world. Not enough people know about it yet. Definitely, [it has] some of the best coaches – Madison Eagles, Mick Moretti, Robbie Eagles. They are the people that coached me, that trained me … PWA definitely holds a soft spot in my heart.'
Read: WWE 2K22 is a great showcase for Australian wrestling
PWA has produced a number of successful Australian wrestlers in recent years, with some fellow and former WWE superstars including The IIconics (Billie Kay, Peyton Royce), Dakota Kai, and Emma previously wrestling for the promotion. It has become a breeding ground for stars – limited only by the nature of local wrestling in Australia.
While wrestling shows are fairly popular amongst a niche audience in Australia, they do not have the mainstream appeal of long-running, American-based organisations like WWE. Despite frequently producing world-class performances, deserving of much bigger stages, Australian wrestling leagues are not supported by high-value television contracts, marketing, or lucrative earnings.
Yet Waller and other Australian wrestlers like Rhea Ripley are proof of the talent coming out of the country. Seeing them on television, at shows like Wrestlemania, and in video games like WWE 2K23, is the clearest sign of the ambition and prowess of Australian wrestlers.
'Growing up, there was never Australian wrestlers on TV, so it did seem like a very unachievable goal,' Waller said. 'I know for some people who came before me on the Australian scene, it didn't seem realistic … I think Rhea [Ripley] was the first one to really kick open that door. She's been on Wrestlemania, she's won the Royal Rumble, she's done so much at a young age – and she started from very humble beginnings at Riot City [a South Australian wrestling promotion].'
'When there's people like her, and now me, Bronson Reed, Duke Hudson, and Indi Hartwell, for the performers back home – who are world class – they now see that there is an attainable goal. They can get there … I think it makes them work harder, and push up their goals.'
Waller believes this will push everyone forward, as Australian wrestlers work harder to make their mark on the local and international scenes. Seeing Ripley and Waller succeed also opens up wider opportunities, conversations, and a clearer path to success. During the height of the pandemic era, these roads briefly closed as WWE became more insular – but Waller believes future opportunities are waiting around the corner, particularly for the talented wrestlers of Australia.
Seeing Waller make his major video game debut in WWE 2K23, with a picture-perfect model and snazzy gear, isn't just a novelty. His appearance alongside stars like Rhea Ripley reflects a changing WWE – and a lodestar for upcoming Australian wrestlers.
Standing in a high-tech production truck being photographed by dozens of cameras for the latest WWE video game might have been a 'daunting' experience for Waller, one far removed from his time in the wrestling leagues of Australia, but it represented a form of digital graduation; a recognition of his achievements so far. Whatever happens next for the rising star, his contributions to Australian wrestling are now officially immortalised.
In the weeks ahead, Waller is set on preparing for his match against Johnny Gargano, and the excitement of Wrestlemania season. You'll be able to catch him in action when WWE 2K23 launches on 17 March 2023, and at NXT Stand & Deliver 2023, airing on 2 April 2023 (AEDT) via Binge in Australia.