The Logitech G PRO X 2 Wireless Gaming Headset is, by a long mile, the most comfortable gaming headset I've had the pleasure of using – and it's all down to nifty design, and a significant lack of bulk. Primarily, it's the placement of the headband that makes all the difference. It's set further back than its competitors, meaning its weight is better spread, reducing the overall pressure and any burning sensations that heavier headsets can inspire.
Given it's designed for long gaming sessions, this one decision is a real life-saver. You can comfortably wear the Logitech G PRO X 2 for hours on end – through music, movies, and games – with zero discomfort. Combine this with swappable ear cups (leatherette or velour) that mitigate heat build up, and its relative lack of weight, and you've got an easily wearable, and extremely comfortable gaming headset. It's not without its quirks – particularly, an eye-watering price tag (AUD $449.95) – but easy wear is half the battle when it comes to finding a good gaming companion.
Pristine design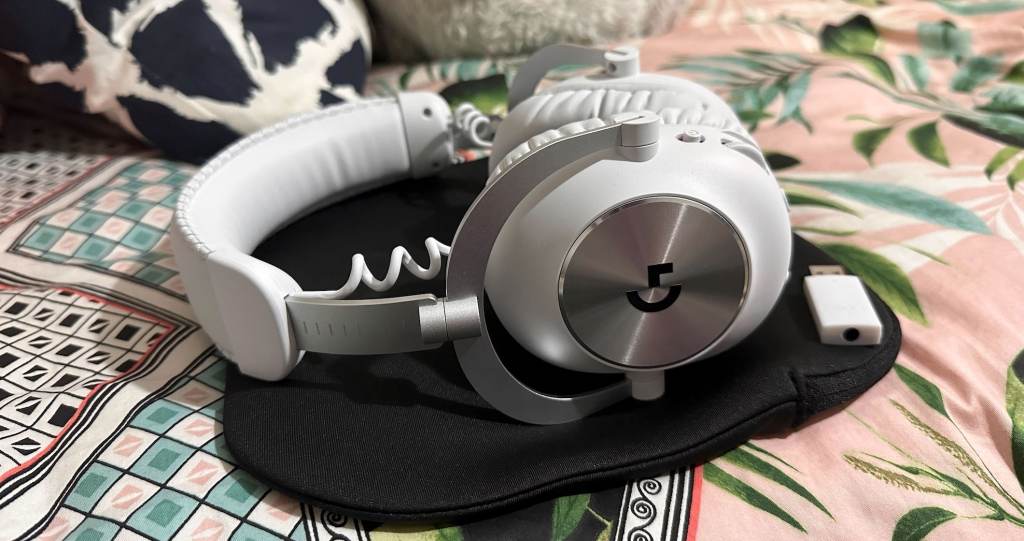 The Logitech G PRO X 2 is, beyond comfort, a very fetching device, particularly in white. The earcups (whether paired with leatherette or velour fabric earpads) are generously sized for most ears, but they're not overly large or heavy. They're also mounted on smooth, swivelling hinges that allow easy contour to any head shape. Likewise, the soft overhead band is easily adjustable, allowing for the headset to rest comfortably, while not looking strange or leaving a significant gap beneath the band.
Read: Logitech G announces Pro X 2 Lightspeed gaming headset
They're fetching when worn – with restrained design touches making them feel practical for any use, gaming or not. There are no obnoxious RGB lights or strange 'futuristic' accoutrements. It's just a simple, white headset with the Logitech logo on a neat silver relief on either earcup.
On one side, you'll find a range of controls – buttons for Bluetooth, volume, and connectivity, but otherwise it's a fairly plain design – and that's great.
Connectivity
Another clever touch adjacent to the overall design of the headset is its robust connectivity options. There are three main ways you can connect the Logitech G PRO X 2, with each allowing for a multitude of uses. Via an included cable, you can connect the headset to any device with a headphone jack. You can also establish a wireless connection via a stubby USB dongle, or connect the headset natively via Bluetooth.
For anyone tired of charging every single device in a home – or the dreaded 'my headphones are out of battery, and I'm already at the gym' – having multiple options is a relief.
In any use, the headset connection is instant. There's no floundering around with buttons to hook up the Logitech G PRO X 2 – it's really just a matter of flicking the 'on' switch, and a satisfying twinkle will tell you the headset is connected. The range is also solid – I was able to walk from one length of my home to another, and outside, with zero audio artifacting or sound loss. Once you're paired up wirelessly, you're good to go.
Sound quality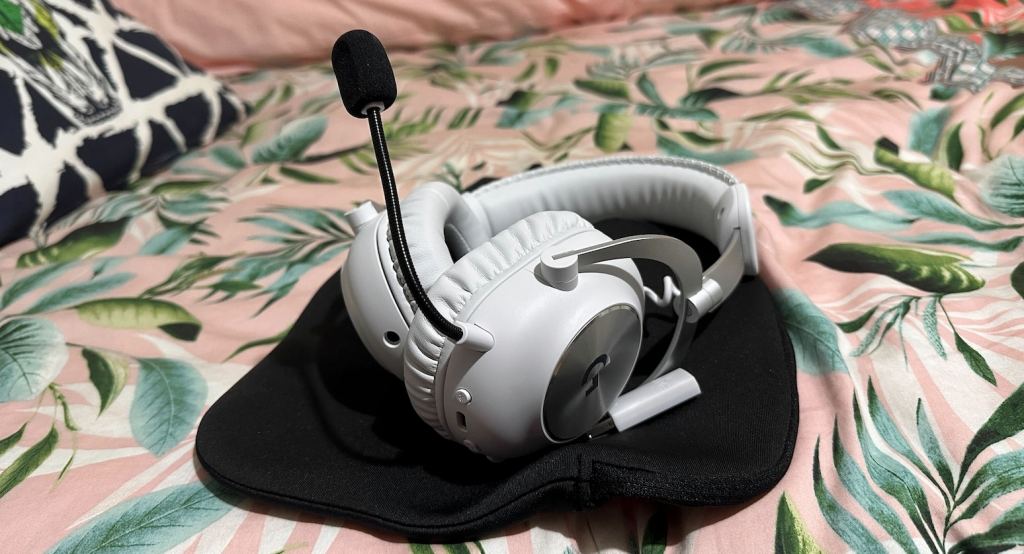 With any connection, the Logitech G PRO X 2 showcases impressive sound quality, with a focus on crisp, clear tones and balance. Notably, it doesn't prioritise bass at all – and while this means that it's not fantastic for electronica and pounding beats, it means music isn't drowned out by thumps. Rather, when playing music, you can hear each individual instrument occupying its own space. Guitar chords and vocals sound particularly good with the Logitech G PRO X 2, with songs like 'Danger Zone' by Kenny Loggins coming out crisp and clean.
On a related note, watching Top Gun: Maverick with the headset was particularly enjoyable, with that film's sonic blasts and 1980's inspired soundtrack allowed to soar and boom on the Logitech G PRO X 2, each sound – whether dialogue or music – clearly enunciated, and echoing well.
Logitech G has touted the headset's 'graphene diagram' as the primary reason for this quality – but what's more important than understanding the technicality of this 'live edge suspension' system is that it allows soundscapes to be multi-layered, without being muddy. It balances tones of all kinds, and allows each sound to ring out clearly, on its own.
For gaming, this allows an added layer of accuracy in exploring, particularly in identifying enemy movement within a gaming soundscape. This is largely why the Logitech G PRO X 2 is positioned strictly as a gaming headset. In competition, it allows for quick and easy judgements, with directional sound allowing you to quickly identify enemy locations.
Playing through Deathloop – a game we should all talk about much, much more – the most notable way the Logitech G PRO X 2 aided my loops was its isolation of footsteps. Hiding behind a wall, I could detect enemy movement from behind, allowing me to switch positions and avoid gunfire easily. Every footfall was distinct, even in the distance, which meant better planning, and fewer failed runs. Being able to hear gunfire in the distance also allowed me to avoid skirmishes, and skirt past wandering guards in Updaam.
It adds impact, in the grandest sense. Immersion is an overused word, but having sounds so clearly depicted, and without them combining into mud, allowed Deathloop to feel more lively, and for each enemy to feel more dynamic and threatening.
The same can be said for the cars in Forza Horizon 5. There's something special about racing down a track and hearing your rivals zoom, stutter, and roar on all sides as you clash – and particularly when you stack it, and send sparks and debris clattering across the road in clipped, metallic tones.
Customisation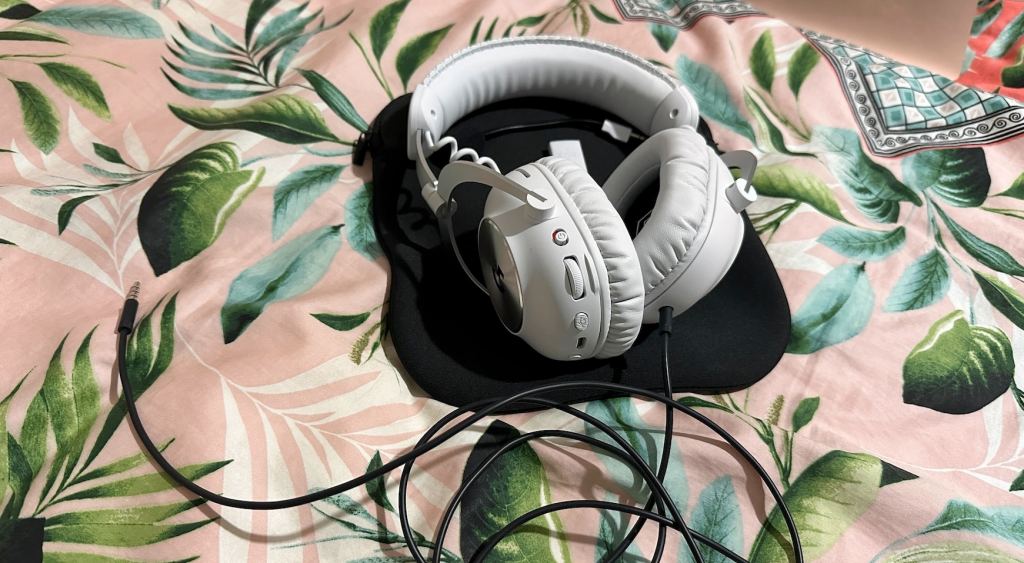 If the base sound profile of the Logitech G Pro isn't your preference, it does also come with added customisation options, via the handy Logitech G HUB software. Here, you can change up your audio balance as you desire, providing more scope for bassy tones and other adjustments.
Here, you can also change up your preferences for the game's detachable microphone via Blue Vo!ce settings. This mic is solid and capable, delivering and recording clean, loud voice. It doesn't seem to have the same cleanliness and quality of an in-built microphone, but it's perfectly capable for voice chat sessions, and you shouldn't have any trouble being understood. There's minimal artifacting and popping with the mic, and I had zero trouble with it.
Long-term use
Another boon for this headset is its hearty battery. In nearly two weeks of testing, I haven't had to charge it once – and given the battery life is estimated at more than 50 hours, it's unlikely I'll have to plug it in anytime soon. With the added benefit of the audio cable – which doesn't rely on battery power – you can effectively use this headset for hours on end without needing to worry about charging at all.
This ease of use, reliability, and comfort combine to make the Logitech G PRO X 2 Wireless Gaming Headset a solid option for longer gaming (or entertainment) sessions. That said, its premium price tag is a fair bugbear. While priced more reasonably in overseas markets – USD $249.99 in the United States – those in Australia will need to fork out an eye-watering AUD $449.95 for the headset.
If comfort is a primary concern, the Logitech G PRO X 2 justifies the cost, with its soft and easily adjustable touches. But realistically, if sound is a primary factor, there are other, cheaper headsets that will relatively match the output of the Logitech G PRO X 2. It sounds good, but it isn't quite 'mind-blowing' for the cost.
Solid, reliable, and great to use, the Logitech G PRO X 2 Wireless Gaming Headset performs well in its class – but that aforementioned price tag remains an obstacle.
Four Stars: ★★★★
Logitech G PRO X 2 Wireless Gaming Headset
Manufacturer: Logitech
Release Date: Available Now
Price: AUD $449.95
The Logitech G PRO X 2 Wireless Gaming Headset was provided and played for the purposes of this review.