Weddings have typically been a bland affair in The Sims 4. You choose a venue from a number of options – parks, clubs, your own home – and enter a timed event where certain goals like 'eat cake', 'talk to people' and 'share vows' must be completed. With the latest Sims 4 game pack, that's all set to change.
The Sims 4: My Wedding Stories is a new wedding-themed game pack set to launch on 17 February for PC, Mac and consoles, and it's all about planning a special, unforgettable day for your Sims. While weddings in the real world have been interrupted by coronavirus-induced venue limits, rules prohibiting dancing, and other challenges, the world of the Sims is still blissfully carefree.
It means you can plan your dream wedding in a virtual world, even if you can't currently hold it in real life.
You can check out the delightful trailer for the pack below:
Read: The Sims 4: Modern Menswear could be the future of fashion
My Wedding Stories will include outfits like wedding dresses and suits, fresh decorations, and a number of changes to how Sims weddings can take place. New venues will be made available specifically for weddings, and there'll also be fresh events, parties and ceremonies to be held before the big event.
Engagement parties, 'bach' parties and rehearsal dinners will make their debut with this pack, and you'll also be able to take part in cultural traditions like family gatherings, tea ceremonies or henna celebrations to give each wedding a unique touch.
Like other game packs, My Wedding Stories will also add in a brand new world, Tartosa.
It's described as the 'most romantic world' in The Sims 4, with 'heartstopping' sunsets, 'breathtaking' beaches and 'astonishing' gardens. You don't have to get married to live there, but it'll be a breath of fresh air for those looking for a change in scenery.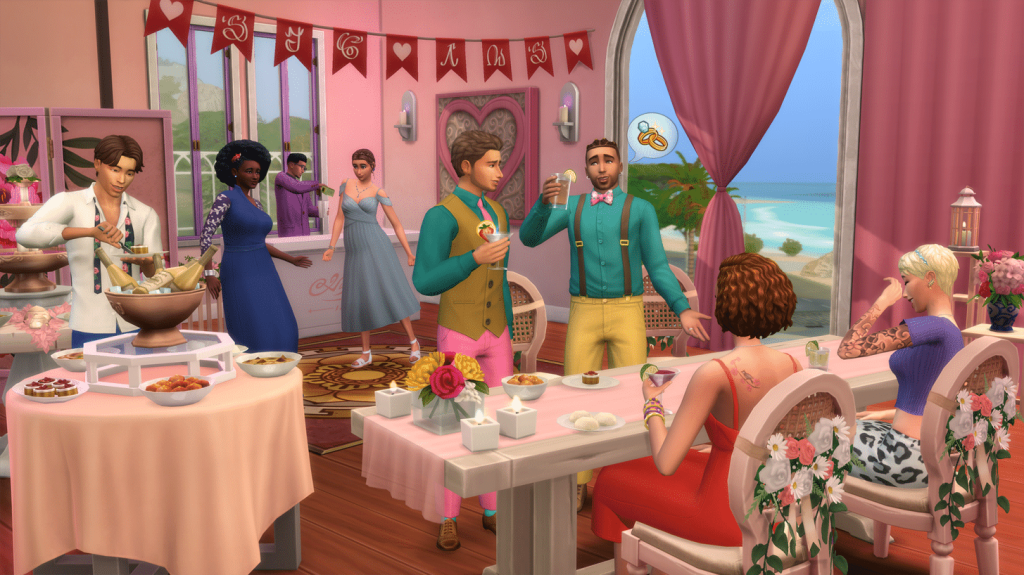 You can take a peek at the Coastal Village locale in the above screenshot, or tune in for a dedicated livestream on 12 February at 5:00 am AEDT via Twitch and YouTube to see more of Tartosa, and how you can hold your dream virtual wedding in the new pack.
The Sims 4: My Wedding Stories is coming to PC, Mac, Xbox Series X/S, Xbox One, PlayStation 4 and PlayStation 5 on 17 February 2022.