Google has launched a wild easter egg for HBO's The Last of Us, with key search terms related to the TV adaptation now surfacing fungal tendrils. If you Google 'The Last of Us', 'cordyceps', and other keywords relevant to the show, a small mushroom button will pop up at the bottom of your screen, on PC and mobile.
Click the button, and fungus will start to grow at the edges of your screen. Repeat the process, and the mushroom spreads more fungus, until your entire screen is taken over by oozing, creeping tendrils. It's a cheeky nod to the action of the series, now streaming on HBO Max in the US and Binge in Australia, with just a hint of terror thrown in.
Those who've already dived into The Last of Us will know just why these tendrils are so skin-crawling – particularly given the events of the show's second episode – but, at the very least, Google's interpretation is a bit more cartoonish and fun.
Read: The Last of Us HBO – Episode 2 Recap – 'Infected'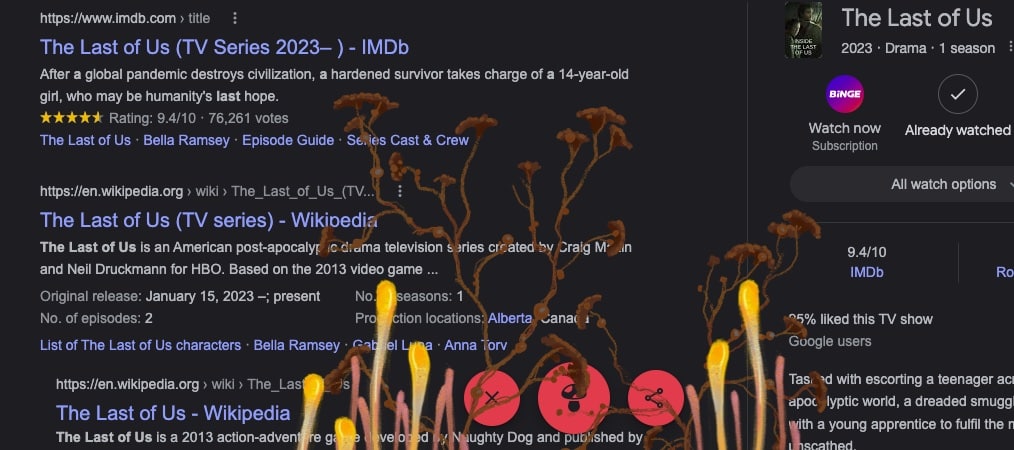 The easter egg is active at the time of writing on mobile devices and computers, with both versions providing a slightly cute, but very sinister nod to the events of The Last of Us – which may hit a bit too close to home, after several years dealing with the consequences of a global pandemic.
You can check out the easter egg for yourself via Google.
---
For further analysis and reading on the HBO adaptation of The Last of Us, you can check out the following articles:
Episode recaps and analysis:
Behind-the-scenes podcast recaps:
The Last of Us is now streaming on HBO Max in the US, and Binge in Australia.