SXSW Sydney, the debut Australian event for the long-running creative festival and celebration of ideas, has announced its first batch of speakers, alongside fresh details about its upcoming event precinct, how the show will run, and what you can expect to pay for tickets.
The show will feature a range of creative talent from across the global creative industry, with several local and international guests given a spotlight. The headlining guest for the Games portion of the show is the talented, BAFTA-winning Sam Barlow of Half Mermaid Productions, known for his work on interactive narrative games like Her Story, Telling Lies, and one of 2022's best games, Immortality.
Representing local Australian games will be Kyas Hepworth, Head of Screen NSW, who is currently working to better support video games, and elevate them in the eyes of creative government organisations.
SXSW Sydney: Confirmed Guests and Speakers
Here is the full list of confirmed guests and speakers for SXSW Sydney so far:
Amy Webb – Future Today Institute | Convergence
Professor Andrew Pask – The University of Melbourne | Tech & Innovation
Ben Lamm – Colossal | Tech & Innovation
Guy Kawasaki – Canva | Tech & Innovation
Jack Reis – Baidam Solutions | Tech & Innovation
Kyas Hepworth – Screen NSW | Screen
Larissa Behrendt – University of Technology Sydney | Convergence
Manal al-Sharif – Women's Rights Activist | Tech & Innovation
Michael Biercuk – Q-CTRL | Tech & Innovation
Per Sundin – Pophouse Entertainment | Music
Que Minh Luu – Netflix | Screen
Robyn Denholm – Tesla & Blackbird Ventures | Tech & Innovation
Rohit Bhargava – The Non-Obvious Company | Convergence
Sam Barlow – Half Mermaid Productions | Gaming
Sean Miyashiro – 88rising | Music
Sung Eun YOUN – Film Critic | Screen
Dr Sheila Nguyen – FIFA Women's World Cup | Convergence
Tom Verrilli – Twitch | Tech & Innovation
Yoomin Yang – WOW POINT | Screen
Yiying Lu – Adobe Global Creative Ambassador | Convergence
This is only the first round of speakers, and there will be plenty more to come.
Several music acts have also been confirmed to perform at the show, including EKKSTACY, redveil, Los Bitchos, Connie Constance and Otoboke Beaver, with more to be announced.
SXSW Sydney: Event Precinct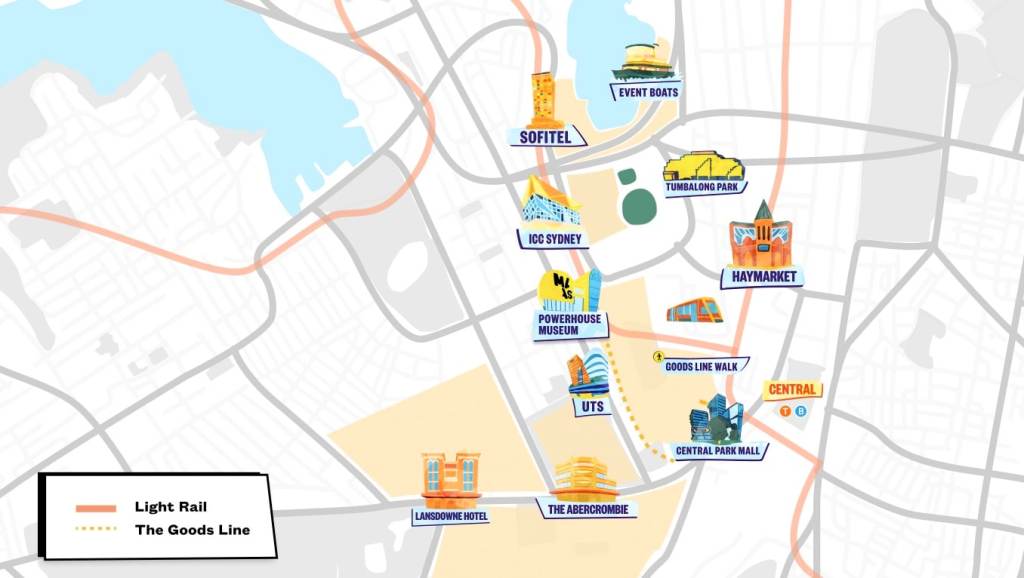 As announced, SXSW Sydney will not only be relegated to its home base in the International Convention Centre (ICC) Sydney – there will also be a number of other activations, exhibits, and parties around Sydney during the festival, involving the Powerhouse Museum, the Landsdowne Hotel, Central Park Mall, Haymarket, and other locales.
While exact details of these additional events have not been announced, SXSW Sydney hopes to entice the wider public for its upcoming showcase:
'SXSW Sydney is about discovery, networking and fun – all within a walkable footprint across Sydney's CBD and surrounding neighbourhoods,' the event's official website reads. 'Across Haymarket, Darling Harbour, Ultimo, Chippendale and beyond – the city's best museums, cinemas, parks, bars and restaurants will transform into a vibrant interconnected hub of future-focused ideas, parties, unique events and networking opportunities to uncover on every street corner.
Stay tuned for more details on these events.
SXSW Sydney: Badges and Pricing
Those keen to attend SXSW Sydney, which is largely an industry-facing event, will need to fork out for elusive badges. Here's the full cost breakdown for every themed track:
Platinum Badge (All Access) – AU $1,295 for Early Bird Tickets
Tech & Innovation Badge – AU $895 for Early Bird Tickets
Gaming Badge – AU $895 for Early Bird Tickets
Music Badge – AU $895 for Early Bird Tickets
Screen Badge – AU $895 for Early Bird Tickets
'A SXSW Sydney badge will grant you access to groundbreaking events and a chance to connect with some of the world's leading thinkers, performers and industry professionals. It's your ticket into our Conferences, Expo and Festivals, networking sessions and more, with each badge type giving you varying kinds of access,' according to SXSW Sydney.
You can find out more about each badge, or purchase one for yourself on the SXSW Sydney website.
---
SXSW Sydney is set to run in Sydney, Australia from 15-22 October 2023. Head to the website to learn more about what's in store.