Starfield is now on the cusp of release, several long years after it was first announced by Bethesda Game Studios. There's an understandable level of excitement around the game, with high expectations encouraged by the prestige of Bethesda titles, and teaser trailers hinting at sweeping sci-fi vistas filled with mysteries to be uncovered. If you're keen to get your hands on the adventure, there's not long to wait now.
As detailed by Bethesda, Starfield will be available for everyone on Xbox Series X/S and Windows PC from 6 September 2023. But there is a twist to this story – as keener players will be able to jump in from 1 September 2023, as long as they purchase a specific edition of the game.
Anyone who purchases the Starfield Premium Edition (US $99.99) or Starfield Constellation Edition (US $299.89) will be able to take part in a five-day early access period, which grants a head start on base game players. In addition to early access, these sets also provide a range of exclusive downloadable content, including multiple skin packs, and the Shattered Space story expansion, as well as a digital artbook and soundtrack.
Read: Starfield Q&A reveals companions, jail system, quests, and more
Those subscribed to Xbox Game Pass also have an option for playing early. By purchasing the Starfield: Premium Edition Upgrade (US $34.99), players will grab that extra DLC and early access, just like other preorder customers. The only caveat here is that once the purchaser's Xbox Game Pass subscription lapses, access to Starfield will likely cease.
Regardless, it's a solid option for those keen to access the game early, without paying the full price of entry.
Starfield: Early access global launch times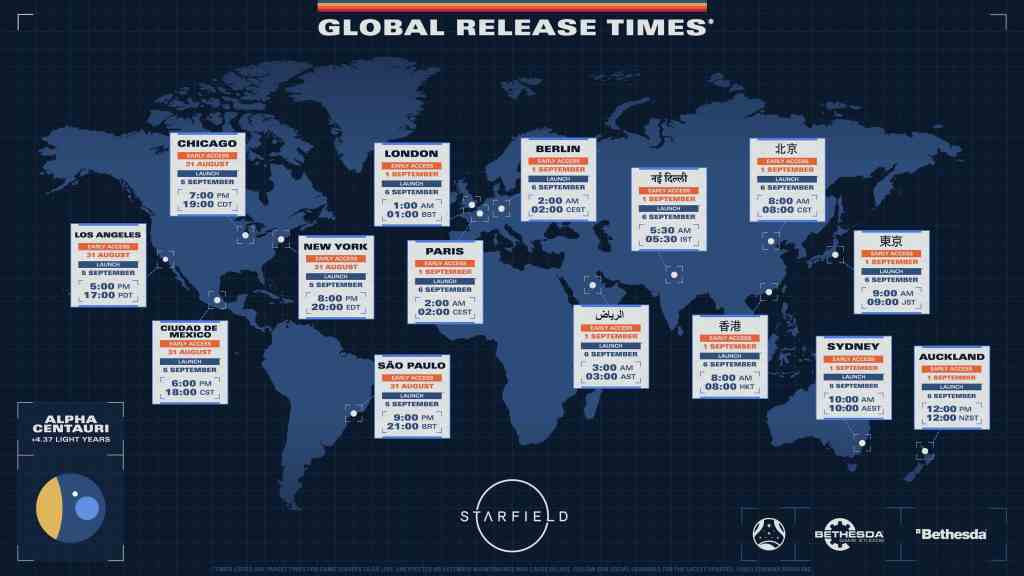 Early access for Starfield will kick off at the same time around the world – either 1 September 2023 or 31 August 2023, depending on time zones. Here's a brief rundown of confirmed early access launch times for major global cities:
Australia – 10:00 am AEST | 9:30 am ACST | 8:00 am AWST (1 September)
New Zealand – 12:00 pm NZST (1 September)
United States – 5:00 pm PDT | 7:00 pm CDT | 8:00 pm EDT (31 August)
United Kingdom – 2:00 am CEST | 1:00 am BST (1 September)
Japan – 9:00 am JST (1 September)
The same launch times are expected for the game's formal release on 6 September 2023.
After years of waiting, there's not long to go before Starfield finally takes off. Stay tuned for the GamesHub review of the upcoming title.
GamesHub has affiliate partnerships. These do not influence editorial content. GamesHub may earn a small percentage of commission for products purchased via affiliate links.