A decade on from release, Skyrim remains one of the most popular and enduring video games around, thanks to a thriving mod community and the franchise's dense, ever-expanding lore. The popularity of the game has lead to several spin-offs, including a number of board games like Skyrim Monopoly, The Elder Scrolls: Call to Arms and other tabletop RPGs. The latest addition to the Skyrim board game universe may be the most interesting of them all.
Skyrim: The Adventure Game is a brand new board game set in the heart of Tamriel which will see 1-4 players completing quests, levelling up, and thwarting a devilish plot that threatens to destroy the balance of the land.
Basically, it's the entirety of Skyrim in a single box.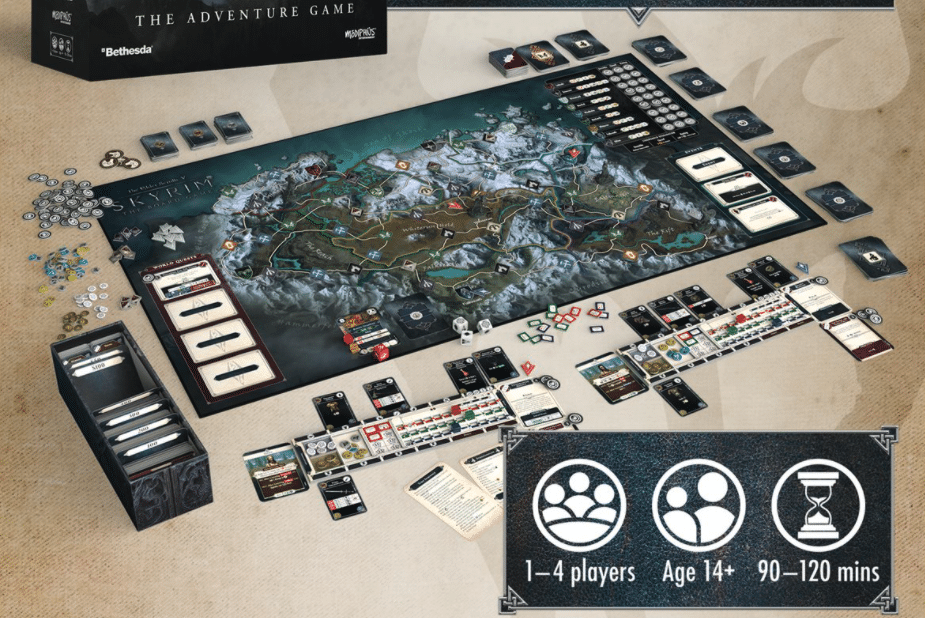 In the game, players will work in co-op (or solo) to travel through holds, fight dangerous enemies, uncover the best gear, and play through a number of story-based chapters where decisions you make can change the course of your adventure.
There are two main campaigns in the box, with each split into multiple, Tamriel-spanning chapters.
The recently launched page for the game states that while chapters will last between 90 to 120 minutes, there's 'hundreds of hours of gameplay' in the box, and plenty of choices to keep you hooked along the way.
Everyone looking to dive into a new tabletop campaign next year should consider what Skyrim: The Adventure Game is putting on the table.
Read: How COVID helped tabletop RPGs go mainstream
Development on this adaptation kicked off in 2018, with the final launch date being set for August 2022. This timeline is likely to shift due to the crippling cost and delays of board game production right now, but for now the project does appear to be on track.
If you're somebody who likes Skyrim, or just somebody who enjoys a solid solo adventure board game, keep this one on your radar. While past Skyrim board game adaptations have focussed more on combat and miniatures, this is the first time we've seen one that focuses on the heart of Skyrim: adventure, exploration and questing.
There should be plenty to see and do, and lots of those nasty Draugr zombies to fight.
Skyrim: The Adventure Game launched on the fundraising platform Gamefound on November 2.
According to a recent update, the game will cost around AU $125 (£68) with more news on the way about add-ons and other options. You can stay tuned for updates on the Gamefound page here.
Backers will gain early access to a Tabletop Simulator version of the game, and will receive production news and details as they arrive. Everyone else can keep up to date with progress on social media and Gamefound.
(This article was updated on 4 November 2021 to include the new trailer)