The PlayStation Plus games lineup for April 2023 has been announced in a new PlayStation Blog revealing a vast array of blockbuster hits and indie favourites set to arrive on 18 April 2023 for active subscribers. On this date, players will gain access to adventures like Kena: Bridge of Spirits, Paradise Killer, Doom Eternal, Riders Republic, Wolfenstein II: The New Colossus, and Sackboy: A Big Adventure.
On the classics front, a vast array of Doom games will also be released for those on the PlayStation Plus Premium and Deluxe tiers, likely in celebration of the game's 30th anniversary.
In addition to announcing new games arriving on the service, Sony has also revealed a few rare departures. In May 2023, Marvel's Spider-Man, Resident Evil, and NBA 2K Playgrounds 2 will be removed from PlayStation Plus, alongside 'some' other titles. While removals are fairly standard, the disappearance of Marvel's Spider-Man is notable, as it is a Sony-published game.
Read: Marvel's Spider-Man 2 could launch in September 2023
It could be that developer Insomniac Games is gearing up for a new Marvel's Spider-Man 2 reveal, which could inspire more players to seek out and purchase the game outright, or it may be a simple matter of licensing. Whatever the case, those keen to check out Spider-Man, or its fellow departing games, should get in quick.
PlayStation Plus: Extra, Deluxe, and Premium Games for April 2023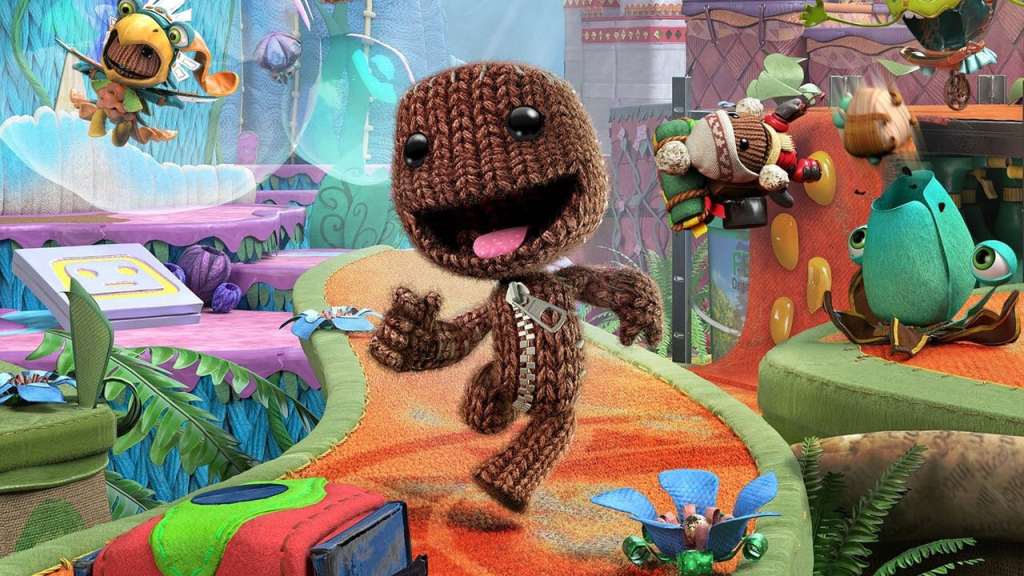 Here's a rundown of every major game coming to all PlayStation Plus subscribers on 18 April 2023:
Kena: Bridge of Spirits (PS4, PS5) – 'Immerse yourself in a story-driven action-adventure set in a charming world rich with exploration and fast-paced combat. Play as Kena, a young Spirit Guide travelling to an abandoned village in search of the sacred mountain shrine.'
Doom Eternal (PS4, PS5) – 'Hell's armies have invaded Earth. Become the Slayer in an epic single-player campaign to conquer demons across dimensions and stop the final destruction of humanity. The only thing they fear… is you.'
Riders Republic (PS4, PS5) – 'Jump into the massive multiplayer playground! Grab your bike, skis, snowboard or wingsuit and squad up with your friends to compete in a wide range of multiplayer modes.'
Wolfenstein II: The New Colossus (PS4) – 'You are BJ Blazkowicz, aka "Terror-Billy," member of the Resistance, scourge of the Nazi empire, and humanity's last hope for liberty.'
Slay the Spire (PS4) – 'Embark on a journey up the ever-changing Spire, in this fantasy deckbuilder adventure that fuses together card games and rogue-likes. Craft a unique deck from hundreds of cards to efficiently dispatch foes and reach the top.'
Monster Boy and the Cursed Kingdom (PS4, PS5) – 'Monster Boy and the Cursed Kingdom borrows the best from the classic series to deliver a fresh, modern adventure with fun gameplay, memorable music and gorgeous hand drawn animations.'
The Evil Within (PS4) – 'Developed by Shinji Mikami and Tango Gameworks, The Evil Within embodies the meaning of pure survival horror. Highly-crafted environments, horrifying anxiety, and an intricate story are combined to create an immersive world that will bring you to the height of tension.'
Wolfenstein: The Old Blood (PS4) – 'As war hero B.J. Blazkowicz, arm yourself with new weapons such as the bolt-action rifle and grenade-launching Kampfpistole as you attempt to thwart the advancing Nazi war machine.'
Bassmaster Fishing (PS4, PS5) – 'For the first time ever, compete as or challenge 10 pro anglers from the Elite tour across 8 different real-world venues. Climb the ranks, earn your sponsors, and progress through your B.A.S.S. career to become the Bassmaster Classic Champion.'
Paradise Killer (PS4, PS5) – 'Play as Lady Love Dies, summoned from exile to investigate the crime and find the culprit. Collect evidence, record testimony and interpret the facts to form your own truth to build an airtight case against whoever you think is the killer.'
Sackboy: A Big Adventure (PS4, PS5) – 'Iconic PlayStation hero Sackboy bursts back into breathtaking action with a huge, fun and frantic 3D multiplayer platforming adventure.'
PlayStation Plus: Deluxe and Premium Games for April 2023
Subscribers on the highest tier of PlayStation Plus – Deluxe or Premium, based on regional availability, will also gain access to the following games in April 2023:
Doom (PS4) – 'Relive the birth of the first-person shooter and experience the demon-blasting fun that popularized the genre. This version includes expansion, Episode IV: Thy Flesh Consumed, local 4 player deathmatch and local 4 player co-op.'
Doom 2 (PS4) – 'To save Earth, you must descend into the depths of hell, survive demon hordes, and take part in the fiercest battle ever.'
Doom 64 (PS4) – 'Fight against demons in your crusade to hunt down the Mother of Demons and stop Hell's invasion. As you battle through more than 30 action-packed levels, be on the lookout for enhanced weapons and secrets to help you put an end to the demonic threat.'
Doom 3 (PS4) – 'In this critically acclaimed action-horror re-telling of the original DOOM, players must battle their way through a demon-infested facility before entering the abyss to battle Hell's mightiest warrior – and put an end to the invasion.'
Dishonored: Definitive Edition (PS4) – 'With Dishonored's flexible combat system, creatively eliminate your targets as you combine the supernatural abilities, weapons and unusual gadgets at your disposal.'
09/26/2023 10:58 pm GMT
GamesHub has affiliate partnerships. These do not influence editorial content. GamesHub may earn a small percentage of commission for products purchased via affiliate links.