Rumours about a planned sequel to Rocksteady's Arkham Knight have floated around the internet for years, with several sources claiming the hit action-adventure was originally planned to lead into a Damian Wayne-starring sequel. It would have seen the current Robin (and son of Bruce Wayne) take the mantle of Batman, and set off into a dark and dangerous world.
In 2019, alleged game concept art was revealed, and it gave glimpses into the planned rogue's gallery for the mystery title. This art also revealed a codename: Project Sabbath. While the initial artwork, posted anonymously on 4chan, didn't reveal much about the game's world, it did give fans a good glimpse into what could've been.
Long-time Batman villain Duela Dent featured in the art, as did characters like Gorilla Grodd, a woman dressed as Black Mask, and a creepy-looking White Rabbit. There was also glimpses of a run down Gotham, and rumours that the game would use the 'nemesis' system, pioneered in Shadow of Mordor, to make gangs of enemies remember your name.
The concept art was never confirmed to be real, but the high quality of the work and similarities with past Arkham games added fuel to the fire. Now, the reveal of even more art has given fans a better glimpse at what Project Sabbath could potentially have been.
On Instagram, concept artist Goran Bukvic, who has worked on feature films and games like Halo and Gears of War, posted several new artworks he claimed were 'done for a video game' a long time ago.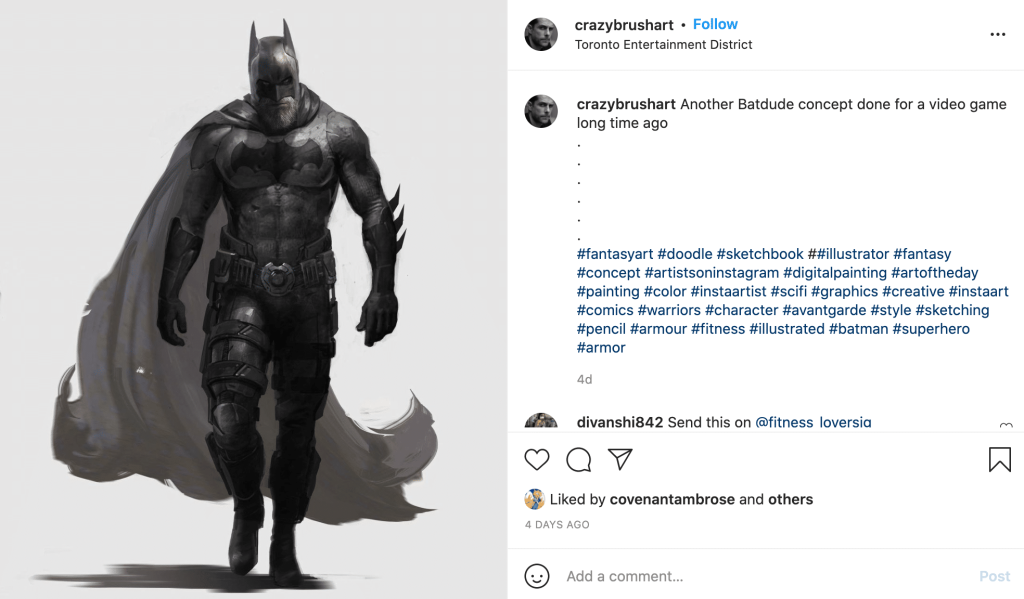 The images depict a much older Bruce Wayne with a white beard, wearing a Batman suit that looks a little worse for wear. It's a bit different than the suit seen in Arkham Knight, but it shares the same overall structure and does appear to take inspiration from the Arkham franchise.
Alongside this artwork, Bukvic also posted a look at Damian Wayne in a Batman Beyond-inspired batsuit, complete with red illumination and what looks to be a high-tech cloak.
While a new Arkham title starring Damian Wayne was never officially announced, the artwork does match the 2019 rumours, and appears to confirm initial reports weren't far off the mark.
As with most cancelled games, officially confirming Project Sabbath's existence is difficult. Those who worked on the alleged project would likely have signed hearty NDA that don't allow them to share more.
While Bukvic's art does seem to indicate the project existed in some form, it's still unclear how far down the track it got before the plug was ultimately pulled.
Based on the artwork and initial reports, it does appear there were plans in place for Damian Wayne to take the Batman mantle in the Arkham universe, but it's unlikely we'll see more any time soon.
The next time we see the Batman universe in games, it'll look very different — Gotham Knights, the next game from DC, will reboot the Batman story for a whole new audience.