The latest Booster Course Pass wave for Mario Kart 8 Deluxe didn't just add eight new, delightful tracks to the beloved game – it also added in a new racer, Birdo, and five additional slots in the character selection screen. Each slot is marked by a question mark '?' and is currently non-selectable – but it's assumed each represents a future racer coming to the game.
New racers were teased during the official wave four Booster Course Pass announcement, where Nintendo revealed that 'characters from past Mario Kart games are on the way'. This wording is important, as some fans are already speculating that new, debuting characters could be included in future waves.
Given Nintendo's comments, it does appear the five mystery characters coming to Mario Kart 8 Deluxe are returnees from past games. This means the pool of potential candidates is fairly slim.
Read: Mario Kart 8 Deluxe: Booster Course Pass Wave 4 tracks revealed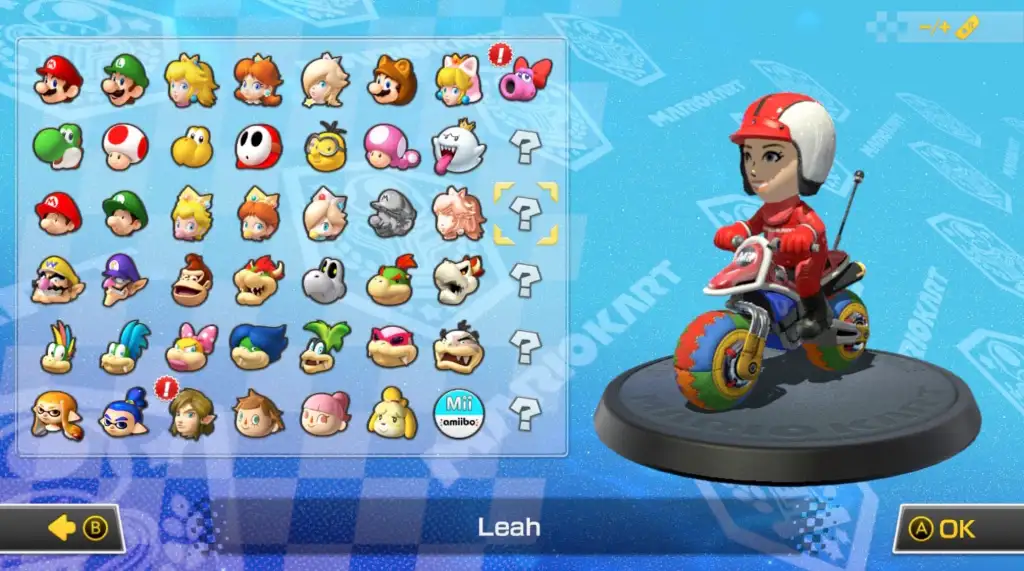 While there are plenty of tenured Mario Kart racers who could be included in future DLC waves, there are some likely candidates in the mix:
Pac-Man could make a wild cameo appearance, thanks to his inclusion in the arcade versions of Mario Kart. Taiko no Tatsujin's Don-Chan could also make an appearance, on the same grounds.
Funky Kong could be a fun inclusion, particularly given he's making an appearance in the upcoming Super Mario Bros. Movie as a racer.
Wiggler could also return, just for the novelty of having a big worm riding a kart.
R.O.B. is an absolute delight, and one of the best racers of the Nintendo DS era – he's certainly due for some more love.
Kamek was planned to be an official Mario Kart racer in multiple games, but was scrapped multiple times. His return could be the realisation of a long-term dream.
Other potential inclusions are: King Bob-omb, Pauline, Monty Mole, or even Tamagotchi's Mametchi, who appeared as a playable racer in Mario Kart Arcade GP 2. Stranger things have happened in gaming, after all.
For now, we don't know much about these five potential additions to Mario Kart 8 Deluxe – but there's plenty of room left for wild speculation. Expect to hear more about new racers arriving in the game shortly, as Nintendo gears up to reveal the next wave of Deluxe courses and content.