Horizon Forbidden West developer Guerrilla Games has teamed up with the tabletop developers at Steamforged Games to create a new prequel chapter in the Horizon universe: a "tabletop experience" known as Horizon Forbidden West: Seeds of Rebellion.
This board game will take place before Aloy arrives in the Forbidden West, functioning as a bridge between Horizon Zero Dawn and the Forbidden West video game. Guerrilla's narrative team is reportedly heavily involved in creating its story – so anything revealed within Seeds of Rebellion can be considered an official part of Horizon canon.
Notably, it will also spin out of Steamforged's previous Horizon board game, simply titled Horizon Zero Dawn: The Board Game. This adventure is a co-op exploration-based action game where players roam a plain, and attempt to take down wandering beasts. Seeds of Rebellion will expand on the mechanics of this adventure, with new features and storytelling to create more engaging skirmishes.
According to Fraser McFetridge, lead designer on the game, narrative was something the Steamforged team avoided in the creation of the original Horizon, game as the setting of the game made it complex. Community feedback forced a rethink in that regard, and so Steamforged set about establishing a firm narrative, with the approval of Guerrilla. In addition, the team hopes to improve on the co-op gameplay, exploration, and machine skirmishes of its previous Horizon game.
Read: Horizon Forbidden West Complete Edition leaked by ratings board
Here's the official description of Seeds of Rebellion, per Steamforged:
"Horizon Forbidden West: Seeds of Rebellion is a new board game for 1-4 players. It builds on the critically acclaimed engine first developed for the Horizon Zero Dawn board game to deliver a fully cooperative, narrative-driven experience.

In the distant lands of a far-future Earth, colossal machines rule and humans exist in pre-industrial tribes. Your adventure will take you to the majestic yet deadly Forbidden West, before Aloy's arrival. Much of this frontier is the territory of the warlike Tenakth. Though the tribe is currently united under the great Chief Hekarro, a rebellion is fomenting in the dark corners of this mysterious place. This potential insurrection threatens the hard-won, fragile peace between the Tenakth's three clans.

You and your fellow Marshals must uncover, investigate, and fight this threat before unnecessary blood is shed and the fate of the Clan Lands is changed for generations to come. Along the way, you'll explore the vibrant world, earn powerful equipment, and undertake life-or-death quests, testing your skills against an ever-present menace: the deadly, ever-evolving machines."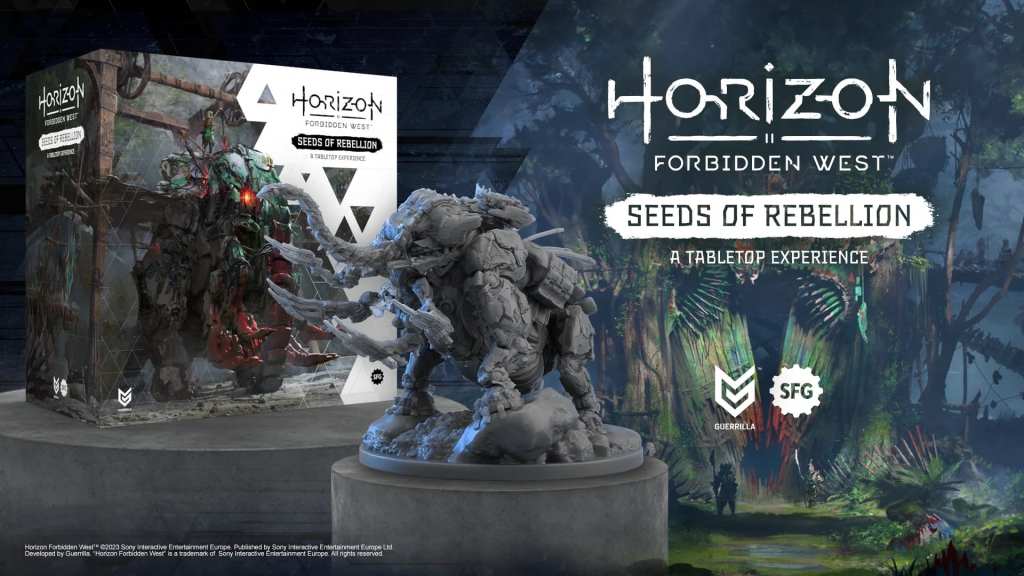 Steamforged has a reputation for high quality board games and tie-in media, having released major titles like the Monster Hunter World and Sea of Thieves board games, as well as adaptations for Resident Evil, Devil May Cry, and Dark Souls – so there's every reason to pay attention to this upcoming board game release.
For now, those keen to hear more about Seeds of Rebellion will need to stay patient. The board game is set to launch on Kickstarter on 21 November 2023. No firm release date has been set for this adventure, but we anticipate a 2024 launch.
GamesHub has affiliate partnerships. These do not influence editorial content. GamesHub may earn a small percentage of commission for products purchased via affiliate links.