Fae Farm is a delight. A colourful, magical delight that unfolds with a charming sense of fun. While the game opens to reveal what appears to be a standard farming simulator – crops, animals, friendships, marriage, and dungeoneering – it quickly unveils layers as it expands its world of magic, and invites players to uncover the secrets of Azoria.
This town is brought to life in a rainbow of colours, with a hefty dose of cuteness bringing the world to life. In one corner of Azoria, you'll find a sparkling glade. In another, a spooky wood. You'll clear idyllic fields for crops and creatures, and come across glittering glens and rustic, friendly homes. It's a world straight from a fairytale, complete with a colourful, chibi art style, and characters that move with a wonderful, blob-like jiggly-ness.
It's in this setting that you'll take your first steps, and learn to harness your potential as a magic-infused hero.
First steps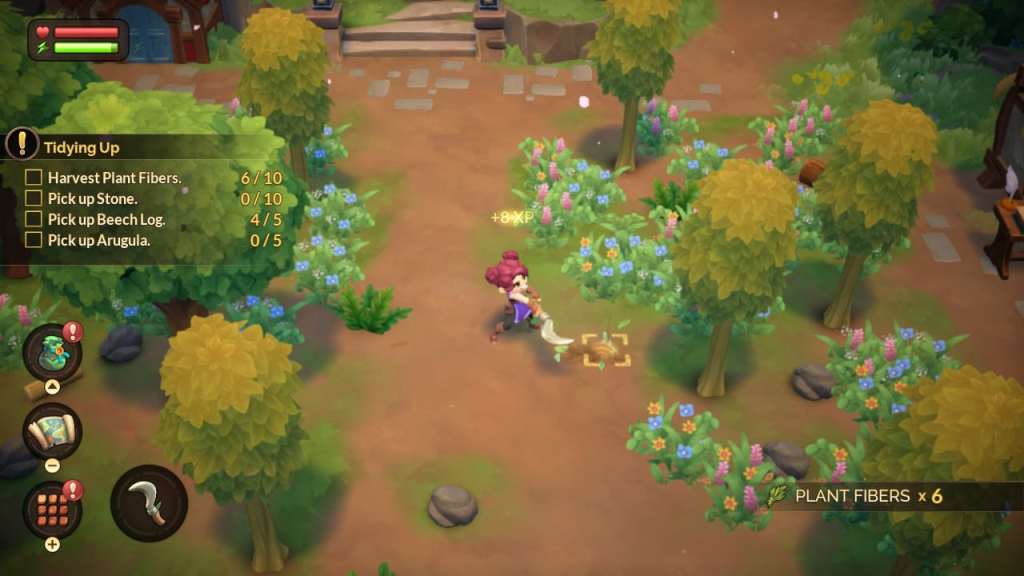 On entering Fae Farm, you'll first make a home within a small, cloistered township where daily life consists of growing crops, looking after animals, making friends, and contributing to the local economy. While the town is blocked off by strange whirlpools, which complicate trade, life in Azoria is fairly peaceful.
That is, until you arrive. And then the plot begins to thicken.
In the first four chapters of Fae Farm – which make up this early preview – the game successfully lays out a familiar world, then sprinkles magic dust over every mechanic. The town that first appears peaceful is actually quite strange, and home to a range of magical beings known as Fae. Their tools and technologies are found throughout town, and they aid daily life as you settle in.
You might grow standard crops like turnips and pumpkins, but with magical aid, you can even grow special fae crops, and then use them to conquer the town's dungeons. With the power of fae tools, you can explore new dungeon depths, and build your strength as the road gets rockier. Along the way, growth is driven by mission-based chapters which haul you along a neat, whimsical journey as you restore Azoria, and save the township from ruin.
Harvest valley
Four chapters in, the core of Fae Farm is clear – this is a farming simulator with a loving appreciation for everything that's come before. Its sprinkle of magic dust makes the action feel fresh, but the game is also aided by clever mechanics that feel distinctly designed to address criticisms of the farming simulator genre.
There is a smoothness to planting crops that makes planting multiple seeds at once easy. Rearing creatures is stress-free. Weapon upgrades are equally simple, and dungeoneering effectively balances challenge with reward.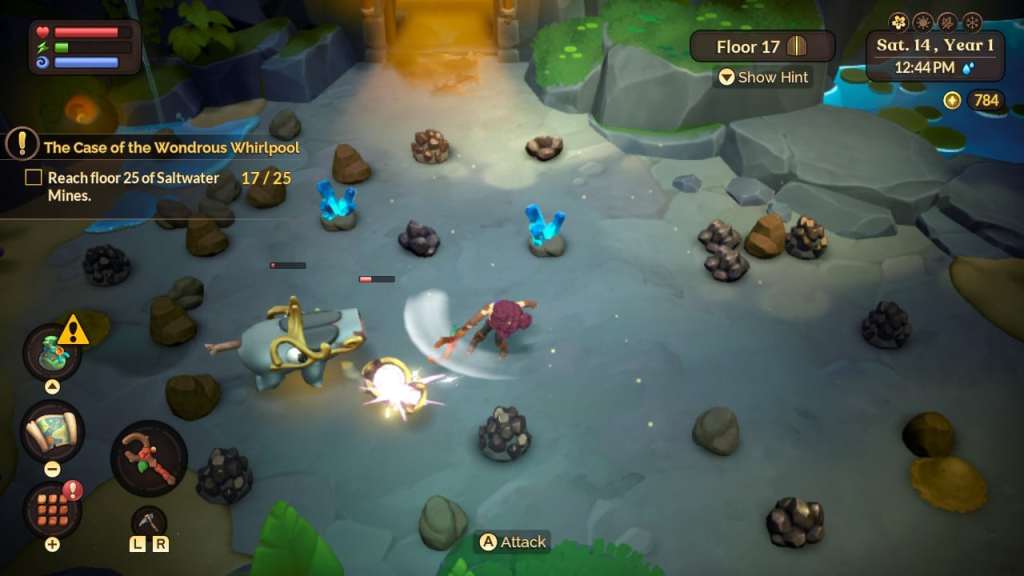 'Grind' is a fearful thing for farming simulators – with many games in the genre requiring players to spend hours on menial tasks to gain even the slightest reward. Fae Farm is built with familiar mechanics – you need to build certain machines to gain certain items, and then use other machines to gain other items – but satisfying exploration, fair crafting demands, and varied quests reduces the elements of grind.
Read: Story of Seasons: A Wonderful Life review – Simple bliss
Exploring a dungeon requires preparation – meals cooked, tools ready – but this task feel surmountable, with multiple options for exploration, and ever-changing floors that keep the action fresh.
Leaning into mission-based gameplay also means there's impetus behind your quests. You can choose to spend your time making friends, crafting artisan goods, and rearing magical creatures, and then spend your evenings chipping away at more challenging exploration, fighting your way through dungeon floors and crafting medallions to save your place in the dungeon. All the while, there is purpose behind your pursuits, as you unravel the truth of Azoria.
It's an effective, magical mix of mechanics and story, and you can pursue goals at your own pace – even blister through dungeons, find their hidden secrets, and ignore the townsfolk, if you wish. No matter the direction you turn, you'll find a lively, cutesy sandbox to play in.
Magic, with a twist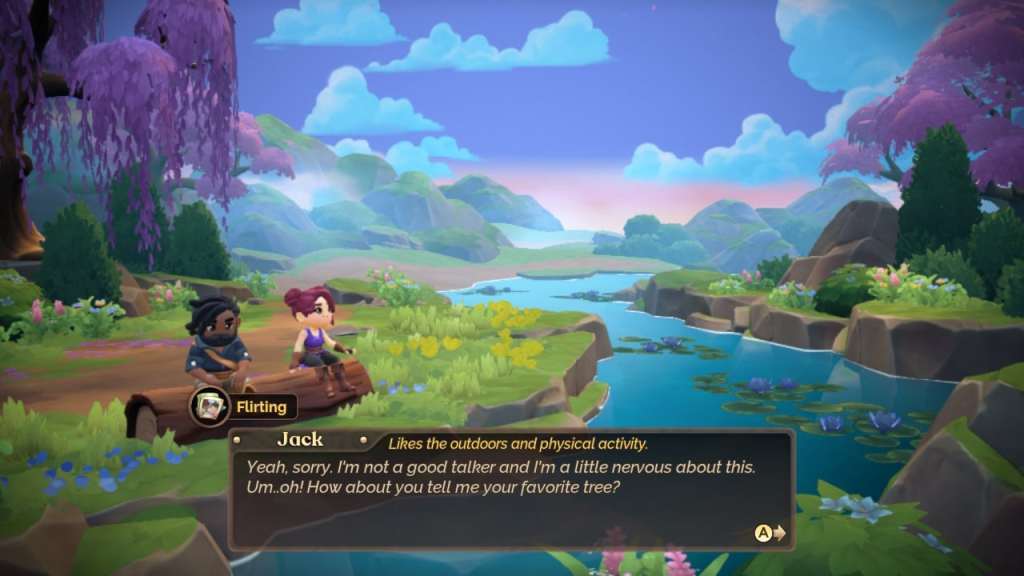 Fae Farm maintains a strong pace in its opening, holding its magical cards close to its chest before unveiling the real strength of its world. It's never overwhelming, with a slow rollout of intrigue allowing you to get familiar with new friendships, crop mechanics, then animal rearing, and dungeon exploring, with each chapter expanding the possibilities of the game's world.
Its neatest twists hide behind the fourth chapter – and can't be shared in this early preview – but suffice to say, there's pure magic waiting in the wings of Fae Farm. In choosing a more well-trodden path with its farming and life mechanics, developer Phoenix Labs ensures ample player familiarity, while meaningfully innovating within the genre.
The gameplay loop is also heavily moreish and encouraging, with accessible puzzle-solving and questing systems filled with mysteries. Solutions to puzzles are not always straightforward, but the game is peppered with clues that provide a path forward, balancing challenge with a satisfying sense of accomplishment.
There's also the added bonus that the entire experience can be played in multiplayer, with responsibilities for fishing, farming, and caring for creatures shared amongst friends. In our early preview, we weren't able to test multiplayer features – but regardless, it's easy to see where they'd fit in, as the game allows for wide exploration, and massive farm expansion.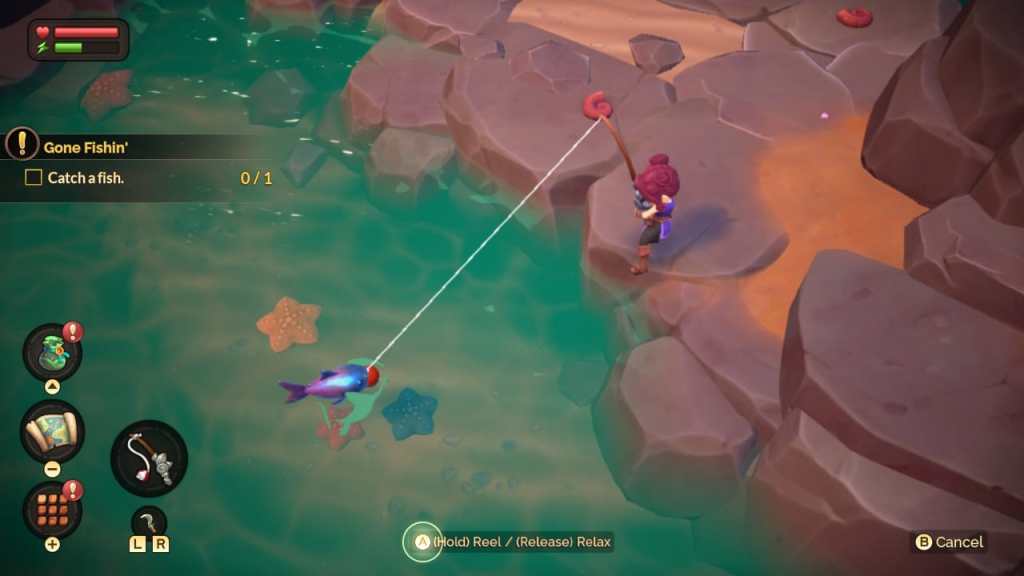 In a crowded farming-adventure simulator market, Fae Farm makes a significant early impression. It doesn't strive to be overtly different, but by improving on the mechanics of its predecessors, and rolling out its secrets at a rapid clip, the adventure bounces along with real heart in its opening. Should it maintain momentum in its later chapters, it'll certainly be a strong contender in the farming simulator genre.
Fae Farm launches for PC and Nintendo Switch on 8 November 2023.