The Elder Scrolls Online: Necrom is the latest chapter in the long-running fantasy MMO game, set for release on PC and consoles in June 2023. This go around, the world of Tamriel is much darker, with the latest DLC plot revolving around the horror aspects of Elder Scrolls lore – specifically, the eldritch madness of Daedric Prince, Hermaeus Mora.
He'll play a key part in the action, within an unfolding plot that sends players from the Telvanni Peninsula to the wilds of Apocrypha, where corrupted beasts nestle. According to ESO creative director Rich Lambert, the tone of Necrom and its opening Shadow Over Morrowind chapter leans into 'cosmic horror' vibes, in the locales players will travel through, and the deadly, gothic quest they're sent on.
While much of the Morrowind outskirts will be shadowed and infected by corruption, Lambert did make clear that the lands of this expansion are much more diverse than in past chapters, with players now able to explore more of the Tamriel map.
In the Telvanni Peninsula, wanderers will find flooded coasts, rocky spires, and towering giant mushrooms. In other realms, there will be beautiful, idyllic scenery – and occasionally, mountains of lava.
Read: The Elder Scrolls Online asks nothing of you, and that's perfect
Diversity was important for Lambert and his team while developing The Elder Scrolls Online: Necrom, and this was a core focus in designing the world players will explore as they riddle their way through a complex, magical plot.
The Elder Scrolls Online: Necrom – Plot Details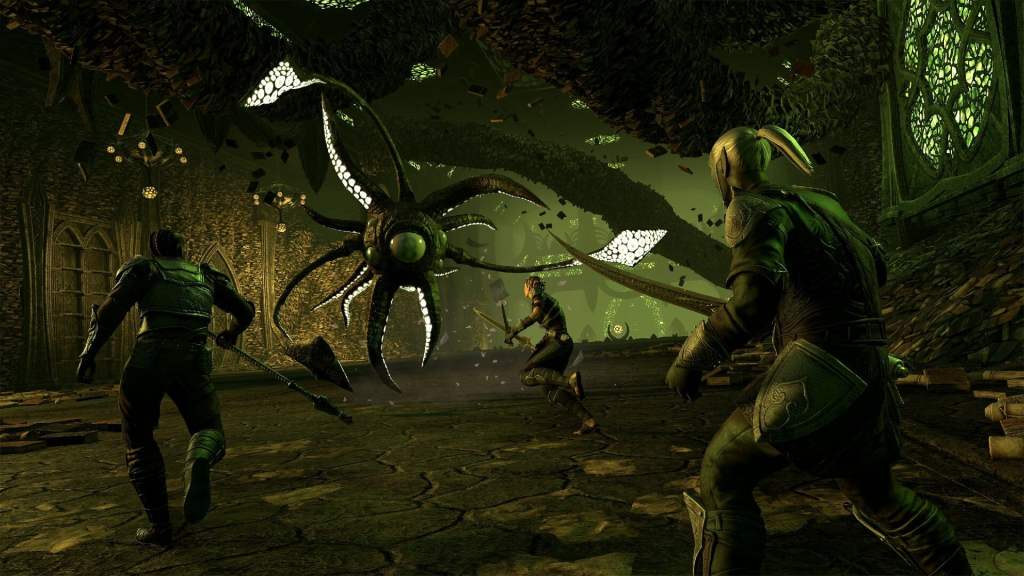 The main quest of The Elder Scrolls Online: Necrom – Shadow Over Morrowind concerns a plot to overthrow Hermaeus Mora, and block his all-seeing sight. Here's the plot description, per ZeniMax:
'Leramil the Wise, agent of Hermaeus Mora, drafts players into stopping a conspiracy against the Prince of Fate. The story unfolds across the Telvanni Peninsula, and involves Vaermina (The Dark Lady) and Peryite (The Lord of Pestilence).'
These villains are looking to block Mora's sight, and reclaim their fate. According to Rich Lambert, their story will end on a cliffhanger, leading into the next major chapter of The Elder Scrolls Online's unfolding tale.
In your quest to aid Mora and restore balance in Morrowind, you'll be joined by a range of companions, including:
Leramil the Wise – A High Elf female, who acts as an agent of Hermaeus Mora. She's described as esoteric and alien to players.
Meln the Mouthless – A deceased Dunmer male, who was previously a Telvanni magister. He's described as prickly and lonely.
Scruut – An adorable Watchling made of tiny tentacles and slime. They're very cute, but described as dour and dismissive.
Curate Gadayn – A curious Dark Elf male.
Hermaeus Mora – The dark Daedric Price himself will join you on your quest, although his role will likely be muted as you journey.
Along the way, you'll also meet Axander, a Redguard male Arcanist described as a wild, crazy mix between Dumbledore and Willy Wonka, and Sharp-as-night, an Argonian mercenary with no memory of his previous life, but a deadly skillset.
New Trail: Sanity's Edge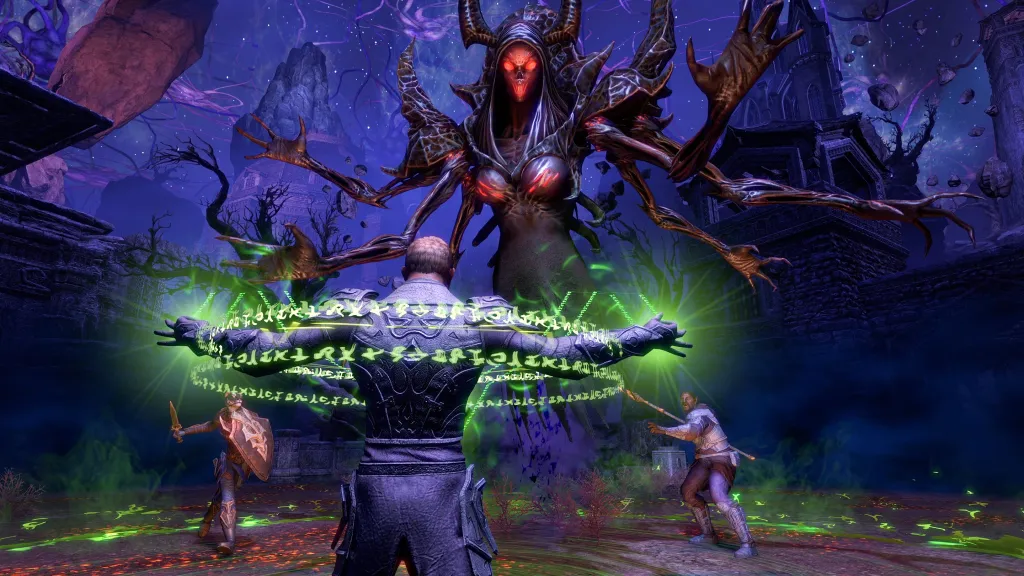 As with most other Elder Scrolls Online expansions, Necrom will introduce new 12-player trials. The first of these is Sanity's Edge, which is described as being similar in scope to Rockgrove and Dreadsail Reef.
In your adventure through the trail, which should be tackled with a strong party, you'll enter the mind of a powerful member of the Mage's Guild, where a war between dreams and nightmares is taking place. It's your job to sort reality and fantasy, as you romp through a surreal quest with danger at every turn.
'Cool new mechanics' can reportedly be found in this adventure, which should shake up your approach to combat, and help Sanity's Edge stand out amongst the pack. To aid the terror at the heart of the new trial, you'll encounter a range of new monsters within (and without) as you journey to your final destination.
New and returning monsters that will feature prominently in Necrom include: the Seeker, the Mind Terror, and the Lurker. 'Dynamic' monsters that require some strategy to overcome will also be present, in the form of the corrupted 'Hushed' – former mortals twisted by magic – and the Tomeshell, a hermit crab-like beast that occupies books.
New Class: Arcanist
When The Elder Scrolls Online: Necrom launches, players will gain access to a brand new playable class for the first time since the Elsweyr expansion.
The Arcanist class revolves around the use of dark sorcery, and players who adopt this skillset will gain access to an ancient, eldritch tome for use in combat. According to Rich Lambert, the class was inspired directly by Hermaeus Mora and his forbidden knowledge, and was designed to integrate with the Necrom story. While it's not essential to play through the chapter embodying this class, it will aid immersion, and will likely make more sense for the story.
When taking on the Arcanist class, players will advance through three unique skill lines:
Herald of the Tome – A high-damage skill line.
Soldier of Apocrypha – A tank-based skill line.
Curate Runeforms – A healing skill line.
Complicating the Arcanist role is a new 'crux' mechanic which encourages players to build up combo points as they weave spells together. When playing as an Arcanist, players can use crux to augment their abilities, as building up combos can help unleash more powerful, damaging attacks, and add 'flavour' on the battlefield.
---
Players can expect a raft of new features and plots to follow when The Elder Scrolls Online: Necrom launches for PC and consoles, all of which will shake up gameplay and lead player characters down grimmer paths, filled with oozing tentacles and terror.
The expansion pack will launch on 5 June 2023 for PC and Mac, and will follow on PlayStation 4, PlayStation 5, Xbox One, and Xbox Series X/S on 20 June 2023.
The Public Test Server (PTS) version of The Elder Scrolls Online: Necrom will go live on 17 April 2023.