The launch of Assassin's Creed in 2007 feels like a historic turning point for Ubisoft. Per reports of the era, the company had meagre expectations for the title, and considered it a gamble in a time when game studios were frequently experimenting with bold new ideas, mechanics, and genres. Not everything about it 'worked', but amidst tough competition, the game 'greatly outstripped' all predictions. While far from perfection, it found a passionate audience of players, and wound up cementing Assassin's Creed as one of Ubisoft's flagship franchises.
Since the launch of the original game, the game has birthed a multimedia series with countless entries; a big-budget film adaptation, an upcoming Netflix show, animated shorts, novels, board games, and comics. With the launch of Assassin's Creed Mirage imminent, it's also birthed a spiritual successor – one beholden to its classic forebear.
Mirage is described as a celebration of Assassin's Creed history, with particular homage paid to the original Assassin's Creed setting, in its characters, design, and environments. Blink, and you'd think it was a remaster. In many ways, it's a return to the game release that charted a new course for Ubisoft.
Read: New Assassin's Creed Mirage gameplay trailer goes back to basics
A celebration of beginnings
According to Benjamin Potts, Associate Animation Director at Ubisoft Bordeaux, it was the anniversary of Assassin's Creed that inspired the team to revisit the first game in the franchise, with a tale that played on similar themes of organisational corruption, and the morality of well-intentioned murder.
'It's the 15th anniversary for the franchise,' Potts told GamesHub during a recent Ubisoft preview event. 'That gave us a reason to celebrate something. We listened to the fans, the community, and the expectations for the franchise – and it seemed like the perfect opportunity to really go back to a much more simplified, crafted experience for Assassin's Creed.'
After several mainline AC releases that prioritised a newfound need for deeper investment, and focussed on levelling systems more akin to RPGs than the original Assassin's Creed, a growing malaise became apparent. Open-world games are highly demanding of time, attention, and skill – and given a significant portion of the franchise's primary audience are now ageing adults with limited time, this shift back in time makes sense.
The Art of Simplicity
Simplicity in a time of all-consuming games feels relieving. It's likely the reason why interest in Mirage is so high; after several demanding, high-profile entries in the franchise – sweeping and gorgeous as they are – a return to cloistered corridors and intense, heist-like assassinations is welcome. The urge is tinged with nostalgia for perceived 'better times', and Ubisoft is leaning into these feelings with Mirage.
'We played the [original] games a lot again,' Potts explained of the game's development process. 'That's a big point of reference for us – looking back and remembering what it is to play the game. It's been 15 years, there's been a lot of action since, all the different Assassin's Creeds, different characters, different worlds, different environments.'
'It's reference, reference, reference [in the game]. We're really passionate in our studio, and Ubisoft Bordeaux about the franchise, and specifically the original game. So, there was no shortage of energy and passion pulling it up.'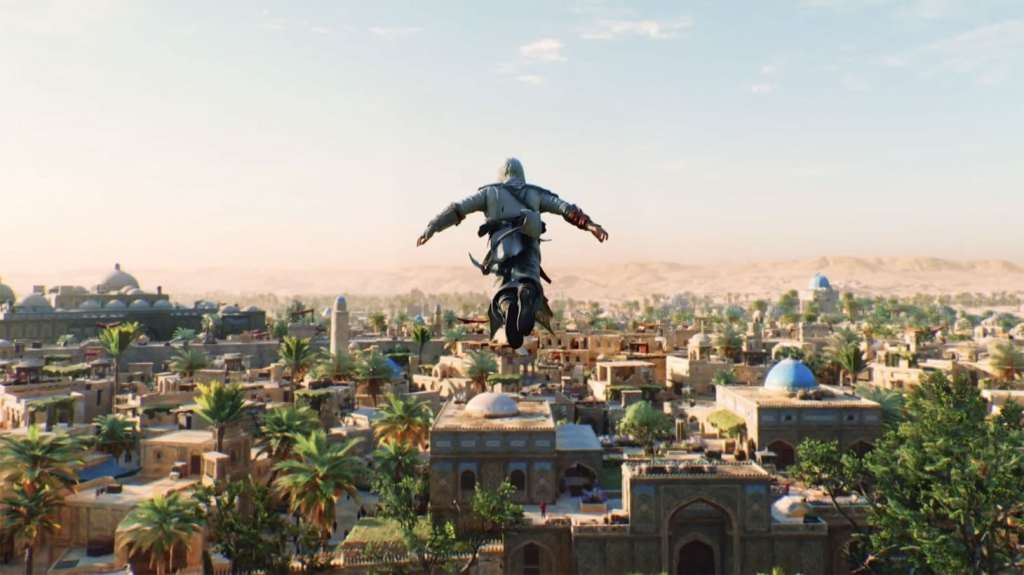 This passion has been clear in the game's early trailers, which show off familiar gameplay – protagonist Basim leaps through Baghdad's tan brick buildings, grappling with rooftops, ledges, balconies, and trellises, blends into crowds to perform deadly assassins, and sets up an array of traps to throw off guards. All these moves feel inspired by the stealth stylings of the original assassin, Altaïr Ibn-La'Ahad.
Baghdad also feels shockingly familiar, with its cobble and sand paths sharing much in common with the setting of the original Assassin's Creed, Masyaf in Syria. From its vibrant Middle Eastern architecture, to its sweeping valleys of trees and colourful foliage, Assassin's Creed Mirage distinctly resembles a modern version of its predecessor, backed by modern technologies.
(That said, you can instil a greater touch of nostalgia with the game's included 'blue-grey filter' that makes the action muddy and washed out, as part of what's being called 'sludge nostalgia'.)
Coming of age
Nostalgia alone is a powerful driver – but it's clear that Mirage is not just pure homage in its design. It may feature distinct throwbacks to the past in sleek character animations, traversal style and setting, but it presents a new twist on the franchise's classic formula in exploring the tale of Basim, who first appeared in Assassin's Creed Valhalla.
'He seemed like a really interesting character to develop narratively,' Potts said. 'We decided we needed to create a standalone [for Basim], so that gave us a bit more time.'
As part of a presentation to media, Basim's tale was described as a unique coming of age. Haunted by strange visions and the demands of the Hidden Ones (aka the Assassin Order), Basim must decide his moral code and his allegiance, leading into his nature in Assassin's Creed Valhalla. In the game's latest trailer, this inner dilemma is set to the rather on-the-nose track, 'How Villains Are Made' by Madalen Duke.
Basim's story may clearly be written – but Mirage is an opportunity for Ubisoft to explore his evolution with greater depth, and in a way that ties the future of Assassin's Creed with its distant past.
Basim mirrors Altaïr in many ways. Both are at the mercy of the Assassin Order, with loyalties on the line as their worlds grow more complex. Both are forced to make difficult decisions as their walls close in. These parallels are likely to wind together in Mirage, which functions as a bridge between the old and new of Assassin's Creed.
As the franchise continues to dramatically grow and evolve, this retrospection feels like a necessary sideways step, designed to acknowledge a long history that certainly deserves the praise. Mirage isn't only a coming of age for Basim; but Ubisoft, as well.
Assassin's Creed Mirage launches for PlayStation 4, PlayStation, Xbox One, Xbox Series X/S, and PC on 12 October 2023.
GamesHub travelled to Los Angeles, United States as a guest of Ubisoft to attend preview showcases and hold interviews with Ubisoft developers.