Season 1 of The Last of Us has now completely aired, and there is a lot to speculate on as viewers wait patiently for season two to enter production. Audiences who have followed the franchise closely may be familiar with the story of The Last of Us: American Dreams – a Dark Horse-published comic book adaptation that serves as a prequel to The Last of Us standalone expansion, The Last of Us: Left Behind, which was adapted in Episode 7 of the HBO series.
Both Left Behind and Episode 7 of the HBO adaptation have given audiences an extensive look into Ellie and Riley's story arc, but how do the events of American Dreams meaningfully tie into the wider story of The Last of Us Part I & II? More specifically, can these events hold any significance in Season 2 of the series, given that these characters have already been depicted in so much detail.
---
The story of The Last of Us: American Dreams
The Last of Us: American Dreams is written by Neil Druckmann and Faith Erin Hicks, and published by Dark Horse Comics. The plot of the comic takes place before the events of The Last of Us and The Last of Us: Left Behind.
It begins with Ellie arriving at a FEDRA-operated school in Boston, trying to negotiate with a guard from her previous encampment, in the hopes she can avoid the Boston stay and return with him. He declines, and Ellie very quickly finds herself in a fight with a young boy during her first few days after he steals one of her most prized possessions, her Walkman.
The fight is broken up in true badass form by Riley, Ellie's best friend and soon-to-be first love, as depicted in Left Behind. Riley sneakily pockets Ellie's Walkman and escapes before she can receive any repercussions from the school's authority figures, but Ellie is left to get reprimanded by one of the FEDRA agents. After spending the day cleaning a gore-covered jeep, Ellie reaches into her empty jacket pocket, realising that Riley has stolen her Walkman. She then bursts into the cafeteria to retrieve it, and Riley quickly returns the Walkman, while joking about her poor taste in music.
Later, Ellie lies awake at night thinking about their encounter, and she leaves her bed to discover Riley sneaking out a window in the main hall. After some brief squabbling, Riley accepts Ellie's company and the two escape through the city together. They land at the Mall, discovering one of the iconic locations from Left Behind, Raja's Arcade and Riley introduces Ellie to her friend Winston. She trades him a single malt scotch, exchanging it to grant Ellie her first ride on a horse that Winston owns.
Riley steals Winston's walkie-talkie as this is taking place, using the radio chatter to try and discover the location of the Fireflies, to Ellie's shock. Ellie reluctantly follows Riley on the voyage, reminding her of the implications of finding this group, and Riley makes it clear that she is set on fighting for a different life for herself.
After using smoke bombs to deter FEDRA agents from the Fireflies, they run into an altercation with an infected. Riley is almost bitten, and as they are about to be swarmed by a horde, they are saved by members of the Fireflies, who shoot at the infected from the rooftops. Marlene is introduced and instructs her group to take an unconscious Ellie and Riley away to a safe area with them.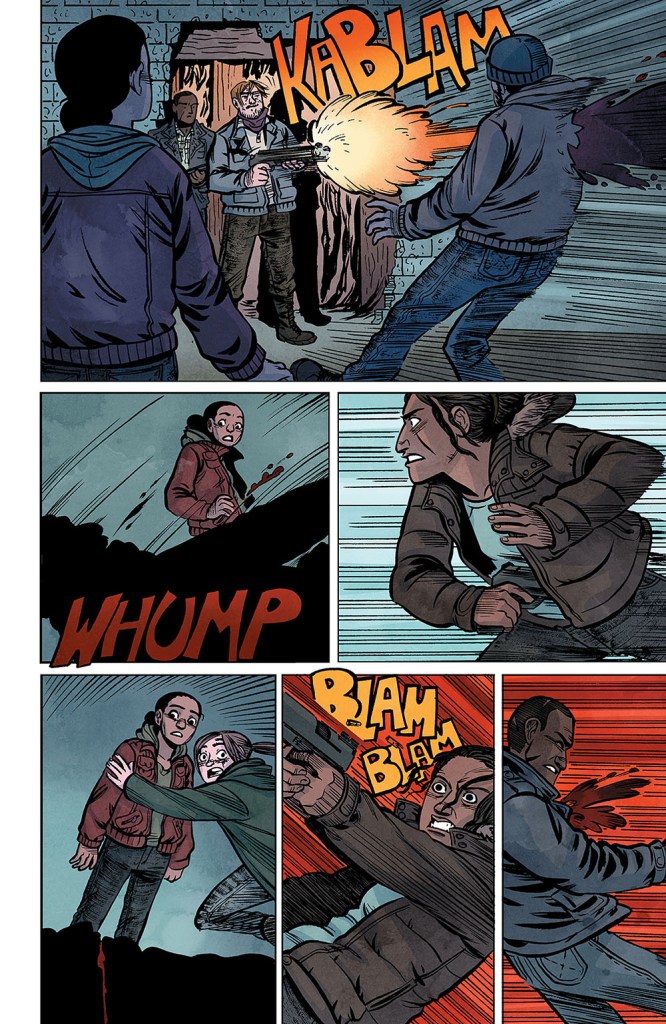 Marlene frees the pair when they wake, and leaves Ellie with an envelope containing a note from her Mother, Anna. Riley reveals her admiration for Marlene, pleading to be recruited, but they are suddenly faced with a group of smugglers demanding the Fireflies surrender their weapons. One of the Fireflies is shot dead as Malrene tries to negotiate, and Marlene kills the smugglers, with Riley and Ellie aiding her in the fight.
As Riley insists that they join the Fireflies, Marlene becomes angry, and forces Riley to look at the man who has just died for their cause, reminding her that she could potentially face the same fate. Ellie points a gun at Marlene in Riley's defence, and Marlene reveals that she has had surveillance on Ellie for some time, explaining she had made a promise to Anna to protect Ellie.
After the fight settles, Marlene leaves Ellie with Anna's switchblade and instructs them to return to their base. Ellie suggests that she and Riley run away together as they're leaving, but Riley declines, insisting it wouldn't be a smart option for either of them. When they return, Ellie and Riley have agreed upon a friendship, and Ellie is left sitting in her room reading Anna's letter as she holds her new switchblade.
---
How would The Last of Us: American Dreams sit within the HBO adaptation?
Episode 7 of The Last of Us HBO presented a well-rounded recap of the events of The Last of Us: Left Behind, featuring authentic performances from actors Storm Reid (Riley), and Bella Ramsey (Ellie). This episode was a beautiful on-screen translation of their story, and there is potential for the themes of The Last of Us: American Dreams to be explored further in Season 2.
The Last of Us: American Dreams puts Riley's devotion to the Fireflies in more context, as she and Ellie first meet Marlene, and are faced with the realities of what life within this faction would entail. Even after seeing one of the Fireflies shot dead by smugglers as Marlene is instructing Riley and Ellie to return to FEDRA, Riley is still determined on joining the cause.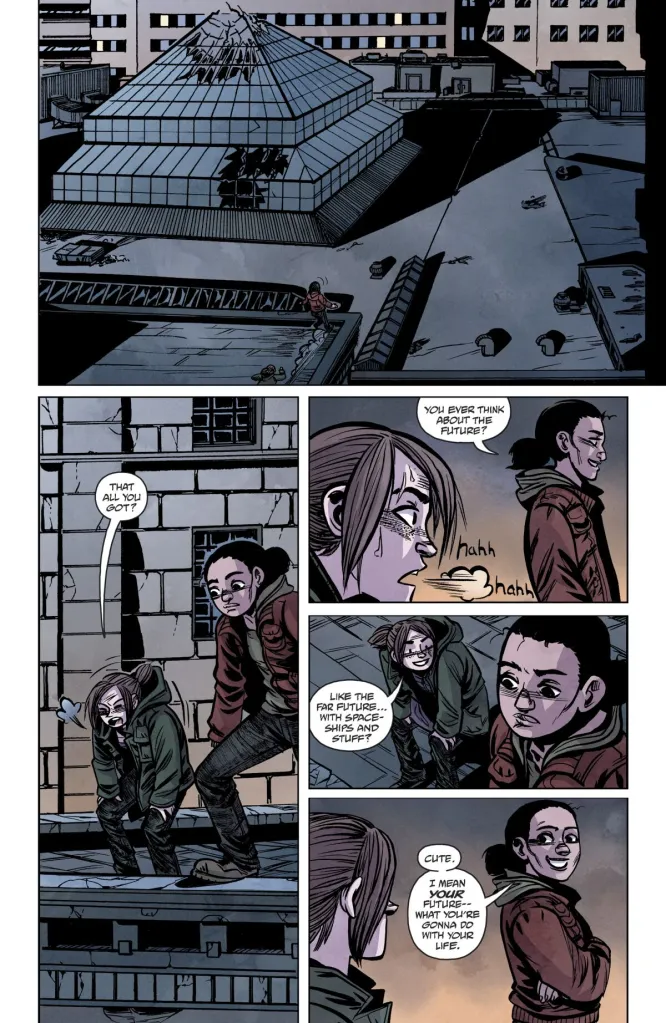 Ellie and Riley both hold strong connections to their favoured factions, as Ellie is constantly arguing with Riley on her loyalty to the Fireflies, despite their killing of FEDRA soldiers. While FEDRA isn't innocent from these kinds of acts, they are also responsible for protecting a vast majority of younger generations who remain under their care. It's understandably complex for Ellie to grasp Riley's loyalty, given her existing perception of both groups.
I think this would be an interesting theme to touch on in the series, as Ellie has now experienced love and community through her time spent in Jackson, a faction entirely separate from FEDRA or the Fireflies. She is also set to discover the truth of what Joel did at the hospital, and her opinion of the Fireflies is bound to change as she learns more about who Marlene is, and the truth behind her own immunity.
Riley also reveals in the comic that she had been forced to kill her own Father, after he became infected and started attacking her Mother. Season 2 could provide further exposition on how Ellie has been impacted by these secondhand losses. Specifically, how she has come to terms with each of these events given her existing perception that her immunity had amounted to no greater purpose.
Marlene also gives Ellie her Mother's switchblade and letter, explaining how she came into possession of these items. There is room to revisit Anna's backstory beyond what was depicted in Episode 9 of the show, potentially exploring Marlene's growing connection to Ellie through delivering her to safety.
Marlene, like many characters in The Last of Us, is understandably stoic. She continually communicates her love for Ellie by reminding her of the protection she had promised, but personally, I think she also possessed love for Ellie outside of her duties to Anna.
The Last of Us: American Dreams
Buy Now
GamesHub has affiliate partnerships. These do not influence editorial content. GamesHub may earn a small percentage of commission for products purchased via affiliate links.
12/03/2023 05:45 pm GMT
---
Possible adaptations down the track
The Last of Us: American Dreams and The Last of Us: Left Behind are the culmination of Ellie and Riley's story, as their whole timeline together is depicted here. Any further narrative elements incorporated into the show would be best served by delving into Riley's backstory, and her time spent with the Fireflies that wasn't shown on screen – potentially witnessing how her view of the group and her own sense of purpose was influenced after she had been recruited.
We briefly mentioned in our recap of HBO's The Last of Us Podcast Episode 2 that there could be potential for further Dark Horse-published adaptations resulting from the HBO series, which was noted due to Neil Druckmann's revelations about Tess's backstory. It was mentioned that Tess had a husband and a child who both became infected, and she had left her child in a basement to turn as she could not bring herself to kill him.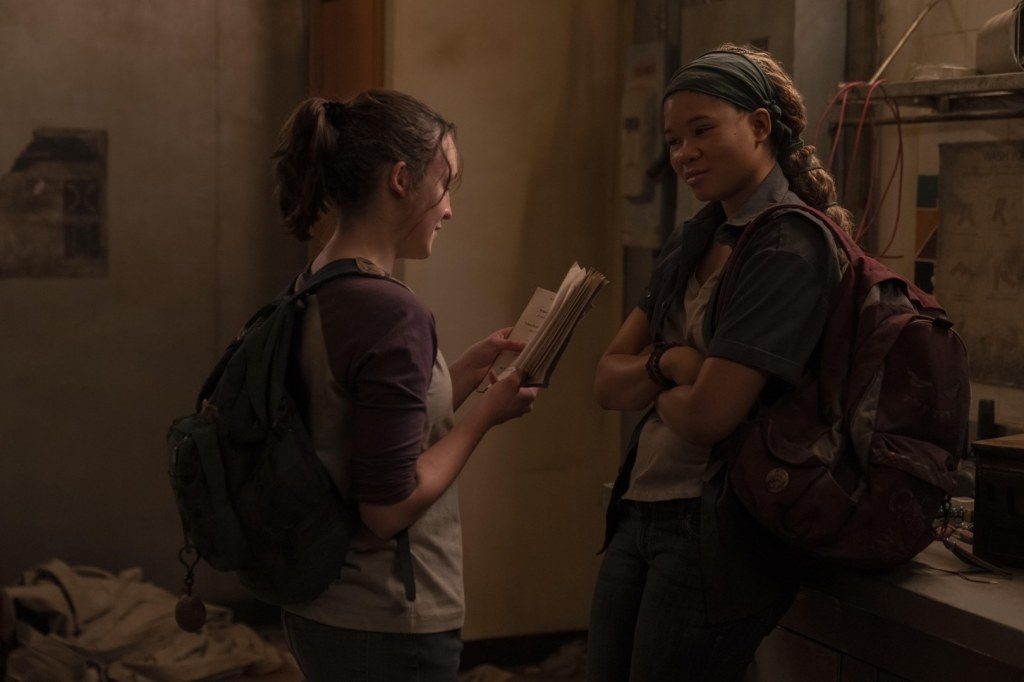 I'd personally love to see comic book adaptations that expand on these backstories, with events that take place before the events of the outbreak entirely, to help build more context to each character.
A series of short stories focused solely on each character in the lead-up to the outbreak could also be an interesting read. Short, but impactful chapters that highlight how certain events influenced each individual's own survival instincts could paint some of these characters in new lights. The series has already introduced new arcs, and shown that it's willing to jump around in time, which could potentially feed into this.
There is also potential for a comic book adaptation depicting the timeline after Dina left Ellie in The Last of Us Part II. Ellie ultimately discovered her quest for revenge was a path that would see her digging two graves, as the sombre ending of the second game saw Ellie facing her fears of ending up alone. Though, audiences weren't shown what this loss meant as deeply for Dina. Despite neither of them facing as gruesome of an ending as Riley, it is still a story of a love lost due to the nature of this world, and Dina's perspective is one I would be super interested in reading about.
---
For further analysis and reading on the HBO adaptation of The Last of Us, you can check out the following articles:
Episode recaps and analysis:
Behind-the-scenes podcast recaps:
The Last of Us is now streaming on HBO Max in the US, and Binge in Australia.