Star Wars Outlaws was revealed in dramatic fashion during the 2023 Xbox Games Showcase, with a subsequent reveal at 2023 Ubisoft Forward diving deep into its gameplay, and giving some good hints about what to expect from its chief protagonist, the charming thief Kay Vess (Humberly González). Alongside her furry companion Nix, and a rogue droid named ND-5, Vess charts a hostile galaxy, utilising her stealth specialties to pull off heists and build a reputation in an era of uncertainty.
The game takes place between the events of Star Wars: The Empire Strikes Back and Return of the Jedi, a period Ubisoft describes as perfect for exploring the lives of scoundrels. Amidst the chaos caused by the rise of the evil Empire, the underworld of the galaxy has benefitted greatly. A lack of political oversight has allowed criminals to thrive – like the Pyke Syndicate and the iconic Hutts.
A new challenger emerges
Kay Vess, in her capacity as a thief, becomes a key tool in the wars of the underworld, as she plays multiple sides in a bid to earn a reputation, and justify her place in a growing criminal underbelly. In a Ubisoft media preview, her tale was described as a form of coming-of-age tale – specifically, a transition from being a young, inexperienced girl to a reputable scoundrel – in fact, one of the most wanted in the galaxy.
Read: How Avatar: Frontiers of Pandora was brought to life
This evolution was briefly seen in the first gameplay trailer for Star Wars Outlaws shown at Ubisoft Forward. It depicted Vess charting a hostile situation – a heist that takes place in a mission called 'The Broker'. With Nix's help, Vess manages to secure a rare item, but must then traverse her target location, sticking to cover and deploying distractions to slip past guards unnoticed.
While her plan initially works, we see Vess run into trouble after a briefly successful escape. As shots break out, she leaps behind cover.
Vess has access to a blaster, with this multi-modal weapon serving a variety of functions. It can fire off simple shots, shield-busting shots, and no doubt a range of other high-powered attacks, each serving a particular purpose.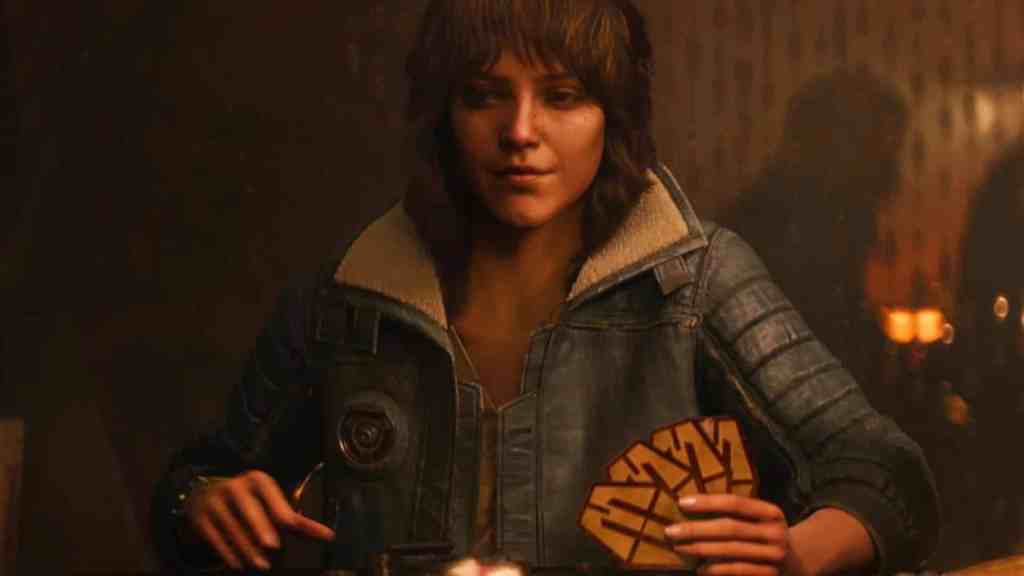 From the footage shown, this shooting appears precise and snappy, with easy locking to targets and switching between shot modes. That's no surprise – given the game is being developed by Massive Entertainment, most known for its work on the third-person shooter, The Division. But this good-looking combat wasn't the only surprise hiding in the new gameplay trailer for Star Wars Outlaws.
Once Vess grapples her way to safety, the game's impressive scope is made much clearer. She jumps onto a speeder bike, and rides across a vast desert landscape with Imperial forces on her tail. They aren't passive enemies either – they'll attack on their own bikes, and follow with tenacity.
Eventually, Vess shakes these opponents, making a run for her starship, which smoothly takes to the skies after a brief sojourn with ND-5. Surprisingly, the starship transition is not a cinematic – rather, it appears players will be in full control of this vessel, known as The Trailblazer. Once Vess has the controls, she blasts off into space, flitting between biomes using a hyperspace jump.
Even in this brief footage, the confidence of Star Wars Outlaws was definitively on show. From the charms of Vess and Nix, to its shiny combat, glittering locales, and seamless open-world transitions, Ubisoft provided much to ogle at. Given the team behind the game are devoted Star Wars fans, the love and care shown in this trailer should come as no surprise.
Charting the stars
In creating a new chapter of Star Wars with something distinctly new to say, Ubisoft wanted a fresh start – one with a bright-eyed, relatable face. Vess, a young girl growing her reputation and experience in a world of thievery against a backdrop of scum and villainy, was the ideal character to provide a window into this unique world and time period.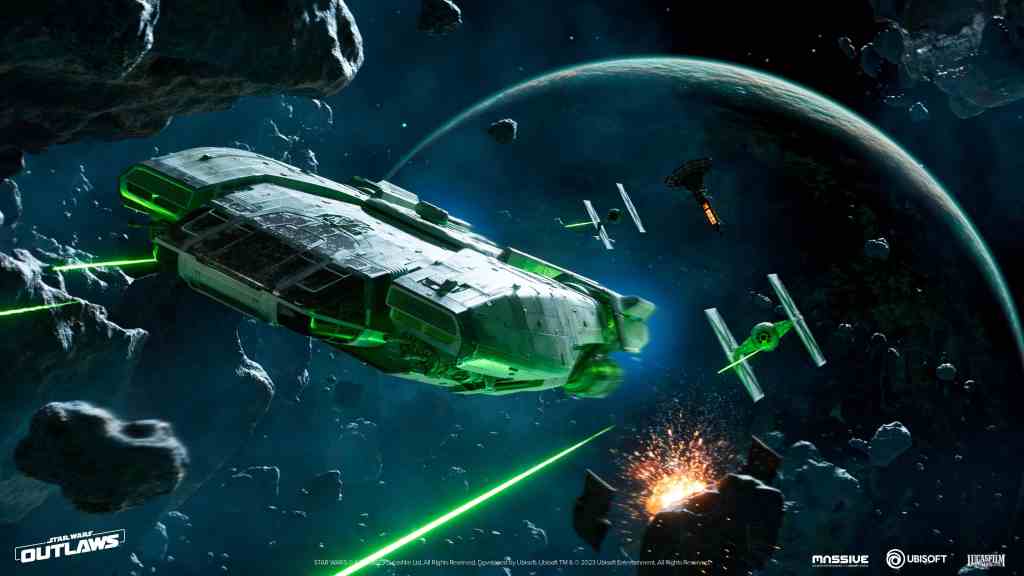 'We wanted to really have a character that we could embody and follow on a journey from emergence as a scoundrel, to a fully-fledged scoundrel,' Navid Khavari, Narrative Director of Star Wars: Outlaws, told GamesHub during the game's media event in Los Angeles. 'What was exciting when we were working on the character, and especially with Humberley, was we couldn't see anyone else playing that role. I think what she's able to capture, and what we're able to capture with Kay, I think and I hope people are going to latch onto it.'
'This isn't someone who's figured everything out, this isn't someone who's at a point where they're cynical and they've dealt with all these different situations. This is someone who's growing into this role, and hoping to make [a] mark on the galaxy.'
Notably, having Vess as the main protagonist also marks a point of difference for the game – and gives some distance from recent Jedi-focussed releases, like the excellent Star Wars Jedi: Survivor.
It seems Star Wars is definitively back in vogue, with a number of new games in the works at studios like EA and Quantic Dream. This naturally creates friendly competition – but according to Ubisoft, it's not focussing on the other voices in the space. Instead, it's charting a course ahead with a confidence in its direction, its protagonist, and the unique era chosen.
'We want to tell this story about a young thief, and the journey into the underworld,' Mathias Karlson, Game Director, said. 'We very quickly found the perfect era [alongside Lucasfilm], that year gap between Empire Strikes Back and Return of the Jedi, and it's just perfect to tell the story.'
'As a writer, it's a dream,' Khavari said. 'We're focussed on telling the story of Kay Vess … whether we're talking about gameplay, gadgets, blasters, and speeders, it's always "how does this reflect Kay's personality? How does this reflect who Kay is?"'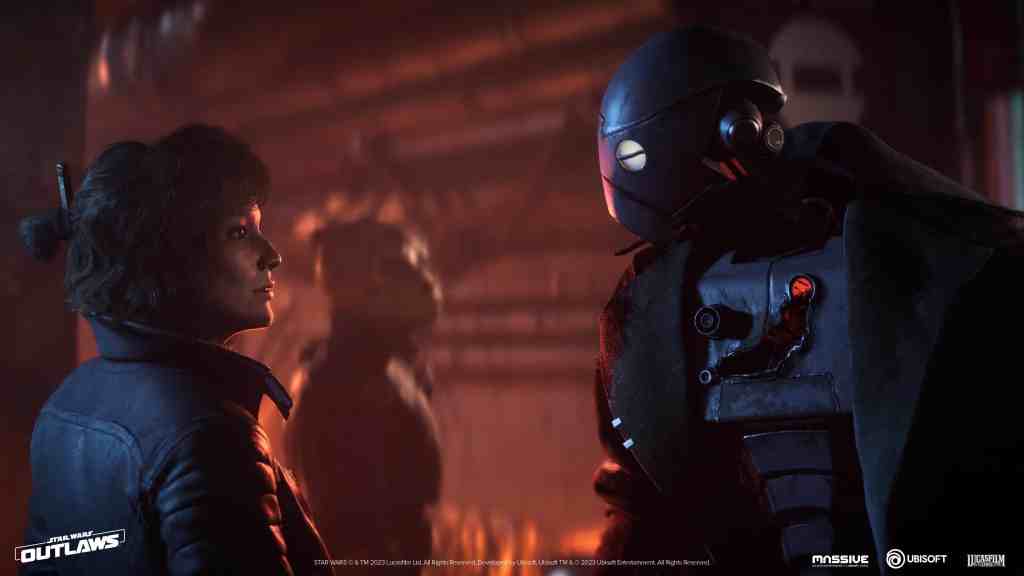 The spectre of pressure
Massive Entertainment worked, and continues to work, closely with Lucasfilm to determine these answers; how Vess interacts with her world, and how her journey evolves organically. According to Karlson and Khavari, Lucasfilm were strong collaborative partners that helped to lay the groundwork and lore for the game.
'It's a very ongoing, very frequent collaboration,' Karlson said. 'It's not just that we met in the beginning and we [laid] the groundwork. We talk to them every week, and really help each other shape that tone and feel, and authenticity.'
'We're the creative drivers of this, but then you have folks at Lucasfilm that are scholars of this franchise, and this lore, and this history,' Khavari said. 'When you have that to bounce off of, what's great about the relationship is they understand the authenticity and what's come before and all of that, but they're pushing us and we're pushing with them, to bring a fresh perspective.'
Per Khavari and Karlson, Massive Entertainment is also littered with Star Wars fans, who each provide a unique voice within the development team.
'The team is very uniformly excited and passionate about this game as a whole,' Karlson said. 'I think if you ask the different team members, they'll all be excited about different things. We're very, very passionate about making [Outlaws] not just a fantastic Star Wars open world experience, but a fantastic game and open world experience, period.'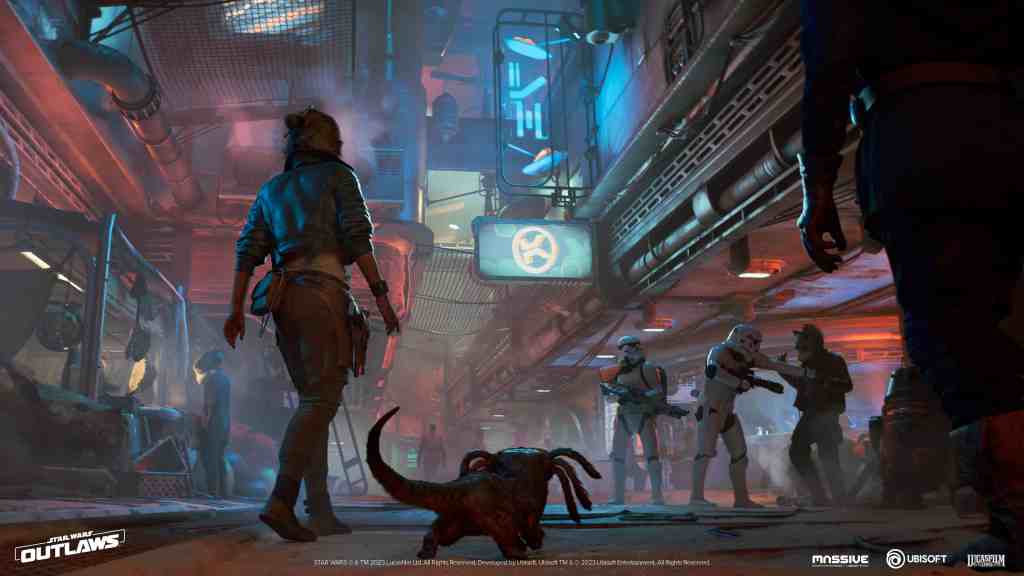 Khavari described playing with Star Wars Kenner dolls growing up, and said working on the game was a dream come true – very much a 'pinch yourself' moment.
'I remember going to Lucasfilm in San Francisco in the beginning … and when you walk in, [there's] this beautiful bronze statue of Yoda,' Karlson said. 'You feel that in your stomach.'
Both distinctly understand the responsibility that comes with creating a good Star Wars game, and living up to the franchise's long and impressive legacy.
'We all started from a place of care,' Khavari said. 'At first glance, you might want to be daunted by it, or feel that instinct to be, "oh my god, this is such a huge, expansive universe" – but once you're in it, and credit to Lucasfilm, who has been so supportive on this, once we were in it and we landed on [a] scoundrel story … it all kind of falls into place.'
'A little bit, you put that on the shelf – the pressure, the expectations.'
In focusing on the journey of Kay Vess, and of their own journey as fans of Star Wars, the Massive Entertainment team charted a firm course for the future. Fans will be able to see where this path leads when Star Wars Outlaws launches for PlayStation 5, Xbox Series X/S, and Windows PC in 2024.
GamesHub travelled to Los Angeles, United States as a guest of Ubisoft to attend preview showcases and hold interviews with Ubisoft developers.