Kirby and the Forgotten Land is the first 3D action platformer for the Kirby franchise, and an important next step in the pink blob's evolution. While games in the series have typically been 2D side-scrollers, this entry will finally let Kirby explore wider, more open worlds, and encounter a range of enemies in unique 3D biomes.
Here's everything we know about the game so far.
Kirby and the Forgotten Land: Release Date
Kirby and the Forgotten Land will launch for Nintendo Switch on 25 March 2022.
It lands alongside an absolutely stacked roster of games which also includes Rune Factory 5, Tiny Tina's Wonderlands, and Ghostwire: Tokyo.
Read: Kirby and the Forgotten Land is a vaguely horrifying delight
Is Kirby and the Forgotten Land open world?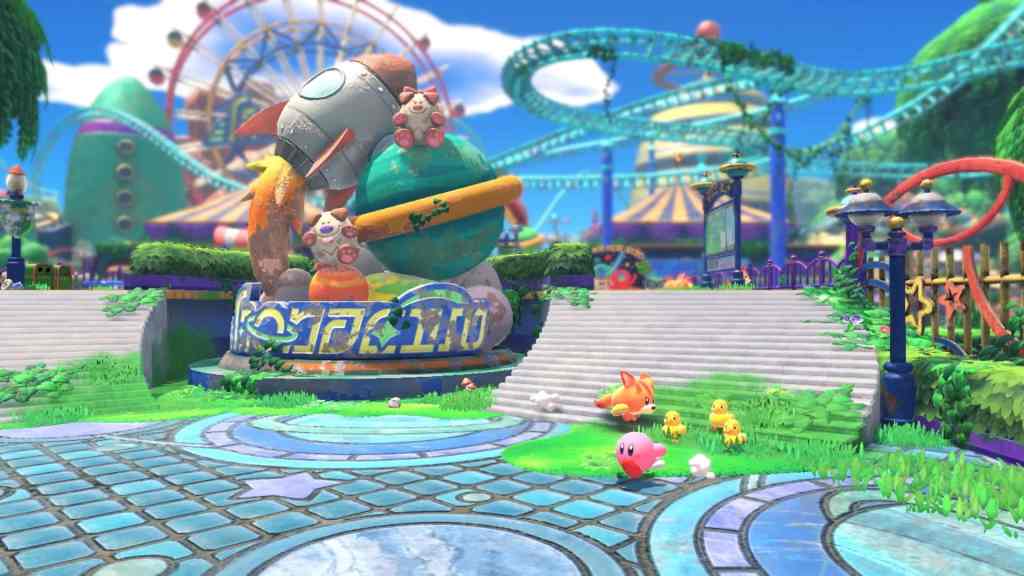 While many have assumed Kirby and the Forgotten Land is an open-world game, this is not the case. This was revealed in an early trailer that showed Kirby travelling through segmented biomes.
While it appears Kirby will be able to travel to multiple lands, the existence of the game's central hub and Kirby's teleportation star imply that each biome the pink blob travels to will be regarded as separate levels. This is exactly how the game's demo was laid out, and will likely reflect the rest of the game.
There'll certainly be plenty to explore – from ice-covered lands to beach paradises – but at this stage, it doesn't appear they're connected seamlessly.
Kirby and the Forgotten Land: Plot
According to the game's official description, Forgotten Land will see Kirby travel through a mysterious, forgotten world filled with abandoned structures from past civilisations.
Along the journey, Kirby will conquer hostile terrain, battle a number of new enemies, rescue kidnapped Waddle Dees, and discover the secrets of the mysterious Elfilin – a new mouse-like ally Kirby meets on his travels.
The more Waddle Dees Kirby rescues, the more he'll be able to build up the once-abandoned Waddle Dee Town, which serves as the game's main hub.
Kirby and the Forgotten Land: Gameplay, New Abilities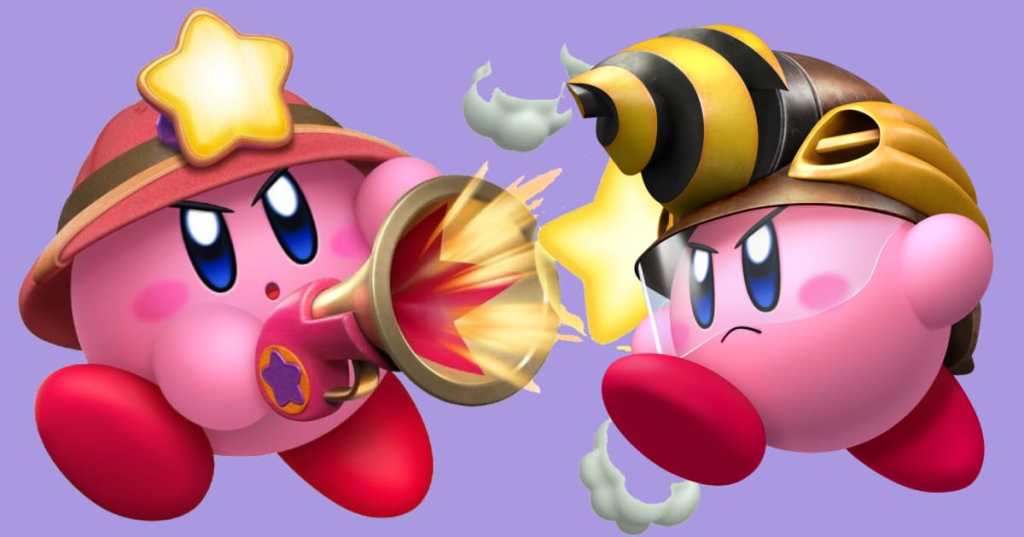 Kirby and the Forgotten Land will allow Kirby to bring his classic combat and copy abilities to the 3D plane, with a variety of explorable levels containing dangerous enemies and Waddle Dees to rescue. In each level, there'll be multiple Waddle Dees to find by dispatching enemies and solving puzzles, much like in other collect-a-thon platformers (Super Mario 64, Banjo-Kazooie).
Two new copy abilities have already been detailed for the game: the Drill and Ranger. Absorbing a Drill enemy will give Kirby a unique drill hat (likely for burrowing underground), while the Ranger ability gives Kirby a star gun. Also confirmed to appear are a number of classic copy abilities like Sword and Ice.
There's also a brand new Mouthful Mode, which allows Kirby to wrap his giant mouth around various objects, including a car and a traffic cone. This mode gives him a range of abilities that replicate his shape – ie. when he's a car, he can go racing. When he's a traffic cone, he can smash head-first into the ground.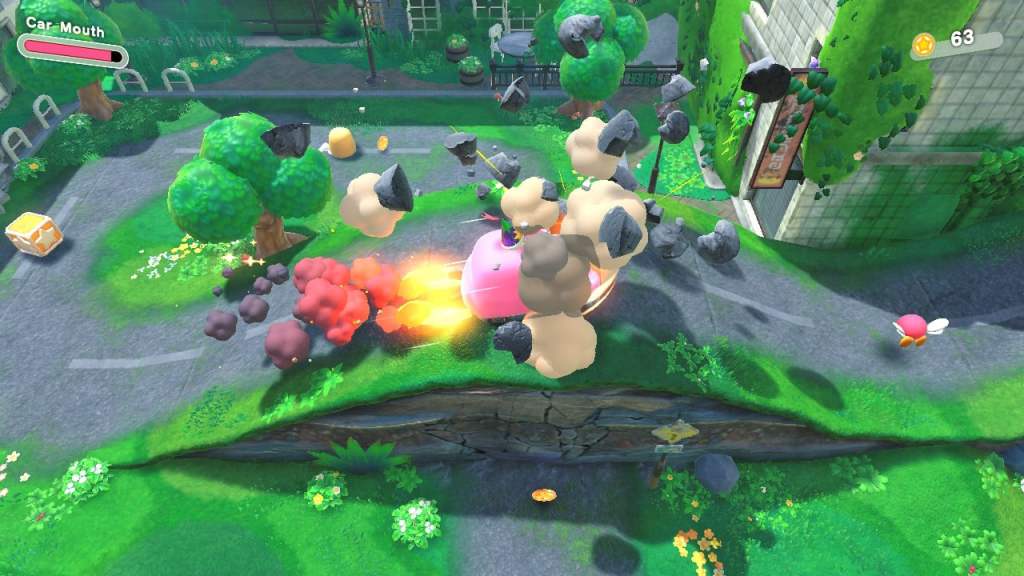 When you're not exploring and fighting in the game, you'll be able to take a rest in Waddle Dee Town, a hub world which eventually fills with mini-games as you gather more Waddle Dees. So far, we've seen a fishing mini-game, a food serving mini-game, and what looks to be a gacha-type figurine collection system.
Is there co-op multiplayer in Kirby and the Forgotten Land?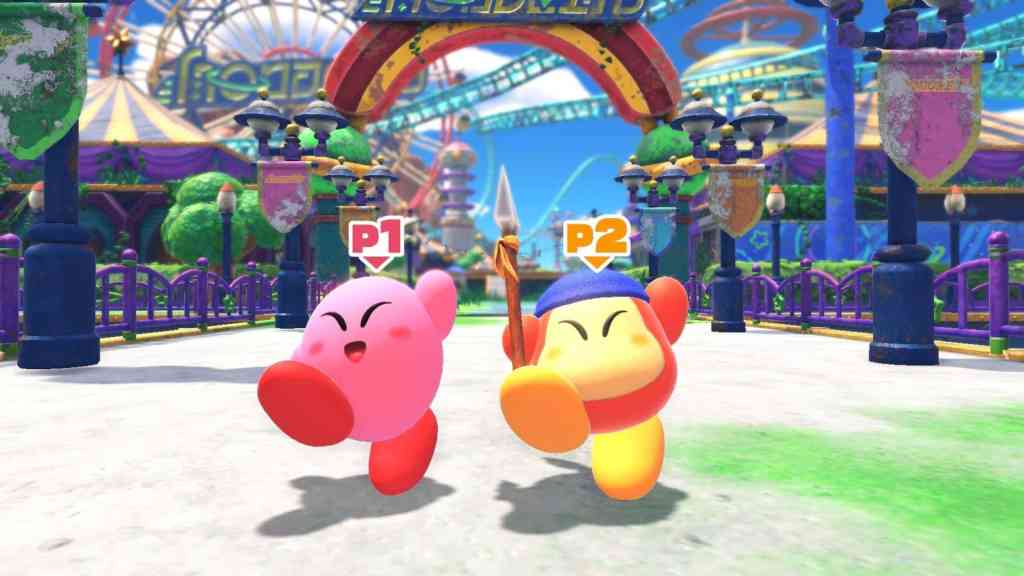 Yes, there is co-op in Kirby and the Forgotten Land.
As revealed by the game's release date trailer, two players will be able to journey through the game together. One player will become Kirby, and the other will become Bandana Waddle Dee. The Kirby player will be able to use all of Kirby's combat and copy abilities, while the Bandana Waddle Dee player will gain access to a spear.
The system has drawn comparisons to Super Mario 3D World's Bowser's Fury DLC, which allows players to join Mario's adventure as Bowser Jr., who has his own unique moves.
Currently, it's unknown how extensive this multiplayer will be – or how it functions. It'll likely be a local co-op system, where players can use separate Joy-Cons to travel together, but online functionality is also a possibility. Stay tuned as we get closer to the game's launch.
Kirby and the Forgotten Land launches for Nintendo Switch on 25 March 2022.