Gotham Knights is one of the next big comic book blockbusters coming to the world of video games, and it's also one of the more intriguing. Since the Arkham franchise began with Arkham Asylum in 2009, Batman games have largely been tied down to a unique and 'gritty' mythology. With Gotham Knights comes an opportunity for a fresh take, and a spotlight on underrated characters.
From Nightwing to Red Hood, here's everyone included in the game – and everything we know about Gotham Knights so far.
Gotham Knights: Confirmed Release Date
Gotham Knights is set to launch on 25 October 2022 for PlayStation 4, PlayStation 5, Xbox One, Xbox Series X/S and Windows PC.
While rumours indicated the game may be further delayed, given the ongoing impacts of the coronavirus pandemic, Warner Bros. has reiterated that the game is on schedule. It joins Forspoken in the October release window, which may fill up with blockbusters fast.
What's the story in Gotham Knights?
In Gotham Knights, players will control one of four 'Batfamily' members as they attempt to uncover a Gotham City-wide conspiracy and save the town from a mounting crime wave in the wake of the deaths of Bruce Wayne and Commissioner Gordon.
It appears each member has become estranged from each other – but despite this, they'll need to work together to continue Batman's legacy and take down wily criminals like Mr. Freeze, The Penguin, and the mysterious cabal known as the Court of Owls.
They'll be joined by series stalwarts Alfred Pennyworth and Renee Montoya, who'll help them tackle the crimes overwhelming the city.
Who are the Gotham Knights?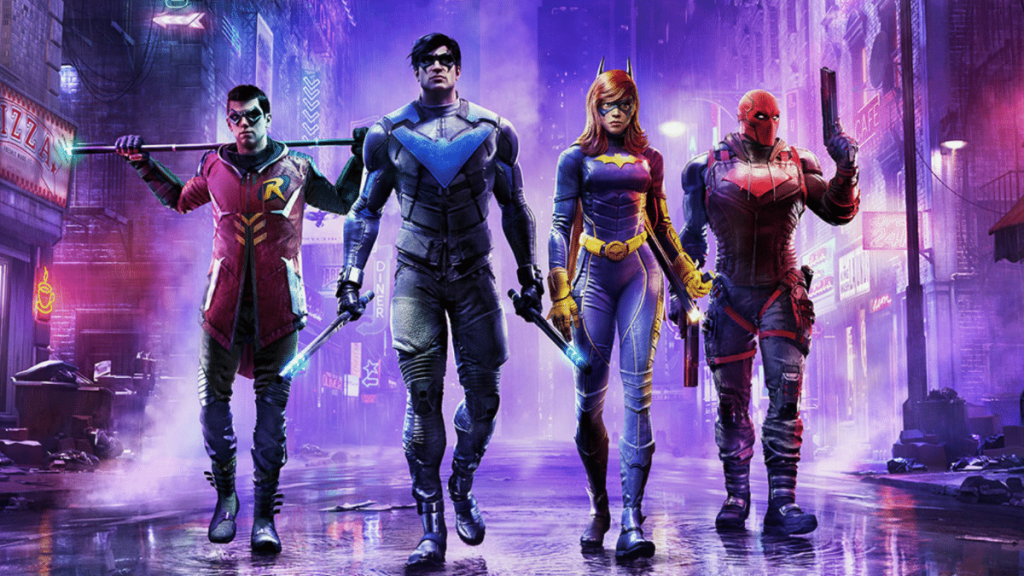 In this context, the Gotham Knights are four former Batman allies: Batgirl, Nightwing, Red Hood and Robin.
Batgirl is Barbara Gordon, the daughter of the deceased Commissioner Gordon and long-time ally of Batman. While the Arkham series chose to focus on Barbara's 'Oracle' iteration, in a timeline where she was attacked and crippled by the Joker, this game will finally allow her to take the reins as action crimefighter Batgirl.
Nightwing is the alias of Dick Grayson, the first Robin to join Batman on his quest to fight crime. Grayson was adopted by Bruce Wayne after both his parents were killed, and he went on to 'graduate' as Robin, eventually becoming a kendo-stick wielding hero known as Nightwing.
Red Hood is Jason Todd, the second Robin to take the cowl. He was actually killed in the line of duty, and was later resurrected when – long story short – the reality of the DC Universe was rewritten. In the process, he was radicalised by his death and become an anti-hero named Red Hood, who uses violence and intimidation to beat up criminals.
Robin in this game is Tim Drake, the third official Robin in the Batman timeline. Drake is known for being a wily detective and hacker – something which the other Robins didn't inherit from Batman. It's likely his smarts and agility will become essential as players work their way through Gotham City.
Who are the Court of Owls?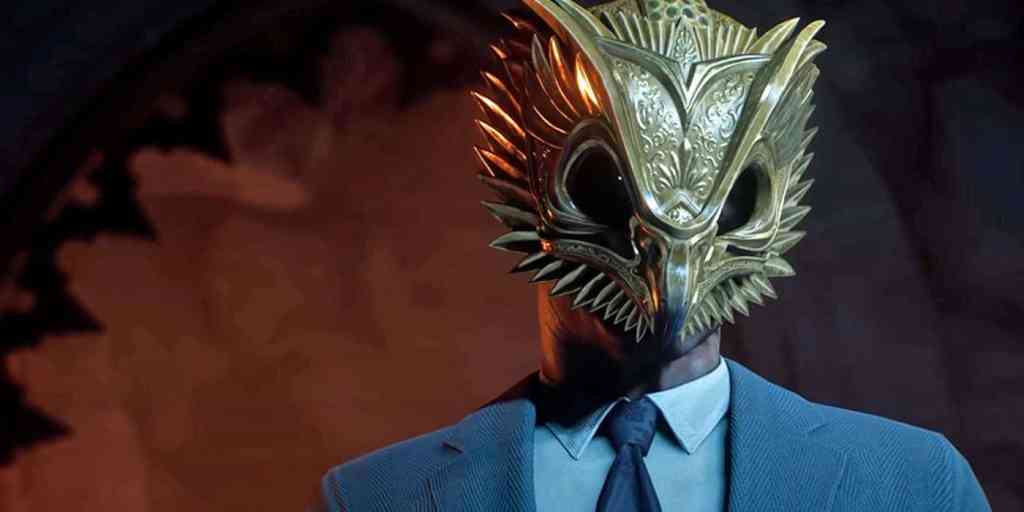 The Court of Owls are a relatively new group of Batman villains, brought together by the nefarious goal of controlling Gotham City from the shadows. In the comics, the Court of Owls has operated in the background of Gotham City for centuries, using assassins known as 'Talons' to control the power dynamics within society.
They come into direct conflict with Bruce Wayne / Batman when he announces plans to reform the city into something new and 'better', forcing the organisation, which is made of the rich and wealthy elite, to send an assassin his way. Being Batman means the assassin fails, but also that the Court of Owls is uncovered for the first time.
Whether this comic plot will play into Gotham Knights remains to be seen, but given early trailers seem to be directly inspired by Scott Snyder's run on the comic, it looks likely at this stage.
Gotham Knights: Combat and Gameplay
Gotham Knights is an open world, third-person action adventure where players will be able to explore Gotham as one of four Batfamily members. Larger areas will be traversable by bike, and a grapple hook will also help with upward movement across cities and skyscrapers as a wave of crime advances.
It appears to play similarly to the Batman: Arkham series, with players able to use stealth takedowns or hard-hitting combat to take on roaming enemies and bosses. Some fights will include small teams of enemies you need to take down as a group, while others will allow you to use a subtler, stealthier approach.
While the game will look familiar to Arkham fans, there are some key differences here, including in how you can use each character's individual abilities to take down enemies.
Can you play Gotham Knights solo?
Yes, you can play Gotham Knights solo. While the game provides the option for two-player online co-op, you don't have to use this at all. It won't detract from the experience or change the game.
According to developers, the other characters you don't play with are 'always present in some way in the background', meaning they'll likely still pop into your game on occasion.
Strangely, early information seems to suggest there'll be no splitscreen or four-player mode, so while you can choose from multiple characters (or play through the whole game as one character), you won't be able to have a full four-person team playing together.
Is Gotham Knights set in the Arkhamverse?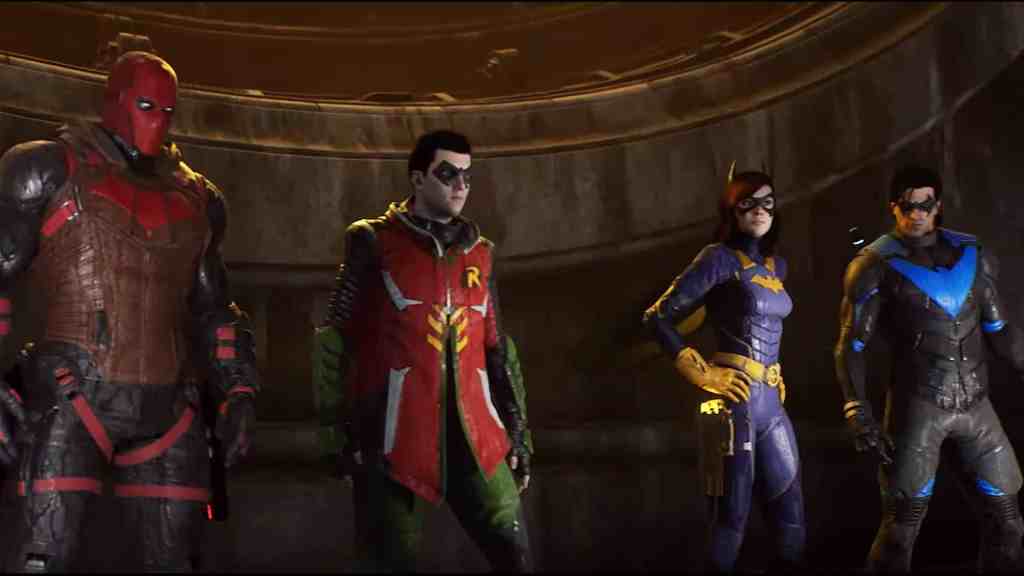 Gotham Knights is not set in the Arkhamverse and doesn't follow the story of Arkham Knight at all. Instead, it's a completely original story featuring new iterations and new designs of the Batfamily. While combat appears to be heavily inspired by the iconic series, don't expect any story threads to be picked up.
If you do want to play an upcoming game set in the Arkhamverse, you should check out Suicide Squad: Kill the Justice League. This reportedly maintains the Arkham continuity and features the same Harley Quinn from the games.
Will Batman be in Gotham Knights?
As of writing, it appears Batman will not be in Gotham Knights – although it's likely he'll appear in flashbacks or videos to set up the action of the story. Early story trailers have confirmed that Batman is dead in Gotham Knights. They describe his passing as a 'freak accident', and feature footage of Bruce Wayne telling the Robins he's gone.
It's for this reason that the Gotham Knights are born, and why they go after the Court of Owls.
That said, there's still a chance Batman is alive. Comic book characters have a tough time staying dead, and it wouldn't be the first time trickery was used to draw out a villain. For now, assume Batman won't be making an appearance – but prepare to be surprised later in the game.
---
Gotham Knights is set to be one of many upcoming comic book video games – and while it appears to be a standalone chapter, fans of the Batman franchise look to be in for a real treat. Alongside Suicide Squad: Kill the Justice League and Hogwarts Legacy, this game will be part of a massive 2022 for Warner Bros.