2.9 million households in Australia are at the mercy of weekly rent, facing down demanding landlords and the constant pressure of rising costs. The horror at the heart of this scenario will be raw for many. It's not just about the stress of bills, it's about an all-encompassing sense of control. Most renters are not allowed to put anything up on their walls, address minor issues themselves without owner approval, and face an uphill battle to request basic, quality-of-life features.
In the absence of care, harmful black mould grows. Mushrooms thrive. Rust persists. Windows break. All the while, 'influencer' landlords make quirky TikToks about how much money they're fleecing from their suffering renters. This frankly stomach-churning scenario is at the heart of Janet DeMornay is a Slumlord (and a witch), a new game from Sydney-based developers, Fuzzy Ghost (Pete Foley and Scott Ford).
According to Fuzzy Ghost, the idea for Janet DeMornay was sparked by their own rental horror stories, collected over a 15-year period. 'We wanted to make a horror game, and I was trying to make it personally horrifying to us, and relatable to a lot of other people,' Ford told GamesHub of the project's gestation. 'I was just looking at a broken part of the house we're renting, and thinking about the aspect of getting that fixed – the fear of always bringing in the landlord and the real estate.'
Read: Fuzzy Ghost wants your rental nightmares for upcoming game
That fear stems from real-life experiences, of landlords suddenly hiking up the rent, or forcing evictions for petty reasons. The idea was sparked further by conversations between Ford and Foley, who shared a frustration with the current rental market in Australia.
According to newly surfaced data from PropTrack via The Guardian, some Australian suburbs have seen an increase in annual rent of up to 47% over a 12-month period. Every day, new reports identify Australians who've been subject to sudden rent increases, forcing them to severely cut living expenses, move, or face homelessness.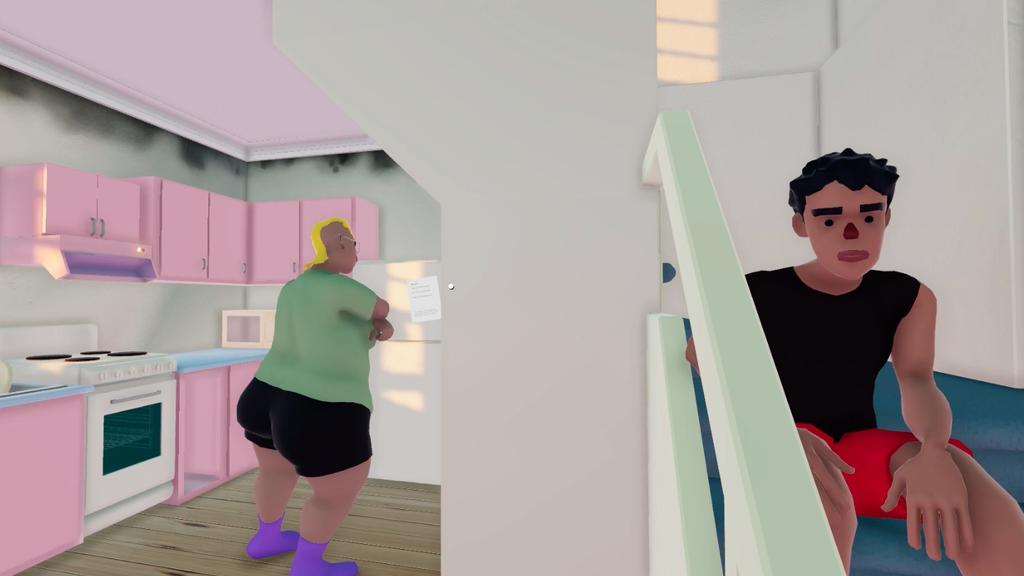 While inflation has often been blamed, the crux of the issue appears to be that landlords are artificially raising prices, in an attempt to better protect themselves from economic pressures. But these rises do not fairly collate with the current rate of inflation.
Janet DeMornay is a modern horror villain
In labelling housing an investment, rather than a necessity, we've bred an unethical system that breeds modern-day villains – people who withhold homes from those who need it, and force them to pay exorbitantly for the 'luxury' of safe living.
Janet DeMornay is one such villain – a fictional smorgasbord of renting horror tropes. In Fuzzy Ghost's Janet DeMornay is a Slumlord, you control a 'gaggle of queers' who have just signed a new lease on an apartment. Later, they find their new landlord is a witch – and that her apartment is filled with unspeakable horrors, including a broken oven that seems to lead to a surreal new world.
Inspired by classic films like Poltergeist and Beetlejuice, the game transforms the real-life terror of landlord control into a comedy-tinged horror adventure about escaping Janet DeMornay and her creeping, manicured hands.
'One thing that I really enjoy about horror is its relatable catharsis,' Foley said. 'Because Janet DeMornay is so dramatised, it gives you something to hate on, together. None of our landlords are literally like Janet, but plenty of our landlords are pretty fucking bad … We're trying to get this sense of, "we're all in this shit hole together."'
In shaping the game's narrative, Fuzzy Ghost aimed to strike a delicate balance between all-out horror that speaks directly to renter trauma, and a sense of hope for the future. While horror can be relentlessly bleak, Ford and Ailey aimed to utilise tropes in the genre to create a game that will be a wake-up call to players, and helps them feel less isolated in their circumstances.
'I hope it's a galvanising experience for renters,' Ford said. 'That's a good way to get people talking about it, which we've been trying to do … It can be better. We shouldn't just sit around waiting to buy a house, because we've been renting for 15 years.'
'We shouldn't have to, as renters, live in fear.'
The power of funding for video games
The story of Janet DeMornay is certainly 'of the times' – and is set to launch in a year plagued by fear and anxiety, tied to the current rental market. Its sharp criticism and spotlight on the experiences of young renters caught the attention of Screen Australia early on, with Fuzzy Ghost recently being granted part of a new fund for emerging Australian-made games.
Janet DeMornay might be a wild fantasy-horror story, but its roots in reality speak to an unseen element of modern culture. Screen Australia's video games fund was established to share valuable Australian stories – and this tumultuous chapter in history is a turning point worth preserving.
'Without the federal government, you don't get stuff like Untitled Goose Game [and Wayward Strand], and a lot of the really interesting, niche time capsules of Australia. Those games wouldn't exist,' Foley said.
For Fuzzy Ghost, the funding enables them to shout louder about the poor conditions facing many renting households in Australia. 'It's so big for us, because it pays our wages for the year,' Ford said. 'It means we can invite some friends and other people to help us out. We're hoping to have full voice acting for the game. It's great, because we can pay people.' This funding has also enabled Fuzzy Ghost to solidify its release and marketing plans, and given the team scope to expand on Janet DeMornay's reign.
Notably, this grant was handed down by the federal government, with Screen NSW having little input, due to the organisation's ongoing lack of support for locally-produced video games. While Fuzzy Ghost is grateful for the support of Screen Australia, the team also expressed a desire for wider, state-based government funding for video games – for all the benefits it can provide. Janet DeMornay is, after all, a very 'Sydney' story, and will likely resonate most closely with renters in the suburbs.
Read: IGEA has message for NSW: stop excluding game developers
'I'd like [Screen NSW] to just copy Film Victoria,' Ford said, jokingly. 'It's about making a culture, and supporting that kind of thing. That takes investments, and people who can do all the things involved in making [that] culture – meetups, hangouts, that kind of thing.'
Video games, like other pieces of media, are a form of cultural transmission. They can tell stories, give voices to unseen struggles, bring people together, educate where needed, and present a unique view of Australian culture. Funding isn't just about supporting developers and providing jobs, it's about showcasing Australia on a local and global stage, and celebrating culture in whatever form it takes – evil landlords, and all.
Screen Australia has provided a lifeline for Janet DeMornay, allowing Fuzzy Ghost to tell a story that highlights the ongoing rental crisis in Australia, within a tale that seems to become more relevant by the day. While its fantastical edges transport the act of renting to a fantasy land filled with terrifying, evil witches, the reality is not so far removed that the impact of its story is lost.
Janet DeMornay is a Slumlord (and a witch) is set to launch in 2023. Fuzzy Ghost's award-winning Queer Man Peering Into A Rock Pool.jpg is now available on Steam.