It's June 2023, and a surge of over 2.5 million people are feverishly engaging with contemporary implementations of pre-20th Century European art styles and techniques. The work isn't in a gallery, sadly (or perhaps thankfully, given the hypothetical crowds), but it's contained within Diablo 4, a gothic action role-playing game developed by Blizzard Entertainment.
The latest entry in an almost thirty-year-old series, Diablo 4 has struck a chord for not only being the biggest and best yet, according to critics, but the boldest as well, with a striking art direction that brings its dark gothic world to life through the lens of Baroque and Romantic era painting styles.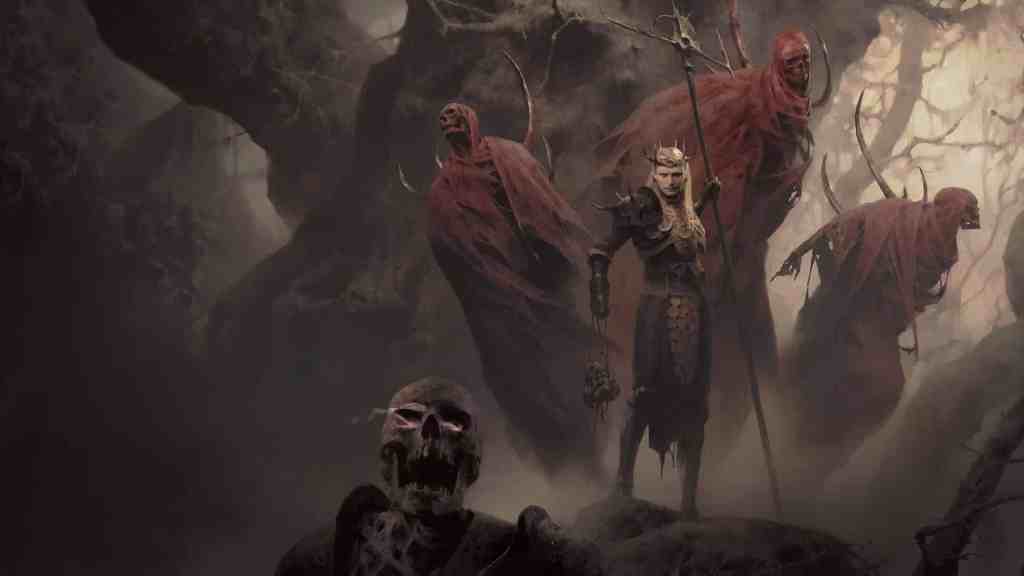 There's been a small wave of games heading far back in time for stylistic influences. Diablo 4 follows in the wake of work like Pentiment in 2022, a game whose events are presented in the form of Medieval manuscripts. But where Pentiment is a narrative game that focuses on an artist-in-training solving a series of murders in a monastery village, Diablo is a bit more… medieval.
It's a game where bodies are flayed, and people are possessed. Where hordes of demons and beasts are constantly at the gates, and heroes adorned in plate armour and animal furs fend them off with swords, magic, and otherworldly creatures of their own. It sounds like something that would be depicted in a William Blake painting (perhaps 'Satan Calling Up his Legions') and that was the whole intention, says Diablo 4 Art Director, John Mueller.
'If you think about a dark gothic medieval fantasy, it harkens back to a lot of "Old Masters" paintings from this period of time, where there are angels and demons being represented, with humans being caught in the middle of this conflict between heaven and hell, and it was very apropos for Diablo. It's actually a very clear parallel.'
Read: Pentiment Art Director talks about creating its striking manuscript style
While each previous Diablo game has certainly had its signature approach to the overall atmosphere and visual themes, this distinctly art-first approach was very unique for the studio in general, says Mueller.
He told GamesHub that seeing Theodore Géricault's 'The Raft of the Medusa' in person as a child left quite the impression on him – and for obvious reasons. 'That painting stuck with me for a long time, and when I was asked what I would do if I could make Diablo 4, that painting was in the front of my mind. I wanted it to have this feeling of this painting.'
While 'Raft of the Medusa' was a strong reference point for the figures in the game, a somewhat more modern artist provided inspiration for the world they inhabited: Albert Bierstadt, the German American painter whose 'moody landscapes' in works like 'Valley of the Yosemite' and 'Among the Sierra Nevada' were the images Mueller's team would have 'side by side with [their] early tests, while trying to find the style of the game'.
But of course, unlike the aforementioned Pentiment, Diablo 4 isn't a game that seeks to directly mimic the format of its influences – its storytelling and action do not take place on a 2D canvas in the way Pentiment takes place on a Medieval manuscript. Its figures are 3D models, and the player's perspective of the world constantly shifts.
Mueller and his team took several specific references to inform their contemporary modeling, texturing, and rendering techniques, too. And who better to ape from than one of the most well-known Old Masters, Rembrandt.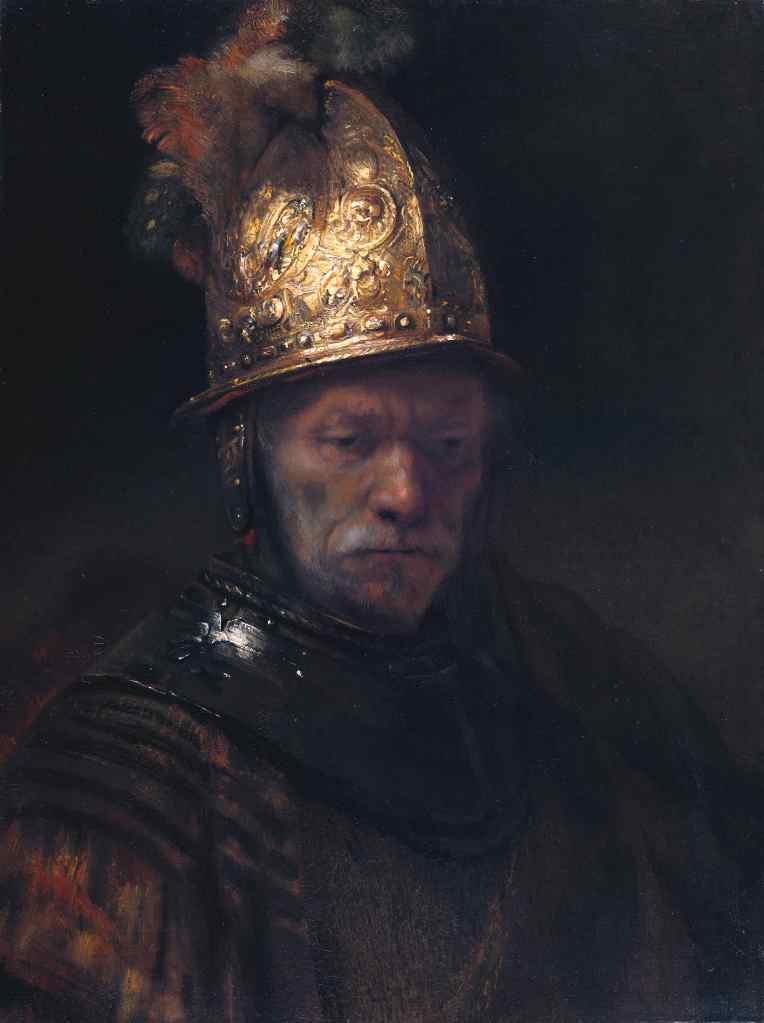 'There's a particular painting Rembrandt painted of a soldier with this gold helm,' Mueller remembers, 'the surfacing on that gold helm made us think "this is very much like what we call physically-based rendering"', a technique that aims to model lighting on 3D figures in a realistic fashion, including how it interacts with different kinds of surfaces.
In locking down the artistic style of Diablo, Mueller's team sought to uncover an answer to the question of '"How do we get our work to look like that painting?" It feels very crisp, feels very detailed, but it's super painterly, and it has this very luscious quality about it.
'Physically-based rendering is very good at creating shiny surfaces, it's very good at creating things that look sci-fi, like a lot of like metals. But it was really trying to get a painterly feeling and the softness that you see in these kinds of works, while also being gritty and detailed.'
What resulted was what Mueller describes as 'breaking the rules' of the team's tools and practice in order to achieve their look.
Of course, though the work is easily appreciated from afar, it's also easy to forget just how much skill and talent is required to actually pull off what can appear like a simple idea on paper.
Mueller recalls: 'Early on, when I was kind of presenting the vision, I was using a lot of Rembrandt and Géricault and these kinds of artists, and I said to the team, "So this is gonna be easy, I just need you to be like Rembrandt."'
'It's easy, right? Like, they're only one of the greatest artists in history, you know?'
The eventual success of this vision came down to Mueller's team, of course, who Mueller sincerely remarks are made up of some of the most talented artists in the world, with his job sometimes boiling down to 'getting out of the way' and simply 'letting them be great'.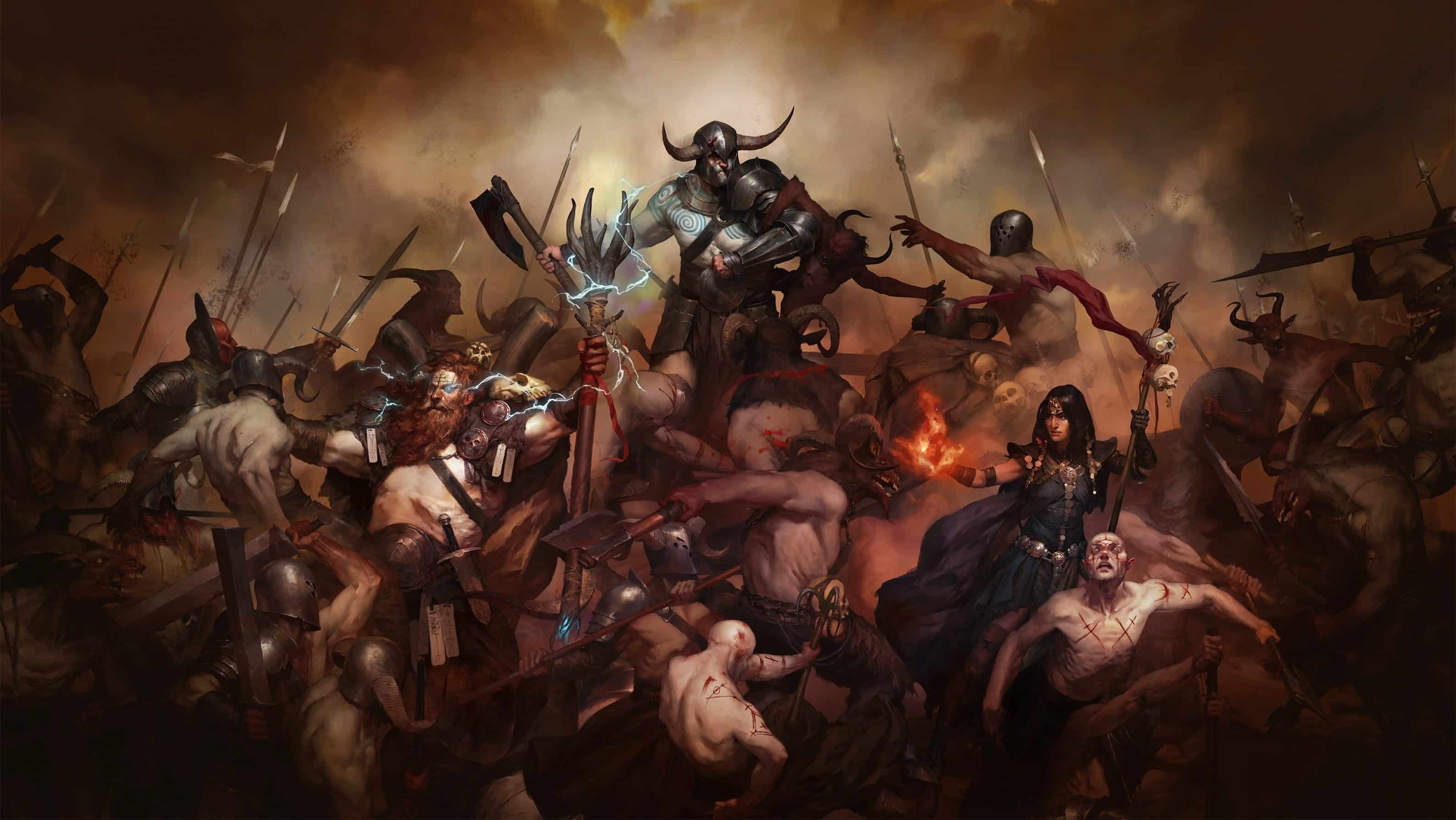 At Blizzard, he runs what he calls an 'open kitchen of art', where work in progress is regularly shared on a communal channel and everybody can see what everybody else is doing, which feeds back as motivation, inspiration, and movement towards the ultimate direction of the visual style.
Mueller, who has worked in the art departments of several studios before Blizzard, remarks that the creative dynamic at Blizzard has a distinct difference, in that he feels its structure genuinely values every voice, as opposed to a strict top-down decision-making tree – though these comments do come in the aftermath of company-changing lawsuits alleging a long-ingrained culture of workplace toxicity.
Read: Behind the pioneering animation of the Overwatch cinematic universe
Mueller can easily think of a multitude of small decisions made by artists on his team, that have rippled out to significantly inform other major aspects of Diablo 4 – not just within the art department – which is a notable feat in the complex world of blockbuster game development, in a production team made up of hundreds.
Among them, one unmissable element of the game's world, the giant snake in Haezar, came from artist Eric Wiley, as part of an in-house 'ideation' session. 'It's a thing we do at Blizzard where the teams will just jam on stuff and kind of create things that we think are cool.'
The snake was initially just a cool snake. 'There was no design, there was nothing around it. And then Sebastian Stępień, the creative director, saw that and thought it was really cool, and he wrote it into the story, and the rest is history.'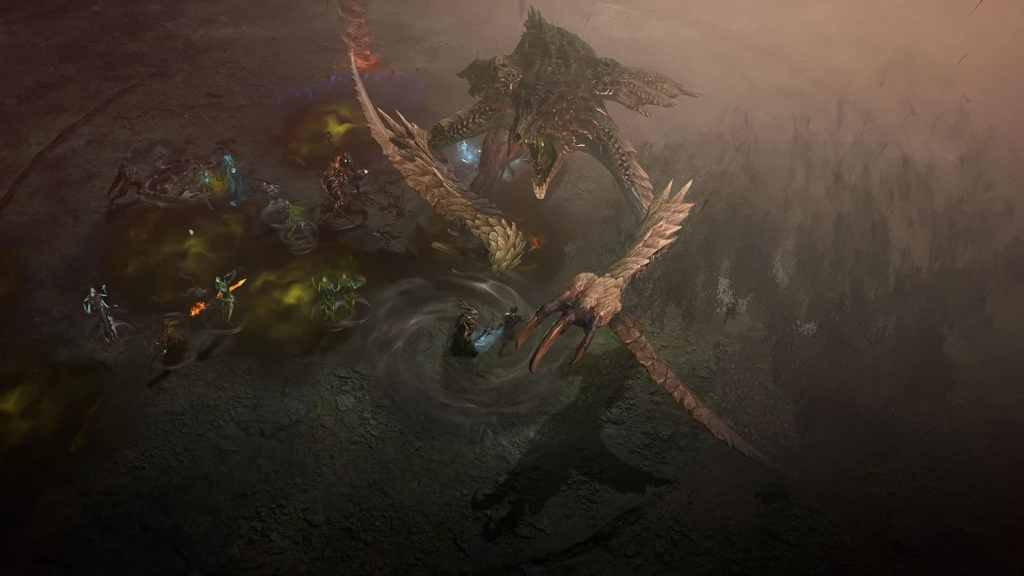 Another example is the casting of the unmistakable Yorkshire voice of Ralph Ineson (Game of Thrones, The Office), whose character plays a major role in the game's narrative. It all came from early explorations into stylistic themes and tones.
'Richie Morello, the associate art director on the game… made this little video that was a bunch of our concept art with some of Ralph's voice work from The Witch over it…. his voice was so haunting and just so perfect for the game that it just became manifest destiny.
'Obviously nobody had talked to [Ineson] at that point. But as things went on in the game, somebody reached out and made it happen.'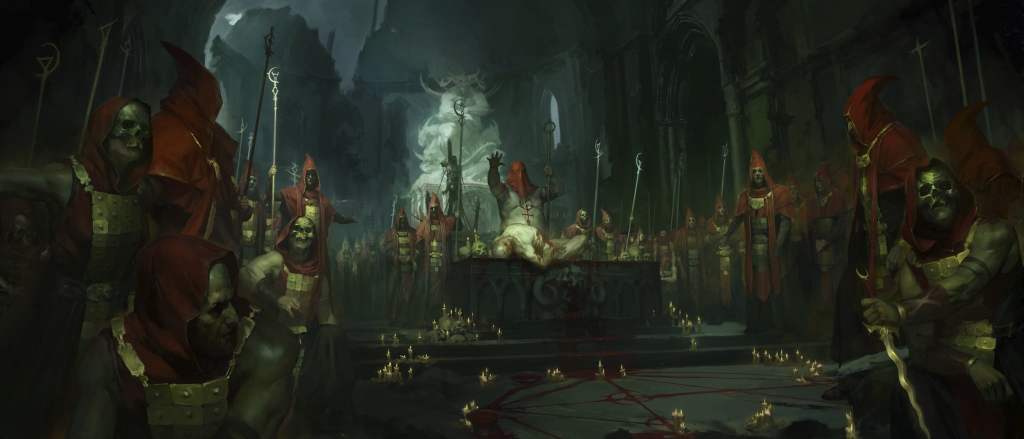 Of course, with the growing demands of game development, especially at the blockbuster scale that a work like Diablo 4 is operating on, you can't just rely on one figurative Rembrandt to make the whole thing come together. The creative practice of making games relies on a high degree of competency in so many different skill sets – both within art and in other aspects, too.
'When I started the teams were, like, 15-30 people. That was a large team,' Mueller reminisced. 'Now we're really getting out of hand.'
But after the successful release of Diablo 4, and the work of his entire team being appreciated by so many, he can only see the bright side. 'We just get to do really ambitious things with our work. And that's what I love about it.'
---
Diablo 4 is available on PC, PlayStation 4, PlayStation 5, Xbox One, and Xbox Series X/S