Tiny Tina has long been the most fascinating character in the Borderlands universe; a young, adolescent girl forced to reckon with the horrors of a world plagued by war and destruction. To escape her reality, and to cope with the loss of a close friend in Borderlands 2, she becomes lost in the world of 'Bunkers and Badasses' – a Dungeons & Dragons tabletop fantasy that allows her to parse reality in ways she can understand. In Tiny Tina's Wonderlands, her adventures through this fantasy continue – and while this chapter lacks the emotional resonance of its predecessor, it retains the free-wheeling, over-the-top, explosion-filled gameplay that made the original so engaging.
Tiny Tina's Wonderlands picks up where Assault on Dragon Keep left off – with Tiny Tina hosting a Bunkers and Badasses session with her close friends. Rather than the original Borderlands cast members, she's playing with newcomers this time around – Valentine, voiced by Andy Samberg, and Frette, voiced by Wanda Sykes.
Neither character is particularly fleshed out, but they do serve as sharp comic relief while Tina guides players through high fantasy adventures. Rather than complete characters, they largely serve as banter foils, tossing quips back and forth as Tina expands on her tall tales.
Thankfully, they're not grating – this game is far cry from the potty humour of Borderlands 3 – and they remain entertaining throughout, thanks to stellar voice performances by Samberg and Sykes, who both have extensive experience in comedy. They're extremely likeable, and aid its light-hearted, tongue-in-cheek journey.
The quest for the Wonderlands begins
As one of six hero archetypes in Tiny Tina's Wonderlands (classes include the vampiric Deathborn, the dragon friend Clawbringer, and others), you take part in a game-within-a-game – a tabletop experience set within Tiny Tina's metanarrative.
With Tiny Tina literally calling the action, the fantasy world you explore can change on a whim – one moment, you're romping through an idyllic forest, in the next, you're in a town beset by fiery meteors. The haphazard nature of the story is a byproduct of the game's framing narrative – but it also means the action is constantly moving, and always fresh. As a metagame born from the imagination of a young girl, Wonderlands works well as a rapidfire, eye-popping romp.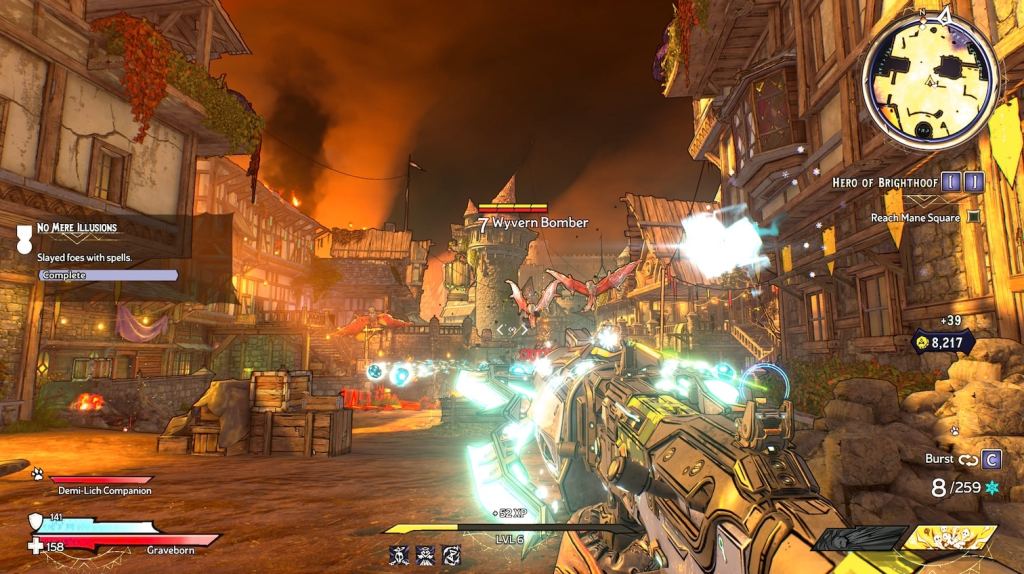 Where locales in past Borderlands games often devolved into sameness, Tiny Tina's Wonderlands keeps the adventure clipping along with a vast variety of locales, each inspired by classic fantasy adventures. Your journey begins in the woods, and quickly bypasses towering castles, coral graves, mushroom-filled gorges, high towers and Egyptian-inspired deserts.
In each, you'll face off against a range of enemies, from zombies and skeletons to ancient snake people, sentient sharks, and armoured cyclopes. Each has particular weaknesses and strengths, and you'll need to acquire a range of guns and abilities to effectively defeat each horde as you advance through the game's quest-based story.
There are in-game tales inspired by The Secret of Monkey Island, and others that directly lampoon iconic franchises like The Witcher. Every quest has a touch of wackiness about it, and while the game's villain – Will Arnett's deliciously evil Dragon Lord – threatens to plunge the story into darkness on multiple occasions, it resists the call to be anything too serious. While this means it doesn't have quite the same impact as the emotionally-charged Assault on Dragon Keep DLC, it does keep the game feeling light and friendly.
Coherence isn't always key
If you've played any other Borderlands title, you'll know what to expect here: a snarky sense of humour, excellent gun-based combat, and delightful new worlds to explore. Tiny Tina's Wonderlands doesn't do much different from past games – largely, because it doesn't need to.
The Borderlands games remain classics of modern gaming because their gunplay and exploration are so finely tweaked for solo and co-op play. It's a formula that works, and Wonderlands has largely stuck to it, to great effect.
That said, there are strange inclusions that don't quite work in this iteration of the franchise, including the game's Overworld, and its reliance on repetitious Encounters to complete the game's map.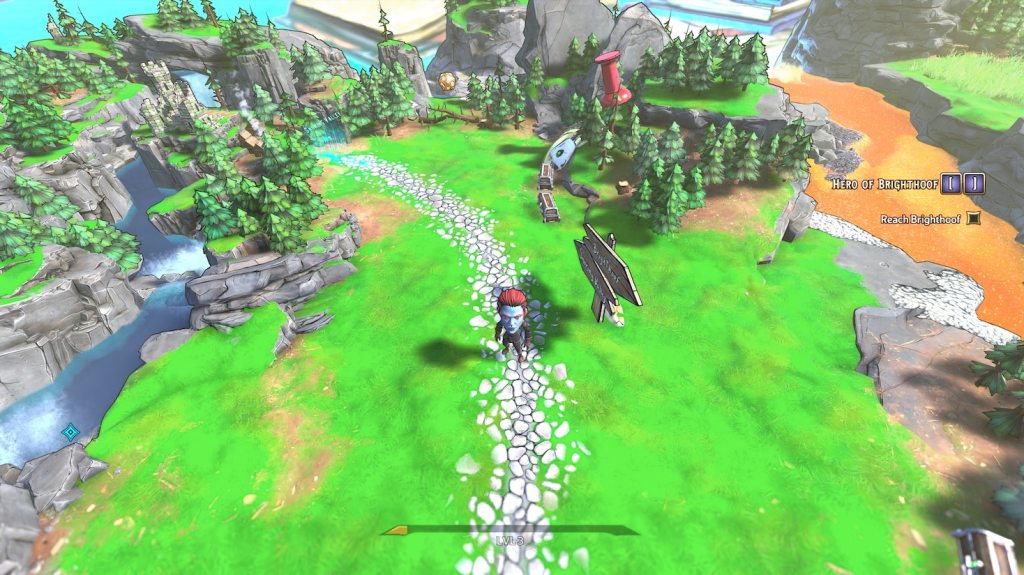 In Tiny Tina's Wonderlands, the action is largely guided by the Overworld map, a top-down metaworld that leads players between unique biomes and quests. The map, which is designed to resemble a real-life tabletop, is the only way to access certain locations and discover hidden secrets – and while it's a fun idea, it does make the action of Wonderlands feel very disjointed.
Rather than smoothly flowing from one quest to the next, players will instead be frequently thrust into a third person world where characters are represented by large, bobblehead-like figures. In the Overworld, you can explore freely without the threat of open combat, and work towards opening up new pathways, discovering hidden items, and unlocking new quests. But its strange, big-headed art style, and the way it separates different locales, makes the entire system feel like unnecessary padding.
You can waste minutes travelling between destinations, where in Borderlands, travel would be instant.
Similar can be said of the game's combat Encounters, which populate all corners of the Overworld. Between major story quests, you're tasked with discovering new collectables and saving various characters from untold distress. If these quests aren't located on the core map, they'll take place in smaller Overworld biomes – where you're required to complete one to three 'Encounters' against enemies of particular types.
While the first of these Encounters are exciting, repetition sets in quickly. Many of these quests are just about defeating waves of enemies, with no real narrative or reason to break up the tension. You wander into a segmented battlefield, defeat enemies, grab loot, and repeat this action several times. With some story quests having character level requirements, you'll need to take Encounters on wherever possible to build experience – but this quickly devolves into a boring grind, even during the game's brisk 15 hour runtime.
There's only so many times you can defeat the same waves of enemies before it all seems a bit dreary.
Thankfully, it's a disappointment that's quickly washed away with the verve and excitement of the game's main quests, which feature such snappy dialogue and beautiful locations that it's easy to forget the slower, grinding parts of the game.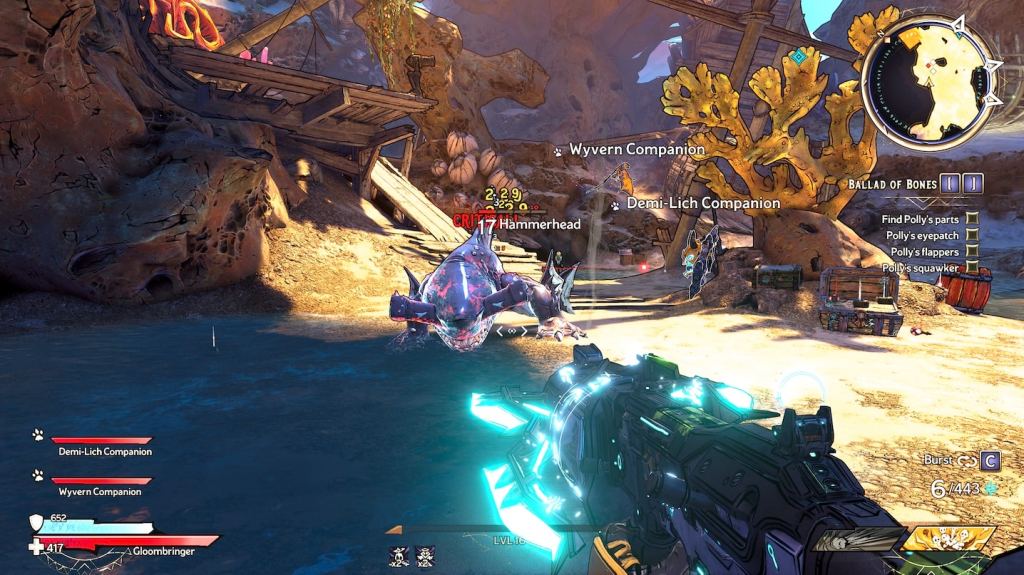 Tiny Tina's Wonderlands boasts impressive sights, sounds and characters, with gorgeous worlds illuminated by the polish and performances backing the game. Despite a lack of flow between quests – which, arguably, makes it more authentic to a real Dungeons & Dragons experience – each tale feels appropriately epic and memorable.
There's an easy charm in Tiny Tina's Wonderlands, one that's boosted by the game's tangible sense of confidence. It knows exactly what it wants to be: a silly, genre-nodding romp that pays homage to classic fantasy, while carving out its own legacy.
Having comedic actors on board is an added bonus. Samberg, Sykes and Ashly Burch (Tiny Tina) are fantastic, and they play so well against 'Dragon Lord' Will Arnett, who's clearly having an absolute blast in the role. With the support of gorgeous worlds and entertaining story quests, they help the action of the game shine as brightly as diamond unicorn Queen Butt Stallion herself.
While stumbling blocks in the game's structural design means the narrative is more segmented than it should be, it's an adventure that lives up to its promises, and remains extremely funny, heartfelt and warm throughout its entire runtime.
Four stars: ★★★★
Tiny Tina's Wonderlands
Platforms: PlayStation 4, PlayStation 5, Xbox One, Xbox Series X/S, PC via Epic Games Store
Developer: Gearbox Software
Publisher: 2K Games
Release Date: 25 March 2022
The PC version of Tiny Tina's Wonderlands was provided and played for the purposes of this review.