The Super Mario Bros. Movie reminds me of Tetris DS, something I've been playing a lot of lately, inspired by the Tetris movie on Apple TV+. In Tetris DS, the puzzle action is adorned by non-interactive scenes from various classic Super Mario titles. As you stack your tetrominos and clear lines, a little Mario runs around on his own and completes a stage from one of his games – completely divorced from what you're actually thinking about.
After you clear 10 lines, the scene transitions to a different Mario stage, perhaps from a different Super Mario game altogether, and you momentarily look up to acknowledge it. Perhaps you smile in recognition of particular stage elements, or you begin to bop your head to an upbeat remix of a familiar, cherished music track. This cadence continues, until you're done playing Tetris for the time being. You don't really think about the journey that Mario just went on. There was nothing to think about. But it was pleasant to be on that ride nonetheless.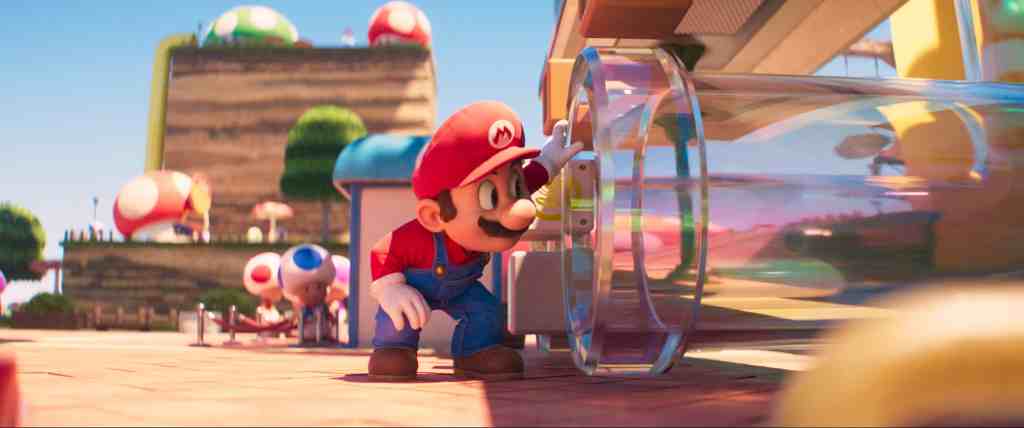 That's The Super Mario Bros. Movie in a nutshell. It's (unsurprisingly) a real video game of a film. A real theme park of a cinema experience. An exceptionally-crafted visual feast that needs no real excuse to flit between different setpieces and worlds from across Super Mario history, because its goal is to provide a delightful rollercoaster of colour and texture and action that can be enjoyed passively. Maybe it'll make you laugh a few times too, if you're lucky. It doesn't need any other reason to keep you there, because it knows what you came to get – a little Mario magic, a little nostalgia. Perhaps you'll consider visiting again. It is stunning to look at, after all.
The Super Mario Bros. Movie is so self-assured in its intentions, that when Princess Peach (Anya Taylor-Joy) meets Mario (Chris Pratt) for the very first time, the film barely needs 15 seconds to allow Peach to comprehend the fact that she is seeing another human for the first time in her life, before completely trusting this moustached man with her Kingdom's secret powers, staying up all night to train him in the art of surviving deadly obstacles, and taking him along as her sole companion in a continent-spanning journey to recruit an army of simians to fight an army of turtles (Koopas), led by one particularly big one, Bowser (Jack Black).
The main beats that follow can barely be referred to as 'plot' points. They're more like a series of contrivances to very, very quickly usher us into one colourful set piece after another – a handful of wonderfully elaborate side-scrolling traversal scenes, a lopsided fight between Mario and Donkey Kong (Seth Rogen), an action-packed vehicle chase sequence on Rainbow Road, and more – each with a generous handful of easter eggs, visual gags, and indulgent nostalgia triggers for the video game playing audience.
As one of those people, I'll readily admit that there's a lot of delight to be had in being indulged. I laughed. My eyes pored over each scene, making mental notes. I know that obscure Kong! I love that musical motif! I have a strangely strong attachment to this hilarious Super Mario enemy who only appeared briefly in a single game!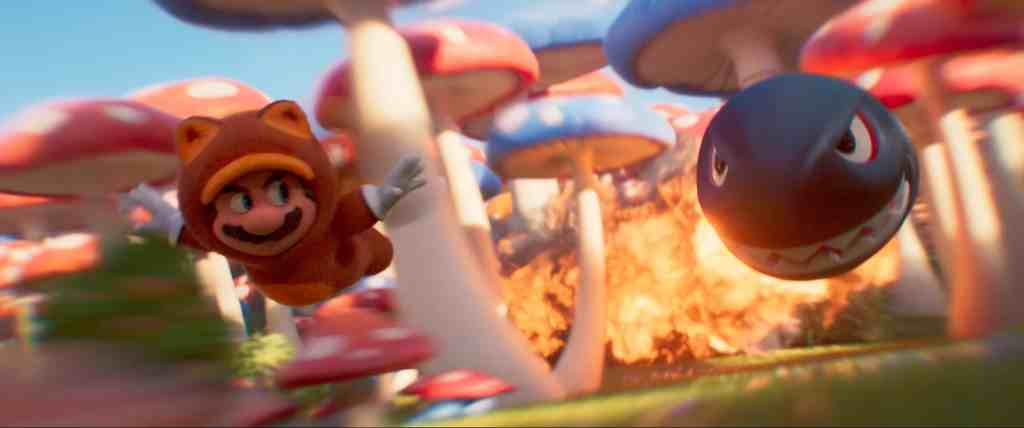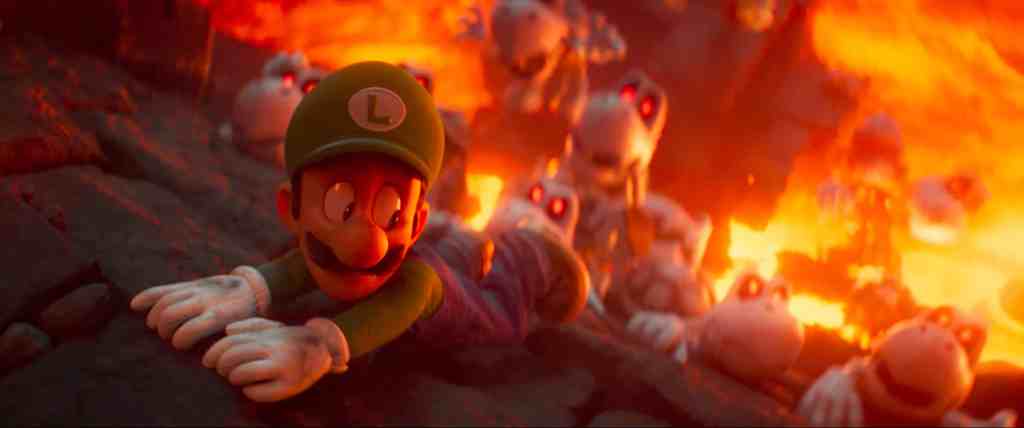 But as the film steered me through the various stages it had lined up and ready to go, I couldn't help but look back over my shoulder and wonder, 'hey, wasn't there a piece missing there?'
There's reason to want and expect more from the film, too. The Super Mario Bros. Movie begins by contextualising brothers Mario and Luigi (Charlie Day) as regular human beings in modern-day Brooklyn, New York, amusingly. We join them shortly after they've split from their previous employer, in order to strike out independently with their own plumbing business.
They're people. They have human hands under those white gloves. They live in a community, with their family – mother, father, uncles, cousins, the whole lot. The Mario family is the kind of archetypical New York Italian family unit popularised by film and TV, and it's very entertaining in this setting. They're unsupportive, they're insensitive, they fight, and they tell bad jokes. The family dinner scene could have very well been ripped right out of Saturday Night Fever.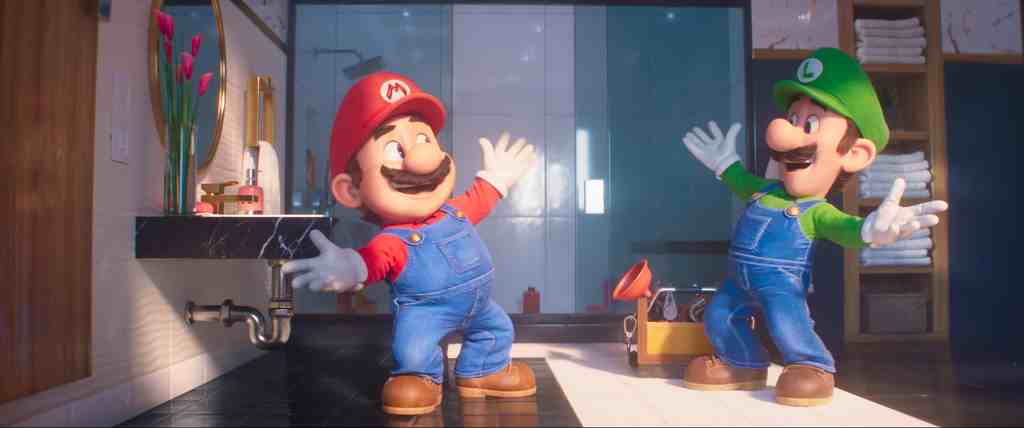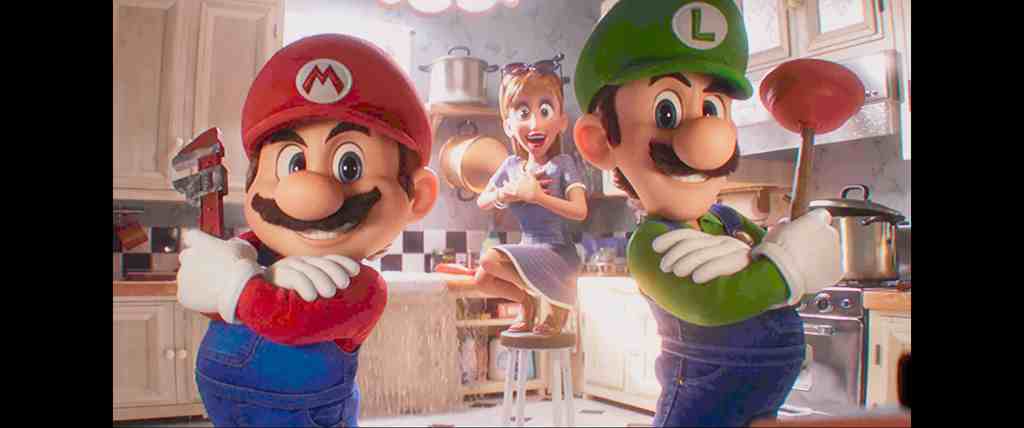 When the brothers accidentally get sucked into the Mushroom Kingdom, brief callbacks to Mario's issues with his familial relationships and sense of self-worth are ever so slightly brushed upon, but only just enough to make the film's climax feel a little bit earned. Just.
Outside of the spectacle, it's a handful of the performances in The Super Mario Bros. Movie that remain memorable once all is said and done. Jack Black as Bowser is undoubtedly the most notable, as the character has essentially been remoulded for Black to step into. His signature on-screen demeanour – boisterous, melodramatic, and over-the-top – as well as his penchant for regularly bursting out in ballad is, surprisingly, all here.
Similarly, Seth Rogen essentially puts himself into Donkey Kong, complete with Rogen's signature laugh, so your mileage may vary. Fred Armisen brings interesting new life to Cranky Kong, while Charlie Day and Keegan Michael-Key do a respectful job of dialing up the existing personalities of Luigi and Toad.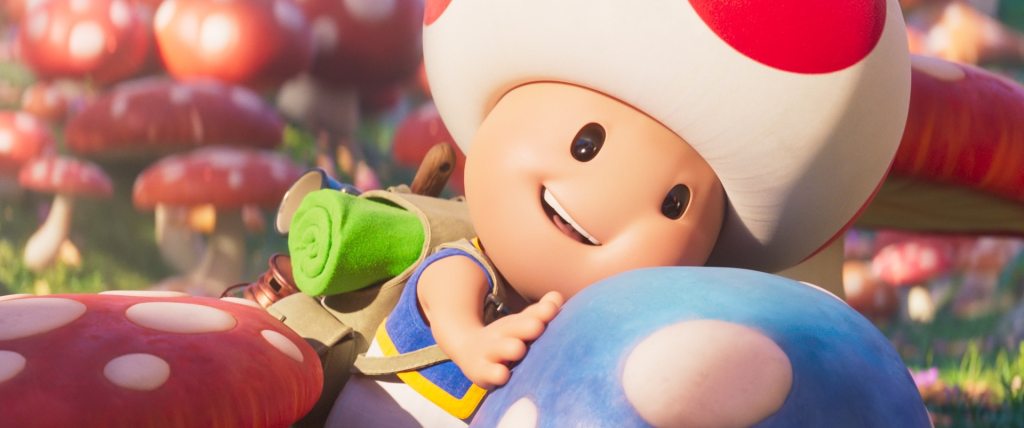 On the other hand, while Princess Peach's role as a damsel character has well and truly been eliminated for the film – she deftly leads most of the action sequences with confidence, and without exception – her characterisation and delivery otherwise feels relatively lifeless and flat. And in the end, Chris Pratt ends up doing a serviceable and inoffensive job as a Mario from Brooklyn, though in the grand scheme of things, he's outshone by his supporting cast – especially by brief appearances of Mario's longtime video game voice actor, Charles Martinet, who appears in two small roles.
A special note must be made of the film's music. While Koji Kondo's collection of famed melodies (as arranged by Brian Tyler) breathes much life into The Super Mario Bros. Movie, the film's decision to use a selection of licensed music tracks for several of its key sequences comes off as puzzling. While I'm never opposed to hearing 'No Sleep Till Brooklyn', the rest of the selection feels like an uninspired, off-the-shelf collection of safe family film staples, including AC/DC's 'Thunderstruck', A-ha's 'Take On Me', ELO's 'Mr. Blue Sky', and Bonnie Tyler's 'Holding Out For A Hero' – which also recently featured in the climax of the Tetris film.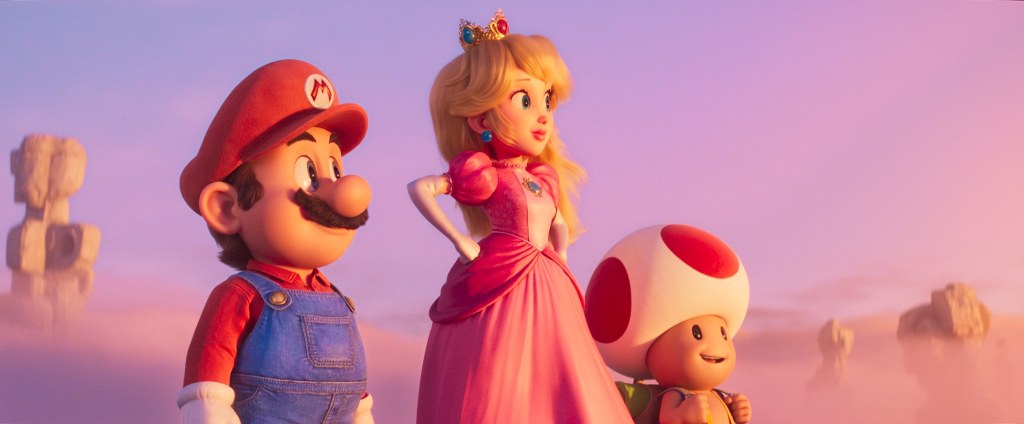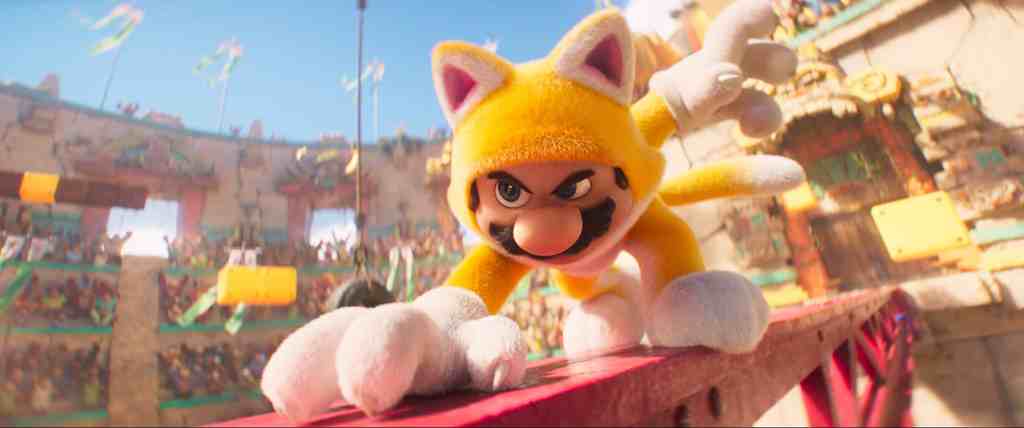 As is the case with many contemporary film adaptations, the biggest joy of The Super Mario Bros. Movie. comes from the simple pleasure of seeing characters and worlds that you likely already have an established connection with come to life on the big screen in such a vividly detailed way. The film knows this, and it knows that it has the power, clout, and artistry to lean into this and successfully pull some kind of psychological string in you.
There's definitely an inkling of something interesting in the broader narrative and ideas of The Super Mario Bros. Movie, but the film clearly doesn't feel like it needs to touch it, at least not yet. I hope it does one day, but as long as we're sated by watching Mario run, jump, and fly through environments for no reason other than the thrill of momentum, the awe of the visual spectacle, and the glee of nostalgic recognition, that's probably wishful thinking.
The world of Super Mario is the main character for now, and there are still plenty of stages to watch the titular plumber get through as we put our thoughts into something completely different.
Three stars: ★★★
The Super Mario Bros. Movie
Directors: Aaron Horvath, Michael Jelenic
Writer: Matthew Fogel
Producers: Chris Meledandri, Shigeru Miyamoto
Distributor: Universal Pictures
Read: The Super Mario Bros. Movie – Is there a post-credits scene?
The Super Mario Bros. Movie
Buy Now
GamesHub has affiliate partnerships. These do not influence editorial content. GamesHub may earn a small percentage of commission for products purchased via affiliate links.
05/29/2023 11:09 am GMT
GamesHub attended a pre-release screening of The Super Mario Bros. Movie hosted by Universal for the purposes of this review. GamesHub has affiliate partnerships. These do not influence editorial content. GamesHub may earn a small percentage of commission for products purchased via affiliate links.