The Bluey animated series is a phenomenon. It's certainly one of Australia's greatest cultural exports of the 21st century, having achieved immense international popularity and universal critical acclaim – while still proudly holding onto its hyper-local and culturally-specific identity (even if Disney did censor a bunch of episodes in the US).
For those unaware, Bluey follows the mundane, everyday exploits of the Heeler family, made magical through the imaginative play of young girls Bluey (aged six) and Bingo (aged four), while being heavily encouraged by parents Bandit and Chilli. Though created primarily with pre-school-aged children in mind, the show's sharp and intelligent writing (which features a great mix of playful children's jokes and covert adult humour) and astute, sometimes deeply moving lessons to be learned about life as both a kid and a middle-aged grown-up, has rightly earned it an enthusiastic all-ages fanbase. It's several cuts above most children's programming, and is a fantastic TV show, full stop.
Bluey: The Videogame is an attempt to capture the magic of the show in an interactive format, with the effort led by Spanish studio Artax Games for British publisher Outright Games, along with the involvement of Ludo Studio, the Australian outfit behind the animated series, and the original Australian cast.
Its success is… arguable, however, depending on which audience segment you ask.
This episode of Bluey is called…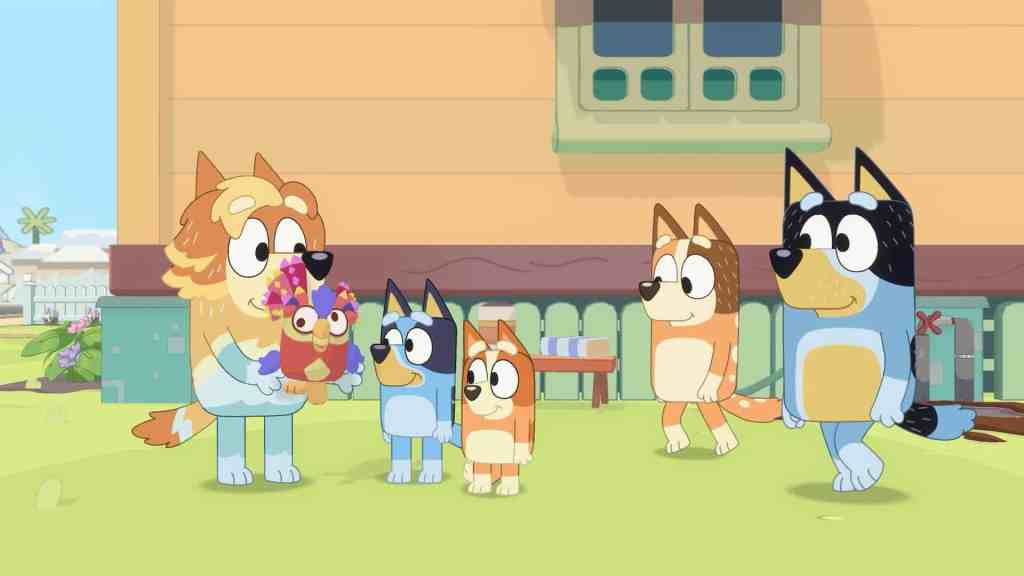 Set during the school holidays, Bluey: The Videogame begins with the Heeler girls kicking their parents out of bed to get a head start on fun activities. In the process, the family discovers a torn fragment of a forgotten treasure map sketched out by Bandit and his brothers, Stripe and Radly, during the olden days (the 1980s). What follows is a four-episode saga where the family will meet up with both uncles, as well as Chilli's father Mort, to complete the map and uncover the mysterious treasure. Whatever could it be?
The episodes do their best to mimic the visual style and flow of the show, with the voice cast doing the majority of the work in getting the game's feel up to par. The aesthetic and stylistic touches largely hold up with the game's transition to 3D stages and models (as opposed to the show's completely 2D look), but the snappy timing and pacing of the show don't remain intact – mostly due to the need for regular interactive breaks.
And despite a solid final moral, the elongated story itself sadly lacks the charm of any one single episode of Bluey. Though segmented into four episodes, the narrative very broadly overarches them all, and the beat-by-beat moments jerry-rig existing moments from the series to craft a "best of" amalgamation of iconic touchpoints, rather than exploring new territory, with big contrivances shoehorned to keep the events moving quickly.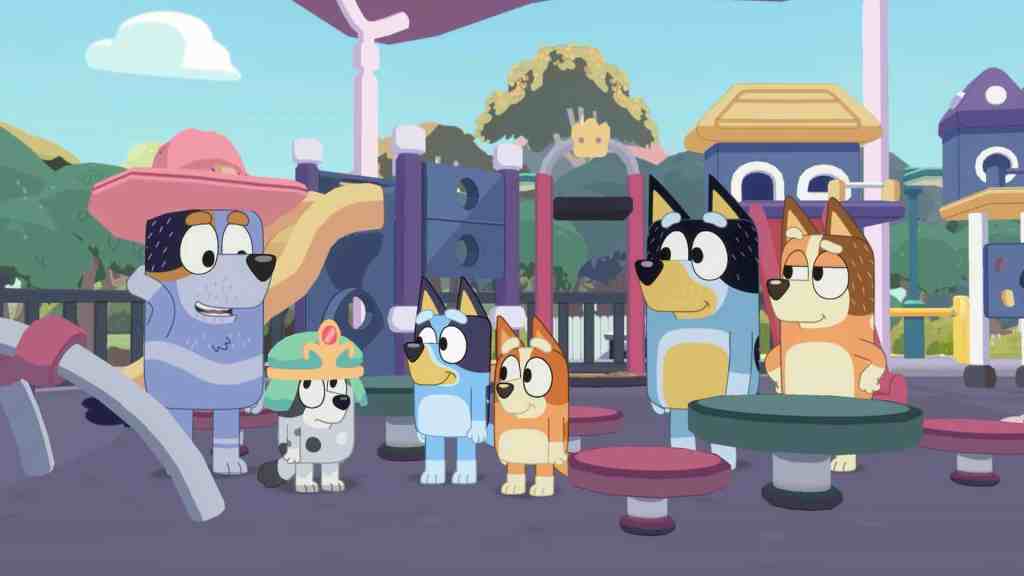 Of course, it's all in service of realising games like "Keepy Uppy" in playable form, and exploring the signature locations from the show. But if you're familiar with the exceptionally high standards of storytelling in Bluey, you'll feel a huge disconnect here – the memorable moments, character interactions, and witty writing that make the series so endlessly rewatchable aren't often felt in the video game.
A Family Affair
I played through Bluey: The Videogame in four-player cooperative multiplayer mode with my partner and two young daughters who are, conveniently, the exact same ages as Bluey and Bingo. As a family, we often see ourselves precisely mapped onto these characters. There was excitement in the air. But there was also quite a bit of frustration in getting through it all.
Each episode features a short chain of straightforward fetch-quests as the family navigates each location in a group, searching for (or rather, following waypoints to) items and navigating tricky terrain in locales like the Heeler home and backyard, the playground, and the creek. The game's action heavily relies on simple platforming, as well as pushing and pulling obstacles (sometimes with multiple people), which proved to be a small learning curve for my children – up to this point, they had only played games like My Friend Peppa Pig and Disney Dreamlight Valley, and the idea of hitting a button to jump while also moving the analog stick was a big hurdle to overcome.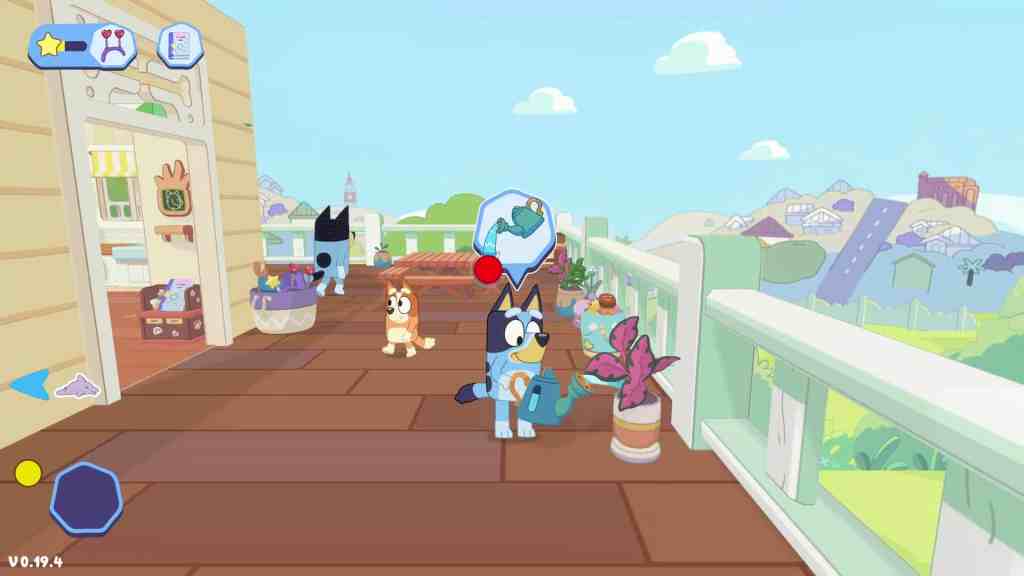 This grew to be a regular point of exasperation, as the traversal challenges became more demanding. Objectives like making your way through a gauntlet of moving sprinklers in the backyard, or over a series of rocks in the creek held up our group of four considerably.
A few rough technical edges like imperfect collision detection, and the fact that the game's camera centres its focus on Player 1 at all times no matter how many players you have, also made things more difficult than they reasonably should have been. At one point in our game, Bingo lost her collision detection entirely, which didn't let her interact with objects, didn't let her jump on the trampoline (much to my 4-year-old's dismay), and eventually saw her and the rest of us fall through the world, requiring a reset.
Thankfully, once one player reaches a checkpoint, every other player moves forward, but it seemed like the chaos of four players was detrimental to our family experience – upon a two-player replay of the story, my kids handled those challenges more easily, and encountered fewer problems overall, so take that as you will.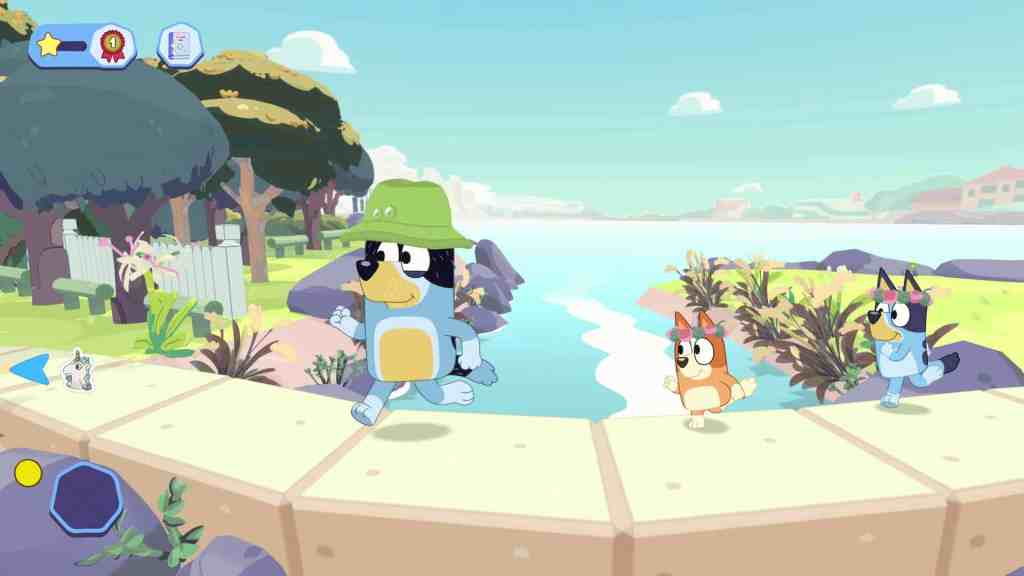 Each episode also introduces one of four minigames, including Keepy Uppy (stopping a balloon from touching the ground) The Ground is Lava (a platforming challenge) Magic Xylophone (a race to tag every other member of the family) and Chattermax Chase (a competition to catch and hold onto the infamously obnoxious toy the longest). Once you've unlocked each minigame, they can be initiated at will in several of the game's environments. They're very simple in execution, and given the rudimentary movement mechanics of the game, they lack any interesting depth. Even then, the camera and collision detection can make things worse.
The Endgame
In an unexpected twist, the real magic of Bluey: The Videogame revealed itself when the main story was over and done with. When you reach the endgame of Bluey, it opens up all the environments for free exploration (with the addition of one more, the beach) along with a new wealth of hidden collectables and stickers to find, as well as cosmetics to unlock.
At this point, the game became a much more pleasant experience for my daughters, who very much enjoyed using the familiar locales as virtual playgrounds to simply explore, find treasures, and act as a space for their own imaginative play.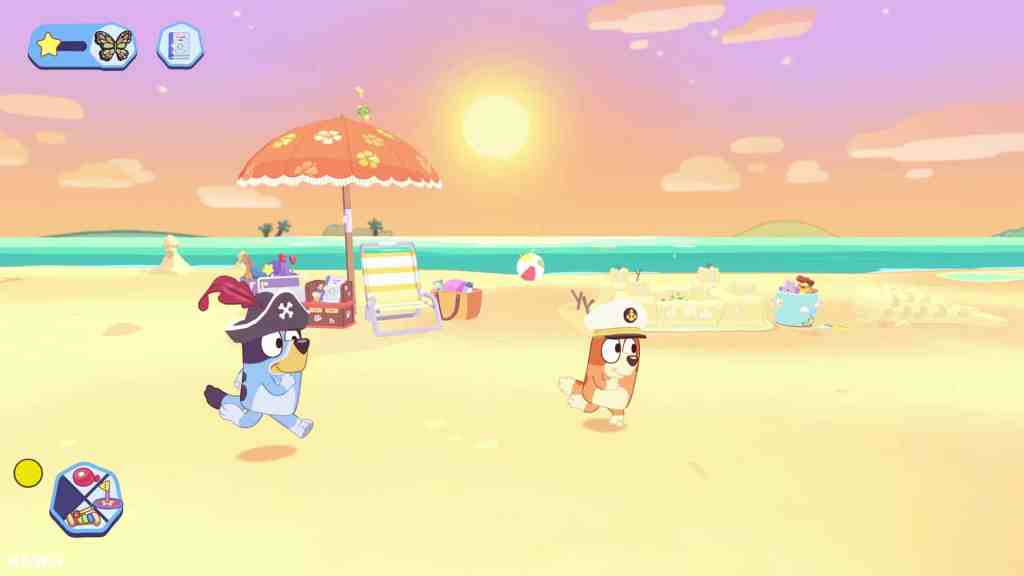 With no more slightly impatient parents attempting to coach them through the right timing to avoid getting soaked with a sprinkler, my kids were completely absorbed in guiding one another through the once-treacherous environments in search of things like hockey sticks, leaf insects, and pavlovas. They spent great amounts of time carefully selecting their choice of hats and accessories. They poked at the edges of the world, trying to make sure they had combed every inch.
Ultimately, simply being able to exist and wander around these locations is the reason why Bluey: The Videogame is exciting – even the grown-ups were excited to finally get a cohesive layout of the Heeler's enviously enormous house and backyard to tour.
As I'd previously observed with My Friend Peppa Pig, these kids were simply thrilled with the ability to explore and mess around these familiar places, making up their own activities instead of playing the ones designed for the game itself. Bluey: The Videogame isn't a great objective-based narrative adventure, but it fares a lot better as a toybox. This is all they need.
For the grown-up Bluey fans in our household – one who has spent their entire career covering video games, and one who has barely touched a game from the last thirty years – there are as many obvious shortcomings in Bluey: The Videogame as there are charming callbacks. But to the six- and four-year-old, even though there were frustrations, none of that really seemed to matter in the end. Sometimes the bugs and glitches even served as a spark to imagine some logical in-world reason for the mishaps. Is it magic? Is it actually a hidden secret?
So even if tell you that I think Bluey: The Videogame deserved a bigger budget, more development time, and bigger emphasis on the narrative, if the target market keeps pestering me to hang out in it every day, can I really ignore that intrinsic enjoyment?
Anyway, you can take their word for it.
---
Bluey: The Videogame: The 6-year-old girl review
What's your favourite part of Bluey: The Videogame?
I like doing stuff. I like jumping and running around the obstacles.
What's your least favourite part about Bluey: The Videogame?
I don't like that we can't split up. And I don't like that we have to wait for people.
I didn't like how they played the Pool music when there was no pool and they were just in the house. [Editor's note: Composer Joff Bush's various tracks feature in the game, including 'Pool.']
I don't like that we can't walk through walls. If you can walk through people why can't you walk through walls? It's not fair!
What would you have liked to have seen more of?
I wish we could have sleepovers with Bluey's friends.
---
Bluey: The Videogame: The 4-year-old girl review
What's your favourite part of Bluey: The Videogame?
CHATTERMAX!! BINGO!
What's your least favourite part about Bluey: The Videogame?
I DON'T LIKE IT WHEN THE SPRINKLERS ARE ON.
What would you have liked to have seen more of?
…pyjamas?
---
3 Stars: ★★★
Bluey: The Videogame
Platforms: PC, PS5, PS4, Xbox Series X/S, Xbox One, Nintendo Switch
Developer: Artax Games
Publisher: Outright Games
Release Date: 17 November 2023
Bluey: The Videogame- Nintendo Switch
Buy Now
GamesHub has affiliate partnerships. These do not influence editorial content. GamesHub may earn a small percentage of commission for products purchased via affiliate links.
12/03/2023 06:50 am GMT
The Nintendo Switch version of Bluey: The Videogame was provided and played for the purposes of this review. GamesHub reviews are rated on a 5-point scale. GamesHub has affiliate partnerships. These do not influence editorial content. GamesHub may earn a small percentage of commission for products purchased via affiliate links.