When wrestling organisation AEW was founded in 2018, it had a singular goal: to present an alternative to mainstream wrestling, and provide a showcase for independent talent. In many ways, AEW: Fight Forever continues those themes, by providing an alternative that refreshes the bounds of what wrestling video games can be.
While it's not always successful in this goal – it can be buggy at times, there are some rough edges, and the quality of its character models is inconsistent – the game's sense of charm and tenacity is wildly enjoyable, and entertaining enough to mostly overcome its flaws.
Fighting champions
In AEW: Fight Forever, you can live your wrestling dreams in a range of key modes – the usual one-on-one and tag team matches, as well as special bouts like the Casino Battle Royale and Exploding Barbed Wire Death match.
The fighting action of Fight Forever is solid, no matter which match type you choose – although its wrestling controls are very simplified. There are essentially three main buttons to focus on in regular matches, which deploy chops, kicks, and grapples. You can also climb ropes for aerial attacks, and perfect a variety of button combinations with the sole purpose of decking your opponent to the ground, and pinning them for the three-count.
Each wrestler has a signature move they can deploy for greater damage, and a finisher designed to put their opponents away for good. To achieve both, it's all about racking up power, and waiting for the opportune moment.
While these moves are far less complex than in modern wrestling titles like the WWE 2K series, they are extremely accessible, and simplify combat in a way that makes victories feel fair.
That said, there are a few annoyances in the mechanics, in that you can occasionally get bogged down with the slow animations of manoeuvres. In tag team or multi-person matches, this can prevent you from breaking up pins when necessary.
There also seems to be a lack of refinement when it comes to switching between targeted opponents in the ring, as well as pulling off any moves near the ropes – which are surprisingly 'sticky' and occasionally prevent you from entering and exiting the mat properly. Ladder matches also have a unique quirk, in that ladders appear to fade in and out of existence as you play.
You can account for these foibles as you run through matches, but they seem to be permanent bugbears. If you're aiming for perfect victories, you'll need to accept the occasional slop in your bouts.
Roster troubles
Another foible is that AEW: Fight Forever arrives as an outdated product. After several years in development, it no longer reflects the modern AEW product. For one thing, Cody Rhodes is included in the game – despite having left AEW for WWE in early 2022.
The women's roster is also missing a few notable faces like Toni Storm, Saraya, Athena, and Jamie Hayter. With such a slim women's division, these absences are heavily felt. The game's devotion to intergender matches – rosters are not locked to gender – alleviates this pressure somewhat, but it's hard not to feel like more women could've been represented here.
There's also the matter of outdated gimmicks. Kris Statlander has long moved on from her role as an 'alien', for example, but it remains in the game. Abadon hasn't been featured on the main AEW shows in a long time, but maintains a position on the women's roster.
These issues aren't dealbreakers – after all, Fight Forever represents a slice of AEW history regardless of its timing – but they're worth noting.
Road to Elite
The real meat of AEW: Fight Forever is its flagship story mode – a 2-3 hour repeatable narrative journey where you can send a custom wrestler to the top of AEW.
In the opening moments of this 'Road to Elite' narrative, you're contacted by Tony Khan – the real-life president of AEW – and sign a contract that will lead you through a tumultuous year in the wrestling promotion.
Read: AEW: Fight Forever aims to be a major WWE 2K rival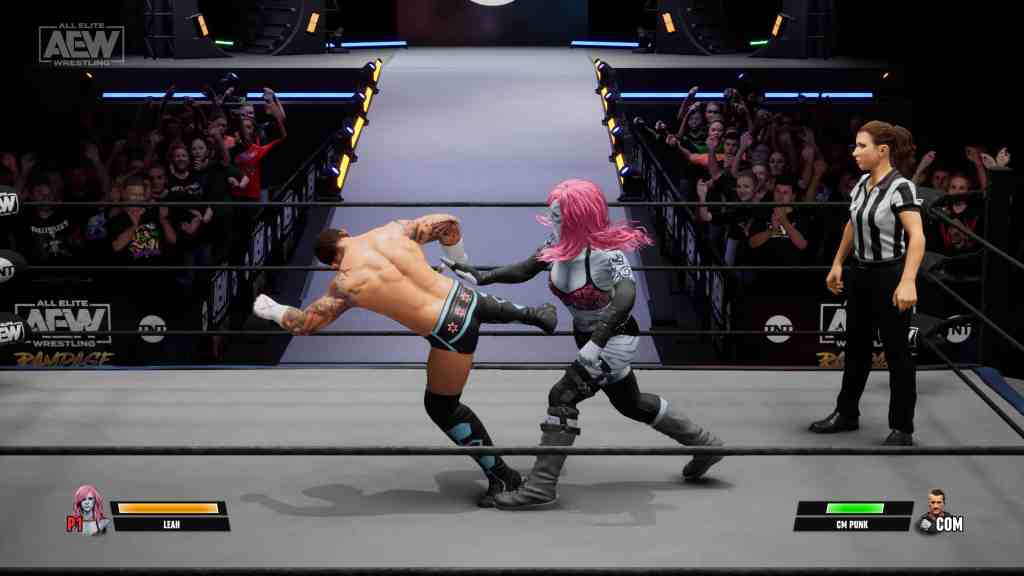 There are multiple story branches, with each requiring multiple playthroughs to achieve – but that's part of Road to Elite's nifty design. With a full year of Dynamite, Rampage, and Dark shows to fight through, you'll work a number of major rivalries and unlock unique story moments along the way.
In my time rising to greatness as the blue-skinned, 7-foot tall Avatar woman known as Leah Elite – designed within a fairly limited character creator – I managed to nab the AEW Women's Championship, and the TNT championship. I also joined the Dark Order very briefly, before late wrestler Brodie Lee betrayed me under dramatic circumstances.
Winning against Lee unlocked him as a playable character – which is another neat feature of Road to Elite. While you start AEW: Fight Forever with a hearty roster of playable wrestlers, you can unlock more the further you dive into Road to Elite, expanding your options in other modes.
The story loop in Fight Forever is simple, but fairly novel for a wrestling game. With a full year to play through, you'll spend your time wrestling on various shows, and then recovering by choosing a range of other activities as you journey across the breadth of the United States. Your wrestler is almost Tamagotchi-like, as they'll need plenty of food and strength to win their bouts.
At each Dynamite, Rampage, Dark, or PPV pitstop, you'll be able to soak up the scenery with your fellow wrestlers, stop to dine on the local cuisine, hold a press conference, attend the gym, or spark up other rivalries. Each option adds to your wrestler's prowess, and may give an advantage in future fights – unless you're taking selfies with other wrestlers. In that case, it's just for silly fun.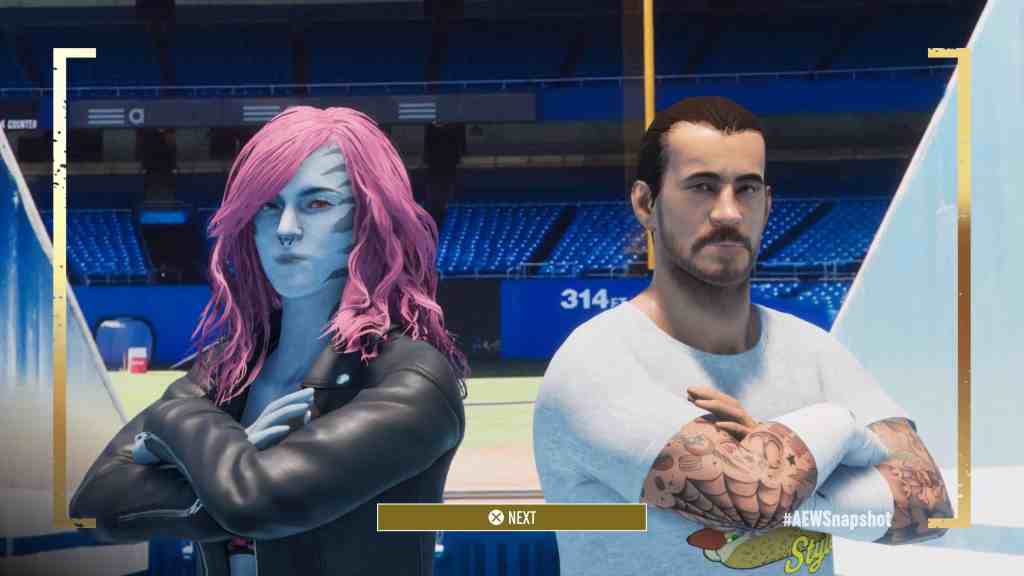 These pitstops typify AEW: Fight Forever's approach to wrestling. It feels like a game that knows its own limitations – after all, developers have spoken openly about it not having the same budget as rivals like WWE 2K. Rather than committing to a direct competitor, Yuke's and the AEW development team has clearly chosen an alternative path, one where the silliness and fun are just as important as the wrestling.
That's reflected in other parts of Fight Forever, too – including in its style choices. Wrestlers in Fight Forever are strangely short and cartoonish, largely resembling action figures more than real people. Some face models are impressive – Sting, Darby Allin, Luchasaurus, Ruby Soho, Scorpio Sky, Penta, and Jeff Hardy are particularly good-looking – but others (Matt and Nick Jackson) are pretty horrifying.
There's an element of the uncanny valley in their designs, and this adds a strange, discombobulating sense to each match. It's not ugly per se, just deeply odd in parts. Fight Forever seems keen to lean into this quirkiness – and not only in its character designs.
AEW Dance Dance Revolution
When you're not facing off against your fellow wrestlers in tense bouts, you can dive into AEW: Fight Forever's suite of strange mini-games. Chief among these is a rhythm mini-game guided by Penta El Zero M – of all people.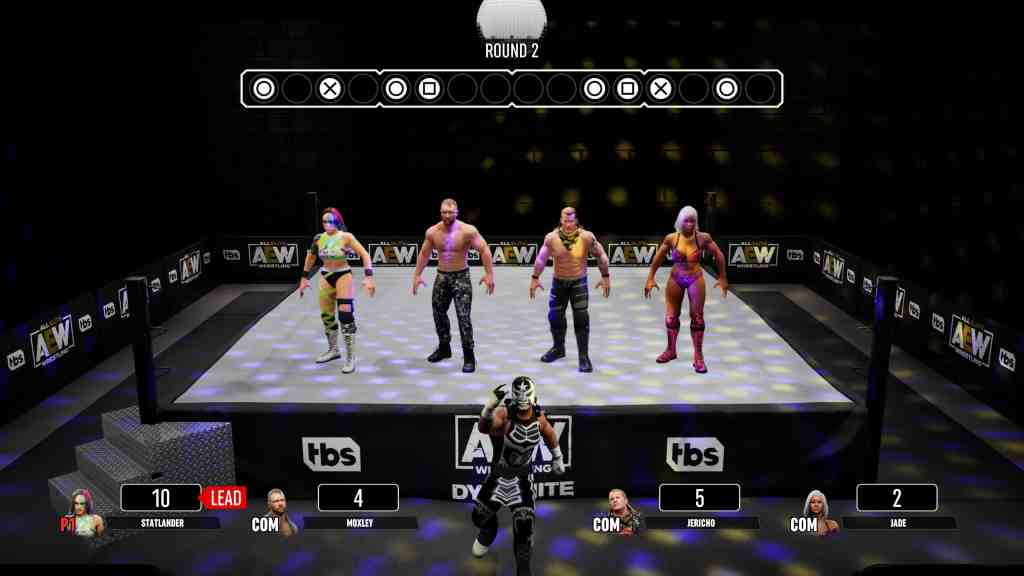 Why is there a dancing mini-game in AEW: Fight Forever? As always, the better question is why not? This is a game that feels determined to be weird, and really leans into that goal.
Whether you're dancing, answering a ridiculously hard quiz, trying to find Orange Cassidy in a Where's Wally-style adventure, or collecting giant coins that fall into a wrestling ring, it's hard not to feel like Fight Forever is off the rails.
But at the same time, it is endearingly weird, in a way you can't help but admire.
This is not the WWE 2K rival many assumed it would be. Instead, like its real-life counterpart, AEW: Fight Forever aims for something different. At times, it feels wild and cheesy, and strange art choices make it an uncanny experience. But equally, it embraces this cheese, elevating its action and storytelling with a welcome silliness.
Confidence is key – and AEW: Fight Forever just about gets away with being the quirky, odd duck in the world of serious wrestling games.
Three Stars: ★★★
AEW: Fight Forever
Platforms: PlayStation 4, PlayStation 5, Xbox One, Xbox Series X/S, PC, Nintendo Switch
Developer: Yuke's
Publisher: THQ Nordic
Release Date: 29 June 2023
The PS5 version of AEW: Fight Forever was provided and played for the purposes of this review. GamesHub has affiliate partnerships. These do not influence editorial content. GamesHub may earn a small percentage of commission for products purchased via affiliate links.