Avatar: Frontiers of Pandora is an ambitious first-person adventure game with lofty goals to expand Disney's beloved Avatar universe. As creator James Cameron made clear in a recent Ubisoft media event, the upcoming game isn't a solo work, but rather a deep collaboration between studios. The game features distinct ties to the narrative of the Avatar films, and is a 'canon' story that reveals more about the Na'vi world.
During the Frontiers of Pandora preview, and at Ubisoft Forward 2023, the breadth of its narrative was revealed – including its place in the Avatar universe, and how it bridges the gap between the original Avatar and its sequel, The Way of Water.
Charting a course
In Frontiers of Pandora, you embody a young Na'vi warrior who is abducted from their clan by the morally corrupt Resources Development Administration (RDA) in the year 2138, and raised with human culture, weaponry, and beliefs. Your Na'vi – who can be fully customised – is trained to fight with human weapons, like assault rifles and rocket launchers, and to defend the RDA as they go about destroying the natural world of the Na'vi.
Read: Prince of Persia: The Lost Crown – Preview
But in 2154 their world is shaken – as The Battle of the Hallelujah Mountains, depicted in The Way of Water, forces the RDA to retreat. Rather than being dispatched as a shameful warrior for the RDA, your Na'vi is spared and put into cryosleep for many years.
Then comes the fateful and mysterious events of 2169, when your Na'vi is awoken in the strange and unfamiliar landscape of the Western Frontier, a previously unseen location in Avatar lore.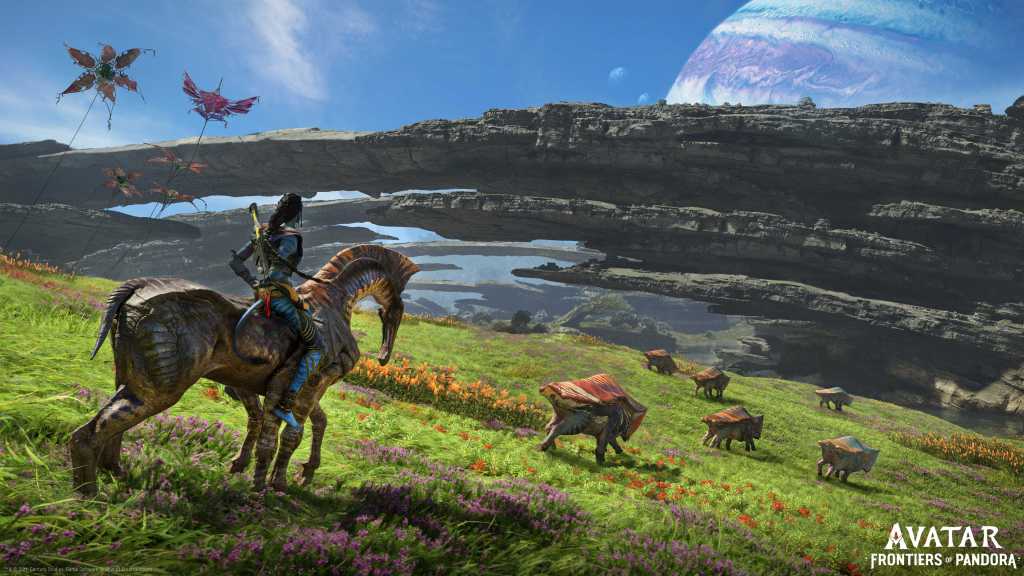 This world is wild and filled with danger – and as you reopen your eyes for the first time, you'll need to shed your human origins and learn to embrace the culture and weaponry of the Na'vi, reclaiming your heritage. As you discover new regions, from the upper plains with its lush fields, to further west where you'll discover a mysterious, clouded forest, you'll also learn more about your past, and reconnect to the natural world through Na'vi flora and fauna – including your own Ikran companion, who can take you to the skies and beyond.
With your Ikran by your side, and an open world at your fingertips, revenge burns in your mind. This leads you to a destructive path, with the RDA in your firing line as you grasp new weaponry and head off to save Pandora from the company's polluting influence.
Notably, this goal can also be taken on in two-player co-op, with the adventure completely playable solo or with an equally revenge-hungry friend.
A co-created world
During the Ubisoft event, GamesHub got a deep look at the upcoming game, led by Magnus Jensen, creative director of Avatar: Frontiers of Pandora. In our interview, Jensen spoke highly of working with Disney on a collaborative process that allowed Ubisoft to flesh out Cameron's world.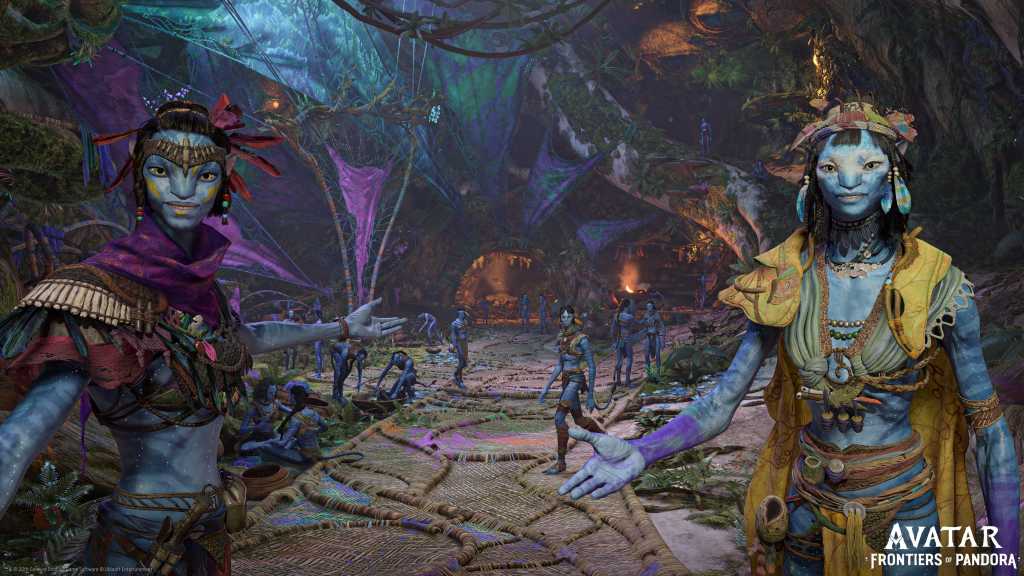 'It's a co-creation,' Jensen said. 'We have lots of meetings every week, throughout all over the world – from Lightstorm Entertainment in Los Angeles, from the filmmakers when they were in New Zealand, and really the process works in some different ways.'
'Sometimes there's this cool design, or a cool animal, or a piece of flora that they created for the movie but they never get used – so they're like "hey I know you're looking for this, [or] what about this one?" and then we get something from the art directors … Often, when it comes to us making a game, we have a specific gameplay need …. Sometimes it's a dangerous "plantimal" – a plant animal – and then we present it, and we present the need, maybe we have an idea of how it would look, and they say "okay, cool".'
Following this process, the Ubisoft team would get feedback from all parties, with these designs and ideas then iterated and adapted to better fit the world of Avatar.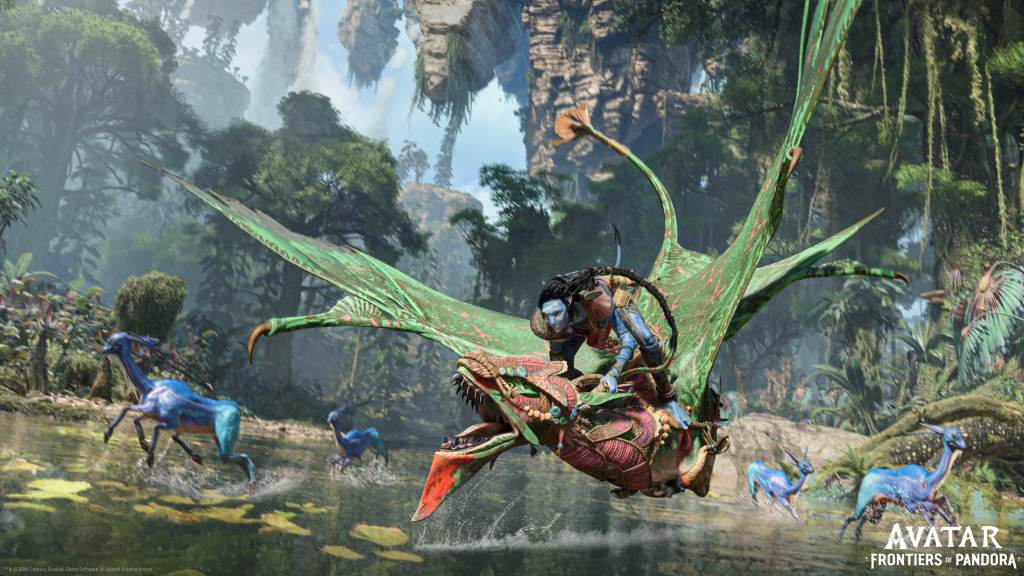 The team collaborates with the production designers and art directors of the film universe on a weekly basis, with both working on the ultimate goal of creating a game that lives up to the phenomenal legacy of the Avatar franchise. 'Lightstorm expects and encourages us to do it to the quality, as if it would be in the movies – and therefore it goes right into the world of Avatar,' Jensen said. 'It goes into the lore, it becomes canon.'
Read: Assassin's Creed Mirage is a callback to an iconic era
That contributes to pressure on the team – but it's a welcome pressure embraced by Ubisoft, according to Jensen. 'The best practice when it comes to any license is not to retread exactly the events of the movie or book, but to do something in the world, and in the spirit, for the fans – but a new adventure, new discoveries, a new sense of awe.'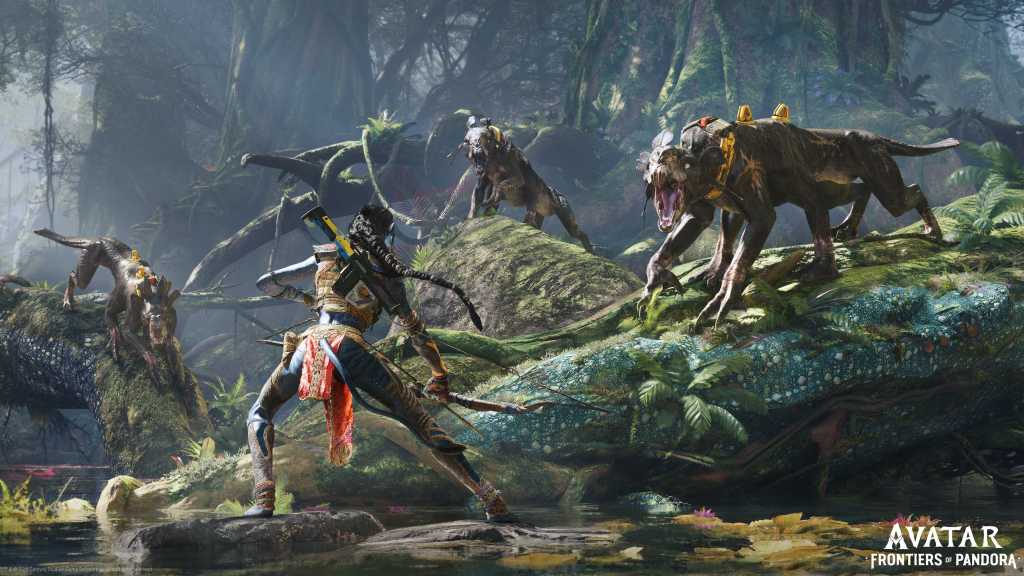 'In terms of audio-visual spectacle, Avatar is right up there. For us to try to be at that level of groundbreaking, and the best, on the video game side, that's what drives us every day,' Jensen said. 'With the Snowdrop engine, and with the team, and with the new generation of consoles, to really push things to the limit on immersion.'
'Immersion is the sense of "it's almost real". It's what the technology allowed Pandora to be, and all of the creation of the design, and the quality of the design.'
This desire to create a high level of immersion, and invite players into the world of Avatar in a tangible way led to the decision to develop Frontiers of Pandora as a first-person adventure. Early footage of the game has revealed what seems like a Far Cry-like experience, with players exploring a massive world, wide-eyed and in the driver's seat of the action.
'I'm a big fan of the [first person] perspective,' Jensen said. 'From the very start, we all agreed – this is a game that allows you to go to Pandora, to step through the silver screen and interact with Pandora, look at it from any angle and smell it, and touch it … to go up to something as close as you possibly can, your hands reaching out, and you being there as close as possible. It's an escapism immersion vehicle.'
Pitstop to ambition
While several delays have hit Avatar: Frontiers of Pandora in the lead-up to its release, Jensen believes this can only be a good thing – as it has allowed the team to bulk out and polish the game's world, and strengthen its connection to the Avatar universe.
'Everything is about quality,' Jensen said of the game's delay. 'Whenever we take a decision, the decision is always made on quality. From the start, with Livestorm and Disney, everybody is in full agreement – the same reason why [we said] "let's do an original story, let's do an original cast, let's do an original region" – it's all about pushing for quality.'
'Quality takes the time that it takes, and we're going for the best. The best visuals, the best story, and the most fantastic journey that we can.'
Players will finally be able to see the scope of these ambitions when Avatar: Frontiers of Pandora launches for PlayStation 5, Xbox Series X/S and PC on 7 December 2023.
GamesHub travelled to Los Angeles, United States as a guest of Ubisoft to attend preview showcases and hold interviews with Ubisoft developers.