There was a time when the humble Tamagotchi ruled the discourse. It dominated advertising on prime-time television. Tamagotchi toys and devices were featured in McDonald's Happy Meals, and merchandise could be found on Target and Kmart store shelves by the truckload. Their influence and power was so felt on the school playground that many institutions had to ban them outright, forcing kids to sneak feeding sessions away from watchful eyes, lest their companion Tamagotchi die from hunger.
We're a long way from those days now – and in an era dominated by function-rich smartphones with easily accessible mobile games and apps, the humble Tamagotchi no longer has novelty. Yet with the release of the Tamagotchi Uni, Bandai Toys has done something surprising. It's managed to update the Tamagotchi in a way that feels relevant and desirable for modern audiences.
You'll still spend your days looking after your virtual pet by feeding, petting, and playing with it, but the Tamagotchi Uni goes far beyond the basics for a rewarding pet simulator filled with engaging activities, and strong reasons to keep playing.
Across the Tamaverse
Each generation of Tamagotchi tends to have a feature 'hook' – being able to go to work (Version 4), being able to take photographs (Pix), being able to have a pop career (Music Star), or having special unlockable games (TamaTown Tama-Go).
The Tamagotchi Uni's hook is its internet functionality – via a new hub known as the Tamaverse. This realm allows players to connect with others online, take part in co-op or competitive games, and even receive downloadable updates. While these features are not new to the Tamagotchi franchise – they originally appeared in the browser-based TamaTown interactive website – it's the first time they've been native and accessible on a Tamagotchi unit.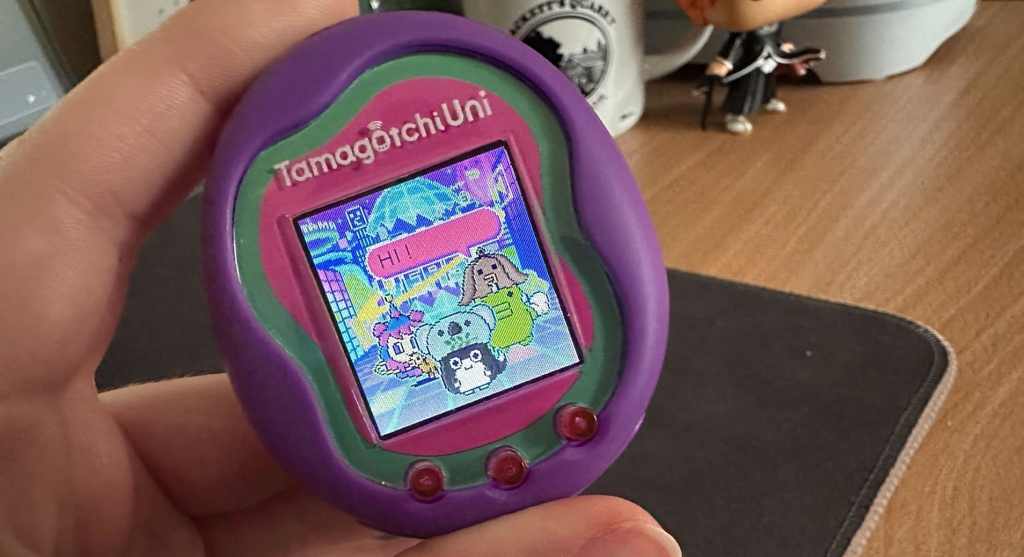 The Tamaverse is a delight. When you go online, you can meet a variety of other Tamagotchis – whose blanket greetings are delivered in their native tongue – and take part in a variety of activities together. There's a new clothing shop, where you can purchase curated looks from your fellow Tamagotchi users, or upload your own for everyone to rock.
You can also go on tours with these Tamagotchis – to far-off places like stand-ins for Italy, Norway, and beyond. Each tour gives you a worthy souvenir, which you can use to decorate your home or entertain your Tamagotchi.
An arena in the Tamaverse also allows you to play mini-games with or against your fellow Tamagotchis, racking up high scores for Gotchi points – which can be invested back into your home palace.
Once you've got an adult Tamagotchi, they can also head to the 'Party' section of the Tamaverse. Here, players can ensure their Tamagotchi generation continues without the need for a matchmaker, or a friend with another Tamagotchi. In the Party room, your adult Tamagotchis can meet a friend, and instantly propose to get married and have a child. Once the process is complete, an egg is born, and you can start your Tamagotchi journey from scratch, maintaining every item and upgrade you've earned in gameplay so far.
For anyone who remembers scrambling for a mate or the matchmaker in the original Tamagotchi generations, it's an incredibly useful feature – and one that means you can build your Tamagotchi legacy as you like, without the fear of a lonely death clipping at your heels.
Learning lessons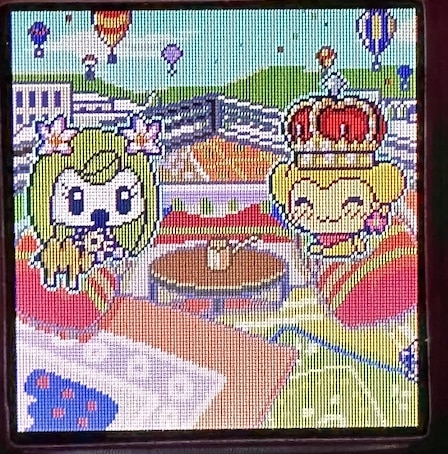 The Tamagotchi Uni sports multiple decades of improvements, to the point where it feels like the perfect culmination of what the Tamagotchi has always aimed to be – a pet simulator that fosters a bond between players, and ensures a sense of responsible ownership.
While past Tamagotchi devices featured throwaway relationships – you could easily get away with stuffing your Tamagotchi, cleaning its poop, and leaving it to wander a blank digital world – the Tamagotchi Uni encourages more meaning in these relationships. You also gain achievement medals for major milestones, which makes raising your Tamagotchi feel like an enjoyable game-within-a-game.
Happiness is no longer only about feeding your pets. It's about playing mini-games with them (dancing, playing a version of Diner Dash, or taking part in reflex-based photography). It's about ensuring they're heathy, and that their diet is mixed. It's about taking them into the Tamaverse, having them socialise with friends. Purchasing toys for them, and having them love those toys. Happiness is complicated, and it requires player investment.
Tamagotchis now also have unique, individual personalities (and appearances) to compliment this feature. You can't just give them any toy and hope for the best. As a player, you need to purchase an array of toys, and try out each to find a favourite. One Tamagotchi might like the Fossil set. Another Tamagotchi will refuse to play with it, and throw their accessories to the ground when they're not happy with what you've given them.
One Tamagotchi might like a cereal treat. Another will find it boring. You can order Home Delivery meals to treat your Tamagotchi, spending your hard-earned Gotchi to ensure they remain happy and alive.
It's these quirks that make the gameplay loop of the Tamagotchi Uni feel like a major leap up from its predecessors. The device encourages experimentation, and greatly expands the franchise's pet rearing features. It feels like these are also backed with a greater logic, and far more accessibility than in past Tamagotchi iterations.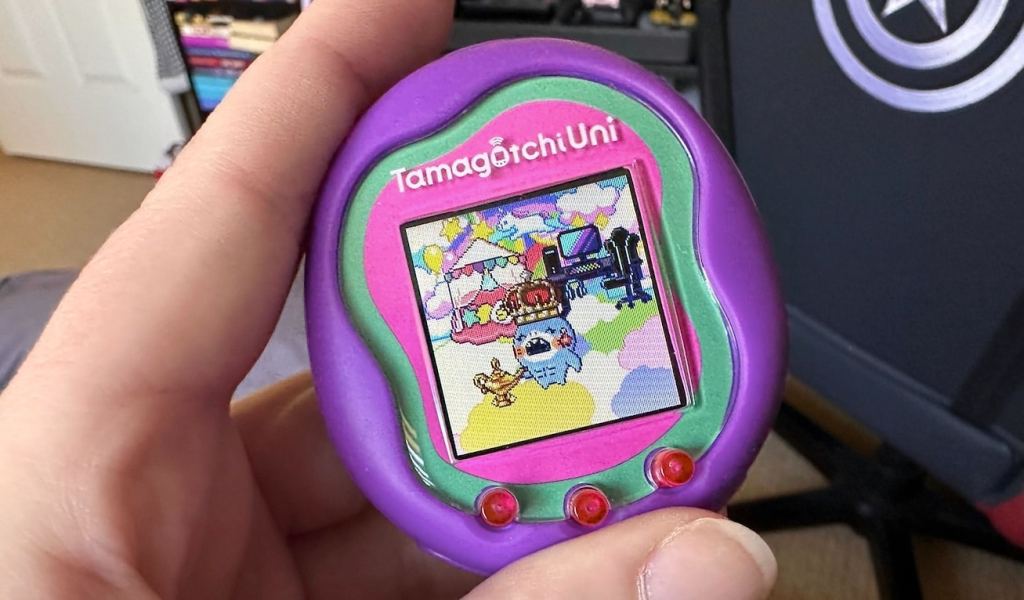 Gotchi points are now more fun to earn, with a variety of colourful mini-games that are moreish and simple to play. With enough cash, you can treat your pal to a variety of new items, each of which have unique interactions – special animations, and the potential for them to become favourites.
MTV Cribs: Tamagotchi Edition
Items aren't just functional anymore, either. They can be used to decorate your Tamagotchi's home, which includes multiple rooms (living, bedroom, kitchen, bathroom, outdoors). Earning enough Gotchi points will help you unlock new wallpapers, and purchase items that can be placed in the background of your home.
Two generations in, my Tamagotchi had a 'gamerfied' bachelor pad complete with a gamer chair, computer, and a rainbow tent for relaxing. Later, a random event saw a magic lamp delivered to my home (there's a very angry genie inside, but give it snacks and you'll be friends) and that wound up being part of the furnishings.
Beyond forming a relationship with your Tamagotchi, this customisation aspect is another driving factor behind the Tamagotchi Uni's sense of engagement. You want better for your little pet, and to see it thrive in fresh, colourful environments, with new and better items earnable with every generation.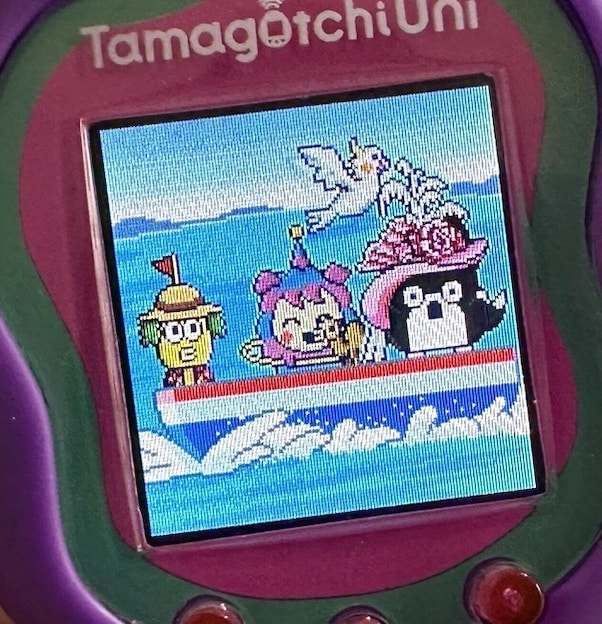 The whole experience is brought to life well by the device's snazzy colour screen, which is the brightest and most impressive-looking Tamagotchi display yet (it's also rechargeable via USB-C, and the device battery lasts around 1.5 weeks).
The detail included in the Uni's pixel artwork is gorgeous, and every animation is smooth and delightful – whether you're jumping on a trampoline or visiting the aforementioned genie.
Shedding nostalgia
It's staggering to see how far Tamagotchi has evolved since the first device launched in 1996 (and not just in terms of cost – the Tamagotchi Uni is priced at AUD $129.95 in Australia).
With modern features like a mini-metaverse, cosmetic decorations, and reward-based achievements, the Tamagotchi Uni introduces a whole new era for the beloved devices – one that rarely relies on nostalgia.
In many ways, the Tamagotchi Uni feels like a torch passing.
Its familiarity will appeal to older generations. But in introducing a fresh new Tamaverse and pushing its sense of connectivity into the online world, the Uni also feels like a perfect introduction for a brand new, eager generation of players.
Five stars: ★★★★★
Tamagotchi Uni
Publisher: Bandai Toys
Release Date: 15 July 2023
Price: AU $129.95 | US $59.99 | £69.99
Where To Buy: Amazon
Tamagotchi Uni
Buy Now
GamesHub has affiliate partnerships. These do not influence editorial content. GamesHub may earn a small percentage of commission for products purchased via affiliate links.
09/25/2023 11:28 am GMT
A Tamagotchi Uni device was provided and played with for the purposes of this review. GamesHub has affiliate partnerships. These do not influence editorial content. GamesHub may earn a small percentage of commission for products purchased via affiliate links.