Nintendo has shared a dense, detailed look at The Legend of Zelda: Tears of the Kingdom, the sequel to the acclaimed Nintendo Switch launch title, The Legend of Zelda: Breath of the Wild. In a 13-minute gameplay demonstration, series producer Eiji Aonuma played through the game, and showcased the new open world, several new abilities, and a special edition Nintendo Switch console.
Read: The Legend of Zelda: Tears of the Kingdom preview – Boundless potential
The demo began with protagonist Link, now sporting lusciously long hair, riding through the familiar setting of Hyrule on his horse. Aounuma explained that Hyrule has changed, with several floating islands now populating the skies above. From here, several new things were showcased.
---
---
---
New ability: Recall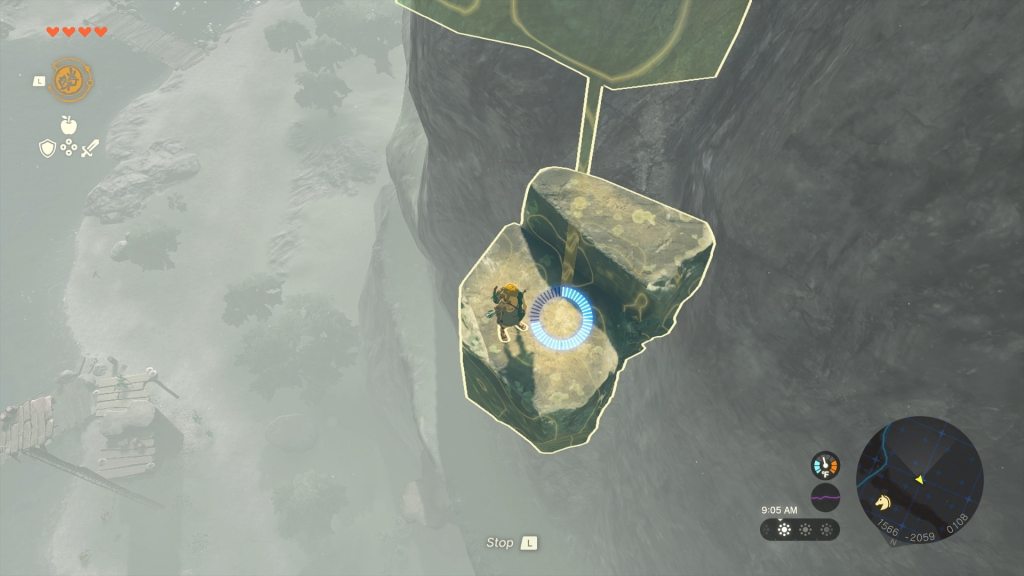 As a meteor falls from the sky, Aonuma navigates Link towards it, and climbs on top. Aonuma then demonstrates one of Link's new abilities, Recall, and upon using Recall on the meteor, it rewinds the trajectory of the meteor and returns it the sky, with Link in tow. From there, Link can use his paraglider to reach some nearby Sky Islands. Aonuma explained that there were quite a few ways to reach the Sky Islands, not just with Recall.
---
New enemy: Construct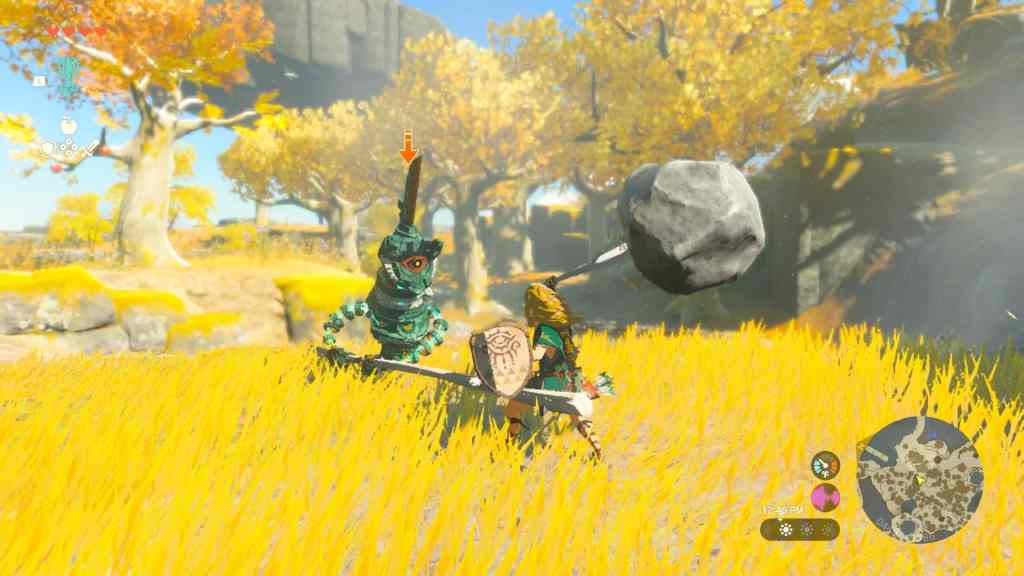 While exploring one of the Sky Islands, Link encounters a new enemy for Tears of the Kingdom, called a Construct. It's stone being held together by an ethereal force. Link fights the construct with a tree branch and it breaks, showing that the controversial weapon degradation from Breath of the Wild exists in the sequel. Which is a good thing.
---
New ability: Fuse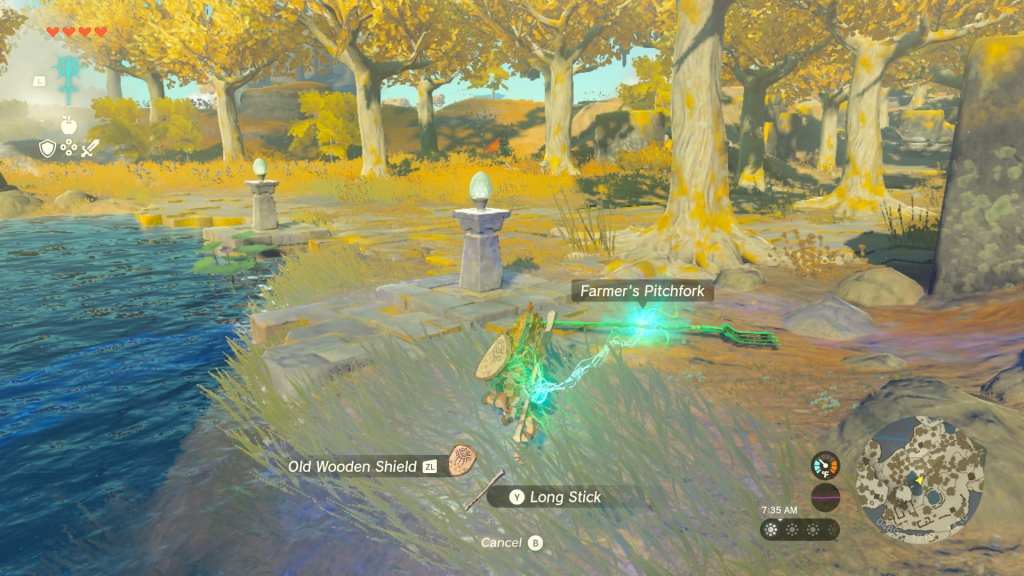 However, Aonuma then demonstrates another one of Link's new abilities: Fuse, which does what you'd expect. In the demo, Aonuma fused a badly-damaged branch with a nearby boulder, which revitalised the weapon and created a more durable makeshift hammer.
In another example, Aonuma fused a long stick with a pitchfork, creating an extra-long weapon with great reach. Aonuma also explained that you can fuse various materials with arrows, which give them a variety of effects, like freezing an enemy, or creating a homing arrow.
In a final Fuse example, Aonuma fused a special mushroom to Link's shield. When an enemy attacked, it caused a cloud of smoke to appear, concealing Link from view, and allowing him to perform a critical sneak attack from behind.
Aonuma described the Fuse ability as being very useful for people who might have difficulty with action games, allowing enemies to be defeated with ingenuity.
However, enemies can also be equipped with fused weapons, and will also be able to take advantage of their unique traits. Later on in the demo, Link comes across a Construct with a fan-like weapon, which it uses to blow Link completely off a Sky Island and plummet down to the surface.
---
New ability: Ultrahand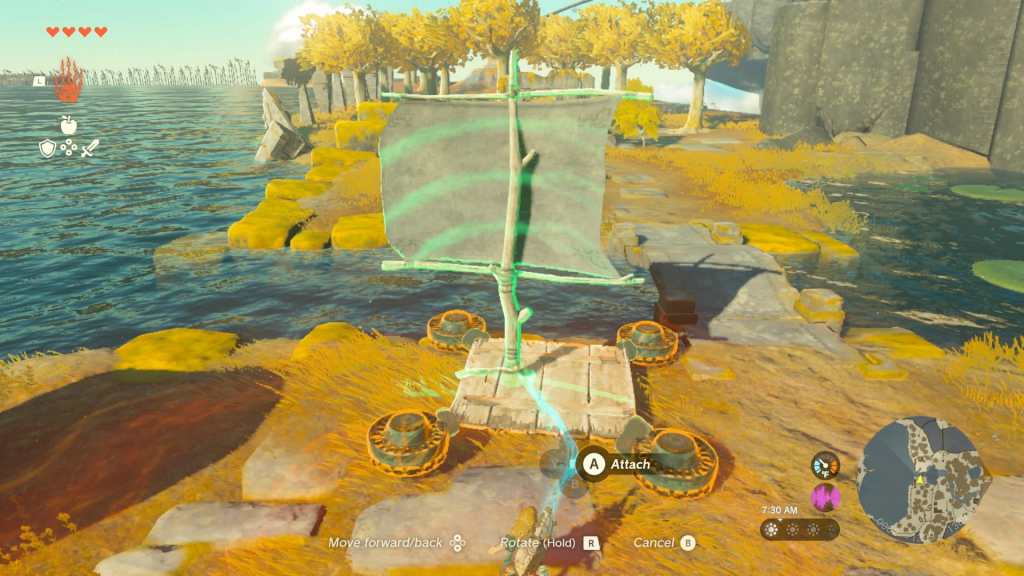 Next Aonuma demonstrated another Fuse-like ability called Ultrahand, which appears to glue objects together. He used the ability to construct a raft out of some big logs, pick them up as a group, and drop them in water. He also attached a couple of fans (fashioned like ancient technological objects) in order to propel it forward at speed.
Aonuma showed a few more examples of vehicles players will be able to cobble together, including a makeshift car and a flying boat.
---
New ability: Ascend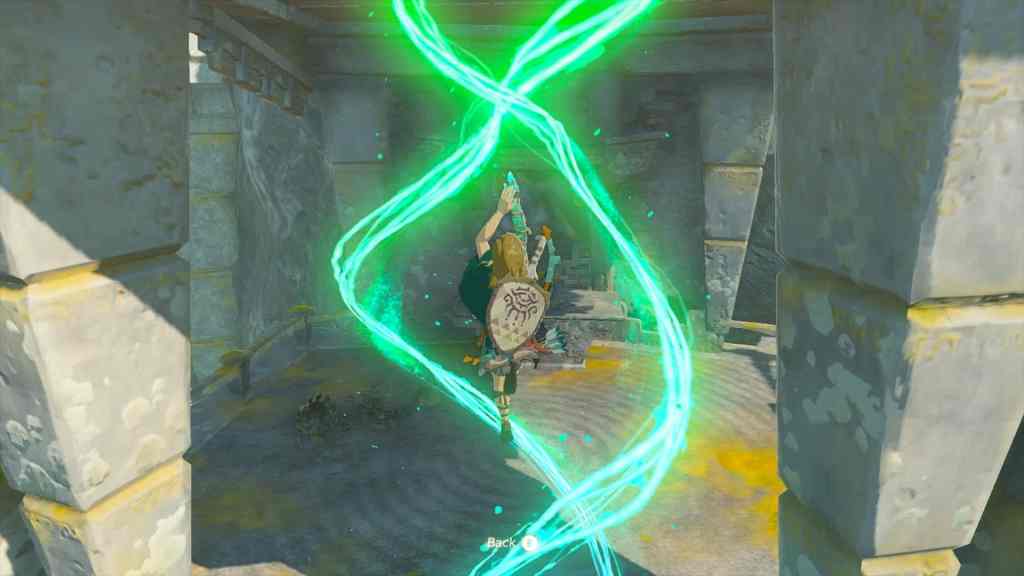 The next ability demonstrated was also related to traversal. Called Ascend, it allows Link to launch himself into a ceiling, and come out on the floor above – which will naturally be pretty handy in a game revolving around verticality.
Aonuma even demonstrated going into a cave, and using the ability to very quickly reposition Link to the top of a mountain.
---
Nintendo Switch OLED Model – The Legend of Zelda: Tears of the Kingdom Edition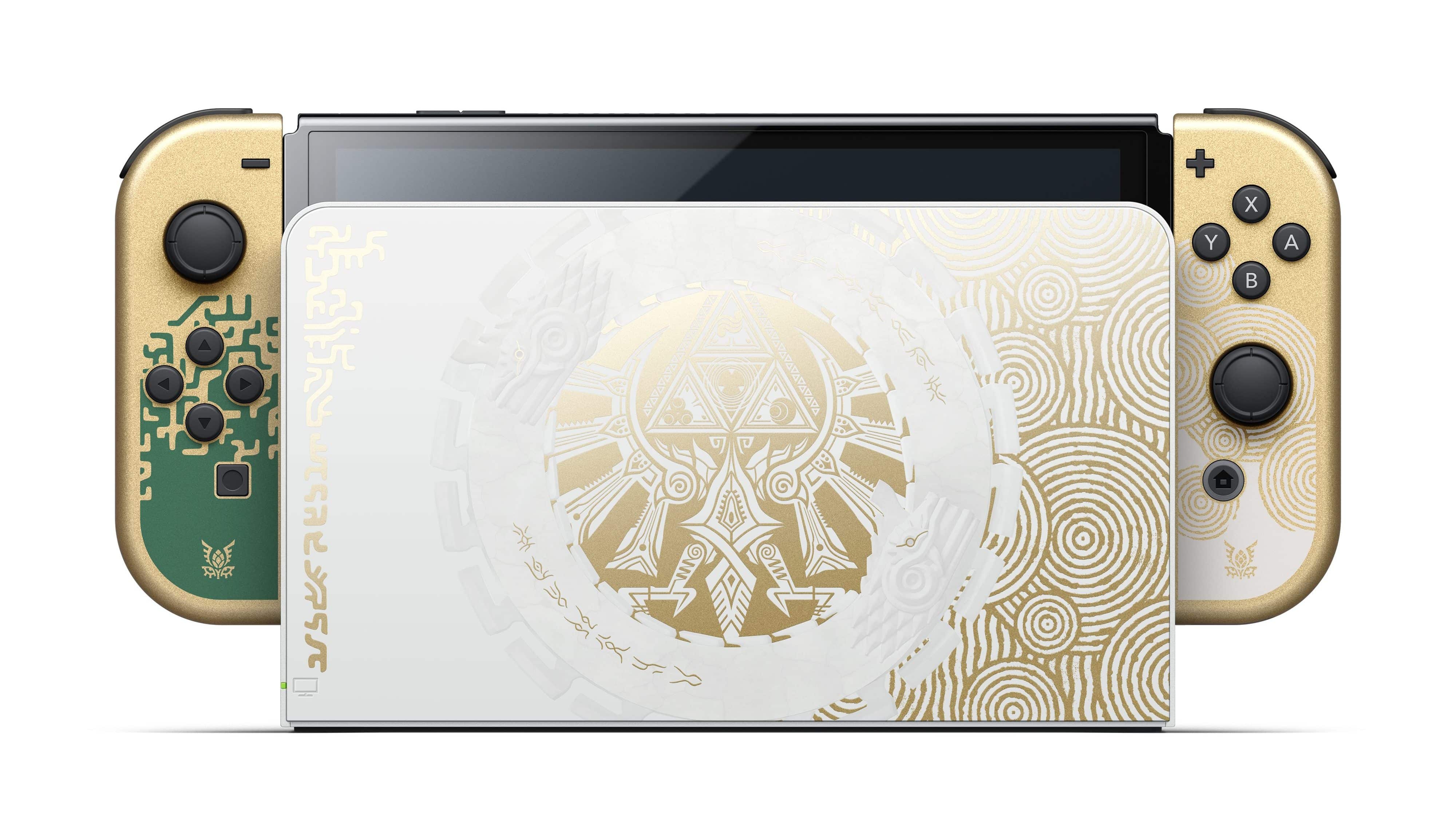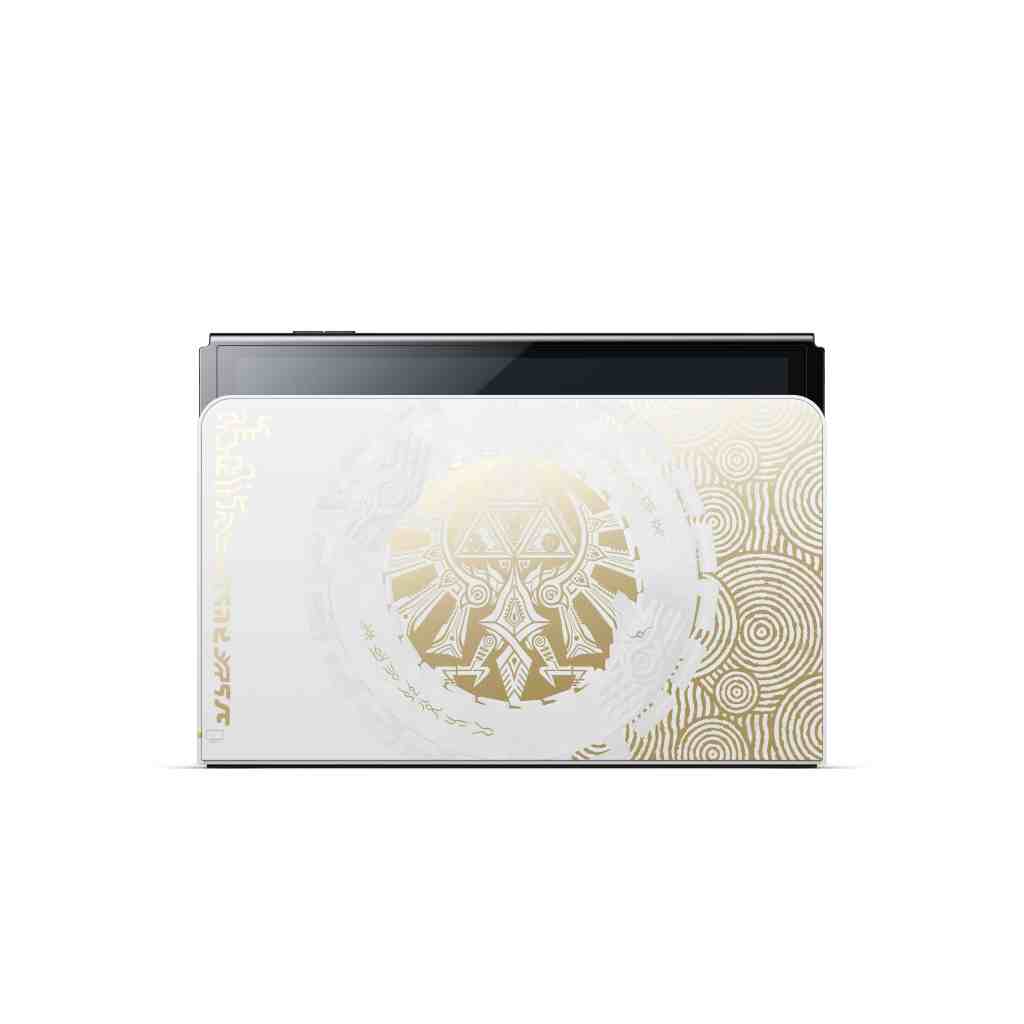 At the end of the presentation, Nintendo revealed a new, Tears of the Kingdom-themed Nintendo Switch OLED console, whose dock and Joy-Cons are adorned with special designs.
This special edition of the console will be available on 28 April 2023
---
Nintendo Switch Pro Controller and Switch Carrying Case: The Legend of Zelda: Tears of the Kingdom Edition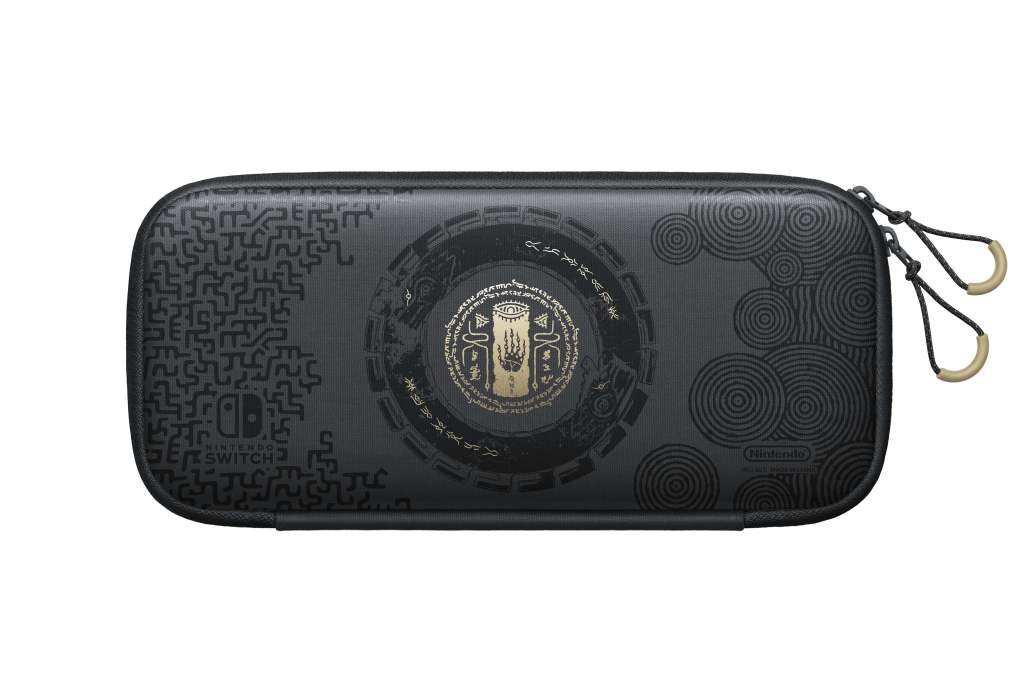 Additionaly, a special edition Nintendo Switch Pro Controller and Nintendo Switch console carrying case, which adopt similar designs to the console, were also revealed.
These accessories will be made available on 12 May 2023.
---
The Legend of Zelda: Tears of the Kingdom release date
The Legend of Zelda: Tears of the Kingdom will be released on Nintendo Switch on 15 May 2022
---