There was a time not so long ago when having a female protagonist in a video game was unheard of. With an assumed audience base of young preteen males, the early world of video games was one largely populated by non-humanoid characters, or the default 'action man' hero. It was only, in part, thanks to the work of newly-found pioneer developer Van Mai that women were finally able to lead their own video game adventures.
Mai was the developer behind Wabbit, an Atari VCS game widely regarded to be the first console game to star a named, playable female character in the lead role. While the adventure is simple – it stars a girl named Billie Sue defending her carrot patch from evil rabbits – it represent an important milestone in gaming.
While Metroid and Ms. Pac-Man are often credited with popularising female game protagonists, Wabbit went a long way in taking the first step towards normalising women as protagonists, players, and programmers.
In 2021, Polygon attempted to track down Van Mai to celebrate her achievements – but it wasn't until 2022 that she was found, due to the assets and information of Wabbit developer Apollo largely being lost, and her name being misspelled by colleagues. (Van Mai is also the developer's married name – she previously went by Van Tran.)
Video game history also tends to be poorly preserved, particularly in the case of early games – but with a hefty amount of sleuthing work, Mai was tracked via bankruptcy records. Now, a mini-documentary created by the Video Game History Foundation (VGHF) is sharing her story.
Read: Celebrating women in games gives hope for the future
So the story goes, Van Mai learned to program via night classes after she dropped out of high school. As a refugee from the Vietnam War living in the United States, the language barrier was difficult for her to surmount – but she soon found aptitude with coding language and computers, according to the VGHF documentary.
She started off working with BASIC in her local school district, and later stumbled onto a job ad looking for an experienced programmer to work on video games for developer Apollo. Van Mai reportedly impressed interviewers by coming up with an intense concept for a video game on the fly.
'It was an extremely intense concept and made Night Trap look like a bedtime story for kids, but it was 20 years ahead of its time and way too intense for the VCS [console],' Dan Oliver, programmer at Apollo told the VGHF.
Despite not being a 'typical nerd' as Apollo management reportedly expected, Mai quickly became an integral part of the team, and reportedly pitched Wabbit early on, as a video game that was designed for little girls.
'Everything was up to me,' Mai told the VGHF. 'I designed it … all the animation, and all that. They seemed to like it a lot.' The intense limitations of the console meant that sacrifices to certain features were made – but Mai remains proud of the work she did.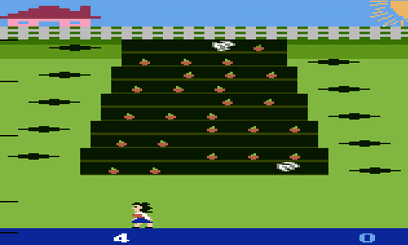 '[Wabbit] taught me how to write compact code, how to write good code,' Mai said. 'Later on, when I went to university, they didn't care much about RAM or computer space. They had plenty. I think I'm a pretty good coder because of that – because in the beginning, there [wasn't] much room to write your logic.'
Beyond being an important game that was designed for little girls in a time when they weren't the primary audience of gaming, Wabbit is also noted as being pioneering for featuring multiple, bright-coloured sprites.
In the 1980s era, sprites were typically single-colour due to limited hardware. Billie Sue, however, contained five unique shades, which made up her hair, skin, shirt and skirt. For that, she was an important creation – although what she represents is equally notable.
'I remember my nieces went into the mall, and they would ask them, "Do you have Wabbit game here?" and they said it sold out!' Mai explained. 'My mum was proud of me.'
Beyond speaking to the quality of the game, this also speaks to its overall impact on the industry. With so few games produced for little girls, titles like Wabbit were likely in high demand. Representation breeds inspiration and courage – and while the value of Mai's work can't be measured, its impact should be well understood.
While Van Mai's name was lost due to the eventual bankruptcy and closure of Apollo, her contributions to the modern video games industry should be remembered. The VGHF documentary is well worth watching to learn more about Van Mai and her work, as well as how Apollo helped to forge a more inclusive games industry for everyone.