The Sims 4 is introducing horses in its latest DLC expansion pack, known as Horse Ranch. While the pack has yet to be officially announced, details appear to have leaked via Steam, with a full pack description and screenshots now available online.
EA and Maxis are gearing up for an official reveal, likely with a formal trailer and new details, per Twitter, but Steam has inadvertently revealed a lot about the upcoming pack, and what keen players can expect from their new horse companions.
Per the game's leaked Steam listing, shared via SimsCommunity, The Sims 4 Horse Ranch will launch on 20 July 2023 for PC, Mac, Xbox, and PlayStation. It'll add in horses as family pets, as well as sheep and other ranch animals which can be housed in fully-customisable ranches.
'Work hard and play hard with animal friends and your own stretch of land in The Sims 4 Horse Ranch Expansion Pack,' the game's description reads. 'Raise, train, and form special bonds with majestic horses that are customisable members of your family. You can also care for mini sheep and mini goats, or make a living selling homemade Nectar. Carve out your own unique life on the ranch.'
Read: The best Sims 4 expansion packs for beginners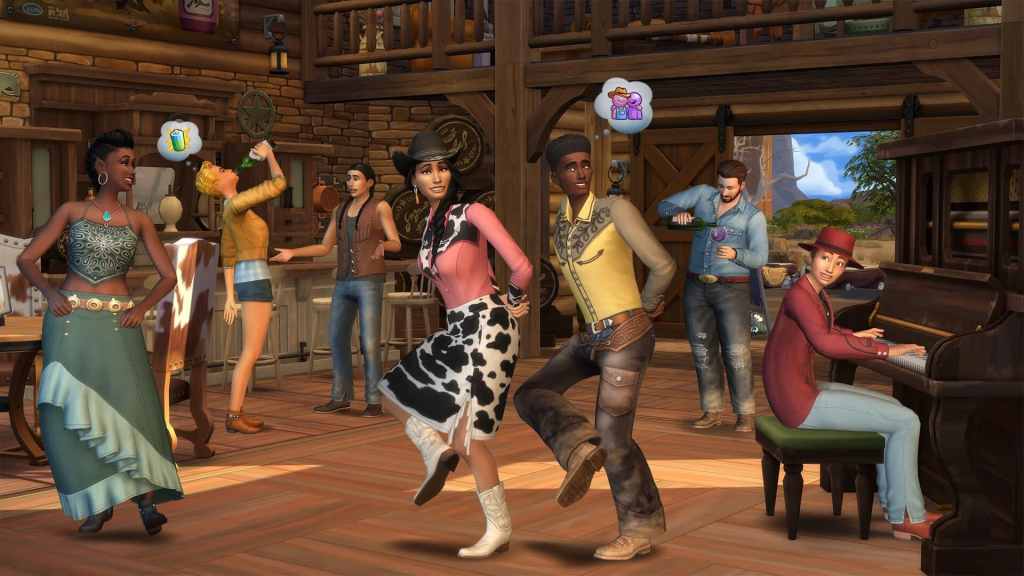 The Sims 4 Horse Ranch: Features
Here's a brief rundown of the major features, per Steam:
Make A Life: 'Get up early in the morning, look out at the big open countryside, and know that all your work is worth it. Spend your days keeping your animals happy and clean, harvesting Prairie Grass to feed them, collecting Horse Manure to fertilise your plants, and making your own Nectar to sell.'
Bond With Animals: 'Fill your ranch with animal friends and carve out a life together. Your horses – including adorable foals – are part of your household and have lots of special interactions with both Sims and other horses. You can also care for mini goats and mini sheep, and invite neighbours to come see how cute they are.'
Join A Thriving Community: 'Living on a ranch has its moments of peace and solitude, but there's also a lively social scene. Your Sims can go into town to meet friends at the bar, blow off steam at the dance hall, or train at the equestrian park. They can also host events like cookouts and dances on their own property, and hire a ranch hand to help when the work builds up.'
Raise Horses: 'Horses are part of the family. Customize hoofed friends in Create a Sim, or get new horses by rescuing or purchasing them. Foals can also be born on your ranch. Sims can learn the Riding skill, and horses can train in the Agility and Jumping skills. Skilled horses and riders can even win awards at the equestrian center.'
Anyone who orders the expansion pack before 31 August 2023 will also gain access to a special Rockin' Rancher pack, which includes 'a resonator guitar, wagon wheel art, and rusting rocking chair'.
There's a lot to love about this expansion pack theme. Being able to raise horses for competition is a great new challenge, and the addition of a customisable ranch means you'll be able to build out new homes for your Sims, and live out all your Saddle Club dreams.
The ranch and western-themed objects and clothing also look extremely fun and lively. They should add a sense of personality to Horse Ranch, and make life on the range feel far different from everyday Sims living.
For now, EA and Maxis are holding back on an official reveal for the pack – but we can expect to see more in the coming days, as new information drops. Stay tuned for more about the latest expansion pack for The Sims 4.