We live in an era of overexposure. The news relays constant stories of disaster, from places we have never been, people we have never met, and situations that hardly feel real. Sometimes, these issues can feel utterly intangible — even more abstract is the idea that we could have responsibility over them. But what if you could actually walk a mile in someone else's shoes?
This was the goal that VR piece, Night Becomes Day, set out to achieve. Slated to premiere at Thessaloniki Documentary Festival, the eight-minute feature provides an immersive, impressionistic experience of the lives of teenager Sohail Haqyar, musician Ali Al Suwani and artist Nakam as they work with human rights worker and occupational therapist, Theo Bogeas, to pursue their aspirations in Athens.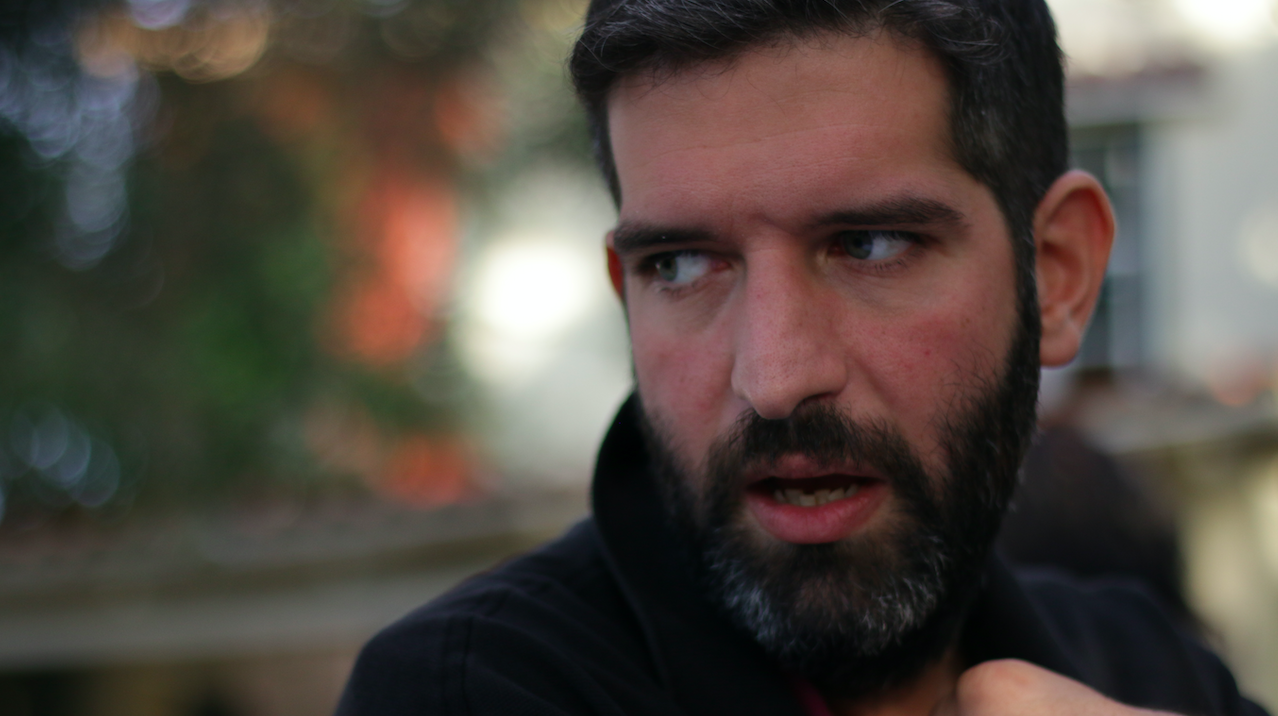 Associate producer and occupational therapist Theo Bogeas features in the film. Image supplied.


For producer Judith Hewitson, virtual reality is a valuable way to add depth and emotional resonance to a simple, but important, story of our times. 'With this immersive technology and 180-degree content, we're really putting our audience into the shoes and relationships of people who are seeking asylum', Ms Hewitson said.
'It's an incredibly powerful approach and I'm very pleased that we've been able to work with Director Daniel Bury [who previously worked on VR experiences including documentary series Chasing the World, and Google XR jam winner, Appease the Gods] to share this with audiences.'
The film is intended to inspire empathy for refugees in audiences worldwide, but it is also being used as a tool for aspiring occupational therapists. It gives viewers a more realistic view of the work and relationships that a therapist develops while working in vulnerable communities, and gives a realistic sense of the work that goes into the role.
VR is an increasingly popular training tool in the workplace. It has the capability to position the the user as an active participant in a training situation, rather than a passive viewer.
Curtin University recently began using a VR 'serious game' (a term denoting a game that is designed for non-recreational purposes, like training, education, or physical rehabilitation) called Virtual Home. The game mimics the experience of visiting an elderly person in their home. It's intended for use by students and trainee care workers. While playing Virtual Home, a user will chat will characters to understand the social setting, identify potential hazards, and then formulate a care plan that will allow the old person to stay at home. In this case, the use of VR allows an environment where students can explore, ask questions, and face the same issues they would face in an actual care situation, with none of the risks if they make mistakes.
While using a virtual reality headset may still feel alien to some, there is already a significant uptake in these technologies in training and support programs, where they can be used to mimic learning experiences that would otherwise be too expensive, too high-risk, or otherwise impractical to provide to students and trainees. As the cost of the technologies decreases and the usability and availability increases, we are likely to continue seeing them in wider use as a part of training and support programs worldwide.
Night Becomes Day had its World Premiere 5 to 15 March at Thessaloniki Documentary Festival in Greece. It will screen at film festivals in 2020 and available for humanitarian organisations to shift attitudes in the community.