Samsung has revealed what it purports to be the world's first dual-4K monitor as part of Gamescom 2023 – the latest in its Odyssey gaming display line, the Odyssey Neo G9.
The high-end monitor features an enormous 57″, curved, 32:9 display ratio screen at a resolution of 7680×2160 – the equivalent of two 32″ 4K displays nested side-by-side. It's priced in a premium tier, of course, at AUD $3,199 / GBP £2,199. US pricing was unavailable at the time of writing.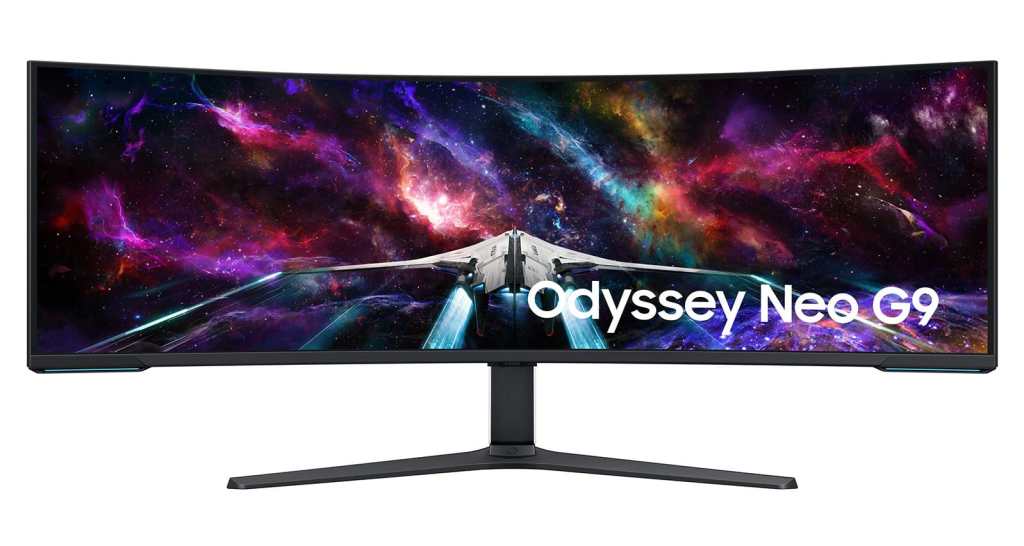 The Odyssey Neo G9 features a curvature of 1000R, which the company suggests is the optimal radius that best suits the curvature of the human eyeball. It uses Samsung's patented Neo QLED panel technology, and features all-important features including HDR1000 High Dynamic Range Technology (with a peak brightness of 1000nits), a refresh rate of 240hz paired with Freesync technology for handling high framerate games, and a standard response time of 1ms. It also features RGB lighting options, naturally, situated at the bottom corners and rear of the panel.
The Odyssey Neo G9 continues the ongoing trend of premium monitors seeking to replace multi-monitor setups, with curved ultra-wide screens and picture-in-picture capability. The Neo G9 complements other premium Odyssey products like the behemoth Odyssey Ark 55″ monitor, which is akin to having a television right in your face.
Despite the premium price tags, an Australian Samsung product representative remarked to GamesHub that the company was quite pleased with how the higher-end products in the Odyssey gaming range had sold. The brand has only existed for a few years, and "all-round enthusiasts" are the company's predominant purchasing market.
GamesHub had an opportunity to briefly preview the Neo G9 monitors in person at a recent media event. We were impressed by the image quality and curvature, which provided a lovely (if unnecessary) quality of additional ambience to games like Assassin's Creed: Valhalla and Far Cry 6.
However, it was hard not to directly compare the new monitor with the 49″ Odyssey OLED G9 situated right next to the Neo G9 at the event, which boasted a slicker design, a richer image quality by comparison due to the panel technology, as well as a faster 0.03ms response time. It comes at the cost of a wider screen curvature, and a sub-4K resolution of 5,120 x 1,440.
Pre-orders of the new 57″ Odyssey Neo G9 will be made available from 28 August 2023 via the official Samsung online store. Prospective purchasers who register their interest ahead of this time will be eligible to receive an undisclosed 'exclusive offer,' according to the company.