The acclaimed 2023 remake of Resident Evil 4 has finally introduced its first post-launch update, which adds the beloved action-packed game mode from the original game, 'The Mercenaries'. The game mode involves picking one of several characters for a time-limited score attack where you attempt to dispatch as many enemies as possible while staying alive.
However, it seems that with this update comes another surprise inclusion: new microtransactions.
All versions of Resident Evil 4 now have the option for players to purchase a 'Weapon Exclusive Upgrade Ticket' on each platform's respective digital storefront. The options include buying single tickets for US $3.00, three-packs for US $6.99, or a five-pack for US $9.99.
Read: Resident Evil 4 remake review: A horror classic revitalised
What are these microtransactions for?
In Resident Evil 4, each individual weapon available in the campaign has the ability to be gradually upgraded to become more powerful. Upon upgrading every facet of a weapon, you have the ability to unlock a 'Weapon Exclusive' upgrade that is unique to that particular weapon – such as a critical damage multiplier, or increased ammo capacity.
The Weapon Exclusive Upgrade Tickets allow you to bypass the need to upgrade the weapon completely, and instantly unlock the unique features of each weapon.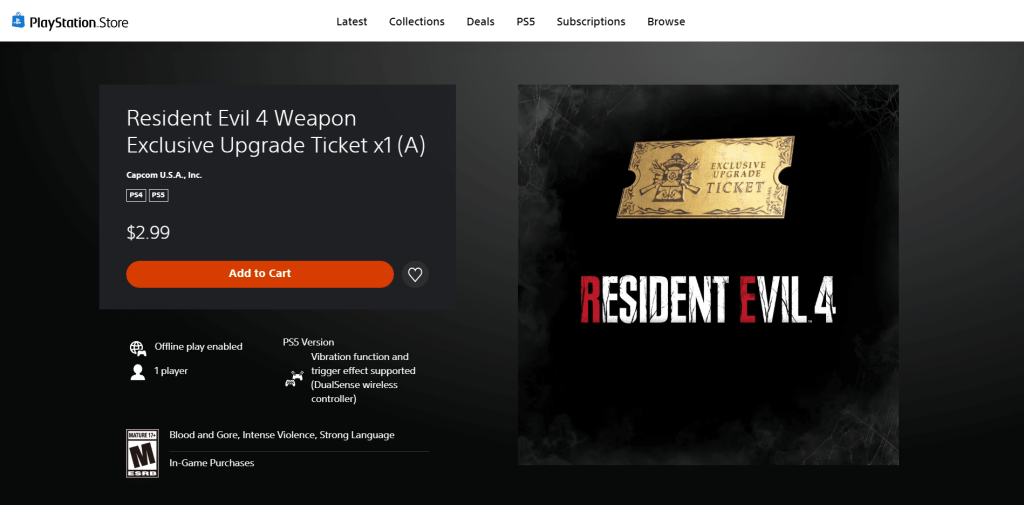 Weapon Exclusive Upgrade Tickets can also be earned in-game, by completing sidequests for the merchant, collecting a small stockpile of Spinels, and trading for them. These new microtransactions let you circumvent that system completely.
Altogether, there are 23 Weapon Exclusive Upgrade Tickets available for purchase on each platform's storefront, inclusive of individual tickets and bundles.
Why do these exist?
Capcom and Resident Evil are no strangers to additional purchases for their games. Resident Evil 4 launched with a selection of downloadable content packs available for purchase – though these mainly included a menu of alternate costumes and cosmetic items for the game, which were included with the Deluxe Edition of Resident Evil 4.
The sudden appearance of the Weapon Exclusive Upgrade Tickets appears to be catered towards latecomers to the game, who may be time-poor and money-rich, in order to help them have an easier time getting through the campaign.
The existence of such gameplay boosts has long existed and been adopted by several games publishers, with the goal of enticing a potential source of post-purchase revenue from single-player games. Level boosts, instant weapon unlocks, and ways to artificially boost the player's in-game income (which Resident Evil 4 also has) are commonly found, if you look for them.
Sadly, we're long past the days when features like these could merely exist as cheat codes.
In other news, the Resident Evil 4 remake recently surpassed 4 million units sold, according to the official website.
05/29/2023 06:49 am GMT