Pokemon Presents returned in August 2023, with a low key showcase providing news and updates for a range of Pokemon media – including new animated adaptations, video games, and more. The event kicked off with a handful of updates for the Pokemon World Championships for 2023, and a reveal of new merchandise, before rapid fire news for a range of upcoming projects was detailed.
Here's everything revealed during the latest Pokemon Presents.
---
Pokémon Presents August 2023: The News and Announcements
---
Pokemon: Path to the Peak, Horizons, Paldean Winds revealed
Three new animated projects were spotlighted in the Pokemon Presents for August 2023, with two of these projects debuting during the showcase. The headliner of the pack was Pokemon: Path to Peak, which is an animated series following a young girl learning to succeed in the Pokemon Trading Card Game (TCG). The first episode of this series will air during the Pokemon World Championships on 11 August 2023.
Pokemon: Paldean Winds was up next. This animated series follows a group of students learning to raise and battle their Pokemon while attending school in the Paldea region.
Pokemon: Horizons, the successor to the main animated Pokemon series, also got a new trailer during the latest Pokemon Presents. This one spotlighted protagonists Liko and Roy, and their upcoming adventure in the world of Pokemon. Several faces from Pokemon Scarlet and Pokemon Violet also made an appearance. For now, the series remains undated.
---
Pokemon Cafe ReMix, Go, Masters EX, Sleep get updates
A handful of Pokemon mobile games also got updates during the latest Pokemon Presents. The launch of Pokemon Sleep was celebrated, and a new 'Good Sleep Day' full moon event was announced. During the event, Snorlax will be more powerful, and players will get more rewards for a better sleep.
Here's a quick rundown of the other announcements:
Nemona and her Pawmot from Pokemon Scarlet and Violet are coming to Pokemon Masters EX, with a new in-game event allowing you to befriend her.
Sushi Pokemon Tatsugiri (Curly, Droopy, and Stretchy Form) is coming to Pokemon Cafe ReMix.
Mewtwo is coming to Pokemon Unite. A new 'Panic Parade' battle type will also debut shortly.
Paldean Pokemon are coming to Pokemon Go shortly. So far, we know Quaxly, Fuecoco, and Sprigatito will be part of the lineup.
---
Two classic Pokemon games are now available on Nintendo Switch Online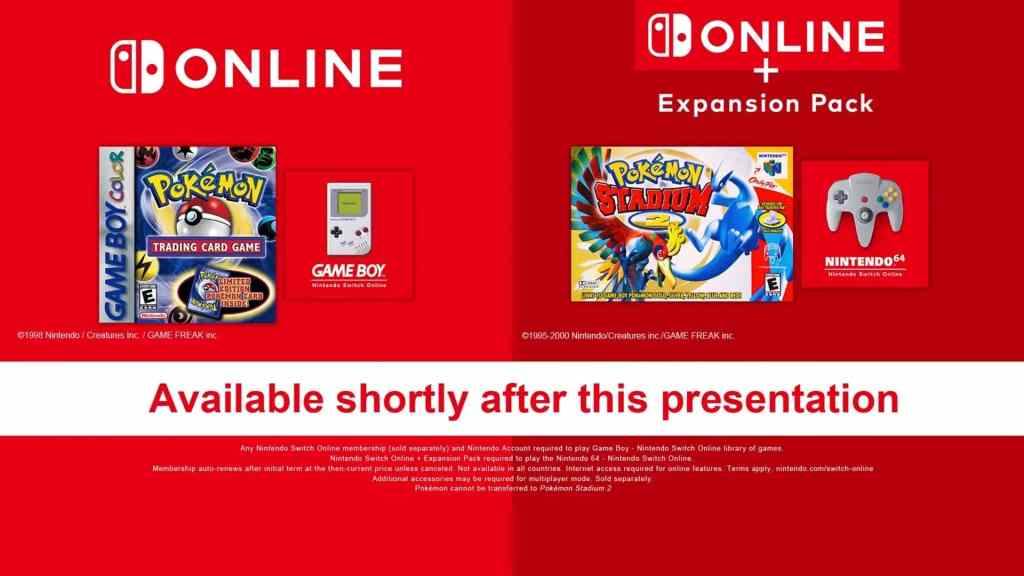 During the Pokemon Presents for August 2023, it was surprise-revealed that Pokemon: Trading Card Game and Pokemon Stadium 2 would launch for Nintendo Switch Online from 8 August 2023. Both games are classics, and join a strong lineup of Nintendo favourites available for Nintendo Switch Online + Expansion Pack subscribers.
---
New trailer for Detective Pikachu Returns revealed
A new trailer for Detective Pikachu Returns was also revealed during the Pokemon Presents for August 2023. It featured a new look at its world, and its wily protagonists – Detective Pikachu, and human Tim Goodman. Both will pair up to solve crimes in Ryme City, a place where Pokemon and humans live together closely.
The game is set to launch for Nintendo Switch on 8 October 2023.
---
Pokemon Scarlet and Violet: Major DLC updates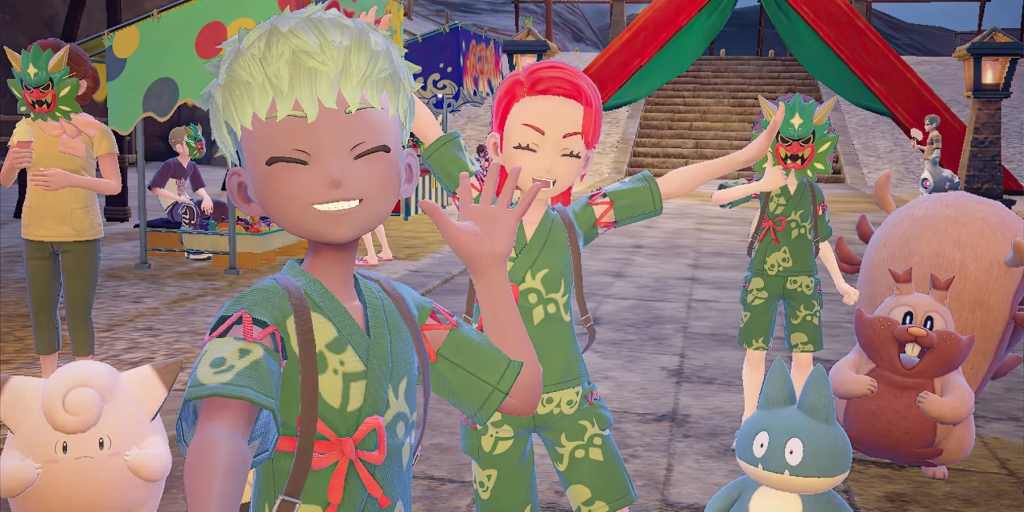 To conclude the latest Pokemon Presents, a number of new details about Pokemon Scarlet and Violet's DLC expansion, The Hidden Treasure of Area Zero, were revealed.
Here's a few tidbits we spotted in the showcase:
You'll meet a number of new faces in The Teal Mask and The Indigo Disk, including Carmine and Kieran (sibling trainers), and travelling photographer Perrin, who introduces a new Pokemon Snap-like mechanic to the game.
In the new Ogre Oustin' mini-game, you'll be able to pop balloons and earn special Mochi for your Pokemon. This new food can increase your Pokemon's strength.
The Land of Kitakami (the setting of The Teal Mask) features a number of new Pokemon, including Dipplin (an evolution of Applin), and Okidogi, Munkidori, and Fezandipiti – who all play a part in the mystery of the Teal Mask.
In The Indigo Disk, you'll join the trainers of Blueberry Academy in new battles, and also unlock new mini-games – one of which involves flying through floating hoops.
The Teal Mask will launch for Nintendo Switch on 13 September 2023. It will be followed by the launch of The Indigo Disk in Winter 2023 [Northern Hemisphere].
Also revealed during the showcase was that Scarlet and Violet players can now claim their own Mew in-game, using the code 'GETY0URMEW' in the Mystery Gift menu. Mewtwo will also arrive in the game in September, as part of a new Tera Raid battle.
---
You can catch up with the latest Pokemon Presents via YouTube.