It's a great year for Australian indies at PAX online: six of the twenty games in PAX's online indie showcase are from Australian developers. A coveted opportunity for indie developers, the indie showcase traditionally takes place on the PAX show floor, allowing the chosen games to exhibit demos to a huge new audience.  This year, as PAX East and PAX Aus combine for PAX Online, the showcase has expanded from ten to twenty indies, with each developer providing a playable demo that can be downloaded and played throughout their Steam page. Some demos are live now, with other scheduled for release over the weekend.
The Australian games in the indie showcase range from kid-friendly to puzzles to surreal horror, so there's something here for everyone. I generally think of myself as being pretty across the local development scene – and it's true that I've interviewed some of the devs whose excellent games made the cut – but there are some on the list that are totally new even for me, making this opportunity to dive into these six games all the more exciting. Let's take a look:
Dap, Melting Parrot

One of the teams previously unknown to me was husband and wife team Iris and Paul Anstey, who comprise Melbourne development studio Melting Parrot. They are developing Dap, a surreal action role-playing game set in a lucid dream. In the dark, forested dreamscape, you collect strange creatures called daps, who help you fight monsters, scavenge for resources, and battle the alien infection taking over the forest.
The game's grim but luminous art-style and three-quarter perspective is reminiscent of RPGs of the early 2000s, and the team cite Studio Ghibli and the Legend of Zelda as key influences. Described by PCGamer as having 'a psychedelic fairytale vibe, like Hansel and Gretel but with more sharp teeth and blood,' the 40-minute demo of Dap is sure to delight anyone who craves a little artistic darkness. 
A free, playable demo is currently available on Dap's Steam page.
Innchanted, Dragonbear Studios
Now we return to an old favourite: Innchanted. I interviewed Paulina Samy and Phoebe Watson about their co-op adventure in March of this year, when it was still known as Chaos Tavern, and since then, the game has only gone from strength to strength; Innchanted caught the world's attention as it represented Australia in the Europlay awards, and Samy recently gave a talk through RMIT about development.
READ: Paulina Samy & Phoebe Watson on Indigenous-inspired fantasy, and designing Innchanted
In this gorgeous local co-op, players discover magical potions, serve otherworldly guests, and pacify monsters in a fantasy world inspired by local Indigenous cultures. Employing Indigenous designers and artists to create a vibrant world that feels magical and familiar, the game totally refreshes tired fantasy tropes – and it lets you overthrow your evil wizard landlord.
Unpacking, Witch Beam
If you're looking for something similarly uplifting but a little less chaotic (and from another developer who recently gave a talk about game dev through RMIT), you might like this zen point-and-click puzzle game, Unpacking. Unpacking is a game where, simply put, you unpack a house, meditatively choosing where different items go, and slowly acquainting yourself with your new home spaces. The game is intimate and gentle, giving you creative freedom, and a sensitive narrative told through your environment, while still scratching that Tetris itch as everything finds its perfect place.
Balancing gentle puzzles with home decoration, Unpacking tells a story through objects, giving the player a chance to become intimately acquainted with a character you never see, and come to understand a life story you're never directly told.
TOPPLEPOP!: BUNGEE BLOCKBUSTERS, SAI GAMES
For a very different kind of puzzler, we have another sociable game: SAI games' TopplePOP! Looking at first glance like a chaotic take on Tetris, this is a party game for all ages, where monkey acrobats bungee jump across the screen to solve block puzzles and free their friends. The game can be played as a single player campaign, in teams, or co-operatively, and its array of assistive play options make TopplePOP! approachable to a huge variety of players of different play styles, ages, and abilities. Like all the most enthralling games, it's a simple concept that takes minutes to pick up, but ages to finesse, making it great for casual multiplayer, or high level competition.
A free playable demo is currently available on Steam.
Justice Sucks: Recharged, Samurai Punk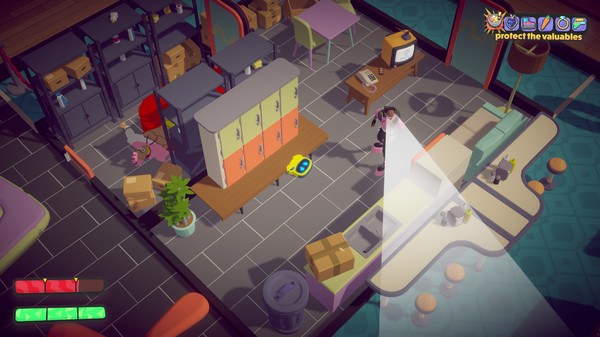 Image via Samurai Punk.
The second Roomba-led action comedy sandbox game from Melbourne studio Samurai Punk, Justice Sucks: Recharged follows a killer robot vacuum cleaner on a quest for vengeance. The game is a freshly announced sequel to Roombo: The First Blood, a similarly silly offering that hit the Steam Store in August last year.
Combining slapstick comedy, cute aesthetics and over-the-top cartoon violence, the game is sure to delight fans of the first instalment, while sucking in a whole new audience. It's due out later this year.
I'm too sexy for my sentient robot vacuum cleaner charging station pic.twitter.com/9o0ZO8nUyR

— Samurai Punk (@samuraipunk) May 18, 2020
A free playable demo will be available on the Justice Sucks: Recharged Steam page for the duration of PAX online.
Ring of Pain, Twice Different
Last but not least, another old friend. In 2019 I spoke to Ring of Pain composer Belinda Coomes during the High Score conference. She gave me some expert advice on working in games as a composer, and her approach to developing the responsive soundtrack to this dark, deck-building dungeon crawler. Just one month until release, Ring of Pain is now in PAX's indie showcase, looking great and sounding even better.
READ: Scoring A Role: Ring Of Pain's Belinda Coomes on making music for videogames
Ring of Pain takes place in a series of randomly generated ring-shaped dungeons that challenge a player's ability to strategise around ghoulish enemies, ambushes, traps and treasures, with turn-based combat that challenges your wits, not your reaction times.
With its launch day coming up on 15 October 2020, fans of this demo won't have too long to wait until they can wrap their brain around the full release.
A free playable demo is currently available on Ring of Pain's Steam page.