Wizards of the Coast has revealed the latest set lineup for card game Magic: The Gathering, with a number of surprises making their way into the publisher's 30th Anniversary Panel at GenCon 2023. Here, a handful of major Universes Beyond video game crossovers were revealed for 2024 and 2025 – with announced partnerships including Fallout, Final Fantasy, and Assassin's Creed.
Fallout is the first game to get a crossover, with a new set of Fallout-themed Commander Decks set to launch in March 2024. These decks will include new and reprinted cards, all replicating a barren trip through the familiar wastelands of the post-apocalypse.
Following the release of this set, Assassin's Creed will get the full Magic: The Gathering treatment with booster sets, commander decks, and gift bundles, akin to the Universes Beyond crossover for The Lord of the Rings. As with Fallout, the set will reportedly include new and reprinted cards with fresh artwork. This set is expected to launch in July 2024.
Read: The Lord of the Rings: Tales of Middle-earth is the perfect MTG intro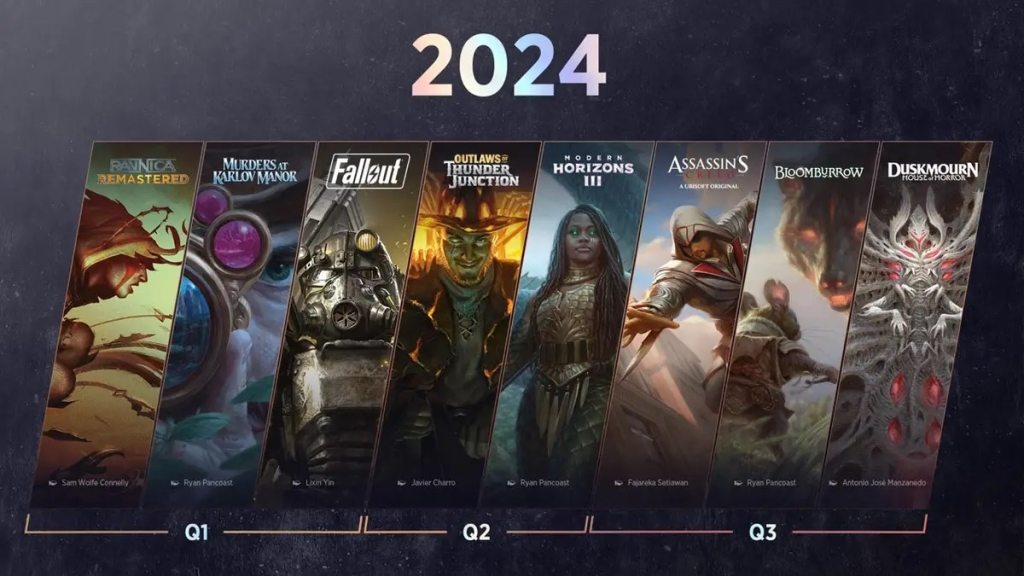 Between these major 2024 releases, Magic: The Gathering will also get a number of new, in-universe game sets, with these charting a range of themes.
Ravnica Remastered will feature the return of the Ravnica setting, and feature reprints of 2005-era cards. Murders at Karlov Manor is a murder-mystery themed set, and will include a standalone crossover with Clue/Cluedo. Meanwhile, Outlaws of Thunder Junction appears to be a cowboy-themed set, Bloomburrow will feature cute animals, and Duskmourn features a haunted house.
A number of far-future projects were also announced by Wizards of the Coast during GenCon – and these included the aforementioned Final Fantasy crossover. For now, this set is targeting release in 2025, and while we don't know much about it, Wizards claimed it would chart the entire history of Final Fantasy. That includes its origins, popular titles like Final Fantasy 7, and the newly-released Final Fantasy 16. It's expected to include full booster sets and decks – and is likely to be immensely popular.
We'll learn more about these upcoming Magic: The Gathering crossover sets in the coming months. In the meantime, you can catch up with the Wizards of the Coast GenCon Panel via YouTube.