New images revealed by Windows Report have seemingly shown off the first glimpses at the Lenovo Legion Go, the long-rumoured handheld gaming console from Lenovo. The company is yet to confirm the legitimacy of the device – but images revealed appear professional, and the appearance of the device aligns with other, recent media reports.
Per the images revealed, it appears Lenovo has been largely inspired by the Nintendo Switch in the design of the Legion Go. It sports a matte black chassis, lit joysticks, a full 'kickstand' for self-standing support, and perhaps most notably – detachable controllers.
So far, popular handheld consoles like the Steam Deck and ROG Ally have featured built-in controllers to ensure more space in the console's central chassis – but these design decisions have been lamented by players looking for more flexible gameplay options.
Lenovo appears to be addressing these concerns with a hybrid design that combines elements from the ROG Ally (joysticks), Steam Deck (touchpad), and Nintendo Switch (detachable controls) in a wider 8-inch chassis, with a larger screen. The blocky design won't be to everyone's taste, but it appears fairly slimline and portable.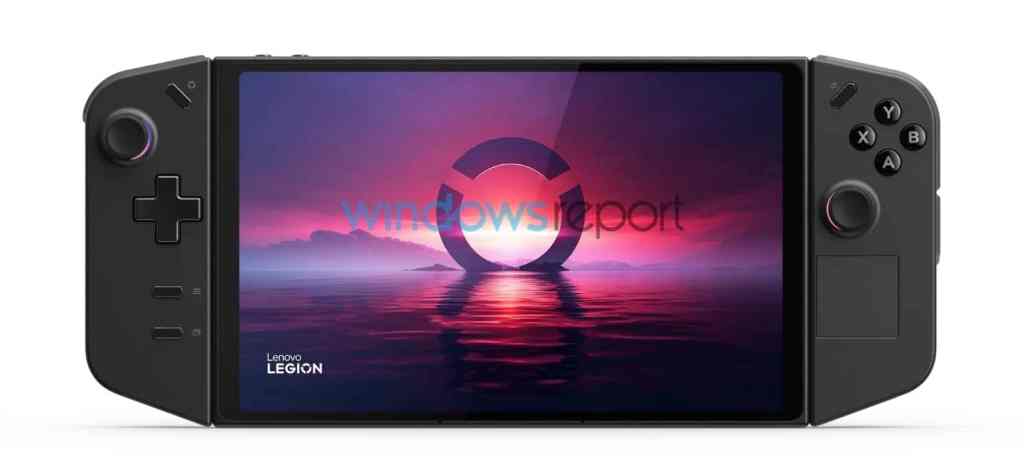 Read: Asus ROG Ally review – Flawed but fantastic
Per Windows Report, the device will run on Windows 11, meaning you should be able to install and play your entire PC games library, with performance supported by AMD's new Phoenix processors, which are designed for small, thin laptops.
Windows Report also notes the appearance of generous fan vents on the Legion Go, a multitude of customisable back buttons, two USB-C ports, a micro-SD slot for storage expansion, and the high likelihood of the device sporting a touch screen for convenience.
For now, the allegedly leaked images of the device are our best look at the console. No further details have been provided by Lenovo as of writing, with specifications and functionality of the device largely remaining a mystery.
With these leaks now spreading online, it's likely formal details of the device – or at the very least, Lenovo's plans for the handheld gaming market – will be revealed shortly. Stay tuned to hear more about the Lenovo Legion Go, and the new wave of handheld gaming consoles currently in development.