At the Final Fantasy 16 Pre-Launch Celebration Live Stream, which took place following Summer Game Fest 2023 and the 2023 Xbox Game Showcase, game producer Naoki Yoshida announced that the upcoming RPG will receive a free demo on PlayStation 5.
The demo will include the first 2 hours of the game – the opening Prologue that explores protagonist Clive's life as a youth – and will allow the savegame data to be transferred to the full version of the game. It's a feature that Square Enix has consistently adopted with the demo versions of its recent RPG titles, and a very convenient one at that, given how long and story-heavy its games typically are.
In addition, when you clear the Prologue, a second Special Battle Demo demo will unlock, which focuses on an older version of Clive from later on in the game. This features more of his special 'Eikonic' combat abilities, and serves as a better demonstration of the game's new real-time combat system.
Elsewhere in the FF16 Pre-Launch Celebration, Square Enix revealed that development on the game was supported by PlatinumGames (Nier: Automata) and the Square Enix division responsible for Kingdom Hearts 4.
How to download the Final Fantasy 16 demo
You can redeem the demo via the following PlayStation Store links, and then begin the download via your web browser, or directly from the Game Library on your PS5 console.
Read: Final Fantasy 16 preview: A complete rejuvenation of the series
When does the Final Fantasy 16 demo release?
The FF16 demo released simultaneously around the world on 12 June 2023. For specific times around major timezones, refer to the following image: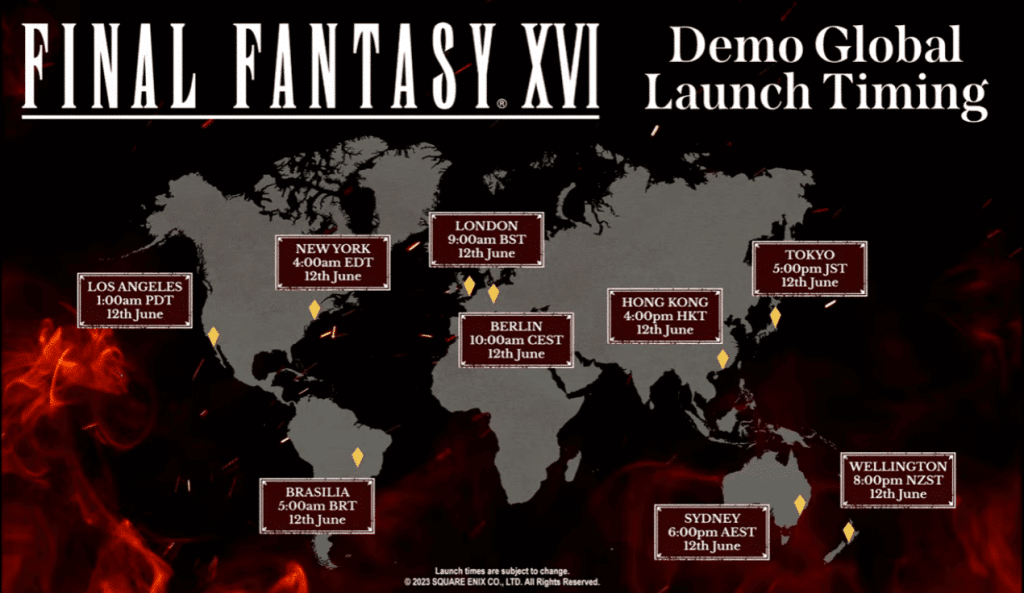 FF16 will be released on 22 June 2023 for PlayStation 5.
Final Fantasy XVI - PlayStation 5
Buy Now
GamesHub has affiliate partnerships. These do not influence editorial content. GamesHub may earn a small percentage of commission for products purchased via affiliate links.
09/24/2023 11:48 am GMT